The "Triple Take" team returns for 2023 and starts out with a breakdown of the quarterbacks. In the first installment of this draft prospect preview by position, the Steelers Radio Network trio of Matt Williamson, Dale Lolley and Mike Prisuta give their takes on the top prospects at the quarterback position. If you want to hear the audio version of "The Triple Take" click here.
The opinions of these Steelers Radio Network personalities do not reflect the views of the Steelers organization.
Stay up-to-date with Steelers draft news by downloading the Steelers Official Mobile App (Apple Store | Google Play) and enabling the "Draft" push notification category (More --> Settings --> Notifications).
A year ago, this position would have been considered one of the strongest in this draft. Now, perhaps not so much. The top remains the top. But the depth at quarterback might not be all that great. That doesn't mean, however, there won't perhaps be some starters to come out of the group. But we could see as many as four quarterbacks selected at the top of the first round because of the dearth of players at the position across the league.
#5 - Hendon Hooker, Tennessee (6-3, 217 lbs.) - After throwing 31 touchdown passes and just three interceptions in his first season at Tennessee in 2021, the former Virginia Tech starter was having perhaps an even better season with a career-high 3,135 yards to go along with 27 touchdowns and just two interceptions in 11 games and was a Heisman Trophy candidate. But then he tore his ACL in November. Hooker also turns 25 in September, so he's slightly overaged. But for a quarterback with good mobility – he had just over 2,000 career rushing yards – who had 80 career touchdown passes against just 12 interceptions, there's enough there to work with.
#4 - Will Levis, Kentucky (6-4, 229 lbs.) - Levis began his career at Penn State, where he made two starts in two seasons, before transferring to Kentucky. In two seasons with the Wildcats, he threw for 43 touchdown passes with 23 interceptions in 24 games. His 2021 season was better than his final year, but he had more talent around him that season. But Levis has arm talent and classic size for the position. Levis can be inconsistent with his throws, but some of that can be attributed to him getting beaten up a little bit in 2022.
#3 - Anthony Richardson, Florida (6-4, 244 lbs.) - With just 13 career starts under his belt, Richardson is raw. But he's got arm talent and running ability. Richardson averaged 14.5 yards per completion in 2022, which led all Power-5 quarterbacks. He also rushed for 654 yards and nine touchdowns last season. He might take some time to develop, but Richardson's athletic upside is intriguing. The 21-year-old is big, strong and fast as his NFL Scouting Combine numbers suggest.
#2 - CJ Stroud, Ohio State (6-3, 214 lbs) - Stroud had 85 touchdown passes and threw 12 interceptions the past two seasons as Ohio State's starter, taking over for Justin Fields. Isn't a dynamic runner like Fields, but he can escape pressure. Stroud led the FBS with seven games in 2022 with four or more touchdown passes. Set a school record in 2021 with a 73.5 percent completion percentage when he was throwing to the likes of Chris Olave, Jaxon Smith-Njigba and Garrett Wilson.
#1 - Bryce Young, Alabama (5-10, 204 lbs.) - Young can make all the throws, but his size is an issue. However, as he said at the NFL Scouting Combine, he's been the same size all his life and played at a high level. Young can make all the throws. He has some escapability. Had 80 touchdown passes in 36 career games, 27 of them starts after Mac Jones went to the NFL. Young won the Heisman Trophy in his first full season as a starter in 2021 when he threw 47 touchdown passes with just seven interceptions. Overall, he threw just 12 interceptions in 934 career college pass attempts. If he were bigger, he would be more of a slam dunk, but he's built more like a point guard than he is someone who can withstand big hits in the NFL. But he does a good job of protecting himself.
The quarterback class has great promise but it's also flawed.
"You're going to have to take a risk with any of these quarterbacks," NFL Network analyst Daniel Jeremiah observed.
That includes the perceived best of the bunch.
"It's not one of those years where you have Trevor Lawrence," Jeremiah maintained. "It's not Joe Burrow. It's not Andrew Luck. It's not that year where you say, 'OK, this is that one.'
"We don't have that. They all have warts and flaws but I think there's five potential solid starters in this group."
#5 - Hendon Hooker, Tennessee (6-3, 217 lbs.) - The NFL Network has reported Hooker thinks he'll come back "better than ever" from the torn ACL he suffered in November, and that doctors have told him he'll be ready for training camp. That remains to be seen, but if he does it would be something to see considering Hooker threw for 58 touchdowns with just five interceptions in 24 games over the past two campaigns. He also worked out of an exaggerated spread offense with the Volunteers, so there are questions but also great potential.
#4 - Will Levis, Kentucky (6-4, 229 lbs.) - When NFL comparisons are made, Josh Allen's name comes up. But Levis threw for just 19 touchdowns in 2022 (down from 24 the previous season), he was picked off 10 times (running his total to 23 over the last two seasons) and he got sacked 36 times. Some of it was Levis playing through foot, finger and shoulder injuries. Some of his issues were also attributable to offensive line play and to tips and deflections. But there are still questions, along with great potential.
#3 - CJ Stroud, Ohio State (6-3, 214 lbs) - Stroud was Michelangelo when painting by numbers but there wasn't a lot of coloring outside the lines. Then came the Georgia game in the national semifinals. Stroud's 23-for-34, 348-yard, four-touchdown night included repeatedly scrambling away from pressure, keeping his eyes downfield and eventually finding receivers for TDs, and eluding rushers, tucking and running when necessary. "You see the semifinal game and you're like, 'Dude, where has this been?'" Jeremiah said. "The old scouting adage is if you can do it once, you can do it." But can Stroud make plays off script consistently?
#2 - Bryce Young, Alabama (5-10, 204 lbs.) - Young has seemingly done it all at Alabama and he seemingly oozes intangibles. But is he big enough to hold up? Jeremiah told a cautionary tale when he spoke about relatively smaller QBs in general. "I know from being in the league when Drew Brees just got into the league, every undersized quarterback for the next 10 years, if you liked him he was Drew Brees. And it turned out none of them was Drew Brees." Some of them turn out to be Russell Wilson or Kyler Murray, but not many.
#1 - Anthony Richardson, Florida (6-4, 244 lbs.) - He's a swing-for-the-seats selection that could turn into a grand slam. Richardson only played 22 games in three seasons with the Gators. The exciting part is what might be coming next. Jeremiah gushed about Richardson's "elite, elite arm strength," and his "rare" athleticism. "You don't see quarterbacks running away from LSU with 80-yard touchdown runs. He has big-time, big-time ceiling, big-time ability. Teams are starting to look at some of these quarterbacks as lottery tickets, and this one has the biggest payout." Sold.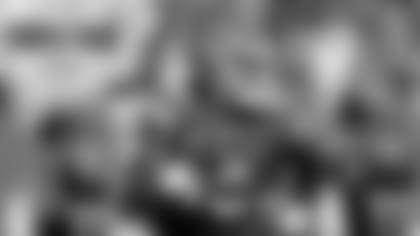 Quarterbacks are going to go high in the draft. That is nothing new. But is it a great quarterback class? I really have my doubts. While there is a lot of ability with the top quarterback prospects this year, there are also just so many questions and concerns with these guys. Still, don't be surprised at all when there are four quarterbacks off the board when the Steelers are set to pick at 17.
#5 - Hendon Hooker, Tennessee (6-3, 217 lbs.) - Hooker is old and injured. He is also very good and is coming off an excellent final season at Tennessee. Hooker has a great head for the game and has gotten better every year. He is a fantastic downfield thrower as well as being a very dangerous running threat. He isn't much of an improvisational thrower however and basically stays with the script. Hooker's November ACL tear could really slow his development and Hooker might need a true redshirt year in the NFL. Hooker turned 25 years old in January.
#4 - Will Levis, Kentucky (6-4, 229 lbs.) - Levis is very polarizing. He had little around him at Kentucky this year, played against a very difficult set of opponents, and played the majority of the season with injuries. Levis often tried to put his team on his back, and it often didn't go well. There is a lot of great, as well as questionable, tape from Levis this past season. But his talents can't be denied. He is probably the most prototypical quarterback prospect in this draft for today's NFL. Levis has rare arm strength but has also developed bad habits with his footwork.
#3 - Anthony Richardson, Florida (6-4, 244 lbs.) - Anyone can see Richardson's massive talents and what he brings to the table. But Richardson is an extremely raw passer that misses far too many open receivers. Will that ever improve for him? Possibly and we have seen cases such as Josh Allen and Jalen Hurts do that at the NFL level. But like those two, and maybe even more so, Richardson brings immediate playmaking ability because of his immense running skills to pair with his great frame and arm strength. There is so much here to work with, but patience will be needed.
#2 - CJ Stroud, Ohio State (6-3, 214 lbs) - Stroud is a plus prospect in basically every quarterback category and his pure accuracy is probably the best in this class, but we also can't forget that he was consistently protected by NFL linemen and no one has thrown to better wide receivers than Stroud. He didn't use his feet as much as many would like and didn't handle pressure all that well. Still, he throws a beautiful ball with touch and on time. Stroud's accuracy is impeccable.
#1 - Bryce Young, Alabama (5-10, 204 lbs.) - Young very well could have been the best college football player on the planet the past two years for the Crimson Tide. He has a great feel for the game, twitchy athleticism, and is a rare natural playmaker. Young throws the ball well to all levels and on the move. The ball comes out quick and on time. Young consistently shows poise and elevates everyone around him on a weekly basis at the highest of college levels. But Young is small. Very small. Not only is he short, but he is also very slight. Can he hold up to the rigors of the NFL?