The "Triple Take" team, the Steelers Radio Network trio of Matt Williamson, Dale Lolley and Mike Prisuta, provides updates on their breakdown of the top wide receiver prospects in the 2022 NFL Draft. If you want to hear the audio version of "The Triple Take" click here.
The opinions of these Steelers Radio Network personalities do not reflect the views of the Steelers organization.
Riser: George Pickens, Georgia (6-3, 195 lbs.) - A huge recruit, Pickens made a major impact from the start for the Bulldogs. It isn't hard to see why people were super excited about what Pickens could be at the next level. He is tall, fast, smooth, explosive and demonstrates excellent body control. But Pickens tore his ACL in spring practice before the 2021 season. He did return to finish out the year and help Georgia win a National Title, but he wasn't a dominant player during that stretch. But Pickens has looked like his former self during the post season draft events. 
Faller: David Ball, Purdue (6-1, 212 lbs.) - You just must question if Ball has the prerequisite amount of overall athletic ability to succeed at the next level. Ball is a very good college football player. He is productive while operating outside or in the slot. Ball is a refined receiver with his get off, route running and the nuances of playing wide receiver. While he didn't look like an athletic marvel on tape, Ball's workouts were very concerning. Now, it should be said, far too many people overreact to poor workout numbers from this position, especially the 40-yard dash.
Sleeper: Justyn Ross, Clemson (6-4, 205 lbs.) - Considering the amazing pipeline of wide receivers that have hailed from Clemson, no one from that school is really a sleeper. However, early on at Clemson, most looked at Ross as a future first round pick. He was a great player during his first two years in college. Ross then suffered a spine injury (and who is to say how the NFL still views that injury) that sidelined him for the 2020 season. Ross returned to action this past year but wasn't the same player he was in 2018 and 2019 and lacked explosion. This was a big-time recruit that has prototypical wide receiver traits. If his next team gets the player Ross was before his injury, they will be sitting pretty. 
Matt's First Take on the WR position ...
#5 - Chris Olave, Ohio State (6-0 5/8, 188 lbs.) - It was tough to leave Penn State's Jahan Dotson off this list, but Olave narrowly beat him out for the fifth spot. Olave has been a force for the Buckeyes for some time now. Olave can attack all areas of the field and is an excellent and developed route runner. He is a great separator. This is a very quarterback friendly receiving option that can align outside or in the slot. He is a smooth accelerator with deep speed. Drops are very rare for Olave and reliability is one of his best traits. Olave isn't the biggest or most physically imposing receiver and probably best projects to becoming a high-end number two in the NFL. He isn't a tackle breaker or much of a blocker, but Olave does compete. He should help a team in the league right away.
#4 - Drake London, USC (6-5, 210 lbs.) - Obviously, what stands out with London right away is his rare height and size. And London uses that very well to his advantage. He has very good body control as well as ball skills and hands. His catching radius is just massive. London's basketball background shows up in a big way. London is a build up speed guy and not a great separator because of just average quickness. He wins with size and physicality at the catch point, but also can open up his stride and make plays deep downfield. That isn't to imply that London is a poor route runner though. He sets up his defender well and presents his quarterback an excellent target. London has lined up in the slot but will probably do almost all his work from the outside in the NFL. At his size, you would like him to be a little bit better blocker and there are a few too many drops on film. London is also coming off a broken ankle that he suffered in October. His 40 time could ultimately decide where London gets drafted, but this could be an alpha receiver at the next level.
#3 - Jameson Williams, Alabama (6-2, 189 lbs.) - If he were clean medically, Williams might be the top name on this list, but he injured his knee very late in the season (January 10th) and that has to drop his stock-at least for where we stand right now. Williams is a game-changer. He is a fantastic deep threat that gets to full speed in an instant, especially for someone with his height. His track background is obvious. While Williams is very dangerous over the top, he can also nickel and dime defenses to death with his crisp short and intermediate route running. And he brings something to the table after the catch as well. Williams has some nastiness to his game. In fact, Williams was ejected from the Auburn game because of a targeting penalty when he was on punt coverage. He is also a returner. While Williams is certainly tough and plays with an edge, he isn't overly strong. Can he add more bulk and muscle? Williams also doesn't project to the slot at the next level.
#2 - Treylon Burks, Arkansas (6-2 3/4, 232 lbs.) - Burks is a big powerful receiver. Few look the part better than Burks. He is both smooth and powerful. Burks has a big catching radius, big hands, and excellent overall ball skills with quite a few highlight reel type of receptions. After the catch, Burks becomes very dangerous and not only runs away from tacklers, but also makes them miss and even runs over defensive backs. He should see a pretty steady diet of handoffs at the NFL level. He will line up all over the formation. Burks' route running needs cleaned up a little, but in the meantime, he should be an immediate weapon for his new team.
#1 - Garrett Wilson, Ohio State (6-0, 188 lbs.) - Wilson's highlight tape is pretty remarkable and it is clear that he is capable of making receptions that few can compete with. He is a great athlete with long speed, burst and body control in spades. Wilson isn't huge, but he plays big and has good length. He also has soft hands and excellent skills with the ball in his hands. His new NFL team should use him on quick hitting routes as well as downfield. Wilson is still a bit of a work in progress as a route runner and might have a tough time early on vs. press coverage, but he is also a game changing talent that can win in just so many ways with his rare athleticism.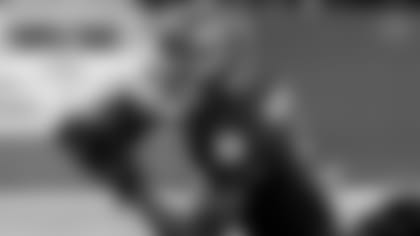 Riser: Skyy Moore, Western Michigan (5-10, 195 lbs.) - A Shady Side Academy Academy product in suburban Pittsburgh – where he played quarterback – Moore wasn't expected to light up the NFL Scouting Combine quite like he did. There were questions about his speed. He answered those by running a 4.41-second 40-yard dash. He also checked in at a solid 195 pounds. Moore likely solidified his spot in the top-10 in this receiver class. Oh, and his top wide receiver in high school was Dino Tomlin, son of Mike Tomlin.
Faller: David Bell, Purdue (6-1, 211 lbs.) - On tape, Bell looks like a solid prospect. He's smooth, played both outside and inside at Purdue. He had 86 receptions for 1,035 yards as a true freshman for the Boilermakers and added 93 receptions for 1,286 yards last season. But he also ran a 4.65-second 40-yard dash at the NFL Scouting Combine. Playing wide receiver in the NFL isn't all about speed – ask Keenan Allen, who ran in the 4.7s -- but it could be the determining factor when weighing him against some of the other prospects in this draft.
Sleeper: Bo Melton, Rutgers (5-11, 189 lbs.) - Melton's college stats aren't going to overwhelm anyone, but that's largely because of Rutgers' quarterback situation as much as anything else. What he did do for the Scarlett Knights is fill up the box score. He led Rutgers in receiving in 2020 and 2021, catching 102 passes for more than 1,200 yards. He also gained 120 yards of 15 rushing attempts in those two seasons while also averaging more than 25 yards per kick return and 7.6 yards per punt return. It also should be mentioned Melton blazed through a 4.34-second 40-yard dash at the Combine with a 38-inch vertical jump. The best could be ahead for this late-round prospect. 
Dale's First Take on the WR position ...
#5 - Chris Olave, Ohio State (6-0 5/8, 188 lbs.) - Olave is silky smooth as a route runner, but also has the speed of a deep threat. At just a shade over 6-0, he doesn't have dynamic size that we now see so many receivers come out of college with, but he's more than big enough, though he'll need to get stronger at the NFL level.
#4 - Jameson Williams, Alabama (6-2, 189 lbs.) - If not for a torn ACL suffered in the national championship game, Williams is probably the No. 1 receiver in this draft class. He's got good size and speed. Transferred from Ohio State to Alabama and blossomed. He shouldn't get out of the first round and could be a steal for a team willing to wait for him to recover from the knee injury.
#3 - Drake London, USC (6-5, 210 lbs.) - Not a big speed threat, but his size is ideal for a possession-type receiver. It also allows him to win downfield despite his apparent lack of great speed. If he runs something around a 4.6 40, that's plenty fast enough. London was a top basketball player in high school and it shows. He knows how to use his body to box out defenders and get the ball.
#2 - Treylon Burks, Arkansas (6-2 3/4, 232 lbs.) - Built like a linebacker, Burks has outstanding speed and runs like a running back. Burks averaged more than 16 yards per catch in each of his three seasons in college. He played his best against top competition. He had a 9-179-2 line against Alabama, 9-109-2 against Auburn and 6-176-1 against Texas A&M.
#1 - Garrett Wilson, Ohio State (6-0, 188 lbs.) - Quick off the line of scrimmage and explosive, Wilson also has some punt return skills and the ability to score from anywhere on the field. Needs to work a little more on his route running, but his skills to go get it when the ball is in the air are special. Should test really well.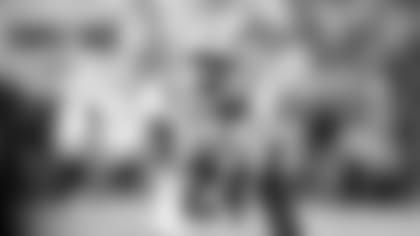 Riser: Treylon Burks, Arkansas (6-2, 225 lbs.) - Burks reportedly looked better at the Razorbacks' Pro Day on March 9 than he had at the NFL Scouting Combine. He didn't run a 40-yard dash, so the 4.50 he posted in Indianapolis stands, which may or may not be a big deal. "When you watch him on tape he's always faster than the guy chasing him," NFL Network analyst Daniel Jeremiah has observed. Burks told the NFL Network's Stacey Dales at the Combine that he believes he's the NFL's next Deebo Samuel. What Burks did against Alabama in 2021 resonated with Jeremiah (eight catches for 179 yards and two scores), who was likewise impressed with Burks' big-play capabilities. "A bunch of big home runs for such a big receiver, 50-50 balls he'll go up and take it away, fun player," Jeremiah said. Dales also reported Burks has hunted hogs with a knife. Toughness seemingly won't be an issue.
Faller: David Bell, Purdue (6-1, 212 lbs.) - As previously addressed when discussing Burks, 40 times aren't everything. But the 4.65 40 Bell posted in Indianapolis figures to at least give scouts and talent evaluators pause. Bell has decent size and he surpassed 1,000 yards receiving twice in three seasons at Purdue (the exception was his six-game COVID-19 campaign in 2020). And he knows where the end zone is (21 career receiving TDs). But in a year when the wide receivers, the defensive backs and even the 300-pound defensive linemen are running faster than they ever have, standing out at the other end of the 40-yard scale isn't necessarily the best way to garner attention.
Sleeper: Skyy Moore, Western Michigan (5-10, 195 lbs.) - The 4.41 Moore posted in Indianapolis was just a part of what became something of a coming out party for Moore at the Combine. "He's urgent, he's strong, and he's tough, crisp route runner," Jeremiah said. "He's not getting out of the second round." Moore's third season at Western Michigan surpassed his first two combined in catches (95-76), receiving yards (1,292-890) and receiving TDs (10-6). The Skyy's the limit.
Mike's First Take on the WR position ...
#5 - Jahan Dotson, Penn State (5-10 6/8, 175 lbs.) - If you're looking for one of those players who can seemingly run all over the field and make every type of catch imaginable, and produce after the catch, Dotson is your man. He caught 91 passes for 1,182 yards (a 13.0 average per reception) and 12 touchdowns in 2021. He also averaged 24.6 yards on eight punt returns in 2020, one for a touchdown. Penn State hasn't had a wide receiver drafted in the first round since 2003 (Bryant Johnson, 17th overall, Cardinals). That may be about to change.
#4 - Drake London, USC (6-5, 210 lbs.) - London played a little basketball at USC, as well. On the football field he played to his size and often found a way to out-battle defenders or rise above them for contested catches. He's a tough, competitive player who should also be an asset in the running game. His 2021 season was his third at USC and turned into his breakout campaign (88 catches, 1,084 receiving yards, a 12.3 average and seven touchdowns). He led the Pac-12 in receptions and receiving yards and earned conference Offensive Player of the Year honors. There's a bull-in-a-china-shop element to London's game. He can make defenders miss but he's not at all opposed to running through them.
#3 - Garrett Wilson, Ohio State (6-0, 188 lbs.) - Wilson was part of an absurd trio of wide receivers that also included Jaxon Smith-Njigba (who remains in Columbus for now) and Chris Olave. It was an embarrassment of riches at the position and the ball was distributed among the three. Wilson made his plays down the sideline or across the middle. He caught short and ran long or he got deep and made receptions in the end zone (70 catches, 1,058 yards, a 15.1 average and 12 touchdowns). His highlight reel features a number of hands catches on which Wilson appears to vice-gripe the ball upon arrival.
#2 - Chris Olave, Ohio State (6-0 5/8, 188 lbs.) - Olave never had a 1,000-yard receiving season for the Buckeyes, but he leaves Columbus with 175 career receptions, a 15.4 average per catch and 35 receiving TDs over four seasons. As previously stated, the ball had to be shared at OSU but when Olave's number was called he went up and got it. Smooth and athletic, his stock has a chance to significantly rise if he lights up the NFL Scouting Combine. Nobody made it look easier, whether Olave was battling tight coverage, trying to navigate the sideline or the end line, or all of the above.
#1 - Jameson Williams, Alabama (6-2, 189 lbs.) - The Crimson Tide had wide receivers drafted sixth overall (Jaylen Waddle, Dolphins) and 10th overall (DeVonta Smith) last April. Enter Williams, who transferred in after spending a couple of seasons as a spare part at Ohio State. He fit in at Alabama to the tune of 79 catches, for an SEC-leading 1,572 receiving yards (that's 19.9 yards per catch) and an SEC-leading 15 receiving TDs. And the beat goes on. He suffered a torn ACL in the national championship game against Georgia, which may prevent Williams from being the first wide receiver taken. It doesn't mean he isn't the best wide receiver available when healthy.