The "Triple Take" continues with a breakdown of the quarterbacks. In the third installment of this draft prospect preview by position, the Steelers Radio Network trio of Matt Williamson, Dale Lolley and Mike Prisuta give their takes on the top prospects at the quarterback positions. If you want to hear the audio version of "The Triple Take" click here.
The opinions of these Steelers Radio Network personalities do not reflect the views of the Steelers organization.
Matt's Take ...
As is always the case, this quarterback class is being heavily scrutinized already. The general consensus is that there isn't a slam-dunk first overall pick type quarterback in the 2022 class. While that might be true, there is still a lot left in the draft process and teams across the league are certain to become enamored with several of these prospects. In fact, when it is all said and done, this draft class might produce a handful of long-term starting NFL quarterbacks, including possibly Nevada's Carson Strong, who didn't make the top five.
#5 - Sam Howell, North Carolina (6-0 1/4, 221 lbs.) - Howell lost his best playmakers to the NFL and consequently, wasn't as effective as a passer in 2021 as he was in previous seasons. But, to make up for it, Howell really stepped up as a runner, which shows off his competitiveness and willingness to do anything to get a win for his team. That being said, Howell could be too quick to run when he could have better gone though his progressions. Howell has good straight-line speed and some strength as a runner but isn't overly elusive. He isn't very tall but is well built and is strong in his upper and lower body. Howell has a big arm and is an excellent deep passer. He also makes a lot of impressive touch throws with a smooth delivery. North Carolina was very reliant on RPOs and deep balls without enough intermediate passing. Even though Howell is fifth on this list, don't eliminate him from potentially going on and having the best NFL career of any quarterback in this draft. There is a lot here to work with.
#4 - Matt Corral, Mississippi (6-1, 205 lbs.) - Corral was the only one of the top quarterback prospects that wasn't at the Senior Bowl. Corral has a quickness with all his movements, and this especially shows up when he becomes a runner. Corral is a weapon in this regard. His release is also quick. Corral is a twitchy athlete. He threw just five interceptions last year and is a proven playmaker without regularly putting the ball in harm's way. He has a plus arm with good accuracy to allow his receivers to excel after the catch, especially on shorter throws. But Corral is a very heavy RPO offense at Mississippi and will have an adjustment period more than some of these other top quarterback prospects. Going deep into his reads is not Corral's strength at this point. Corral is a tough guy and a great competitor, but he also doesn't have great size and might need to do a better job of protecting himself at the next level. Corral will bring a lot of energy to his new team.
#3 - Desmond Ridder, Cincinnati (6-3, 207 lbs.) - Ridder has won a lot of football games. He is built more like a wide receiver than a quarterback and could use more bulk and body armor. But Ridder has good height and is a plus athlete. He extends plays behind the line of scrimmage and can be a substantial part of a designed quarterback run game. Ridder has put many explosive runs on tape. He has very good feet in the pocket and isn't too quick to tuck it and run. Ridder is highly competitive and plays the game with a toughness that rubs off on his teammates. He has a solid understanding of the game and has a strong arm with the ability to consistently throw off platform. The biggest concern with Ridder is there are just times when he misses throws that he must make. Those lapses of accuracy are concerning, but if cleans that issue up, Ridder could really take off at the next level. He did improve quite a bit overall in his final season of college and had a strong showing at the Senior Bowl. Ridder should also test very well in Indianapolis. He is on the rise.
#2 - Kenny Pickett, Pitt (6-3 1/4, 217 lbs.) - Pickett is experienced, advanced mentally and very mature for his upcoming challenges at the next level. Pickett made massive strides in 2021 for the Panthers when he was a Heisman finalist and extremely productive. While not physically overwhelming, Pickett's strengths are his ability to quickly read and diagnose defenses, process, get the ball out on time with accuracy. He is probably the most accurate quarterback in this draft. Pickett has plenty of athletic ability to be used as a ball carrier as well as with off script plays. He doesn't have a cannon for an arm, but it isn't a negative to Pickett's profile either. Pickett was well protected at Pitt and wasn't pressured as much as most of the others on this list. He still took some unnecessary sacks, but overall, Pickett's movement within the pocket is quite impressive. He has good height and is well built with room to add more musculature. Now let's discuss Pickett's hand size. He wears a glove on both hands, but obviously has played in this area of the country and has experienced poor weather football. Still, few quarterbacks in history with hands around nine inches have gone on to have successful NFL careers and those with under nine-inch hands have a poor success rate. Pickett will have his hands measured at the Combine.
#1 - Malik Willis, Liberty (6-0 3/8, 220 lbs.) - Willis has the most upside of any quarterback in this draft, which is why he is atop this ranking. Willis is built like a running back. He is thick, strong, and powerful…traits that show up over and over on the field. He is obviously an elite athlete for the quarterback position. He is very balanced with tremendous speed and acceleration and the ability to break tackles with the ball in his hands. As a passer, Willis isn't as refined, but he has the most powerful arm in this draft class and can attack the entire field at any point of the down. And Willis doesn't need to wind up to generate great power as a thrower. He is an excellent improviser but might rely on this trait too much currently. His interception and sacks taken numbers are worrisome. Willis must get better as an anticipatory passer and right now, he is too much of a "See it and thrown it" guy, something he easily got away with at Liberty. During the week in Mobile, Willis got more and more impressive and this was the first time we saw him playing with NFL level receivers. With his great tools, if Willis hits at the next level, he will hit big and change the outlook of his new NFL organization. But he isn't a sure thing and has plenty of work to do.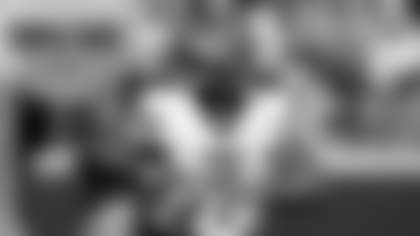 Dale's Take ...
It seems we've been conditioned over the past few years to think the No. 1 pick in every draft has to be a quarterback. That's not always the case. And it likely won't be this year. If that happens, it will mark the first time since 2017 when the Browns took Myles Garrett first overall that hasn't happened. But that doesn't mean starting quarterbacks can't be found later. In fact, in that 2017 draft, Patrick Mahomes went 10th overall, while Deshaun Watson went 12th. In fact, you'd have to go all the way back to 2013 to find a draft that hasn't produced at least one long-term starting quarterback.
#5 - Desmond Ridder, Cincinnati (6-3, 207 lbs.) - There's a lot to like about Ridder, a four-year starter at Cincinnati. He carries himself well and has a good head on his shoulders. He's got a strong arm and above-average mobility, but he does miss some easy throws, struggling at times with his ball placement. A good, solid prospect, who is long-limbed and built like a wide receiver.
#4 - Sam Howell, North Carolina (6-0 1/4, 221 lbs.) - Heading into the 2021 season, Howell was considered the top quarterback prospect in this class. But he lost his top two running backs and top two wide receivers to the 2021 draft and had to break in all new skill position players. Howell is strong, tough and can make all the throws. He ran a lot at North Carolina last season, but isn't necessarily a plus-runner. A three-year starter, he had 92 TD passes and just 23 interceptions, adding 19 rushing touchdowns.
#3 - Matt Corral, Mississippi (6-1, 205 lbs.) - The only one of the top prospects not at the Senior Bowl this year, Corral has a good arm, accuracy and solid deep ball accuracy. He's an effective runner, as well, gaining over 1,100 rushing yards and scoring 15 touchdowns the past two seasons. He lacks ideal size, but the skillset is definitely there.
#2 - Kenny Pickett, Pitt (6-3 1/4, 217 lbs.) - Pickett burst onto the scene as a fifth-year senior in 2021, finishing second in the Heisman voting and posting 42 touchdown passes, two more than he had thrown in his first four seasons combined. He can make all the throws and has enough mobility to play in today's game. Has a lot of polish to his game.
#1 - Malik Willis, Liberty (6-0 3/8, 220 lbs.) - Like Howell, Willis is built like a running back. But Willis has that second gear as a runner that makes him special. A two-year starter at Liberty, the transfer from Auburn has his ups and downs as a passer, but his athletic profile is undeniable. He can make all of the throws. He might have the highest upside of any quarterback in this draft. Is an elite runner and developing passer who did lead Liberty to wins over Power-5 schools Syracuse and Virginia Tech in 2020.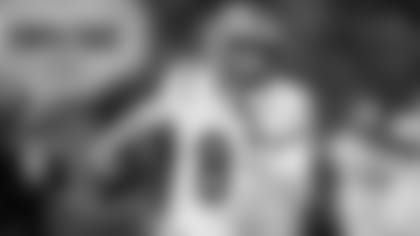 Mike's Take ...
It's no secret what teams are looking for, what they've been looking for at the most important position on the field.
"Quarterback mobility is valued, not only by me but by everyone," Steelers head coach Mike Tomlin confirmed in his season-ending media briefing. "It's just a component of today's game and increasingly so."
Added Steelers president Art Rooney II in his 2021 wrap up: "Certainly, mobile quarterbacks are the wave of the future, so to speak, and having mobility at that position is something that would be desirable; let's put it that way."
It's not all that matters, but it matters.
Enough that statuesque, traditional, drop-back pocket passers have to be exceptional to be the exception.
"You've gotta be just unbelievable with your accuracy and decision-making," to be that, NFL Network analyst Daniel Jeremiah offered during coverage of Senior Bowl week. "And usually that is accompanied by experience."
Thus, those that can make plays with their legs as well as their arm will be front and center on Draft Day.
#5 - Matt Corral, Mississippi (6-1, 205 lbs.) - He isn't physically imposing but Corral doesn't shy from contact and he's an accurate passer. Corral wasn't eligible for the Senior Bowl, so he didn't have the opportunity others in what's considered to be a quarterback class without a standout had to generate buzz. But there are those in the evaluation profession who maintain he's the best of the bunch. Having played in the SEC and for Lane Kiffin are both considered to be advantages for Corral (he should understand offense and chaos). He can run it in from close range or throw it over the goal line from distance, and he can throw it from the pocket or while on the move.
#4 - Desmond Ridder, Cincinnati (6-3, 207 lbs.) - Ridder's stock shot up during Senior Bowl practices and in the Senior Bowl, when he connected on a couple of play-action/bootleg touchdown passes. "I thought he was better as the week went along, and then today (in the game) just the poise that he's displayed has been outstanding," Jeremiah assessed. "He can make a variety of throws. He can power the ball, layer the ball. Consistency of the ball placement has been the issue when you study him on tape but today it's been really good." Added NFL Network analyst LaDainian Tomlinson of Ridder's performance in the Senior Bowl: "He looked like he belonged in a pro-style offense. He operated from under center very well. I loved the play-action pass, rolling out, showing his mobility, accurate throws."
#3 - Sam Howell, North Carolina (6-0 1/4, 221 lbs.) - Howell didn't have as good a season in 2021 as he had in 2020, but he was asked to do more with less and competed relentlessly. And he trailed only Louisville's Malik Cunningham (1,031) and Liberty's Malik Willis (878) in rushing yards by an FBS QB (828). Howell was the only one to throw for 3,000 yards (3,056) and rush for over 800. He's been compared to Baker Mayfield (6-1, 215), but Howell is perceived to be a little more athletic (Charles Davis, NFL Network analyst). And Howell is an experienced, student of the game. He has a strong arm, he can make all the throws and he's a strong runner who can stiff-arm a defender on a bootleg when necessary. Howell's run-game repertoire includes designed runs as well as bootlegs and scrambles. "That's an intriguing skill set once you get down here in the tight red zone," Jeremiah observed during the Senior Bowl.
#2 - Kenny Pickett, Pitt (6-3 1/4, 217 lbs.) - Pickett was asked at the Senior Bowl why he should be the No. 1 quarterback selected. His answer was revealing: "I know how to win, that's the No. 1 thing in this game." It's tough to ask for more than Pickett gave in 2021, when he completed 67.2 percent of his passes, threw for 4,319 yards, 42 touchdowns and was intercepted just seven times while leading Pitt to the ACC Championship. There may be evaluators/teams that ask for more than Pickett can deliver in the hand size category; stay tuned for the numbers from the NFL Scouting Combine.
#1 - Malik Willis, Liberty (6-0 3/8, 220 lbs.) - Many evaluators at the Senior Bowl raved about the way Willis' ball cut through the wind and the rain during what is now becoming a legendary practice on Wednesday of Senior Bowl week. The play he made at the end of the first quarter in the game was, likewise, an attention-getting example of Willis' physical skill set. The game's rules presented a unique opportunity, an all-or-nothing, untimed down from the 34-yard line after which Willis' team would turn the ball over whether it scored or not. Willis dropped back, stepped up to avoid pressure from both edges, flushed right while keeping his eyes down the field, eventually took off to avoid back pressure, cut across the field at the 25, got to the boundary, turned upfield and made it all the way to the 6. He successfully navigated six defenders in a prevent-defense designed not to allow a 34-yard play along the way. The seventh had an angle and made the play. But it was breathtaking.