The "Triple Take" continues with a breakdown of the running backs. In the fifth installment of this draft prospect preview by position, the Steelers Radio Network trio of Matt Williamson, Dale Lolley and Mike Prisuta give their takes on the top prospects at the running back positions. If you want to hear the audio version of "The Triple Take" click here.
The opinions of these Steelers Radio Network personalities do not reflect the views of the Steelers organization.
Matt's Take ...
This is a very weak running back class. Not only is it very unlikely that any running back this year is drafted in the first round, but we might have to wait well into the second day of the draft until the first back goes off the board. And the running back depth this year isn't all that exciting either. Surely a diamond or two in the rough will emerge, but this isn't the best year to be relying on the incoming rookies to really improve an NFL backfield situation.
#5 - James Cook, Georgia (5-11, 195 lbs.) - Cook is very dynamic, but he has to be a specialty player at the next level. Cook is really equal parts receiver and runner. That is both a complement and a criticism in that Cook is just exceptional as a route runner and pass catcher with very natural pass catching traits. Cook can run routes from the slot or out wide and will give NFL linebackers all they can handle in coverage. While he will influence the game as a traditional runner, Cook is unlikely to handle a heavy workload in this capacity. This is a weapon that gets up to full speed in the blink of an eye and has all kinds of big play potential. He loses very little speed when changing directions and sees the field very well. Cook has a thin lower body and struggles to generate power. He is an excellent athlete that should test very well in Indianapolis. Cook might only be a part time player in the NFL, but he can ignite an offense even in a limited role. Deciding between Cook and Notre Dame's Kyren Williams, another smaller back, for this last spot was a tough decision.
#4 - Dameon Pierce, Florida (5-9, 220 lbs.) - Pierce never had more than 106 carries in a season at Florida, but really stood out at the Senior Bowl. Pierce is built very low to the ground and is like tackling a bowling ball coming downhill. He is all muscle. Being built as low as he is, Pierce is very abrupt with his cuts without losing much speed. His 40 time will be interesting, as it doesn't look like long speed is a strength of Pierce's game. But that isn't to imply that Pierce can't turn the corner or break off chunk runs. He runs with attitude. Pierce gets somewhat of an incomplete grade in the passing game but looked quite capable as a pass catcher and blocker at the Senior Bowl. Pierce didn't get the workload you would expect in college, but that doesn't necessarily mean he can't handle a lot of touches at the next level. Expect Pierce to have a better pro than college career.
#3 - Isaiah Spiller, Texas A&M (6-1, 225 lbs.) - Spiller is a big power back that can handle a major workload right away. Once he breaks free, Spiller can rip off big runs and has some explosive traits but has just average long speed. He has excellent vision and very light feet. For a big back, Spiller should immediately bring something to the table as a receiver, where he is very reliable as well as in pass protection. Too often, Spiller gets stuck at the line of scrimmage and stops his feet, which is something he needs to work on. He also runs a little high and is long-legged, which negates some of Spiller's power and tackle breaking ability. Spiller has starter traits for the next level.
#2 - Kenneth Walker, Michigan State (5-10, 210 lbs.) - Walker has a very strong case to be the top running back in this year's class, but it depends what you are looking for. He is best pure traditional ball carrier of this entire group-and really excels in that area. However, this is 2022, not 1985, and the ability to influence the passing game is incredibly important. And that is where Walker falls short. In fact, his pass protection is really worrisome. But as a ball carrier, Walker is very impressive. He has an excellent combination of power, balance, change of direction, and vision. Walker wants the ball and can handle a heavy number of carries and brings a real energy to the field. He has dynamic qualities and rips off long runs with consistency. Every team will look at Walker differently depending on how much weight they put on the passing game vs. his great ability to carry the rock.
#1 - Breece Hall, Iowa State (6-1, 215 lbs.) - Hall is the most complete back in this year's class. He is very well rounded as a runner and receiver and should demand a lot of touches at the next level. Iowa State's run blocking didn't help Hall's cause, but he was still very productive. That being said, Hall already has endured a lot of wear and tear. His 590 touches over the past two years are the most in college football during that time. Hall has terrific balance and refuses to go to the ground with a very competitive nature. He also has very good vision. Hall sets up his blocking very well and shows good patience. While he is powerful, Hall plays with more finesse than rugged aggression, but he can run away from the defense. He is a taller back that doesn't always gets his pads down and will lose power as a result. As a receiver, Hall shows soft hands and is quite accomplished in this phase.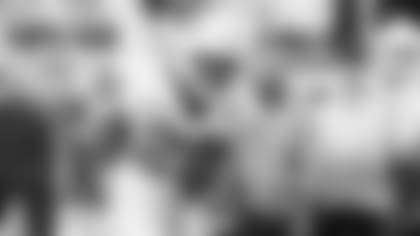 Dale's Take ...
While wide receivers have taken off as first-round picks in recent years – in the past five years, 18 have been selected in the first round – the same cannot be said of the running back position. Since 2017, just nine running backs have been taken in the first round. That trend is unlikely to change this year. In fact, there might not be a running back selected in the first round of this year's draft. But that doesn't mean there aren't some good players available at the position.
#5 - Brian Robinson, Alabama (6-1 5/8, 225 lbs.) - For whatever reason, Robinson isn't getting the same draft love as some of the other recent Alabama products. But he's got good size, catches the ball well and is solid in pass protection. Robinson had a very good week at the Senior Bowl that should have opened some eyes. Had over 1,300 yards and scored 16 total touchdowns last season for the Crimson Tide.
#4 - Kyren Williams, Notre Dame (5-9, 199 lbs.) - Short, but well built. Williams has great contact balance and is a patient runner. Williams also has a nose for the end zone, having scored 31 touchdowns the past two seasons, while rushing for 2,100 yards and catching 77 passes. Has added value as a punt returner, as well. Was dominant in back-to-back wins over North Carolina and USC in 2021.
#3 - Kenneth Walker, Michigan State (5-10, 210 lbs.) - Silky smooth with some power, Walker burst onto the scene after transferring from Wake Forest to Michigan State in 2021. But he averaged 5.3 yards per carry in two seasons at Wake before seeing that jump to 6.2 yards per attempt for the Spartans. Walker wasn't used much as a receiver, so that's still untested, as is his pass blocking, but he has the skillset to do it.
#2 - Breece Hall, Iowa State (6-1, 215 lbs.) - Hall is solidly built, has nice speed and quick feet. Rushed for over 3,900 yards with 50 touchdowns at Iowa State in just three seasons. He also caught 82 passes for nearly 800 yards and six more touchdowns. Hall scored two or more touchdowns in seven of his 12 games in 2021. He's an every-down running back.
#1 - Isaiah Spiller, Texas A&M (6-1, 225 lbs.) - Spiller is a really nice balance of size, power and speed. He also has good vision and patience. Wasn't heavily overused by the Aggies despite being a three-year starter. He never got more than 188 carries in a season and averaged 5.5 yards per attempt in his career. Also caught 74 passes in three seasons.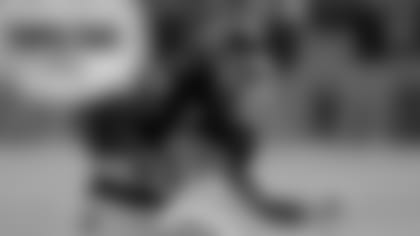 Mike's Take ...
The big back is back.
Seven of the top 10 rushers in 2021 tipped the scales at 220-plus pounds, including the top four and six of the top seven.
The Colts' Jonathan Taylor (5-foot-10, 226 pounds) led the rushing parade, followed by the Browns' Nick Chubb (5-11, 227), the Bengals' Joe Mixon (6-1, 220) and the Steelers' Najee Harris (6-1, 232).
The top five likely would have been bruisers had the Titans' Derrick Henry (6-3, 247) not been limited to just eight regular-season games due to injury (Henry still finished ninth in rushing with 937 yards).
As defenses have gotten smaller and faster and deployed more defensive backs in an effort to stop the pass, offenses have adjusted back to bulk.
Bulk that can run and bulk that can contribute in the passing game, but the bigger the better.
It's not an absolute and it won't be as the names of this year's class are called.
But the game is trending in that direction.
#5 - Brian Robinson, Alabama (6-1 5/8, 225 lbs.) - He's waited his turn to follow the likes to Mark Ingram, Henry, Josh Jacobs, Damien Harris and Najee Harris into the NFL from Alabama. Robinson rushed for 1,361 yards and 15 touchdowns in his first four seasons in Tuscaloosa, and then exploded for 1,343 yards and 14 scores in 2021. And he looks the part. "This is a 226-pound back, when you're watching him live he looks like he's 205 pounds," NFL Network analyst Daniel Jeremiah gushed during coverage of Senior Bowl week. "That is a lean 226 pounds. There is not an ounce of bad weight on Robinson." Robinson is Alvin Kamara-like in that regard (he started at Alabama but wound up at Tennessee on the way to the Sunday League). And Robinson a gamer (he rushed for a season-high 204 yards in the national semifinals against Cincinnati).
#4 - Isaiah Spiller, Texas A&M (6-1, 225 lbs.) - He finished just 7 yards shy of 3,000 for his three seasons at Texas A&M and also caught at least 20 passes every season. Spiller can turn an outside run inside, he can take an inside run to the house from distance (a third-and-2 against Arkansas turned into a 67-yard touchdown) and he can turn a pass to the flat into a first down by either breaking a tackle or making people miss. He's a big back with nimble feet. And he almost always falls forward.
#3 - Breece Hall, Iowa State (6-1, 215 lbs.) - Hall checks in just shy of the 220-pound standard, but that didn't prevent him from amassing a combined 3,044 rushing yards and 41 rushing touchdowns over the past two seasons. He was remarkably consistent while doing so, as well (1,572 yards-5.6 per carry-21 touchdowns in 2020, 1,472-5.8-20 in 2021). There wasn't much left to prove in Hall's final season of college eligibility after that, so he decided to move on. His name will be one of the first called at the running back position. He went out with a bang by rushing for 242 yards, averaging 13.4 yards per carry and scoring three times on the ground, and by catching two passes for 39 yards and another score in his last game at Iowa State, a 48-14 victory over TCU.
#2 - Kyren Williams, Notre Dame (5-9, 199 lbs.) - The home run hitter of the bunch. Williams' highlight tape includes a 65-yard touchdown run against Clemson (he crossed the goal line untouched) and a 46-yard effort against Florida State (he found the end zone untouched again). He explodes through holes and he's capable of breaking ankles once he gets to the second level. Williams scored 27 rushing touchdowns over his last two seasons with the Irish, and also caught 77 passes for 672 yards and four more scores. The tape also includes a goal line run against Pitt on which Williams had the edge but decided to cut upfield so he could run over a defender while entering the end zone.
#1 - Kenneth Walker, Michigan State (5-10, 210 lbs.) - After rushing for back-to-back 579-yard seasons at Wake Forest, Walker transferred to Michigan State. The game changed for Walker and the Spartans. His 264-carry campaign produced 1,646 rushing yards, a 6.2 average per carry and 18 rushing touchdowns (Walker also caught a touchdown pass). His season started with an Al Bundy, 264 rushing yards and four touchdowns on Sept. 3 at Northwestern. And on Nov. 13 against Michigan Walker carried the ball over the goal line five times while piling up 197 rushing yards in a 37-33 victory over the Wolverines. And he didn't do all of that because he was running behind an outstanding offensive line. Walker is the 2021 Doak Walker Award winner (best running back) and also received the 2021 Walter Camp Award (national player of the year). No need to over-think this one.