The "Triple Take" team, the Steelers Radio Network trio of Matt Williamson, Dale Lolley and Mike Prisuta, provides updates on their breakdown of the top tight end prospects in the 2022 NFL Draft. If you want to hear the audio version of "The Triple Take" click here.
The opinions of these Steelers Radio Network personalities do not reflect the views of the Steelers organization.
Riser: Cade Otton, Washington (6-5, 247 lbs.) - Otton now actually has a case to be the first tight end selected in this draft class because he really fits today's NFL. Otton is a receiver first, but he is also a competitive blocker that can align in numerous spots at the NFL level. Washington asked him to block quite a bit and he held his own. He has a wide catching radius, but what Otton does maybe better than any tight end in this draft class is just getting open and gaining separation. Otton has an excellent feel for setting up defenders against man or zone coverage. He catches the ball very well on the move and has excellent ball skills overall. This is a reliable player that is set up well to succeed early in the NFL.
Faller: Jalen Wydermyer, Texas A&M (6-4, 255 lbs.) - Unfortunately, this just must be Wydermyer, who ran over a five second 40-yard dash at Texas A&M's pro day. Not only that, Wydermyer's jump scores were very poor. Clearly, he is not an explosive athlete. There have been tight ends drafted with similar test scores that go on to have productive NFL careers, but those guys are superb physical blockers, something that Wydermyer just isn't. There is a chance he no longer hears his name called in all and will have to make a team as an undrafted free agent.
Sleeper: Jelani Woods, Virginia (6-7, 259 lbs.) - Woods could certainly be classified as a "Riser" as well. And this guy is freaky. Clearly Woods has extreme height and wingspan. But he is also well built and how about this, Woods ran a 4.61 at the Combine! Woods just eats up huge portions of the field with his long strides. He can get downfield as well as showing the ability to go up and pluck the ball over top of defenders. He could stand to add more weight and musculature, but Woods still is able to operate inline. Woods has come a long way since transferring from Oklahoma State and looks to only be getting better. 
Matt's First Take on the TE position ...
#4 - Cade Otten, Washington (6-5 1/4, 238 lbs.) - Otten is very tall, but lean. It will be interesting to see what he weighs in at in Indianapolis. Even though Otten isn't real thickly built, he is a good blocker that Washington often left in one-on-one situations against edge defenders. He blocks with good technique and hand usage, which is rare for incoming rookie tight ends. This is a player with good football intelligence and really has a good understanding of how to exploit both man and zone coverage. Despite his height, Otten isn't stiff, but his speed is somewhat of a concern. His quarterback play at Washington didn't help Otten's cause in terms of receiving production. Otten isn't really flashy and probably will not create a lot of big plays, but he competes and has little downside to his game.
#3 - Jeremy Ruckert, Ohio State (6-5, 250 lbs.) - Grossly underused at Ohio State, Ruckert was a top recruit and certainly isn't short on ability. Ruckert is a tough guy that plays hard in a traditional inline manner and is a very capable blocker with some nastiness in this department. Ruckert has an impressive build and is very strong. He plays with good leverage and is a good natural bender, which shows up when blocking and coming out of his breaks in his routes. Ruckert has soft hands and a big strike zone for his quarterback to hit and has some highlight receptions on his resume. He can run over tacklers after the catch. He isn't just an inline guy and can be moved all over the formation. This is somewhat of a projection, as Ohio State greatly prefers to throw the ball their wide receivers than tight ends, but Ruckert looks like a player that should do more damage in the NFL than in college. He will be a nice piece to an offense at the next level.
#2 - Jalen Wydermyer, Texas A&M (6-5, 255 lbs.) - Wydermyer is gifted with a lot of impressive traits to work with at the next level including great size and body for the position with impressive length. He is comfortable aligning as an inline Y as well as detached from the formation. At times he is impressive blocking in the run or pass game, but Wydermyer will make his money catching the football in the pros. For such a big man, his speed really stands out and he has a huge catching radius. Drops are a problem for Wydermyer, however. Wydermyer isn't particularly twitchy though and takes a little while to build up speed and he doesn't explode off the line of scrimmage, but he is a smooth mover.
#1 - Trey McBride, Colorado State (6-3 1/8, 249 lbs.) - On paper, McBride doesn't have the ideal tight end height, but he has a thick lower body, plays big and really does a nice job in contested catch situations. He is excellent playing the ball in the air and has great body control and balance for a tight end. While he is a plus athlete, McBride doesn't have great long speed. Still, he consistently makes plays downfield. McBride is also very dangerous after the catch with the ability to consistently break defensive back tackles. He has some nastiness when possessing the football. As a blocker, McBride competes, but he isn't particularly powerful and doesn't have long arms that he can use to his advantage. McBride caught 90 passes last year, winning the John Mackey award as the best tight end in college football. McBride dominated his level of competition and was the focal point of Colorado State's passing game. He should contribute quickly as a reliable receiver in the NFL.
Riser: Daniel Bellinger, San Diego State (6-5, 253 lbs.) - Bellinger really helped himself at the Combine with a solid workout. He clocked in at 4.63 seconds in the 40-yard dash, 7.05 seconds in the three-cone drills and 4.28 seconds in the short shuttle. Considered more of a blocking tight end when the draft process started, Bellinger's workout showed he can potentially be much more than that. Bellinger had just 68 career catches in college, but the guess here is that he's a better receiver as a pro than he was at the collegiate level. He might be a poor man's George Kittle, who had a similar profile coming out of Iowa.
Faller: Jalen Wydermyer, Texas A&M (6-5, 255 lbs.) - Wydermeyer came in at No. 3 in my initial tight end rankings, but his 5.03-second 40-yard dash at his pro day might leave him as a player who goes undrafted. His tape shows a better player than that, so teams are going to have to go back and look and see if he just had a bad day running or if that slow 40 time is real. Wydermeyer had 116 receptions and averaged 12.4 yards per catch while scoring 16 touchdowns in three seasons at Texas A&M, so he has shown the ability to get open. Can he do it at the NFL level? 
Sleeper: Lucas Krull, Pitt (6-6, 256 lbs.) - Krull wasn't invited to the Combine, but he tore up Pitt's pro day, running a 4.54-second 40-yard dash with a 35-inch vertical jump and 10-foot broad jump. Athletically, he would have been among the leaders at the tight end position in nearly every category had be been at the Combine. A former Florida recruit and Major League Baseball draft pick of the San Francisco Giants, Krull blossomed in his final season after transferring to Pitt. He was a second-team All-ACC pick in 2021 after catching 38 passes and scoring six touchdowns. He really helped himself with his pro day workout.
Dale's First Take on the TE position ...
#5 - Jake Ferguson, Wisconsin (6-43/8, 244 lbs.) - The grandson of former Wisconsin football coach and athletic director Barry Alvarez, Ferguson has been around football his entire life. He plays that way. Ferguson had a very solid week at the Senior Bowl to improve his stock. He runs good routes, blocks well and was a consistent producer in college. He probably won't ever be a star, but he'll be a solid NFL performer.
#4 - Isaiah Likely, Coastal Carolina (6-4, 241 lbs.) - Likely has good hands and athleticism, something you would expect from a former high school wide receiver who has bulked up for the position. He's still a bit undersized, but is a willing blocker. Likely can also be a downfield threat. He averaged 15.4 yards per catch over the course of his career, topping things off with a 12-touchdown campaign in 2021. He's still just 21 years old, so there's room to grow.
#3 - Jalen Wydermyer, Texas A&M (6-5, 255 lbs.) - A good-sized tight end with a nice catch radius, Wydermeyer has strong hands and uses his size to attack defenses vertically. Wydermeyer is a nice red zone target, as well. He scored 16 touchdowns in just three seasons for the Aggies. Entered the draft after his junior season, so he just turned 21 in December. Holds every career receiving record for tight ends at Texas A&M.
#2 - Greg Dulcich, UCLA (6-4, 250 lbs.) - Initially a walk-on, Dulcich had a breakout season in 2020, averaging 19.9 yards per catch on 27 receptions in just seven games. He followed that up by catching 42 passes for a 17.3-yard average in 2022. Yes, he's a vertical threat. Dulcich runs great routes and has good enough speed to challenge defenses. He's also not bad as a blocker. Does a good job of breaking tackles, as well, with the ball in his hands.
#1 - Trey McBride, Colorado State (6-3 1/8, 249 lbs.) - A well-built combo tight end, McBride is equally adept at both receiving and blocking. McBride is the best all-around tight end in this draft. A three-sport star in high school, he holds his high school's career points record in basketball, as well as its home run and RBI record in baseball. McBride won the Mackey Award in 2021 as college football's top tight end after catching 90 passes for 1,121 yards – though he somehow scored just one touchdown.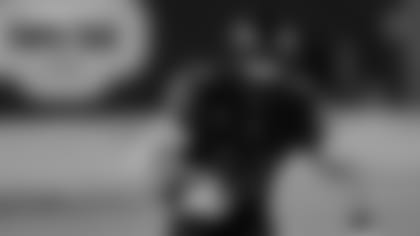 Riser: Cade Otton, Washington (6-5, 247 lbs.) - Otton only played in four games in 2020 and he also missed four games in 2021 due to COVID-19 and a foot injury but NFL teams don't seem to mind. He reportedly has pre-draft visits scheduled with the Titans, Cardinals, Buccaneers, Giants, Bills, Raiders, Cowboys and Seahawks. As a Washington tight end, Otton was required not only to contribute in the passing game but also to block. He's also the son and the grandson of a coach, has the required size and he's been described as "pro ready" on the scouting circuit.
Faller: Jake Ferguson, Wisconsin (6-5, 250 lbs.) - Also the product of a football family, Ferguson was a reliable and consistent performer for the Badgers (once coached and athletically directed by his grandfather, Barry Alvarez). But Ferguson was conspicuous at the NFL Scouting Combine when he registered a 4.81 in the 40-yard dash (ninth among tight ends), produced a vertical leap of 31.5 inches and executed 15 reps of 225 pounds in the bench press. His tape implies more athleticism than his testing betrayed. Sometimes, such numbers are overlooked. Sometimes, they aren't.
Sleeper: Connor Heyward, Michigan State (5-11, 233 lbs.) - Still another prospect who has the game in his blood. Connor Heyward is Craig "Ironhead" Heyward's son and Cam Heyward's brother. "Baby Ironhead" is probably more fullback or H-back than tight end, and he might be better suited in the backfield than in-line. But at any position he's a playmaker and a football player. Heyward's MSU highlight tape includes an 80-yard touchdown run in 2018 against Maryland, two touchdown receptions in 2020 against Michigan, and a clutch,15-yard touchdown catch against Pitt in the 2021 Peach Bowl on which Heyward went up and got the ball, absorbed a violent shot to the midsection and still came down with the touchdown. NFL Network analyst Daniel Jeremiah had this to say about Heyward at the Senior Bowl: "He's great after the catch. He'll go up and get the ball above the rim. You can use him in a lot of different areas. I wrote down in my notes, 'Just give him to the Patriots and they'll figure out how to use him. And they'll value his toughness.'" Jeremiah assessed Heyward's performance at the Combine as "awesome." Oh, brother.
Mike's First Take on the TE position ...
#5 - Jake Ferguson, Wisconsin (6-43/8, 244 lbs.) - Ferguson gets points for being the grandson of Burgettstown, Pa.'s Barry Alvazez, a legendary coach and athletic director at Wisconsin, and for being a Wisconsin offensive lineman (that means he'll willingly block). Ferguson's 25-yard touchdown reception at the Senior Bowl included 21 yards gained after the catch. And he's athletic enough that he might just improve his draft stock at the NFL Scouting Combine.
#4 - Isaiah Likely, Coastal Carolina (6-4, 241 lbs.) - He can get low and get the ball, go up and get it, make diving or one-handed catches if he has to and he can get deep. Likely plays with attitude and swagger. And it was all on display when he caught eight passes for 232 yards and four touchdowns against Arkansas State. Don't know who the Chanticleers are? You'll know Likely soon enough.
#3 - Greg Dulcich, UCLA (6-4, 250 lbs.) - He can split out wide and get down the seam. And when the ball gets there it's tough to prevent Dulcich from catching it and tough to get him on the ground. His smooth, fluid athleticism is apparent, and he excelled in Chip Kelly's pro-style offense at UCLA. Dulcich impressed throughout Senior Bowl week (he might have been the best tight end present in Mobile, Ala.).
#2 - Trey McBride, Colorado State (6-3 1/8, 249 lbs.) - The 2021 Mackey Award winner (nation's best tight end), McBride led FBS tight ends in catches (90) and receiving yards (1,121). He doesn't achieve a great deal of separation but he's perfected the contested catch. "That dude has got strong hands," NFL Network analyst Daniel Jeremiah observed during Senior Bowl week. Jeremiah, likewise, considers McBride's work in the running game to be "outstanding." McBride also excelled in baseball and basketball in high school, and he scored on a 70-yard fake punt at Colorado State.
#1 - Jalen Wydermyer, Texas A&M (6-5, 255 lbs.) - He has size, soft hands and the ability to make plays down the seam. Wydermyer can also turn short passes into home runs. He ran through or past five defenders (one on two separate occasions) on a 52-yard catch-and-run touchdown against Mississippi State that included 45 yards gained after the catch. He can go up in a crowd and get it, too. And he showed up to the tune of three receptions for 73 yards and a touchdown against Alabama in 2021.