The "Triple Take" team, the Steelers Radio Network trio of Matt Williamson, Dale Lolley and Mike Prisuta, provides updates on their breakdown of the top offensive tackle prospects in the 2022 NFL Draft. If you want to hear the audio version of "The Triple Take" click here.
The opinions of these Steelers Radio Network personalities do not reflect the views of the Steelers organization.
Riser: Tyler Smith, Tulsa (6-5, 324 lbs.) - Smith is getting more and more buzz as the draft process moves along. Running slightly over a five second forty-yard dash at well over 300 pounds didn't hurt Smith's cause, but this guy's calling card is power and violence. He is a wide-bodied blocker with good length. Smith is very thickly built with extreme power. When he latches on to his opponent, it is over. Smith is a natural bender. Smith's technique needs an awful lot of work, and he is very prone to just grabbing his opponent when beaten. Obviously, this leads to too many penalties. If his offensive line coach can convince Smith to trust his technique at the next level, he could really shine at tackle or guard in the NFL.
Faller: Daniel Faalele, Minnesota (6-8, 384 lbs.) - Is it just possible to be too big? Well, that might be the case with Faalele. This is a unique prospect with a very interesting back story, but the Senior Bowl and Combine weren't all that kind to Faalele. In the drill work and one on one sessions, Faalele just looked too heavy footed. He is so big that he corners like a battleship. Of course, Faalele's size can also work to his advantage and his game tape with pads on with 22 players on the field is better than when he is alone in a drill. He can smash his opponent, but Faalele will have to go to the right scheme and will probably always struggle blocking high end athletes.
Sleepers: Rasheed Walker, Penn State (6-6, 313 lbs.) - Hailing from Penn State, obviously Walker is from a big school, and many are probably aware of him. So, he isn't the typical "Sleeper". Still, what Walker brings to the table deserves more attention. Walker has the frame you look for at offensive tackles with good length and big heavy hands. He is very powerful, and it is difficult to bull rush Walker. He comes off the ball well in the run game and can mash the man in front of him. Walker is a good athlete, but not real quick to change directions and overall, his technique needs work. While Walker profiles as an offensive tackle, if he can't protect his edges better, a move inside to guard could be in the cards for Walker.
Matt's First Take on the OT position ...
#5 - Bernhard Raimann, Central Michigan (6-1 1/8, 304 lbs.) - Raimann has a very interesting back story as someone that fell in love with the game of football while growing up in Austria. He has a background in wrestling and track and field, two sports that really translate well to offensive line play. Raimann made the transition from tight end to offensive tackle, and you can quickly see his excellent movement skills, light feet and athletic ability compared to most offensive linemen. He has great balance and body control. Raimann can really run and quickly gets downfield to block on the second and third level of the defense. His 40 time at the Combine might shock people. Raimann has a tall frame that could probably handle more good weight. But he doesn't lack for power or explosion in his upper body and with his punch. His effort and nastiness in the run game stands out as well. Raimann's level of competition is a concern, but he excelled at the Senior Bowl. Overall, he needs more experience and technique work, but Raimann's best football should be ahead of him and he could start immediately in the league and is really more advanced that you might expect for someone with such limited playing time.
#4 - Trevor Penning, Northern Iowa (6-6 ¾, 330 lbs.) - This dude is just nasty. Maybe too nasty. Penning plays the game like your least favorite heal in the WWE. Coaches and fans love such attitude and it rubs off on his teammates. At the Senior Bowl against great competition, Penning showed more good than bad, but did lose his leverage at times and lost some one-on-one reps. But he also got better as the week went along. At Northern Iowa, Penning was rarely serious challenged. His size stands out. Not only is Penning tall and thickly built, but he is very wide as well. He has great upper and lower body strength. But this guy isn't a stiff at all. He plays with a wide base and shows good flexibility and recovery traits. Penning is a tone setter that you would much rather play with than against.
#3 - Charles Cross, Mississippi State (6-5, 305 lbs.) - Cross might have been created in a lab to play left tackle. He is well built with long arms. Cross moves extremely well. He is light on his feet as well as being very fluid. Cross is a natural knee bender and rarely plays out of balance. Few offensive tackles at any level of football mirror as well as Cross. Cross operates out of an unusual stance with his feet close together. That will need to be further evaluated. Cross is an effective run blocker, but not a killer in this phase and could stand to add more lower body bulk and power. Still, Cross is a player that just keeps getting better. He's very gifted.
#2 - Ikem Ekwonu, North Carolina State (6-4, 320 lbs.) - Aggressive and powerful are the words that spring to mind when describing Ekwonu. A former wrestler with very long arms, Ekwonu just beats up on his opponent. When he gets ahold of his prey, it is over. Ekwonu has a huge lower body with exceptional power in his bottom half and great snap in his hips on contact. Ekwonu is best in tight quarters and loses very few hand-to-hand battles. If he struggles at tackle and his pass sets do need work, Ekwonu might be an elite guard and could even begin his career on the inside depending on where he lands. Moving people in the run game is Ekwonu's specialty.
#1 - Evan Neal, Alabama (6-6 5/8, 360 lbs.) - Neal started at guard for the Crimson Tide as a freshman, then went to right tackle before closing out his great college career at left tackle. Obviously, this is a massive human being and at times, he can get over his skis a little too much and end up on the ground. Getting around his huge frame is a chore for pass rushers and he can just engulf defenders in the run game. A great athlete, Neal slides laterally really well and shows very impressive agility overall. He comes out of his stance low with quickness and explosive power. Although Neal is only 21 years old, he has played a lot of football at the college level and has a strong understanding of the position. Few players in recent memory can compare to Neal's combination of size, power, and athletic ability.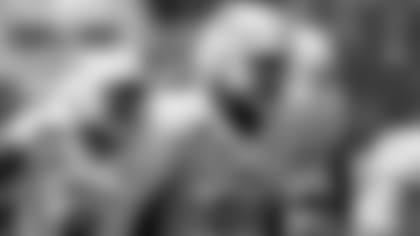 Riser: Tyler Smith, Tulsa (6-5, 324 lbs.) - Everyone knew that Smith was big and powerful going into the NFL Scouting Combine. What we didn't know was just how athletic he also happens to be. He ran a 5.04 40 and displayed good movement and explosiveness. He enters the draft as a redshirt sophomore after being a freshman All-America player in 2020. Turns 21 April 3, so there's still a lot of upside here, even if he doesn't have a ton of experience.
Faller: Daniel Faalele, Minnesota (6-8, 384 lbs.) - Faalele's size is undeniable. It's his calling card. But is he too big and does it affect his ability to move? That's the question NFL teams will have to ask themselves as they research Faalele. Some draft analysts had him as a possible first-round player prior to the Senior Bowl. But he struggled with his movements and staying on his feet there. When he locks on to a defender, he's dangerous. But he might always struggle with athletic speed rushers. And there are plenty of those in the NFL.
Sleeper: Rasheed Walker, Penn State (6-6, 313 lbs.) - Walker has the size and ability to potentially be a long-term starter in the NFL. He just needs some refinement in his technique. A powerful run blocker, the question will be whether he's athletic enough to play left tackle in the NFL with some refinement in coaching. He was a three-year starter on the left side for the Nittany Lions, but isn't getting a lot of love in this draft class.
Dale's First Take on the OT position ...
#5 - Bernhard Raimann, Central Michigan (6-1 1/8, 304 lbs.) - Raimann is a native of Austria who started playing football for a club team in Vienna. He came to the U.S. as a wide receiver and went to Central Michigan as a tight end. That shows up in his light feet and easy movement that showed up at the Senior Bowl practices. He has a lot of raw ability.
#4 - Trevor Penning, Northern Iowa (6-6 ¾, 330 lbs.) - Perhaps my favorite player to watch at the Senior Bowl, Penning is just nasty and always finishes his blocks. He was good enough at Northern Iowa to keep 2020 third-round draft pick Spencer Brown on the right side of the line while Penning played the left side. All Brown did was start 10 games for the Bills last season as a rookie. Penning is better.
#3 - Charles Cross, Mississippi State (6-5, 305 lbs.) - Cross just turned 21 in November, so there's a lot of upside here for a player who is entering the draft as a redshirt sophomore. But he was a two-year starter at left tackle after redshirting his true freshman season. Has good feet and balance and will continue to grow into his body.
#2 - Ikem Ekwonu, North Carolina State (6-4, 320 lbs.) - Ekwonu started at both guard and left tackle as a true freshman in 2019, then did the same in 2020 before playing the entire 2021 season at left tackle. Is outstanding as a run blocker but also has great footwork in the passing game. Some have him as the top offensive tackle in the draft despite his lack of ideal height. His father was a basketball player in Nigeria before coming to the United States.
#1 - Evan Neal, Alabama (6-6 5/8, 360 lbs.) - Just a massive human being with the ability to stone defenders in their tracks. Started at right tackle in 2019 and 2020 before moving to left tackle in 2021. Neal is probably better suited to play the right side in the NFL, but can handle left tackle. Defenders need to call a ride share to get around him and he's just a beast in the running game.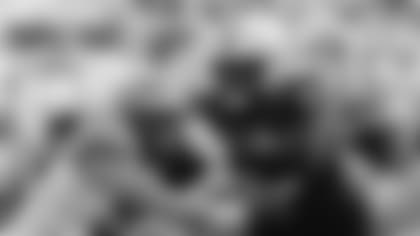 Riser: Bernhard Raimann, Central Michigan (6-6, 303 lbs.) - The native of Steinbrunn, Austria continued to impress at Central Michigan's Pro Day on Oct. 15, when he posted a 4.29 in the short shuttle and a 7.29 in the three-cone drill. He's short on experience but long on potential after initially coming to the United States as an exchange student and beginning his football career as a tight end before switching to offensive tackle. "You talk about strong hands and a strong core," NFL Network analyst Daniel Jeremiah observed during Senior Bowl coverage. Raimann's footwork was also on display in Mobile, Ala. He was one of CMU's MAC Medal of Excellence winners in 2021 (a male and female athlete from each MAC institution are recognized annually for academic and athletic performance).
Faller: Luke Goedeke, Central Michigan (6-5, 312 lbs.) - Goedeke suffered a hamstring injury during practice at the Senior Bowl and has been slow to get back onto the field. He didn't work out at the NFL Scouting Combine or at CMU's Pro Day on March 15. The plan is to have him go through position drills and possibly run the short shuttle and three-cone drill at a second Pro Day on April 4 at CMU. Goedeke might end up at guard in the NFL. His evaluation won't be complete until he can show the scouts he's healthy again.
Sleeper: Matt Waletzko, North Dakota (6-8, 312 lbs.) - An interesting project-type prospect because he's a big guy who can move. Waletzko has been compared with Spencer Brown of the Bills because of their similar physical skill sets (Brown is 6-9, 311) and playing backgrounds (Brown played at Northern Iowa, a member of the Missouri Valley Conference in the NCAA's FCS along with North Dakota). Brown went in the third round last year and wound up starting 10 games for the Bills. Waletzko's probably not on the same trajectory but he has "the lower body of a tight end," in Jeremiah's estimation.
Mike's First Take on the OT position ...
#5 - Charles Cross, Mississippi State (6-5, 305 lbs.) - Cross is assignment-sound and aggressive, as he established while handling a variety of rushers in a variety of circumstances against Alabama. And he's capable of knockdowns in space or in close quarters (the Georgia tape shows a short-yardage run behind Cross reaching the end zone and Cross pushing his opponent into the end zone and flattening him). Having played for Mike Leach he ought to know how to pass block by now.
#4 - Trevor Penning, Northern Iowa (6-6 ¾, 330 lbs.) - Penning was the only offensive lineman named a finalist for Walter Payton Award (Offensive Player of the Year in FCS), and during Senior Bowl week he held up "quite well," according to NFL Network analyst Charles Davis, as small-school prospects must when they step up in class of competition. Jeremiah called him "Mr. Nasty," and maintained Penning was "on the cusp of getting in a fight every day (at Senior Bowl)." This is one Clear Lake, Iowa native it's easy to Rave On about.
#3 - Daniel Faalele, Minnesota (6-81/8, 387 lbs.) - Jeremiah put it best: "We use the phrase 'a giant of a human being,' and maybe that's hyperbole; not in this case." Faalele's eye-catching physical attributes include, in Jeremiah's estimation, "35-and-change arms, which is ridiculously long." His coaches liked him so much at Minnesota they lined him up at fullback and gave him the ball from the 2-yard line in the Guaranteed Rate Bowl against West Virginia. Faalele scored, and his teammates loved it. You don't walk with Faalele, you walk among him.
#2 - Ikem Ekwonu, North Carolina State (6-4, 320 lbs.) - A left tackle that's capable of getting out into space on screens. He's also athletic enough to pull and deliver devastating kick-out blocks. Ekwonu delivered such a block against North Carolina and knocked his opponent to the ground in the process, then landed on him with as much force as possible for emphasis. When you're blocked by Ekwonu, you stay blocked. In a year that lacks a perceived can't-miss franchise quarterback Ekwonu might be first-overall worthy.
#1 - Evan Neal, Alabama (6-6 5/8, 360 lbs.) - If you've seen Alabama play, and if you're this deep into the draft this early in the process you probably have, you likely noticed No. 73 dominating. Neal plays with physicality and passion. You can get around him, but you have to take a cab. The "Planet" theory applies: There aren't many guys this big and this athletic walking the planet. Neal will also likely generate first-overall consideration.