The "Triple Take" continues with a breakdown of the interior offensive linemen. In the second installment of this draft prospect preview by position, the Steelers Radio Network trio of Matt Williamson, Dale Lolley and Mike Prisuta give their takes on the top prospects at the interior offensive line positions. If you want to hear the audio version of "The Triple Take" click here.
The opinions of these Steelers Radio Network personalities do not reflect the views of the Steelers organization.
Matt's Take ...
Teams looking for interior line help should be happy with what this draft class should provide. There could be three interior offensive linemen selected in the first round and quite a few others on Day 2 of the draft. But overall, this draft looks better stocked at tackle rather than guard and especially more so than center.
#5 - Jamaree Sayler, Georgia (6-2 5/8, 320 lbs.) - Salyer has offensive tackle experience but is really a guard that could maybe slide outside in an emergency situation. But that tackle experience has proven valuable for Salyer in pass protection. His height is a concern for tackle though full time, but Salyer does have long arms. Salyer has a great anchor and very heavy hands to knock is opponent off balance. While he bends too much at the waist, something he got away with in college, Salyer is at his best coming downhill and attacking his opponent. Power his Salyer's best attribute.
#4 - Darian Kinnard, Kentucky (6-4 6/8, 324 lbs.) - Many view Kinnard as an offensive tackle but playing in space isn't his strength and he does much better work doing battle in a phone booth. Kinnard likes to finish off his opponent. He is a true mauler that has been bigger and stronger than just about everyone he has faced and as a result, has not developed technique, especially with his hand usage. And Kinnard can play high at times. But there is a lot to work with here with Kinnard. His feet might not be light enough for tackle, but he does have the length and dimensions for the outside. Kinnard looks the part.
#3 - Kenyon Green, Texas A&M (6-4, 325 lbs.) - Green has a great guard body with girth and length. He is excellent in the run game and extremely reliable and consistent in this phase. Green generates a lot of power from his lower half, plays with good leverage, and displays strong hand placement. He plays the game with aggression and often pushes defenders around. Green does have to cut back on the holding penalties and when he gets into trouble, he tends to grab his opponent. He also isn't an elite mirror blocker, and his lateral agility is just okay. Green has played some tackle but is clearly more comfortable on the inside. He projects to an immediate starter in the NFL and should instantly help any run game.
#2 - Zion Johnson, Boston College (6-2 6/8, 314 lbs.) - Johnson is built like a 314-pound running back with very little body fat and great musculature. His play strength is exceptional. Johnson has played some tackle, but he is clearly an interior offensive lineman. In fact, he played quite a bit of center at the Senior Bowl, something that was totally new for him but also something Johnson showed could be in the cards for him going forward. Johnson excels getting to the second level and has the change of direction skills to hit smaller defenders. He is probably best in a zone scheme, but certainly isn't limited to any specific offensive system. Johnson's consistency week to week and even snap to snap really stands out and it is rather difficult to find true negatives with this guy.
#1 - Tyler Linderbaum, Iowa (6-3, 289 lbs.) - Linderbaum is a rare center prospect, but because there are only 32 starting positions available in the world and not every team will be in the center market, it will be fascinating just how high Linderbaum is drafted. He isn't the biggest guy, but his movement abilities really jump off the screen from the second you start to watch Linderbaum. It will be extremely interesting to see how Linderbaum tests at the Combine, as it could be jaw-dropping. He is best in a movement-based zone blocking scheme where he can really get out on the move, but Linderbaum holds up very well in tight quarters against massive nose tackle types as well because his hand usage and leverage are so good. Linderbaum can anchor and finish. It might not be long before Linderbaum is one of the NFL's best centers.
Dale's Take ...
Guards and centers don't get the love of their linemates at offensive tackle, but they're every bit as important. Like the tackle crop, the interior offensive line group in this year's draft is talented and fairly deep with a number of players who can step in and be starters from Day 1.
#5 - Jamaree Sayler, Georgia (6-2 5/8, 320 lbs.) - Saylor is a solid blocker with plenty of experience against the top talent in college football. Played tackle for the Bulldogs, but will slide inside in the NFL due to his lack of ideal tackle height. That's fine. He's a polished, nasty player who could be a long-term starter for whatever team selects him. He's a powerful player.
#4 - Darian Kinnard, Kentucky (6-4 6/8, 324 lbs.) - Voted the top lineman in the SEC last season, Kinnard played right tackle at Kentucky but is probably better suited to play guard in the NFL. He has a thick lower body that anchors well. He excels as a run blocker and is incredibly strong. Some might also view him as a tackle prospect in the right system.
#3 - Zion Johnson, Boston College (6-2 6/8, 314 lbs.) - Johnson played both guard and left tackle at Boston College because he was the Eagles' best lineman. But he also showed the ability to play center at the Senior Bowl, where he was one of the best lineman in the game. Johnson is smart and athletic. He also anchors well in the passing game.
#2 - Kenyon Green, Texas A&M (6-4, 325 lbs.) - Green has the ability to play both guard spots and right tackle, as well. He gets the nod over Johnson because of his size and strength that he combines with great agility for a man his size. Just a powerhouse in a running game, Green also is adept as a pass blocker.
#1 - Tyler Linderbaum, Iowa (6-3, 289 lbs.) - The top center in this draft class and the top interior offensive lineman overall, Linderbaum is polished and is an easy mover, getting to the second level with ease. He's a little lighter than some would prefer, but his mobility and ability to get out in front of plays negates that. It probably also limits him strictly to the center position, however. He's a good enough prospect that it doesn't matter. He'll hear his name called on Day 1 of the draft.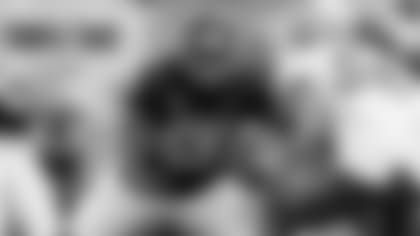 Mike's Take ...
Guards and centers often aren't sexy selections, but like any other position landing the best of the best normally still requires a significant investment.
Not that there aren't exceptions.
This year's Associated Press First-Team All-Pro guards were Zack Martin of Dallas and Joel Bitonio of Cleveland. Martin was selected 16th overall by the Cowboys out of Notre Dame in 2014 and Bitonio was a second-round pick (35th overall) by the Browns in 2014 out of Nevada.
But this season's first-team All-Pro center was Jason Kelce, who was drafted by the Eagles on the sixth round (191st overall) in 2011 out of Cincinnati.
Pro Bowl guard Brandon Scherff was selected fifth overall by Washington in 2015 out of Iowa.
Browns Pro Bowl guard Wyatt Teller (fifth round, 166th, Buffalo, 2018, Virginia Tech) and Chargers Pro Bowl center Corey Linsley (fifth round, 161st, Green Bay, 2014, Ohio State) were much less heralded.
Like any position, drafting interior offensive line is about fit and projection as well as investment.
#5 - Jamaree Sayler, Georgia (6-2 5/8, 320 lbs.) - Salyer was position-flexible between the hedges (he started at three offensive line positions and played snaps at all five for Georgia) and projects as a guard in the NFL. His play at left tackle in Georgia's thumping of Michigan in the national semifinals on New Year's Eve made a statement regarding Salyer's NFL readiness. Salyer and right tackle Warren McClendon (remember the name next year) held projected first-round edge rushers Aidan Hutchinson and David Ojabo to a combined zero sacks. It's the type of assignment upon which Salyer thrives. "You kind of want to be the guy to hold the bottom of the ladder so other guys can elevate," he said afterward. Spoken like a true veteran of the trenches.
#4 - Darian Kinnard, Kentucky (6-4 6/8, 324 lbs.) - Another tackle who projects to move inside to guard in the NFL. Kinnard will be a well-decorated prospect when he eventually arrives. His honors included first-team All-SEC recognition (twice), a first-team All-American designation and the 2021 Jacobs Blocking Trophy, which is awarded to the SEC's best blocker. Kinnard could have entered the draft last year but returned for another season of additional experience and work on his game. His time at Kentucky this season appears to have been time well spent.
#3 - Zion Johnson, Boston College (6-2 6/8, 314 lbs.) - Johnson played guard and tackle at BC, and got extensive work at center during Senior Bowl week (the first time he'd ever played the position). He repeatedly gave a little ground on 1-on-1 pass-protection sets before slamming on the breaks and shutting down the rush. A poll conducted among NFL teams in Mobile, Ala. named Johnson the Practice Player-of-the-Week at the Senior Bowl. The executive director of the event, Jim Nagy, had this to say about Johnson via Twitter: "Any GM will have great peace of mind turning in the card with Zion's name on it. Building block for any organization."
#2 - Tyler Linderbaum, Iowa (6-3, 289 lbs.) - You don't have to look very far or very wide to find an Iowa offensive lineman on an NFL roster. Linderbaum is widely regarded as the next big thing coming out of Iowa City. He fits the profile, too, technically sound with his hand placement, a former high school state champion wrestler, and he's been described as having an ability to snap the ball with "impeccable precision." Linderbaum also reportedly donated $30,000 in NIL earnings to the University of Iowa's Stead Family Children's Hospital, a cause near and dear to the hearts of Hawkeyes everywhere.
#1 - Kenyon Green, Texas A&M (6-4, 325 lbs.) - There's video available of Green playing both guard spots and lining up at both tackle positions in the tradition of the Aggies' "Maroon Goons" offensive line. No wonder his head coach, Jimbo Fisher, called Green "one of the best pure football players in America." Line him up and he'll get after it, from wherever. And he's competitive enough that he'll do what's required in a given situation, even if that means pulling a pass rusher down on top of him to avoid getting beat (Green got away with that tactic against LSU). It's likely not a move Green had to employ often.