The "Triple Take" team, the Steelers Radio Network trio of Matt Williamson, Dale Lolley and Mike Prisuta, provides updates on their breakdown of the top cornerback prospects in the 2022 NFL Draft. If you want to hear the audio version of "The Triple Take" click here.
The opinions of these Steelers Radio Network personalities do not reflect the views of the Steelers organization.
Riser: Tariq Castro-Fields, Penn State (6-2, 197 lbs.) - Castro-Fields' tape implies that he is a work in progress in terms of his technique. And his new team would be smart to give him time to develop. He also needs to dedicate himself more to run support. But this is a player with excellent traits for an outside cornerback that might develop into a press man coverage defender, something that is always coveted in today's NFL. Obviously, he is tall with very good length, but Castro-Fields is also strong, has good flexibility and can play above the rim. Oh, he also ran a 4.38 40-yard dash in Indianapolis at just under 200 pounds.
Faller: Derion Kendrick, Georgia (6-0, 194 lbs.) - Kendrick had a lot of advantages that other cornerback prospects did not by playing on the ultra-talented Georgia defense. He has excellent size for the position. Kendrick is a former wide receiver. That experience on the offensive side of the ball shows up with his ability to read routes and play the ball in the air. But Kendrick has off the field issues that every NFL team might not be comfortable with and at Georgia's Pro Day (after not running at the Combine), Kendrick posted a forty-yard dash time of 4.75. His jump numbers also were subpar.
Sleeper: Marcus Jones, Houston (5-8, 174 lbs.) - Jones is barely 5' 8". He doesn't have long arms or big hands. He is strictly a slot cornerback at the next level, and we can debate the value of a "True slot" in today's NFL. But Jones is really good at what he does. He has fantastic feet and is extremely twitchy with all his movements. He runs well in a straight line and has great change of direction skills. He is built to matchup against prototypical slot receivers that possess great short area quickness. He also has fantastic ball skills. And while Jones has an obvious role on defense, his contributions as a special teamer really set him apart. Jones is a great return man. He has nine career return touchdowns and should also be a major contributor on the punt and kickoff teams. Getting him the ball on offense is something his new team should consider as well. Jones makes your NFL team better.
Matt's First Take on the CB position ...
#5 - Kyler Gordon, Washington (5-11 1/2, 194 lbs.) - The first of two cornerbacks from Washington listed here, Gordon is widely considered an athletic freak. However, his Combine testing was just "Really good" rather than "Amazing". But you could also see that Gordon wasn't real refined with his track start, which of course doesn't matter for football reasons. Testing aside, and who knows, maybe he blows up at his Pro Day, Gordon was excellent this year for the Huskies. He can play in the slot or on the outside and that versatility carries a lot of weight. He is a physical cover man and an excellent tackler. Gordon's route recognition still needs work as does his technique in press man coverage. Still, on tape, his athletic ability, particularly Gordon's burst, really show up time and time again.
#4 - Andrew Booth, Clemson (6-0, 194 lbs.) - Booth has really sweet feet for any cornerback, let alone one that is six feet tall. He also has very good length and musculature on that frame and plays with a physicality through the route. You see a very good closing burst from Booth and his short area suddenness is quite impressive. Booth plays the ball very well. He can be a little reckless with his tackling, which needs cleaned up at the next level. Booth gave up too many catches this year and wasn't a shutdown player in his first year as a fulltime starter for Clemson. But his upside is immense, and you would think that this is clearly an improving player. He also looks very capable of excelling at the next level in either man or zone coverage.
#3 - Trent McDuffie, Washington (5-11, 193 lbs.) - The biggest concern with McDuffie is his lack of length, but he plays big and with excellent aggression and toughness. In fact, he is not only maybe the most reliable tackler in this cornerback class, but he is also very physical and sometimes violent in getting his man to the ground. The edge in which McDuffie plays with will endear him to NFL coaches very quickly. He has a strong frame and uses it well, but McDuffie also shows a very nice closing burst. McDuffie didn't play a lot of man coverage at Washington, so this is a bit of an unknown with his evaluation right now. This might be the best zone coverage corner in the draft though. He also didn't get his hands on the football as much as you would like at the college level. He projects either to the outside or in the slot at the next level. McDuffie is a good blitzer from the slot and very capable overall near the line of scrimmage.
#2 - Derek Stingley, LSU (6-0, 190 lbs.) - Stingley is a difficult guy to get a great grasp on right now. When LSU won the National Championship with Joe Burrow, Stingley was a dominant player as a 19-year-old. But since then, because of COVID and injuries, we have seen very little from this incredibly talented player. Stingley's athletic arrogance is off the charts in a way that many all-time great cornerbacks approach the game. He has simply fantastic tools for the position. This includes his height, long arms, speed, but especially the quickness and fluidity that he flips his hips and changes directions. He baits quarterbacks and takes the football away. Stingley knows that he is good. Tackling, and the want-to involved with tackling, isn't Stingley's game and he has some selfishness on the field. But if he is shutting down the opponent's top receiver on Stingley Island, does it really matter all that much? And there are many instances in which Stingley blows up bigger blockers and ball carriers while at LSU.
#1 - Ahmad "Sauce" Gardner, Cincinnati (6-3, 190 lbs.) - Gardner has been starting since his true freshman season for Cincinnati and really became a truly dominant player in 2021. This is a cornerback with rare size and fantastic arm length, and he uses those dimensions very well in all aspects of cornerback play. He is an ideal press man corner that can really get physical at the line of scrimmage to disrupt wide receiver releases. Once he opens up his long stride, Gardner really covers a lot of ground, but it is Gardner's short area burst that really stands out for such a tall cover man. He has excellent ball skills but can be a little too aggressive as a risk taker when trying to create the big play. Smaller twitchy explosive receivers could give Gardner trouble at the next level. Gardner is a great prospect, especially for defenses that want to major in press man coverage.
Riser: Tariq Woolen, Texas-San Antonio (6-4, 205 lbs.) - Woolen was a late addition to the Senior Bowl, but he made the most of the week, posting the fastest measured time in miles per hour during the week. At the NFL Scouting Combine, he showed just how fast he is, posting a 4.26-second 40-yard dash. That's outstanding for a 6-foot-4, 205-pound corner. He's got size and speed to spare. Oh, and his vertical leap was 42 inches. This guy is an athletic freak with moldable skills that will probably push him into being Day 2 pick. He's only played cornerback for two years, so there's plenty of room to grow for a team that will be patient with him as he learns the nuances of playing more mixed coverages in the NFL.
Faller: Derion Kendrick, Georgia (6-0, 194 lbs.) - After three seasons at Clemson, Kendrick was dismissed from the team for an infraction and wound up at Georgia. He won a national title at both schools. And he was a contributor in all four of his college seasons for good teams. But he declined to work out at the NFL Scouting Combine, then posted a 4.75-second 40-yard dash at the Georgia pro day with a 1.63-second 10-yard split, 31-inch vertical and 9-foot, 6-inch broad jump that all are in the bottom 10 percentile for the position. His tape is better than that, but his athletic profile doesn't show an NFL contributor. He does have size at 6-foot-1, 205 pounds, so maybe a switch to safety would help.
Sleeper: Zyon McCollum, Sam Houston State (6-2, 199 lbs.) - Like Woolen, McCollum is a small-school prospect with big-time athletic traits. At 6-foot-2, 199 pounds, he posted a 4.33-second 40-yard dash, 39-inch vertical jump and very nice 3.94-second 20-yard shuttle. A fifth-year player, he had 13 interceptions, while also forcing six fumbles in his five collegiate seasons. So, he's got some ball skills, as well. There's a lot to like with this small-school prospect. He originally signed with Utah coming out of high school, but chose to stay closer to home with his twin brother, Tristan, who also played defensive back.
Dale's First Take on the CB position ...
#5 - Kair Elam, Florida (6-1 ½, 191 lbs.) - The nephew of former NFL safety Matt Elam, Kair Elam didn't have a great 2021 season, perhaps because the team around him wasn't as good. Elam's 2020 tape is outstanding. He has excellent size and also ran a 4.39-second 40-yard dash at the NFL Scouting Combine. Elam can play press and shows the ability to be a standout in zone, as well. His father, Abram, also played seven seasons in the NFL, so he's got the bloodlines.
#4 - Andrew Booth, Clemson (6-0, 194 lbs.) - Still just 21, Booth had five interceptions the past two seasons for the Tigers. Booth is a willing tackler, closing on the ball quickly. A former five-star recruit, he has the kind of athleticism you're looking for at the position. Booth played his best later in the season last year after Clemson righted the ship and won its final five games. The best is still ahead. Was dealing with a quad injury at the NFL Scouting Combine, so he didn't work out.
#3 - Trent McDuffie, Washington (5-11, 193 lbs.) - A three-year starter at Washington, McDuffie didn't get thrown at a lot in 2021, leading to him having no interceptions. But he's a physical player who is willing to stick his nose in and help out in the run game. He allowed just 16 receptions in 11 games in 2021. McDuffie is ridiculously smooth in his backpedal and changes direction well. He also ran a 4.44 40-yard dash at the NFL Scouting Combine.
#2 - Derek Stingley, LSU (6-0, 190 lbs.) - A Lisfranc injury limited Stingley to just three games in 2021, while he appeared in seven games in 2020 because of COVID-19. So, teams might have to go back to his 2019 tape to really see what Stingley is. And as a true freshman, he was the cornerstone of LSU's national championship secondary. Stingley had 38 tackles, six interceptions and 15 pass defenses in that season. He didn't work out at the combine, but is expected to do so at LSU's pro day. If he tests well, expect him to be an early first-round pick. He doesn't turn 21 until June. He's the grandson of former NFL player Darryl Stingley, who was left paralyzed following a hit by the Raiders' Jack Tatum in a 1978 preseason game.
#1 - Ahmad "Sauce" Gardner, Cincinnati (6-3, 190 lbs.) - A long, fast cornerback, Gardner might be the most talented player in this draft when it's all said and done. Gardner uses his hands to redirect wide receivers at the line of scrimmage and then mirrors them throughout their routes. He had nine career interceptions and 16 pass defenses in 33 career games. According to Pro Football Focus, he allowed just 6.6 yards per catch in 2021. In 1,059 career snaps in coverage in college, he did not allow a single touchdown pass.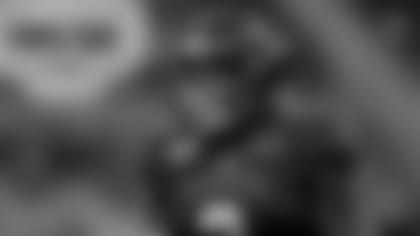 Riser: Roger McCreary, Auburn (5-11, 190 lbs.) - McCreary just missed cracking my initial Top 5 at the position (Derek Stingley Jr., Ahman Gardner, Trent McDuffie, Andre Booth and Tariq Woolen), mostly because of my fascination since early in the process with Woolen's size (6-4, 205) and speed (4.26 in the 40-yard dash). McCreary has been much more of a known commodity and much more highly regarded by most if not all analysts all along. He kept himself in the conversation among the best available at the position by bettering his 40-time at Auburn's Pro Day (4.46, down from 4.50 at the NFL Scouting Combine) and by putting up 19 reps of 225 pounds in the bench press and posting a vertical leap of 31.5 inches (McCreary hadn't benched or jumped in Indy). If you can get past the he-loves-to-eat-baked-beans-with-sugar thing, McCreary might be the guy, or at least one if them. As a former three-star recruit, he's been on the rise for some time now. As an SEC cornerback, his confidence is already what it needs to be. "I feel like I'm ready for the next level," he said at the Combine. "I've seen some of the best receivers in the world."
Faller: Derion Kendrick, Georgia (6-0, 194 lbs.) - He was the Defensive MVP of the Orange Bowl (two interceptions in Georgia's 34-11 national semifinal victory over Michigan). And he was athletic enough to play wide receiver for Clemson's national championship team in 2018 as a freshman (15 receptions for 210 yards and a 14.0 average per catch) before switching to cornerback. But Kendrick was dismissed from Clemson's program after the 2020 season. Clemson head coach Dabo Swinney reportedly has no hard feelings ("I love D.K."). Kendrick also earned high praise from Georgia head coach Kirby Smart ("There is not a player on our team that prepares harder than he does. He comes to practice every day, gives great effort, takes notes in meetings. I've never been around a kid that is so attentive in meetings at the corner position."). But Kendrick was still dismissed by Clemson. Then he ran a 4.79 40 at Georgia's Pro Day after not running at the Combine. As we've noted a couple of time during our further reviews at other positions, this is not the draft year to be perceived as relatively slow.
Sleeper: Alontae Taylor, Tennessee (6-0, 199 lbs.) - Questions lingered at the Combine as to whether Taylor was best suited to play cornerback or safety at the next level. "If he's not a corner, he is 100 percent a safety in any scheme in the league," NFL Network analyst DeAngelo Hall observed. NFL Network Analyst Charles Davis is also on record suggesting a move to safety is in order. But Taylor ran an attention-getting 4.36 40 in Indy, then jumped himself even higher up in the pecking order at Tennessee's Pro Day, at least Taylor did in the estimation of Senior Bowl Executive Director Jim Nagy. "Alontae Taylor will undoubtedly gain traction around the league in April draft meetings," Nagy tweeted. "Followed up 4.36 official combine 40 with 39 VJ (a 39-inch vertical jump) and 11-1 BJ (a broad jump of 11'1") at pro day. DB coaches will pound table for him since he's inarguably most innately physical corner in draft."
Mike's First Take on the CB position ...
#5 - Tariq Woolen, UTSA (6-4, 205 lbs.) - Texas-San Antonio plays in Conference USA, not the SEC. And Woolen has only been playing cornerback for a couple of seasons after converting from wide receiver. But the 4.26 40-yard dash he ran at the NFL Scouting Combine should resonate with teams looking for big and fast, no matter where it's coming from. "You're not gonna find bigger and you're not gonna find faster than that combination he has," Jeremiah insisted. Woolen made himself noticeable at the Senior Bowl (where he hit a reported 22.45 mph on the GPS). His confidence ought to be soaring after flying down the track in Indianapolis.
#4 - Andrew Booth, Clemson (6-0, 194 lbs.) - He's not a finished product, having played just 25 games in three seasons at Clemson. But Booth has already established himself as an aggressive, physical tackler. When he breaks on the ball or a ball carrier he does so with a purpose. And the majority of his five career interceptions (all in his last two seasons over the course of 21 games) resulted from an ability to play the ball and make what could be described as difficult-to-outstanding catches. Booth didn't do any on-field work at the Combine. His physicality wouldn't have shown up there, anyway.
#3 - Trent McDuffie, Washington (5-11, 193 lbs.) - McDuffie's interviews at the Combine apparently impressed as much as his tape. "I spoke to a defensive coordinator and he said, 'You bring McDuffie into your room, he could actually coach your secondary, too,'" the NFL Network's Peter Schrager reported. "He only had visits with 23 teams," Jeremiah said, with tongue firmly in cheek, before maintaining NFL teams had clearly been "doing their homework" on McDuffie. He puts his knowledge of the game to good use by attacking once he diagnoses what's happening, whether that's breaking on the ball or chasing a play down from the back side. He gets get through blocks to make plays, he's an aggressive tackle and he shows up in the backfield as well as down the field.
#2 - Ahmad "Sauce" Gardner, Cincinnati (6-3, 190 lbs.) - Gardner went to the Combine with seemingly just one question hanging over his head _ speed. Then he posted unofficial times of 4.52 and 4.57 in the 40. "Box checked," Jeremiah declared. Gardner's official time of 4.41 checked it with a Sharpie. "You don't see corners that are this long and this rangy and this fluid," Jeremiah raved. Gardner didn't win the Jim Thorpe Award, as his Cincinnati teammate Coby Bryant did, but Gardner will get drafted before Bryant, and perhaps before any other cornerback.
#1 - Derek Stingley, LSU (6-0, 190 lbs.) - Teams proceeding with caution may convince themselves Stingley isn't worth the risk early in Round One. He had Lisfranc surgery in late September and his past two seasons haven't been up to the standard Stingley established in 2019. But that standard was through the roof. "He's a tricky evaluation," Jeremiah maintained. "You go back to 2019, he looks like a Top 5 pick all day long. And then the last two years just hasn't quite been the same player. And then you throw an injury on top of that. A tough one to kinda slot in when you're ranking players because the ability, you know it's all there." You know it's all there, in part, because of the LSU practice video broadcast during the Combine that featured Stingley locking up repeatedly with Ja'Marr Chase one-on-one. Stingley more than held his own against a player who would go on to become the AP Offensive Rookie of the Year this season. Assuming the medical reports check out eventually and Stingley can perform at LSU's Pro Day on April 6, that's the guy.