The "Triple Take" team, the Steelers Radio Network trio of Matt Williamson, Dale Lolley and Mike Prisuta, provides updates on their breakdown of the top defensive prospects in the 2022 NFL Draft. If you want to hear the audio version of "The Triple Take" click here.
The opinions of these Steelers Radio Network personalities do not reflect the views of the Steelers organization.
10. Dax Hill, S, Michigan (6-0, 191 lbs.) - This was a real tough call between Hill and Devin Lloyd. And Hill's college teammate, David Ojabo, would have made this list if it wasn't for his recent Achilles injury. Hill has top notch cornerback athletic traits mixed with a great ability to play any safety role. Hill can cover the slot, tight ends, running backs or possibly even outside wide receivers. He flies around the field and his versatility makes him perfect for defenses in today's NFL.
9. Trent McDuffie, CB, Washington (5-11, 193 lbs.) - McDuffie's tape is very easy to fall in love with. He plays hard and isn't afraid to throw his body around near the line of scrimmage and in the running game. McDuffie doesn't have prototypical size, but he projects equally to the slot and as an outside cornerback. There probably isn't a better zone corner in this draft.
8. Jermaine Johnson, EDGE, Florida State (6-5, 254 lbs.) - Johnson has come on like gangbusters since transferring to Florida State from Georgia. He was a dominant player this past season for the Seminoles then possibly the best player at any position during Senior Bowl practices. He followed that up with a great Combine. Johnson has an excellent combination of traits and production. Johnson is a little older than you would like and is almost a full two years older than Walker and Thibodaux.
7. Kayvon Thibodaux, EDGE, Oregon (6-4, 254 lbs.) - Thibodaux has basically been at the top of these lists since he enrolled at Oregon. He really looks the part and has many very high-end traits. Thibodaux isn't an elite bender around the edge and there are too many plays on tape in which his effort can be questioned. But if Thibodaux hits, he will hit big in the NFL.
6. Jordan Davis, DT, Georgia (6-6, 241 lbs.) - By now everyone knows about the remarkable testing numbers Davis produced at the Combine. He is very rare in that regard. Some question Davis' ability to influence the passing game and wonder how many snaps his big body can handle per game. While those are valid questions, it must be noted that Georgia had two other fantastic players at Davis' position, so he wasn't needed for a huge number of snaps.
5. Derek Stingley, CB, LSU (6-0, 190 lbs.) - After dominating the SEC and helping LSU win a National Championship, Stingley didn't do much to enhance his draft stock over the past two years. Then he recently lit up his Pro Day. Stingley's path as a prospect has been an odd one and that presents some risk and questions, but Stingley also could quickly become one of the best cover men in the entire NFL. Stingley is also the youngest of all the top cornerbacks in this draft.
4. Kyle Hamilton, S, Notre Dame (6-4, 220 lbs.) - A lot of people are focusing on Hamilton's pedestrian times in the 40-yard dash and maybe that is a little concerning. Well, until you watch Hamilton's tape, and anyone can realize that covering ground on a football field is not a problem for this extremely gifted young man. Hamilton just has an amazing combination of traits and can influence a game in a multitude of ways. Hamilton just recently turned 21-years-old, making him one of the younger incoming rookies.
3. Travon Walker, EDGE, Georgia (6-5, 272 lbs.) - Many throw the word "Freak" around too often when describing draft prospects. But that term very much applies to Walker. Simply put, human beings with Walker's build and size shouldn't be as explosive, flexible, and fluid as this guy. Walker didn't have great production at the college level, but NFL position coaches will do cartwheels if they can work with Walker. He also has great position flexibility all over the defensive front line.
2. Aiden Hutchinson, EDGE, Michigan (6-7, 260 lbs.) - While he isn't at the Chase Young/Myles Garrett level as a prospect, you can easily see why most have Hutchinson as the best player in this draft class. He is an excellent athlete with great refinement for the position in terms of technique and hand usage as well as effort and tenacity. Arm length is a concern with Hutchinson. In fact, Walker's arms are more than three inches longer than Hutchinson's.
1. Sauce Gardner, CB, Cincinnati (6-3, 190 lbs.) - Man-to-man coverage is king in the NFL and Gardner looks like he was created in a laboratory to plan press man coverage. He has the exact dimensions you look for. Gardner's 33.5" arms and nearly 80" wingspan is flat out uncommon for a cornerback. He has very good feet and fantastic speed. Gardner was routinely the best player on the field in college and will of course, face stiffer challenges going forward, but Cincinnati's opponents often just gave up on throwing Gardner's way.
10. Devin Lloyd, LB, Utah (6-3, 237 lbs.) - A long, instinctive playmaker at the inside linebacker position who makes plays all over the field.
9. Daxton Hill, S, Michigan (6-0, 191 lbs.) - A big-hitting, fast safety who can play in the slot. Ran a 4.38-second 40-yard dash at the NFL Scouting Combine. A lot to like.
8. Jordan Davis, DT, Georgia (6-6, 341 lbs.) - An enormous nose tackle with extreme athleticism. His 4.78-second 40-yard dash at the NFL Scouting Combine is the stuff of legend.
7. Trent McDuffie, CB, Washington (5-11, 193 lbs.) - A smooth, experienced player. He's not as big as some of the other corners, but he'll be a solid NFL starter.
6. Kayvon Thibodeaux, Edge, Oregon (6-4, 254 lbs.) - An explosive edge rusher who won't make it down to pick No. 20.
5. Travon Walker, Edge, Georgia (6-5, 272 lbs.) - A big, versatile edge rusher with rare size and speed. Might be a more athletic version of Bud Dupree.
4. Aidan Hutchinson, Edge, Michigan (6-7, 260 lbs.) - There's no chance it happens, but imagine T.J. Watt coming off the edge opposite Hutchinson.
3. Kyle Hamilton, S, Notre Dame (6-4, 220 lbs.) - Hamilton has rare size and fluidity for such a big man. He ran a 4.59-second 40 at the NFL Scouting Combine, but he doesn't take false steps.
2. Derek Stingley, CB, LSU (6-1, 195 lbs.) - Stingley is a shutdown cornerback with good hands. He ran around 4.4 seconds in the 40 at his pro day.
1. Ahmad "Sauce) Gardner, CB, Cincinnati (6-3, 190 lbs.) - A big corner with 4.41-second speed in the 40. Gardner didn't allow a single touchdown pass in college.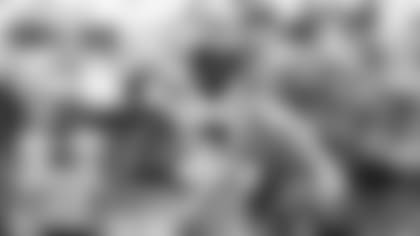 10. Trent McDuffie, CB, Washington (5-11, 195 lbs.) - He's been described as having a coach-on-the-field's grasp of scheme by an anonymous NFL defensive coordinator to the NFL Netwok's Peter Schrager. And 23 teams, reportedly, wanted to meet with McDuffie at the NFL Scouting Combine. The word must be out by now.
9. Jermaine Johnson II, Edge, Florida State (6-5, 262 lbs.) - Johnson can win with speed or power, to the extent he maintained to the NFL Network's Stacey Dales that he's the best defensive player available in the draft. "I'm 260, I can play like I'm 230," he said. "I can run through you or, if I want, I can run around you." Either way works.
8. Devin Lloyd, LB, Utah (6-3, 235 lbs.) - NFL Network analyst Daniel Jeremiah paid Lloyd the ultimate off-the-ball linebacker tribute after he'd run unofficial 4.71 and 4.74 40-yard dashes (4.66 official) at the NFL Scouting Combine: "You can't tell me when you watch Darius Leonard play he doesn't play a heck of a lot faster than 4.7 flat. It's the same with Devin Lloyd. Both these guys play like they're low 4.5-speed players, that's real game speed. Don't worry for a second about the 4.71 40 for Devin Lloyd. You just look at Leonard and what he did for your comparison." Sold.
7. Jordan Davis, DT, Georgia (6-6, 340 lbs.) - The Freak of Freaks in Indianapolis. A massive defensive tackle who runs fast (4.78, not a typo). Not yet a polished pass rusher; who cares? He made plays in the run game between the hedges (sideline to sideline). Thou shall not run.
6. Ahmad Gardner, CB, Cincinnati (6-3, 200 lbs.) - The story of Gardner can't be found in the numbers. It's told by the number of times opponents wouldn't or couldn't throw at him. Gardner looks and plays the part with size and style.
5. Derek Stingley, Jr., CB, LSU (6-1, 195 lbs.) - He's coming off a couple of inconsistent seasons blotted by injury and inconsistency in Baton Rouge. But prior to that he covered Ja'Marr Chase in practice. Need more than that? Maybe it's time to re-evaluate your standards.
4. Aidan Hutchinson, Edge, Michigan (6-6, 265 lbs.) - He comes off as a football lifer, as a guy who is 1,000-percent immersed in the game. And that three-sacks effort in Michigan's win over Ohio State, the Wolverines' biggest win in a decade, ought to resonate.
3. Kayvon Thibodeaux, Edge, Oregon (6-5, 258 lbs.) - Nobody's confused Thibodeaux's approach with Hutchinson's, and that's raised some questions. But when he's healthy and engaged Thibodeaux dominates. NFL Network Willie McGinest is all-in, and sees upside beyond what Thibodeaux has already put on tape.
2. Kyle Hamilton, S, Notre Dame (6-4, 220 lbs.) - He's taller and heavier than Derwin James. "This is how you want your safeties to be able to play today, all the range, the versatility, the ball skills," Jeremiah gushed. "You play him high, low, you name it. He can do everything."
1. Travon Walker, Edge, Georgia (6-5, 275 lbs.) - The most versatile defender available. And if he's turned loose in the NFL more than he was at Georgia, which may well be the case, look out. I had him first overall in our last Mock. I'm not about to get off the Walker bandwagon now.