The "Triple Take" team, the Steelers Radio Network trio of Matt Williamson, Dale Lolley and Mike Prisuta, provides updates on their breakdown of the top defensive tackle prospects in the 2022 NFL Draft. If you want to hear the audio version of "The Triple Take" click here.
The opinions of these Steelers Radio Network personalities do not reflect the views of the Steelers organization.
Riser: Travis Jones, Connecticut (6-4, 325 lbs.) - Starting at the Senior Bowl, Jones has really stood out in the post season process leading up to the draft. Jones then didn't disappoint at all the Combine with good change of direction numbers as well as running the 40-yard dash in under five seconds despite weighing in at 325 pounds. In recent memory, nose tackle type interior defenders would fall heavily in the draft because they didn't impact the passing game. But not only does Jones push the pocket and influence the overall pass-rush a great deal, but NFL defenses are now playing with lighter box counts and therefore, are back to coveting linemen that demand double teams and allow for more overall defensive team speed and versatility on the field. Jones fits that perfectly. Don't be surprised if Jones' name is called on Thursday night of the draft when it is all said and done.
Faller: DeMarvin Leal, Texas A&M (6-4, 283 lbs.) - The term "Tweener" used to really hold negative connotations for draft prospects. Then, recently, in this age of "Position-less football", these types of prospects became more coveted because of their versatility. But Leal might be a tweener in a bad way. Leal isn't really twitchy or explosive enough to play a high percentage of his snaps as a traditional 4-3 defensive end. And while he can make an impact on throwing downs on the interior, he doesn't consistently demonstrate the power and physicality needed to stay in this role. He seems much more comfortable on the outside. Coming into his final season at Texas A&M, there was a lot of hype surrounding Leal, but his tape wasn't tremendous this past year. Then Leal's workout numbers underwhelmed, especially his jumps, which further reinforces his lack of explosion. Edge defenders in the NFL don't run five second 40-yard dashes.
Sleeper: Neil Farrell, LSU (6-4, 330 lbs.) - When looking at the huge nose tackles in this draft class, Jones and especially Georgia's Jordan Davis really steal the show. But don't overlook Farrell. Farrell certainly can handle double teams and plug up the interior run game, but he brings more to the table. He comes off the ball really well and is quick to get into his opponent. Farrell plays aggressively and with excellent effort. He gets in the backfield against the run or pass with the potential to become a more impactful pass-rusher going forward. Collectively, this was a disappointing year for the LSU program and many of their prospects didn't have their best season, but that absolutely was not the case for Farrell, who finally got to play the nose in a full time roll in 2021. 
Matt's First Take on the DT position ...
#5 - DeMarvin Leal, Texas A&M (6-4, 290 lbs.) - While he can play a traditional defensive tackle role in an upfield penetrating scheme, the key for Leal is his versatility and ability to line up all over the defensive front. Leal made more of an impact two years ago than in 2021. He gets off the ball very well and has light feet for a big man with good change of direction skills. You can see why he was so heavily recruited coming out of high school. Leal is a smooth moving athlete, but he isn't overly physical and is more of a finesse than power player overall. He isn't going to line up inside and take on double team after double team. While Leal's versatility is certainly a strength there isn't an ideal spot in most schemes for him to really thrive. His tools are better than his 2021 tape, but Leal also didn't knock it out of the park with his Combine testing.
#4 - Travis Jones, Connecticut (6-4 3/8, 326 lbs.) - Jones is a mountain of a man but isn't slow moving. He has a lot of suddenness in his game and can really jolt his opponent. His level of competition wasn't great and UCONN didn't play football in 2020, but Jones was dominant rep after rep at the Senior Bowl. When he locks his opponent out with his big strong hands and long arms, the play is basically over with Jones winning his battle. Jones plays hard and consistently knocks his opponent backwards and handles double teams with very little problem. As a pass-rusher, Jones collapses the pocket and can win quickly in the down, but overall, this is much more of a run stuffer and pocket pusher than an upfield attacker. He will align on either side or head up over the center and likely will not be on the field in third and long situations. Jones also did some borderline freaky things at the Combine.
#3 - Logan Hall, Houston (6-5 7/8, 278 lbs.) - Hall isn't a typical defensive tackle and qualifies as a "Tweener". But in his case, this is very much a complement. In terms of how Hall can be used as the next level, he could spend a lot of time as a traditional base end in a 4-3 scheme on early downs. But Hall can also play all over the line of scrimmage and brings traits to the interior that NFL guards and centers will really struggle with. Few interior defensive linemen have Hall's combination of extreme length, flexibility, and athleticism. He has very quick and agile feet as well, but still has plenty of lower body strength to hold up inside if not overused on the interior. Hall plays the game with violence and has powerful heavy hands that he uses as weapons. And he can two-gap against NFL offensive tackles. As edge pass-rushers go, Hall doesn't have great flexibility or bend and, on the inside, he can lose the leverage battle because of how tall he is. Hall is very long-legged. That being said, Hall can help an NFL defense in just so many ways.
#2 - Devonte Wyatt, Georgia (6-2 3/4, 307 lbs.) - While they play in the same defense at Georgia, Wyatt is a much different type of defensive tackle than his counterpart Jordan Davis. And Georgia's scheme didn't best showcase what Wyatt can do. While Wyatt is powerful and can stand up to a double team or eat space somewhat like Davis, Wyatt's best abilities are attacking upfield. He gets off the ball low with great quickness and is extremely disruptive. He has an elite first step, which might be Wyatt's best asset. Wyatt is a fantastic athlete that was outstanding at the Combine with his testing numbers. He has a wide powerful body but can also get skinny and shoot gaps. Wyatt can still work on his hand usage and variety of pass-rush moves and pass-rush plan, but he looks like a prospect that could really do damage at the next level in a different scheme than the one he played in college.
#1 - Jordan Davis, Georgia (6-6 1/4, 360 lbs.) - It doesn't take much observation to see that Davis isn't like most defensive tackle prospects, or like most human beings. He is just unbelievably large and carries all that weight very well. His power and length are outstanding, and he uses all these traits extremely well. Rarely does one offensive lineman handle Davis and his ability to demand and defeat double teams makes everyone around him on defense better. The worries with Davis are twofold. First off, while he does push his blocker (or blockers) back into pocket, Davis rarely gets quick pass-rush penetration and when he gets free of his blockers, can Davis chase down NFL quarterbacks and get them on the ground? Secondly, stamina is a problem for this big man. He can wear down over the course of a series and had a very low workload at Georgia, partially because that defense was just so talented and deep. Davis' traits are amazing, but his style of play isn't for every defense. It will be interesting to see how the NFL values such a unique specimen. Oh, it should be noted that Davis might have put up the most impressive workout in the history of the Combine…at any position.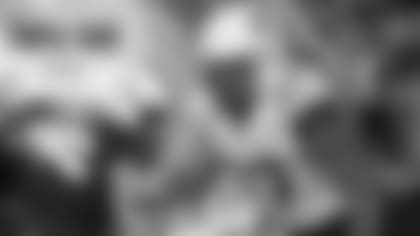 Riser: Travis Jones, Connecticut (6-4, 325 lbs.) - It would be easy to be Davis here, but since he was No. 1 on my previous look at the position, we can't go there. Jones showed off amazing athleticism for a 6-4, 325-pound man, running a 4.92-second 40-yard dash while posting solid scores in the jumps, as well. He's got heavy hands and is pushing hard to work his way into the end of the first round. While Jones profiles as a nose tackle, he had 4.5 sacks last season at UConn. He uses his heavy hands to win at the line of scrimmage. He might even end up being the second defensive tackle off the board in this class. 
Faller: John Ridgeway, Arkansas (6-5, 321 lbs.) - Ridgeway was getting some buzz early in the process, but his 5.3-second 40-yard dash and 8-foot, 4-inch broad jump weren't particularly impressive. He's a former wrestler, so he knows how to use his leverage, but he's not going to offer much as a pass rusher, which could cause him to slip to Day 3 after some early Day 2 initial buzz. He still has a chance to be a valuable run stuffer, but that might be all. 
Sleeper: Otito Ogbonnia, UCLA (6-4, 324 lbs.) - Ogbonnia had a solid career at UCLA and looked unblockable at times at the Senior Bowl. He had 30 tackles, including five for a loss, and two sacks in 2021 for the Bruins last season. At 6-foot-4, 324 pounds, Ogbonnia moves well. He needs to work on his pad level if he's going to play the nose, but he plays with a good motor. He also batted down a pass in each of his four seasons at UCLA, using his 34-plus-inch arms to get into passing lanes. He's also a former star in the shot put, which shows with his explosion out of the blocks. 
Dale's First Take on the DT position ...
#5 - Phidarian Mathis, Alabama (6-4, 310 lbs.) - The next big defensive lineman to come out of Alabama. The Crimson Tide have a good reputation for producing strong run-stoppers and Mathis fits that mold. He's a long, lean defensive tackle that can play inside in a 4-3 or outside in a 3-4. Mathis also was a team captain in 2021. Mathis had 10.5 tackles for a loss, 9 sacks and 53 tackles for the Crimson Tide last season. He's a high-floor player. What you see is what you get, a good, solid defensive lineman.
#4 - Perrion Winfrey, Oklahoma (6-4, 290 lbs.) - Winfrey is relentless as a pass rusher, something he showed off at the Senior Bowl, where he was named the National Team MVP after recording five tackles, three for a loss, and two sacks in the win for his team. After spending his first two seasons at Iowa Western Community College at the recommendation of Iowa State coaches, Winfrey chose Oklahoma to continue his career. He broke out in 2021, registering 23 tackles, including 11 for a loss, and 5.5 sacks. Winfrey is still 21, so he's still growing as a player. But he'll spend a lot of time in the backfield while he does so.
#3 - Travis Jones, Connecticut (6-4 3/8, 326 lbs.) - One of the stars of the Senior Bowl practices, Jones is a true nose tackle type who is really strong with his hands. He demands a double team, as well, or he'll wreck your running game. Combines his strong hands with a good first step to power his way into the backfield. Ran a 4.92-second 40-yard dash at the NFL Combine. Despite being the only true threat on UConn's defense, he rang up 48 tackles and 4.5 sacks in 2021. Had 19 career tackles for a loss and 8.5 sacks in three seasons for the Huskies.
#2 - Devonte Wyatt, Georgia (6-2 3/4, 307 lbs.) - Wyatt led Georgia's defensive linemen with 39 tackles in 2021 while also recording 7 tackles for a loss and 2.5 sacks. He doesn't have an ounce of fat on his body and is built more like a running back than a defensive tackle. He ran like one, too, at the Combine, posting a 4.77-second 40-yard dash. That shows up in his play, as his lateral quickness is very good. Wyatt is a high-effort player and runs to the ball, which leads to some clean-up tackles. It also helped him force a couple of fumbles in 2021. Wyatt was initially going to enter the draft in 2021, but chose to go back to school, so he's a little overaged. He'll turn 24 in March.
#1 - Jordan Davis, Georgia (6-6 1/4, 360 lbs.) - Just a mountain of a man. But he moves better than his size might suggest, including blowing up the Combine with a 4.78-second 40-yard dash. Davis is nearly impossible to move out of the middle. He's more of a pusher of the pocket on pass rushing downs, but with his size, he can be a factor there. Davis will add an immediate presence in the middle for whatever team drafts him. Also scored a rushing touchdown in 2021, though in came against overmatched Charleston Southern. He compared his playing style to that of former Jaguars' star John Henderson at the Combine.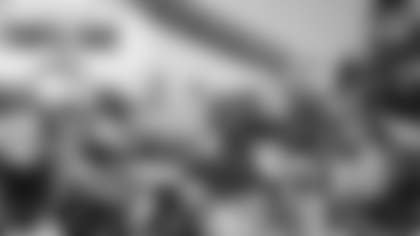 Riser: Logan Hall, Houston (6-6, 283 lbs.) - He's considered a defensive end/defensive tackle hybrid by some, and there's debate regarding whether his future is as an Edge or an inside player in the NFL. Houston listed Hall as a defensive lineman. But wherever you think he should line up, it's easy to get excited about Hall's potential as a pass rusher from an inside position in a four-man front based on what he's put on tape. He's having a good offseason, as well, after posting a 4.88 40-yard dash at the NFL Scouting Combine and producing 25 reps of 225 pounds on the bench press at Houston's Pro Day. NFL Network analyst Daniel Jeremiah has emphasized Hall "gets skinny as an interior rusher." That comes in handy with swim moves on the way to the quarterback and also allows Hall to get off blocks when defending against the run. I like him as a "riser" inside as opposed to one of many on the edge.
Faller: Otito Ogbonnia, UCLA (6-4, 324 lbs.) - "Faller" might be overstating it a bit, but Ogbonnia has been somewhat stuck in neutral since impressing at the Senior Bowl. He didn't run a 40 at the Combine and then pulled up with an apparent hamstring injury early in the drills. And he reportedly didn't run a 40 at UCLA's Pro Day on March 15. The 40 shouldn't be a deal breaker for a nose tackle, but a little more athleticism on display from a player who also threw the shot for UCLA's track team might go a long toward countering a less-than-stellar review from NFL.com's Lance Zierlein, who assessed Ogbonnia lacks the pad level and the "parking brake to hold it down as a 3-4 nose." Zierlein also mainatins Ogbonnia is "not an NFL pass-rush threat," lacks mobility and plays with "heavy feet." He's strong enough (29 reps at 225 pounds on the bench press at the Combine), but will Ogbonnia's strength translate?
Sleeper: Thomas Booker, Stanford (6-3, 301 lbs.) - His official position at Stanford was defensive end, but Jeremiah is among those who sees Booker's future inside in the NFL. He had just two sacks over his final two seasons at Stanford and 9.5 for his four-year career, so the production isn't ideal. But Booker was among the select few who wowed in Indianapolis by producing a sub-5.00 40 at 300-plus pounds (Booker posted unofficial times of 4.95 and 4.96 and was officially clocked at 4.94). And he absolutely looks the part. "He doesn't have an ounce of fat on him," Jeremiah observed. "He's in phenomenal shape." Booker also oozes intangibles as a former team captain at Stanford and a finalist for the William V. Campbell Award (the Academic Heisman) in 2021.
Mike's First Take on the DT position ...
#5 - DeMarvin Leal, Texas A&M (6-4, 290 lbs.) - He's a bit of a hybrid because he lined up on the edge on run downs and inside in pass rush situations at Texas A&M. And he didn't look the part of a traditional defensive tackle for the Aggies, in part because he wore No. 8 and in part because he's such a lean and athletic 290 pounds. But Leal certainly played the part of disruptor wherever he lined up.
#4 - Perrion Winfrey, Oklahoma (6-4, 290 lbs.) - Winfrey collected a couple of sacks and MVP honors in the Senior Bowl, which impressed Jeremiah, among others. "You're seeing him just get better and better and better, we've seen it even during the week," Jeremiah noted. "He has carried over what was a phenomenal week of practice (into the Senior Bowl game). Wherever he was coming into this process, he might have helped himself as much as anybody else the entire game." Turns out Winfrey had an agenda. "I just wanted to show I was one of the most dominate defensive players in the country," he said.
#3 - Travis Jones, Connecticut (6-4 3/8, 326 lbs.) - An athletic nose tackle who can take disruptive one step further to productive. "He's able to shed and find the football," NFL Network analyst Charles Davis noted during Senior Bowl week. Jones led UConn with 4.5 sacks in 2021, then impressed seemingly everyone in Mobile, Ala. His sack in the Senior Bowl occurred when Jones knocked center Dylan Parham back into quarterback Bailey Zappe, and Parham wound up knocking Zappe to the ground. It wasn't an atypical play for Jones, who stood out on 1-on-1 sessions against offensive linemen in Mobile. "He gets underneath people's pads and tests their brakes," Jeremiah observed. Jones' 4.92 40-yard dash at 325 in Indianapolis was an exclamation point.
#2 - Devonte Wyatt, Georgia (6-2 3/4, 307 lbs.) - One half of Georgia's defensive interior tag team that did for the Bulldogs what Donald and his buddies inside did for the Rams (help lead the team to a championship). Wyatt is dynamic and explosive. "Suddenness" was a term associated with his game in Mobile. And his stock may be on the rise. "The expectation is he's gonna run in the 4.8s," Jeremiah said of Wyatt's anticipated 40 time at the NFL Scouting Combine. Wyatt did better than that, he ran a 4.77.
#1 - Jordan Davis, Georgia (6-6 1/4, 360 lbs.) - He played at 360 and earned a reputation as an absolute run stuffer while helping the Bulldogs win the National Championship, but there were questions about his ability to contribute as a pass rusher and about how much gas he could keep in the tank. Then Davis showed up in Indianapolis at 341 and ran a 4.78 40. "I've never seen anything like what we just saw," Jeremiah gushed. "I just got a text from a general manager, 'Wow!!!'" Jeremiah was, likewise, blown away by Davis' 10-yard split of 1.68 in his 40. I'm with that anonymous, texting GM, wow.