The "Triple Take" continues with a breakdown of the safeties. In the eleventh installment of this draft prospect preview by position, the Steelers Radio Network trio of Matt Williamson, Dale Lolley and Mike Prisuta give their takes on the top prospects at the safety position. If you want to hear the audio version of "The Triple Take" click here.
The opinions of these Steelers Radio Network personalities do not reflect the views of the Steelers organization.
Matt's Take ...
Scouting college safeties can be a chore. There are just a lot of snaps in which this position isn't asked to do an awful lot or isn't tested. That being said, it doesn't take a lot of in depth scouting to realize what a great prospect Kyle Hamilton truly is. But it will be interesting to see how much the NFL values elite safety prospects and how early Hamilton is selected. Derwin James, another absolutely elite safety coming out of Florida State, lasted until the 17th pick overall in 2018…and the Chargers are still reaping those benefits.
#5 - Jalen Pitre, Baylor (5-11, 198 lbs.) - Pitre is a versatile chess piece that flies around the football field. Pitre is more of a "Defensive back" rather than just a traditional safety, something that is becoming more in vogue in the NFL. He covers the slot as well as manning the deep portions of the field. But because he excelled in the slot, Baylor usually kept him in that role. Pitre plays man and zone coverage, as well as blitzes. He isn't physically imposing, but Pitre's size isn't a problem. This is a very competitive and passionate player. Pitre isn't an elite athlete and has some stiffness, but this is the type of guy that finds a way to stick and make an impact. His final year in college was far and away his best.
#4 - Lewis Cine, Georgia (6-2, 199 lbs.) - Cine was an instrumental piece in the best defense in the country last year and went to the Combine and blew up the testing. Obviously, Cine's height is an asset that most safeties don't possess, and he is explosive with all his movements. Cine reads route concepts very well, especially as a zone defender. He is a competitive leader that relishes the physical aspects of safety play but could stand to add more bulk to his long frame. His lean body type is a bit of a concern because Cine does his best work closer to the line of scrimmage. And he was protected extremely well at Georgia. But Cine is a hitter that loves laying the wood and changing the momentum of a football game.
#3 - Jaquan Brisker, Penn State (6-1, 199 lbs.) - Brisker plays hard with an attitude that coaches at the next level will love. He has excellent football intelligence as well as versatility. He is a very good matchup against tight ends at the next level as well as vs. running backs in man coverage. He can blitz and Brisker makes a lot of plays in the backfield. He attacks in the run game. Brisker can play in reverse but is much better coming forward. It should be noted that Brisker played with an injured shoulder for much of his final season at Penn State and still put impressive play on tape. He missed some tackles, but the shoulder injury surely had something to do with that.
#2 - Dax Hill, Michigan (6-0, 191 lbs.) - Hill blazed a 4.38 40-yard dash time at the Combine. His speed matched with his length is a very impressive and rare combination. Hill is a very explosive athlete that can handle slot duties, play in the box or handle safety responsibilities in the deep portions of the field. Hill has smooth hips as well as explosive burst in a straight line to the football. Hill's great athletic ability gives him tremendous upside at the next level. Hill is a bit inconsistent as a tackler however and isn't overly powerful overall. Some have even thrown out the idea of making Hill a full-time cornerback.
#1 - Kyle Hamilton, Notre Dame (6-4, 220 lbs.) - There is just no way around it, Hamilton is truly rare. This is a special player that very well could be the best player in the draft at any position. Hamilton has it all. His size is amazing. He plays all over the defense and makes big plays at every level. This is the type of player defensive coordinators can ask to lock down an opponent's tight end or leave him in the deep middle of the field as a last line of defense eraser. Hamilton plays the run well and has exceptional ball skills and ability to read quarterbacks. This is a big hitter and plays with passion. He didn't run a great time at the Combine, but who really cares. Just watch his tape: Hamilton is anything but slow. He eats up grass with long swift strides. Also, Hamilton is coming off a knee injury that cut his 2021 season short. Hamilton changes the game.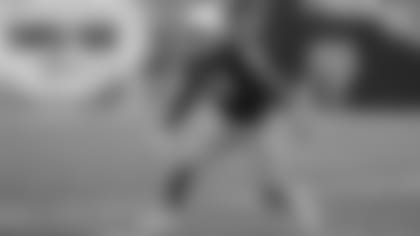 Dale's Take ...
We've seen the evolution of the safety position in the NFL from hard-hitting enforcers being en vogue to coverage and ball skills being much more in demand. And the college game also has shifted, as a number of programs now take their top safeties and bulk them up into linebackers to help defeat all of the spread offenses. It leads to an interesting dynamic at the safety position. Size and ability to hit still matter, but coverage is more important than ever.
#5 - Bryan Cook, Cincinnati (6-1, 206 lbs.) - A true strong safety, Cook plays with an enforcer's mentality. But he's a former cornerback with coverage skills, as well. Blossomed in 2021, posting 96 tackles, including five for a loss, a sack and two interceptions to go along with nine pass breakups. He's excellent in run support and also has the size to match up on most tight ends.
#4 - Lewis Cine, Georgia (6-2, 199 lbs.) - Yet another highly-rated Georgia defender in this draft class, Cline has good size and also ran a 4.37-second 40-yard dash at the NFL Scouting Combine. Born in Haiti, he moved to the United States when he was 4 years old. He had 73 tackles, one interception and nine pass breakups in 2021 for Georgia. He's probably more of a strong safety than a free at the NFL level.
#3 - Jaquan Brisker, Penn State (6-1, 199 lbs.) - A former star at Gateway High School in Monroeville, Brisker began his career at Lackawanna College before transferring to Penn State. He had five interceptions and 14 pass breakups in three seasons at Penn State. Brisker played through a shoulder injury in 2020 and 2021, so that will have to check out medically, but the tape is good. He can cover tight ends and is good in run support.
#2 - Dax Hill, Michigan (6-0, 191 lbs.) - Built like a cornerback, Hill has the speed to play like one, as well, posting a 4.38-second 40-yard dash at the NFL Scouting Combine. He can drop down and play the slot, or slide back and play deep safety. He had 69 tackles, eight pass defenses and two interceptions last season at Michigan. Hill is the younger brother of Justice Hill, a running back selected in the fourth round by the Ravens in 2019. Given his size, speed and coverage ability, it wouldn't be a shock if a team tries him at cornerback, even if it's as the nickel, early in his career.
#1 - Kyle Hamilton, Notre Dame (6-4, 220 lbs.) - The latest freakish safety to come into the NFL, Hamilton can be used as linebacker, deep safety or down in the box covering tight ends. He just turned 21 in March, so there's a lot of athletic upside here. He had eight interceptions and 16 pass breakups in 31 career games. He did miss time with a knee injury in 2021, so the medicals will have to be checked out, but he's a likely top-10 pick. Hamilton was born in Greece, where his father, Derrick, was playing professional basketball for Irakleio BC on Crete. Maybe his nickname should be the minotaur.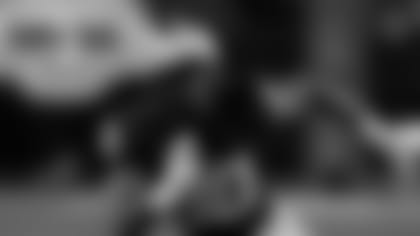 Mike's Take ...
The first safety drafted last year didn't come off the board until the second round, No. 36 overall (Oregon's Jevon Holland to Miami).
The second safety taken had to wait until seven more selections were made to hear his name called at No. 43 overall (TCU's Trevon Moehrig to Las Vegas).
That won't be an issue this time around.
Notre Dame's Kyle Hamilton might be the best player available at any position.
He'll go sooner rather than later, much sooner.
And when he does it'll serve as a reminder as to why many maintain you draft the player, not the position.
#5 - Jalen Pitre, Baylor (5-11, 198 lbs.) - Baylor's defense was a joy to watch this season. Pitre, who has inspired comparisons to Tyrann Mathieu, was a big reason why. He didn't run a 40-yard dash at the NFL Scouting Combine but he drew rave reviews at the Senior Bowl. "The nicest compliment scouts can give players is to say, 'That's a football player,'" NFL Network analyst Daniel Jeremiah observed. "That's the phrase you hear over and over again with Jalen Pitre." Amen.
#4 - Lewis Cine, Georgia (6-2, 199 lbs.) - Cine only had one interception in 2021. "He would have had more production if they had any time to throw,." Jeremiah said regarding Georgia's opponents. Point taken, blame the myriad of quality Georgia defenders on the field at a given time for Cine's relative lack of stats. He still managed to register a team-leading nine passes defensed.
#3 - Dax Hill, Michigan (6-0, 191 lbs.) - Hill had a lot of help from his friends on the Michigan defense, as well. And a lot of competition when it came to defensive play-making. Hill still earned First-Team All-Big Ten honors in 2021, when he lined up deep and in the box and even covered from the slot. The coverage skills have some wondering if Hill might be better suited to play cornerback. Older brother Justice is a running back for the Ravens. Justice's younger brother Daxton has been compared to Minkah Fitzpatrick.
#2 - Jaquan Brisker, Penn State (6-1, 199 lbs.) - Brisker played through a shoulder injury in 2021, but his value as a potential chess piece defender was still evident whether he was playing a deep-half or serving as a nickel-backer. Brisker's skill set includes an ability to cover tight ends. "He's a really, really good football player," Jeremiah assessed. That about covers it.
#1 - Kyle Hamilton, Notre Dame (6-4, 220 lbs.) - As if the way he plays defense wasn't enough, Hamilton also covered punts for the Fighting Irish. "You don't see that with Top 5 picks very often," Jeremiah noted. Hamilton is a little taller and a little heavier than Derwin James. As for his intelligence, Jeremiah said Hamilton could have attended an Ivy League school had he been so inclined. "Range, ball skills, versatility, he can do everything," Jeremiah summarized. Is that all?