The "Triple Take" team, the Steelers Radio Network trio of Matt Williamson, Dale Lolley and Mike Prisuta, provides updates on their breakdown of the top edge rusher prospects in the 2022 NFL Draft. If you want to hear the audio version of "The Triple Take" click here.
The opinions of these Steelers Radio Network personalities do not reflect the views of the Steelers organization.
Riser: Travon Walker, Georgia (6-5, 272 lbs.) - What Walker did at the Combine was truly rare. His testing numbers were on par-or even better-than future Hall of Famers JJ Watt and Von Miller, two very different edge types. And Walker's skill set is somewhere in between Watt's and Miller's. Human beings Walker's size should simply not be able to run a 3-cone drill in under seven seconds. Walker posted a 6.89 in that critical drill for edge rushers to go along with a 4.51 40-yard dash. Now that isn't to say that he is currently as good of a football player as Watt or Miller, but his traits are elite. Coaches look at the talents Walker possesses and just salivate to get their hands on him to coach Walker up at the next level.
Faller: Myjai Sanders, Cincinnati (6-5, 228 lbs.) - The Bearcats had a tremendous season and Sanders made a name for himself during Cincinnati's run this past year. And he was a major reason for their success these past few seasons. But we are here to project players to the NFL, not to give them credit for what they accomplished in previous seasons. At 6' 5" and just 228 pounds, Sanders is built more like a big NFL wide receiver than someone that can line up down after down on defense on the line of scrimmage. Even as an outside linebacker in a 3-4 defense, Sanders is extremely light and lean. Not only does Sanders lack the desired body type and physicality for the edge in the NFL, but he is a real quirky mover and has a terrible habit of jumping offsides.
Sleeper: Joshua Paschal, Kentucky (6-3, 268 lbs.) - Kentucky has been pumping out more and more NFL talent of late. But still, with a loaded class of edge defenders, Paschal hasn't gotten a ton of recognition. This is a thickly built player for the position that had a very good, but not great, performance at the Combine. Paschal redshirted in 2018 while he was treated for a malignant melanoma on his foot. After that procedure, Paschal came back very strong for Kentucky and was quite productive. His calling card is his power at the point of attack and Paschal has the size and physicality to contribute inside as well. Pascal is the only three-time captain in Kentucky's history and has the playing demeanor that really sticks at the next level. He's easy to like.
Matt's First Take on the EDGE position ...
#5 - Jermaine Johnson, Florida State (6-4 5/8, 254 lbs.) - There were so many excellent edge defenders left off this list, but we had to narrow it down to five players. Johnson transferred to Florida State from Georgia but considering the unbelievable talent the Bulldogs have on the defensive line, we certainly shouldn't hold that against Johnson, who went on to dominate for the Seminoles as well as during Senior Bowl week of practices. This is a big powerful guy to be running sub 4.6. At the Combine, Johnson worked out with the linebackers and he is capable of dropping into coverage, but Johnson is an edge defender and an excellent one at that. Johnson is thickly built, but also has very good length-a rare combination. He has great overall power as well as pop in his hands and the lower body strength to hold up very well in the run game. Johnson is already an excellent pass-rusher, but has upside as his hand work develops. This is a very energetic player that is also very sturdy against the run.
#4 - David Ojabo, Michigan (6-4, 250 lbs.) - Immensely talented, Ojabo is relatively new to the sport. But it is all in front of him. As we saw with his 4.55 time in the 40-yard dash, as well as in his drill work at the Combine, Ojabo has excellent acceleration and closes on his target extremely well. Ojabo also broad jumped over 10 feet, which is rather crazy for someone his size. Ojabo doesn't yet have a signature pass-rush move and overall, is somewhat of a work in progress. Drafting Ojabo, is a bet on the future. Coaches should be begging to get a chance to work with this guy.
#3 - Travon Walker, Georgia (6-5, 272 lbs.) - Walker ran a 4.51 40-yard dash at the Combine at 272 pounds. He is just an amazing athlete with great size and length. There is no stiffness in that big body, and he has unusually long arms. This is a player that is just scratching the surface and can align all over the defensive front to create major mismatches. Walker really survives on his natural gifts as a pass-rusher. He doesn't have much of a plan in this regard and needs a lot of work refining his pass-rush repertoire. His sack production isn't great, but you can't forget that Georgia is just loaded with great players on their defensive line. But the upside here is immense if Walker puts the time in to improve. Walker is already an elite run defender though and gaining the edge on him in this phase rarely occurs. Walker uses his hands very well in the run game. He even looks very comfortable for such a big man playing in coverage and in reverse. Walker's 6.89 three-cone time at the Combine is exceptional. Expect Walker to be drafted in the top 10 overall.
#2 - Kayvon Thibodeaux, Oregon (6-4, 254 lbs.) - It is pretty easy to see why Thibodeaux was a top recruit coming out of high school. He just has fantastic traits. Thibodeaux's get off, explosion and fluidity really stand out. He is also a bendy and twitchy athlete but needs to refine the finer points of his game. Thibodeaux really doesn't have a trump card as a pass-rusher, but he can run around offensive tackles or through them. He closes on his prey very quickly and with violence. At times, Thibodeaux makes the game look easy. However, he did take plays off this year and chose to not to participate in the drills in Indianapolis. But Thibodeaux did run a 4.58 40-yard dash at the Combine and clearly, he has special traits. His 10-yard split was also outstanding. Thibodeaux is dangerous rushing on the interior, but really does his best work in a two point stance in a 3-4 front at outside linebacker. Still, there is bust potential here.
#1 - Aiden Hutchinson, Michigan (6-6 5/8, 260 lbs.) - A Heisman finalist, Hutchinson is coming off a fantastic season for the Wolverines. But Hutchinson doesn't have the explosiveness and suddenness of guys like Young or Garrett. The three-cone drill is extremely important and indicative for edge rushers and Hutchinson posted a time of 6.73 in this critical drill. Anything under seven seconds is excellent and what Hutchinson posted is elite. His short shuttle was also superb. Going along with his athletic ability, Hutchinson is a fantastic technician for the position, and he never quits. The thing that worries you most about Hutchinson is his arm length, but that sure didn't slow him down at the college level. He can play a little high at times as well. This is an instant impact player that shouldn't get outside of the first three picks in April.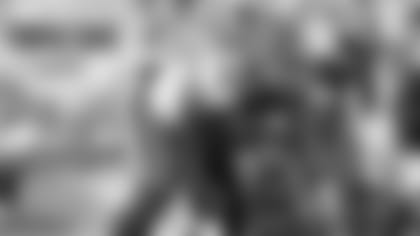 Riser: Travon Walker, Georgia (6-5, 272 lbs.) - Walker really helped himself at the NFL Scouting Combine, running a 4.52-second 40-yard dash at 272 pounds. He also posted a 6.89-second three-cone drill, showing an easy change of direction. Walker could now hear his name called in the first five picks of this draft. There's a lot to like here, including his 35-inch-plus arms. Walker was one of the freakiest testers at the Combine and he's got the tape to match.
Faller: David Ojabo, Michigan (6-4, 250 lbs.) - You have to feel bad for Ojabo. Through no fault of his own, he tore his Achilles' tendon at his pro day at Michigan. That will probably cause him to drop from someone who was solidly in the first round of this draft to perhaps out of the first round altogether. The good news is that he should be back to play at some point in his rookie season. But he was already a player who was rough around the edges because of his lack of experience as a one-year contributor. He was already going to be something of a project despite his outstanding athleticism. Now, it might take a little longer for him to contribute.
Sleeper: Dominique Robinson, Miami (Ohio) (6-5, 253 lbs.) - Robinson (6-foot-5, 253 pounds) opened some eyes with a good week of work at the Senior Bowl. Then, at the NFL Scouting Combine, he posted a solid 4.72-second 40-yard dash. More impressive was his 41-inch vertical jump. He checked in at 263 pounds at his pro day and posted a really good 4.19-second short shuttle, which was 92nd percentile for someone his size. He spent his first two seasons at Miami as a wide receiver, catching 27 passes, so he's still raw as a pass rusher, as evidenced by his 4.5 sacks in 2021. But the skillset is there.
Dale's First Take on the EDGE position ...
#5 - Travon Walker, Georgia (6-5, 272 lbs.) - Walker has the size and speed that many teams are looking for at the position. He's big enough to take on offensive tackles in the run game and fast enough to beat them around the edge. He ran a blazing 4.51-second 40-yard dash at the NFL Scouting Combine. Walker just turned 21 in December, so he's still learning. Walker had sacks in both college playoff games last season, getting one each in wins over Michigan and Alabama.
#4 - Jermaine Johnson, Florida State (6-4 5/8, 254 lbs.) - How good was Georgia? Johnson transferred from Georgia to Florida State after recording 5 sacks for the Bulldogs in seven games in 2020 and had 11.5 for the Seminoles in 2021. He then was unblockable at the Senior Bowl practices. Johnson's arrow is pointing up. He had 70 tackles, including 17.5 for a loss at Florida State last season with an increase in playing time. He had two sacks against Notre Dame and 5 against Miami, so he didn't just put up stats against sub-par competition.
#3 - David Ojabo, Michigan (6-4, 250 lbs.) - A one-year wonder at Michigan playing opposite Aidan Hutchinson, Ojabo went from defensive scout team player of the year in 2019 to playing in six games and making just one tackle in 2020 to recording 35 tackles and 11 sacks in 2021. Ojabo was born in Nigeria and raised in Scotland, so he's had an interesting upbringing. In fact, he chose Michigan to play his collegiate football because the weather was closest to Scotland. So, he likes cold weather. Ojabo had 2.5 sacks against Wisconsin and 2 each in games against Michigan State and Penn State last season as he seemed to get better as the year wore on.
#2 - Kayvon Thibodeaux, Oregon (6-4, 254 lbs.) - Thibodeaux has serious power and speed. Thibodeaux burst onto the scene as one of the biggest recruits in the nation as a freshman in 2019, recording 9 sacks and 14 tackles for a loss. COVID and an ankle sprain ruined his 2020 season, limiting him to 7 games, but he had 12 tackles for a loss and 7 sacks in 10 games in 2021 despite being ejected a couple of times for targeting and then sitting out the first half of the next game per NCAA rules. He just turned 21 in December, so there's plenty of upside here. Has his own cryptocurrency, called "$JREAM."
#1 - Aiden Hutchinson, Michigan (6-6 5/8, 260 lbs.) - Hutchinson showed some promise in 2019 as a sophomore but played just two games in 2020 because of a fractured right ankle. He returned with a vengeance in 2021, posting 62 tackles, including 16.5 for a loss, and 14 sacks while becoming the first defensive player to be named MVP of the Big Ten Championship. He had a pair of three-sack games last season, doing his damage against Penn State and Ohio State. He and his father, Chris Hutchinson, were one of two father-son duos to both be team captains at Michigan and the only duo to both be named to the All-America team. His 6.73-second three-cone drill at the NFL Scouting Combine was third fastest for any player. He's got elite change of direction.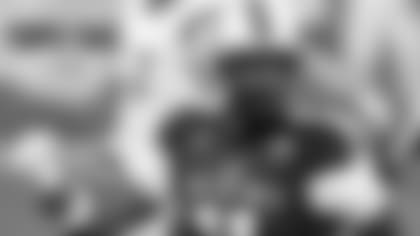 Riser: Arnold Ebiketie, Penn State (6-2, 250 lbs.) - He's been on the rise for a while now. Ebiketie earned second-team All-American Athletic Conference honors at Temple in 2020, transferred to Penn State and became a first-team All-Big Ten selection in 2021. He's a native of Cameroon whose family moved to Maryland when he was 12. Ebiketie didn't start playing football until his sophomore year in high school but he's been picking the game up quickly. "He has as good a bull rush in terms of speed-to-power (transition) as anybody in this draft class," NFL Network analyst Daniel Jeremiah insisted. Ebiketie was also among the handful of players asked to perform the outside linebacker-conversion drills at the NFL Scouting Combine. Upside abounds for a player who should contribute as a pass rusher initially and continue to climb the ladder.
Faller: David Ojabo, Michigan (6-4, 250 lbs.) - The torn Achilles Ojabo suffered at Michigan's Pro Day will presumably affect where he's drafted. The question involves how far Ojabo will potentially fall. Initial reports projected a complete recovery and a timeline of approximately six months for his return. But Ojabo may well be worth the wait. He's also relatively late to the football party and took a circuitous route to Ann Arbor and, eventually, the Combine. As Ojabo told the NFL Network's Stacey Dales, "I'm just a Scottish guy born in Nigeria trying to learn the game of football." Think how good he'll be when he gets everything figured out. Jeremiah had this to say about Ojabo at the Combine, where Ojabo also worked the conversion drills: "This is someone with a skill set that can do anything. However you want to use him, he's gonna be able to do it."
Sleeper: Boye Mafe, Minnesota (6-4, 261 lbs.) - Mafe qualifies as a sleeper only because of the preponderance of outstanding and in some cases freak-like prospects on display in Indianapolis. As Jeremiah observed at the Combine, Mafe would have been raved about for his overall performance in Indy in a "normal year." As it is, Mafe is a player with first-round potential, in Jeremiah's estimation, who may or may not go there because there can only be 32 first-round picks. Mafe's Combine followed up an attention-getting and productive week at the Senior Bowl. And he was better later in the season last season than he was at the beginning, especially after he began to demonstrate an ability to attack with his hands, especially upon arriving at the quarterback. So the upward trajectory associated with Mafe's game may be waking people up. His double-digit sack potential may still be available beyond Round One.
Mike's First Take on the EDGE position ...
#5 - Jermaine Johnson, Florida State (6-4 5/8, 254 lbs.) - Johnson transferred from Georgia to Florida State but he still played like a Georgia defender during his one season with the Seminoles (11.5 sacks). Among the things he doesn't lack is confidence. "I'm 260, I play like I'm 230," Johnson was said to have said during coverage of the Combine. "I can run through you. Or, if you want, I can run around you." Either works coming off the edge.
#4 - George Karlaftis, Purdue (6-4, 266 lbs.) - He can win with speed or power, by beating a tackle off the line of scrimmage or by driving him back into the quarterback, and he's a punishing finisher. His highlight tape includes a 56-yard fumble return for a touchdown on which Karlaftis pulled away from offensive linemen and stayed ahead of a tight end and a running back on the way into the end zone. There's also a ricochet pick and a blocked field goal. Time for the NFL to welcome its version of the "Greek Freak."
#3 - Aiden Hutchinson, Michigan (6-6 5/8, 260 lbs.) - He's No. 1 on most such lists. He might be the No. 1 overall pick, or at worst the No. 2 selection by Detroit. But he was a one-year wonder in Ann Arbor (3.5 sacks combined over his first three seasons, 14 in 2021). Three of those came in Michigan's biggest win in about a decade, the win over Ohio State, so there's a clutch element to Hutchinson. He's among the best available at his position. I'm just not sure he's head and shoulders above the rest yet.
#2 - Kayvon Thibodeaux, Oregon (6-4, 254 lbs.) - He ran but didn't do on-field drills at the Combine, where the word was he wanted to continue working on those and then work out at defensive line and at linebacker during Oregon's Pro Day on April 1. He'll have a lot to prove then. I'm betting he proves it and in the process answers any lingering questions about a player who's instinctive, versatile and athletic.
#1 - Travon Walker, Georgia (6-5, 272 lbs.) - Where does a 6-foot-5, 272-pound pass rusher line up? Anywhere he wants, apparently, especially after running a 4.51 40-yard dash in Indianapolis. "If he didn't have your attention before the Combine, he's got your attention now," Jeremiah maintained. "It's just so easy and smooth and effortless. A creative defensive coordinator is gonna look at Travon Walker and say, 'The world has completely opened up.' You can play him inside, outside. You can rush him, drop him. You can play him on the ball, off the ball. You wanna be able to give quarterbacks different looks and not show your hand? A chess piece like that allows you to play that way." Sold.