The "Triple Take" continues with a breakdown of the running backs. In the second installment of this draft prospect preview by position, the Steelers Radio Network trio of Matt Williamson, Dale Lolley and Mike Prisuta give their takes on the top prospects at the running back position. If you want to hear the audio version of "The Triple Take" click here.
The opinions of these Steelers Radio Network personalities do not reflect the views of the Steelers organization.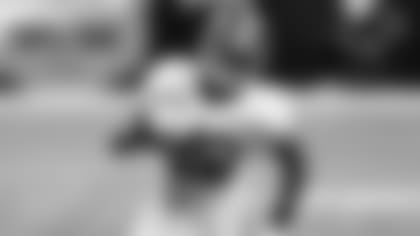 At a position that usually very plentiful of prospects, this really isn't the year to be in the market for a rookie running back. Like always, there are some potential starters in this draft, but the depth is really lacking. There will be some guys that are very situationally useful at the next level however and this draft has plenty of smaller space players at the position, but few every down workhorses.
Sleeper - Rhamondre Stevenson, Oklahoma (6-0, 229 lbs.) - Stevenson reported played at a heavier weight at Oklahoma but trimmed down for the Senior Bowl, where he looked quick and crisp. Stevenson certainly has some old school power back traits, but also has a well-rounded game and upside as a receiver. Stevenson was suspended to start the 2020 season and that will need to be looked into, but he finished his final college season extremely strong. He is very intriguing.
#5 - Chuba Hubbard, Oklahoma State (6-0 1/2, 205 lbs.) - Hubbard had amazing production in 2019 and created an awful lot of yardage on his own and after contact as a runner. He isn't massive but has good contact balance and pad level. This is a decisive runner that can stick his foot in the ground and explode upfield. Hubbard's best attribute is probably his outstanding long speed. Fumbles have been a problem and to be kind, the 2020 season sure didn't help Hubbard's cause as a prospect. It was a very rough year and there are many reasons for that including injuries and Hubbard's supporting cast. It will be tough for talent evaluators to distinguish the 2019 version vs. the 2020 version of Hubbard. But if you get the 2019 version for the cost of the 2020 version, Hubbard's new team will be extremely happy.
#4 - Michael Carter, North Carolina (5-9 1/2, 199 lbs.) - There are not a lot of examples with Carter's size measurables that contribute on an every down basis and he will have to land in the right situation to get the most out of his abilities. But Carter can certainly create problems for a defense-even in a part time role. This past year, Carter averaged just under eight yards per touch and he caught 80 passes at North Carolina. What stands out about Carter is his versatility, shiftiness, stop/start abilities and elusiveness. And he does have power for a back his size. Pass protection will be a challenge for Carter at the NFL level.
#3 - Javonte Williams, North Carolina (5-10, 220 lbs.) - Williams had a massive 2020 breakout season. He averaged two touchdowns scored per game last year. Williams is powerful and very well built, but also has shown a lot of promise as a receiver and as a space player. He gets a lot of yardage on his own as an elite tackle breaker and has enough speed to run away from tacklers. Williams has great balance and is very tough to knock off his pegs. Williams is a young prospect and his best football is likely ahead of him. He could be set up to have a better pro career than the one he had in college.
#2 - Travis Etienne, Clemson (5-10 1/8, 212 lbs.) - Etienne is the ACC's all-time leading rusher…and it really isn't even close. He has been a huge contributor to Clemson's great success and has rare big play ability. Once Etienne gets a crack, he is gone and he often changes the game in a blink of the eye. Etienne doesn't have great power, but he often runs through arm tackles, displays good contact balance and can push a pile. He can run inside or out and has really developed as a receiver. Etienne has questionable vision and too often runs up the back of his blockers and will likely be the more utilized side of a rotation at the next level, but there is an awful lot to like here and he fits today's game very well.
#1 - Najee Harris, Alabama (6-1 3/4, 232 lbs.) - Harris was incredibly productive in Alabama's great offense and really took his game up another level in 2020. He was a massive recruit that took a little time to learn to take what is given and to not always try to hit the home run. Well, that lesson was learned in 2020 and Harris thrived. He has a great body for the position to handle a massive workload is has a great combination of power and athletic ability. He is very fluid, yet explosive in his movements. Harris has really come on as a receiver. He runs good route and provides his quarterback with a huge strike zone. He doesn't break off real long runs and Harris' age is a bit of a concern, but even if his NFL team only gets great production from his first contract, he will be worth a very high draft pick.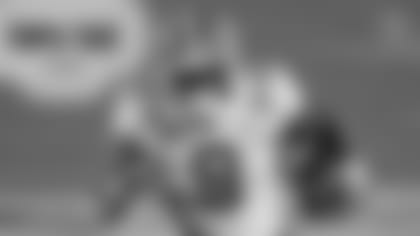 Growing up, many star athletes played quarterback or running back on their high school teams. But given how the running back position has been devalued in recent years, you have to wonder if that will continue. In the past six drafts, just 10 running backs have been selected in the first round. Over the past decade, that number is just 14 in the first round. Last year's running back class was considered one of the deeper ones in recent years and yet just one was taken in the first round, that coming with the 32nd pick when Clyde Edwards-Helaire was selected by the Chiefs. This year's running back group isn't quite as deep, which means a premium could be placed on the backs available, especially for teams that need an every-down back.
Sleeper - Gerrid Doaks, Cincinnati (5-11, 230 lbs.) -- A powerful runner with some quickness to his game. Doaks is good in pass protection and wasn't overused in college. Part of the reason for that was because of some injury issues. But he'd be a nice addition as a short-yardage, goal-line runner with some potential for more.
#5 - Kenneth Gainwell, Memphis (5-11, 191 lbs.) - Gainwell rushed for over 1,400 yards and scored 13 touchdowns last season for the Tigers. He also aligned in a slot quite a bit and caught 51 passes for 610 yards and three more scores. He probably won't ever be an every-down back, but he's the kind of weapon every team could use in today's NFL because of the way he catches the ball. Think Giovanni Bernard. Turns 22 in March.
#4 - Michael Carter, North Carolina (5-9 1/2, 199 lbs.) - Carter was the lightning to Javonte Williams' thunder for the Tar Heels the past couple of seasons. Because of his lack of size, he struggles in pass protection, but he does run hard and has good contact balance. He doesn't go down with the first contact. Carter really helped himself at the Senior Bowl. He has nice burst and catches the ball well. And because he shared time with Williams, there wasn't a lot of wear and tear, despite both rushing for 1,000 yards in 2020. Turns 22 in May.
#3 - Travis Etienne, Clemson (5-10 1/8, 212 lbs.) - I know I'm in the minority overall, but I have Etienne as the third back in this draft, largely because of the heavy workload he had at Clemson. He had 686 carries and another 102 receptions in four seasons as a contributor for the Tigers. He's a willing blocker in pass protection but can struggle there because of his size, as well. But he's a dynamic runner. He also had some fumble issues, losing three in 2020. Just turned 22.
#2 - Javonte Williams, North Carolina (5-10, 220 lbs.) - Turn on the tape of Williams and you're immediately impressed with his ability to run through tackles. According to Pro Football Focus, he broke 76 tackles on his 157 rushing attempts last season. And it's not just strength with which he does that. He spins off would-be tackles, showing great contact balance. Williams also has speed to take it the distance. He was on a state championship 4X100 track relay team. Despite splitting time with Carter, he rushed for more than 2,000 yards and scored 24 touchdowns on the ground the past two seasons. He's not dynamic as a receiver, but he catches the ball well enough, as well. That part of his game is where he pales a little in comparison to top-rated Najee Harris. But he reminds me a lot of Green Bay's Aaron Jones. Had just 416 collegiate touches, sharing time. Williams also is just 20 years old, not turning 21 until just before the draft.
#1 - Najee Harris, Alabama (6-1 3/4, 232 lbs.) - Harris had been a part-time runner in Alabama's talented backfield in previous seasons, but still rushed for more than 2,000 yards and scored 20 touchdowns in his first three years. As the unquestioned starter this season, he had 251 carries for 1,466 yards and 26 touchdowns. He also caught 43 passes. His overall workload (over 700 collegiate touches) is a bit of a concern, especially for a player who runs a little high – as 6-2 running backs tend to do. But he's dynamic, and nearly half of that workload came last season. He plays like a little bigger version of Mark Ingram. But he'll also turn 23 in April.
The longest run in Super Bowl LV found the end zone from 27 yards away and was authored by a former fourth-overall selection.
Leonard Fournette has made a habit of rushing for touchdowns in the postseason during his time with Jacksonville (four in three games) and with Tampa Bay (three in four games). He's done it as a Top 5 pick and as a street free agent.
The league's leading rusher in 2020, Derrick Henry (2,027 yards), was a former second-round selection out of Alabama in 2016.
But James Robinson, an undrafted rookie from Illinois State, finished tied for fifth in rushing (1,017 yards) in 2020.
Running backs really do come in all shapes and sizes, and from everywhere.
It just depends on your preference.
Sleeper - Trey Sermon, Ohio State (6-0, 224 lbs.) - A transfer from Oklahoma, Sermon surpassed 68 yards rushing once in five regular-season games for the Buckeyes (112 against Michigan State). But he exploded for 331 in the Big Ten Championship Game against Northwestern (and that on a day when quarterback Justin Fields was injured and ineffective) and 193 in the CFP national semifinal against Clemson. ESPNU reported during Senior Bowl week Sermon's stated goals for Ohio State's pro day would be to establish route-running and catching ability for the scouts (he attended Senior Bowl week but didn't participate due to a shoulder injury sustained early in the CFP National Championship Game against Alabama). Stay tuned.
#5 - Rhamondre Stevenson, Oklahoma (6-0, 229 lbs.) - What you see is what you get, "a traditional, between-the-tackles, downhill runner," according to ESPN analyst Mike Tannenbaum, a former general manager of the Jets and a former executive vice president of football operations for the Dolphins. "He has a really well-built lower body. From a build standpoint he's clearly the most physical running back (at the Senior Bowl)." Added ESPN's Louis Riddick: "He's shown that he can pass protect." Riddick also cited Stevenson's jump-cut and his "ability to get lateral and get vertical, hit the gaps quick." Stevenson rushed for 665 yards in 2020, including 186 against Florida in the Gator Bowl.
#4 - Javonte Williams, North Carolina (5-10, 220 lbs.) - Williams was recognized as the lead back in the opinion of some in what became UNC's "Dynamic Duo" at the position. His junior year saw Williams improve his sophomore totals in rushing yards (933 to 1,140), average per carry (5.6 to 7.3), rushing touchdowns (five to 19) receiving yards (176 to 305) and receiving TDs (one to three). He projects as a potential workhorse back who can break tackles. Consistency was a bit of an issue during his breakout 2020 season. Williams had 28 yards and averaged 2.5 per carry against Notre Dame but exploded for 236, a 10.3 average and three touchdowns against Miami. He skipped the Orange Bowl and the Senior Bowl.
#3 - Michael Carter, North Carolina (5-9 1/2, 199 lbs.) - The other half of the Tar Heels two-headed monster at running back. ESPN's Todd McShay could hardly have been more impressed watching Carter put on a show during Senior Bowl practices. "He runs low to the ground," McShay gushed. "He gets in and out of cuts. And you watch him in pass protection, he actually cares. He was so important in their catch game (at North Carolina), he averaged 8 yards per carry and I just think he's a special player. Military family, he is disciplined, loves the game. He's the highest-character player that you would ever want at the running back position." Tannenbaum isn't concerned about Carter's relative lack of size. "There's a difference between being short and small," Tannenbaum said. "He is not small. He has an NFL lower body."
#2 - Travis Etienne, Clemson (5-10 1/8, 212 lbs.) - Etienne rushed for over 1,600 yards in 2018 and again in 2019 and for 914 in the 2020 pandemic campaign. He registered career-high totals in receptions (48) and receiving yards (588) in 2020. And he rushed for at least 13 touchdowns in all four seasons at Clemson (70 total, 24 in 2018). His signatures are acceleration and big-play capability in space. Most evaluators have Etienne at least No. 2 at running back heading into the draft. The consistency and productivity he displayed at Clemson and the NFL-style he exhibits at running back have everything to do with that.
#1 - Najee Harris, Alabama (6-1 3/4, 232 lbs.) - Harris is McShay's No. 22 player available overall. Harris is a three-down back and was the second-best player in the CFP National Championship game after Alabama wide receiver DeVonta Smith, according to Tannenbaum. NFL Network analyst Daniel Jeremiah, like seemingly everyone else, is also impressed. "He's a complete back," Jeremiah maintained. "The only question is just that pure top speed. But you don't have any questions about his competitiveness when you watch him on tape with how he finishes runs." Jeremiah's NFL comparison for Harris was Bears 2008 second-round pick Matt Forte (big, athletic frame and can catch).