The "Triple Take" continues with a breakdown of the linebackers. In the ninth installment of this draft prospect preview by position, the Steelers Radio Network trio of Matt Williamson, Dale Lolley and Mike Prisuta give their takes on the top prospects at the linebacker position. If you want to hear the audio version of "The Triple Take" click here.
The opinions of these Steelers Radio Network personalities do not reflect the views of the Steelers organization.
Narrowing this list down to five was really difficult. There are many off the ball linebackers in this class that could make a major impact at the next level. And they all can run. More and more, we are seeing teams investing in true linebackers that never leave the field, show great versatility and can match up in the passing game against receiving backs, top tight ends and even slot receivers.
Sleeper - Cameron McGrone, Michigan (6-1, 236 lbs.) - McGrone is thickly built and a very young prospect. He flies around the field and his speed is evident, but he could use some refinement to his game, particularly in coverage. He plays downhill in a decisive manner and is a real striker. McGrone should start his career as an outstanding special teams player and then see where it goes from there, but there are traits to work with here.
#5 - Nick Bolton, Missouri (6-0, 232 lbs.) - Bolton makes a ton of plays and is extremely reliable. Coaches will love this guy and his production is top-notch. He is a high-quality athlete that reads plays very quickly and demonstrates an excellent understanding of what the opponent is looking to accomplish. He plays the game in balance and rarely takes a false step when defending the run or pass. There is no such thing as a sure bet in the scouting world, but Bolton is awfully close.
#4 - Jamin Davis, Kentucky (6-4, 234 lbs.) - Davis is tough and plays hard, but the beauty of him is his rare combination of height, length and speed. He has a lot of upside as a coverage player but hasn't played a lot of man coverage thus far. Few linebackers built like Davis play the run as well and he is especially impressive when chasing the ball sideline to sideline. He is a good tackler with a huge tackling radius. Davis really stepped up this past year and is a player on the rise.
#3 - Jeremiah Owusu-Koramoah, Notre Dame (6-1 1/2, 220 lbs.) - This is a very undersized player as traditional linebackers go and might even be a safety in the NFL. He played an overhang role at Notre Dame, but has a skillset to help a defense at the next level in just so many ways. He often had to cover slot receivers in college. But Owusu-Koramoah plays big, is an explosive powerful hitter and plays with ferocity. Still, you have to worry about his ability to take on much bigger blockers over and over if left in the box. His new team will have to have a defined plan for Owusu-Koramoah, but he is a modern-day defender with an old school mentality and tenacity. That's a good combination.
#2 - Zaven Collins, Tulsa (6-4, 260 lbs.) - Collins is built like a 3-4 outside linebacker and can certainly rush the passer off the edge as well as hold up there at the point of attack in the run game. But Collins excels off the ball as well. He almost looks out of place on the second level because he is just so big, but he is very fluid and doesn't have a tough time at all playing in space or changing directions. Plus, Collins is very fast and plays fast. He is a rare prospect.
#1 - Micah Parsons, Penn State (6-3, 244 lbs.) - Parsons has quite the blend of size, speed, power with the ability to be the centerpiece of a defense at the next level. He opted out in 2020, but his tape the previous year was very impressive. Parsons is a downhill thumper as well as an excellent space player. He affects the passing game as a pass-rusher, often off the edge, as well as showing the ability to man up with tight ends and running backs, although he wasn't asked to do a lot of that at Penn State. Parsons fits every scheme and projects to being a big-time impact player in the NFL.
Perhaps no position in football has undergone as much change over the past decade as what teams now look for in an off-ball linebacker. Whereas not that long ago teams wanted thumpers at the position, now they're looking for players who can run and cover. We've seen more and more safeties converted to linebackers than ever before because of their coverage ability. And as the game continues to evolve to a more wide-open passing style, having linebackers in the middle of the field who can cover tight ends, running backs and the occasional wide receiver are going to continue to be important. And those who possess both size and speed go early. The college game has adapted, as well. And this year's crop of inside linebackers is a very good one, led by Penn State's Micah Parsons.
Sleeper - Garrett Wallow, TCU (6-2, 224 lbs.) - A converted safety, Wallow is good in coverage. Wallow has a good sense for timing his blitzes, as well. He lacks some bulk, but can be a solid special teams player as he continues to gain strength to play the position in the NFL.
#5 - Jamin Davis, Kentucky (6-4, 234 lbs.) - A long, lanky prospect, Davis enters the draft as a junior with just one full season as a starter under his belt. But he had five interceptions in college, including three in 2020. He also had 102 tackles in 10 games this season. Like many inexperienced young linebackers, he needs to get better on his reads, and he'll need to learn to get off blocks better, but he's got plenty of speed to go sideline to sideline.
#4 - Nick Bolton, Missouri (6-0, 232 lbs.) - Bolton was a two-year starter at Missouri who packs a punch when he hits a runner. Despite his lack of size, he's not great in man coverage, but he does show a good knack for handling zones. Bolton also is an accomplished blitzer who will continue to get better as he grows older. He's just 21 years old.
#3 - Zaven Collins, Tulsa (6-4, 260 lbs.) - Has the size to play outside linebacker, but is better suited to play in space. His size sets him apart from most of the other prospects coming out. But he played small school football growing up in a small town in Oklahoma, where he lined up at quarterback, linebacker and safety. Had 54 tackles, four sacks and four interceptions in just eight games in 2020.
#2 - Jeremiah Owusu-Koramoah, Notre Dame (6-1 1/2, 220 lbs.) - One of the true wildcards in this year's draft. He could be taken very early or very late in the first round. A linebacker in a safety's body, Owusu-Koramorah filled the stat sheet for the Irish in his two seasons as a starter, recording 142 tackles, seven sacks, an interception, 24.5 tackles for a loss and five forced fumbles. The question with him will be his size. Is he as big as listed?
#1 - Micah Parsons, Penn State (6-3, 244 lbs.) - Like Collins, Parsons has the throwback size to go along with excellent speed and playmaking ability. When he sees the ball, look out. The only one of the top linebacker prospects to opt out, he'll obviously need to test as well as expected to hold down this spot. But he had 109 tackles, including 15 for a loss, and five sacks in 2019.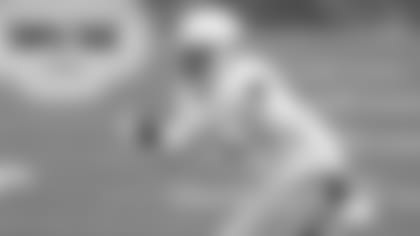 This is another position that's evolving based on the way the game is being played at the college level, and it's evolving rapidly. Remember just a couple of drafts back when, if you were in need of a guy who could be a deterrent against the run and also effective as a cover guy at the NFL level you were pretty much limited to one of the two Devins? There are suddenly more options available for those who are seeking a three-down defensive component off the ball. There still aren't enough to go around, but there are suddenly more where Devin White and Devin Bush came from.
Sleeper - Grant Stuard, Houston (6-0, 224 lbs.) - You can't miss him thanks to the long, red hair that inspires reminders of former defensive lineman Domata Peko, who just participated in his 15th NFL season. Stuard drew praise at the Senior Bowl for his pre-snap communication and for the energy and ferocity with which he plays. "Watch him cover a kick, he has speed and he plays like that long hair is on fire," ESPN analyst Todd McShay observed. "It's fun to watch him. He may be a career backup in the league and may play in some sub-packages, but he's gonna be a special teams maven and he's gonna last in the league a long time because of what he does there." He has potential on special teams covering kicks or blocking them. And he's fun to watch.
#5 - Jabril Cox, LSU (6-3, 229 lbs.) - The arrow is pointing up, from North Dakota State and then to LSU as a transfer for 2020 and now to the next level. NFL Network analyst Daniel Jeremiah liked what he saw from Cox at the Senior Bowl: "A big, long, athletic linebacker who's been really good in coverage with tight ends and backs this week." Cox can also contribute defending against the pass from the throwing end (he had six-and-a-half sacks in his lone season at LSU). Cox is a former quarterback and wide receiver in high school who has the athleticism to fill a variety of roles. His trajectory is headed in the right direction.
#4 - Jeremiah Owusu-Koramoah, Notre Dame (6-1 1/2, 220 lbs.) - He's taking the lighter, stick-and-move aspect of the new-wave inside linebacker to the extreme, but he's also an intriguing chess piece. Owusu-Koramoah's versatility projects as a player capable of coming off the edge, playing strong safety or "big nickel" and lining up off the ball. Draft the athlete and then determine the best fit or fits as you go. He won't need the luck of the Irish to contribute at the next level.
#3 - Jamin Davis, Kentucky (6-4, 234 lbs.) - Davis had five interceptions in three seasons at Kentucky, including three in 2020, including an 85-yard pick-six against Tennessee. Jeremiah sees a lot of Darius Leonard in Davis (Leonard went in the second round in 2018 and promptly became a first-team All-Pro; apparently there were more new-age inside linebackers available than initially perceived back then, as well). Davis closes with authority and has shown he can take the ball away in the running game as well as the passing game.
#3 - Zaven Collins, Tulsa (6-4, 260 lbs.) - Among Collins' remarkable attributes is he looks svelte at 260 pounds. He can stick and move well enough to play the "spy" and to make a leaping interception and then sprint 96 yards the other way for a walk-off pick-six in double-overtime. Collins did that in 2020 against Tulane and in the process authored perhaps the pre-draft Highlight of the Year. He didn't look tired upon reaching the end zone. Collins can diagnose and then explode, and his closing speed is reminiscent of a video game. It was said on air of Collins during a Tulsa-UCF broadcast, "It looks like there are three of him."
#1 - Micah Parsons, Penn State (6-3, 244 lbs.) - Parsons didn't play in 2020, but he was the Big Ten Linebacker of the Year in 2019 as a sophomore, as well as a first-team AP All-America selection. His tape from that season includes forcing Buckeyes running back J.K. Dobbins to fumble and chasing Buckeyes quarterback Justin Fields from the pocket to the sideline. Parsons is a whatever-is-necessary defender, whether what's required at a given time is stuffing a short-yardage run, rushing the passer off the edge, tackles in the open field, what have you. His game can be summed up by a line from play-by-play man Chris Fowler during the 2019 Penn State-Michigan game: "Is he playing fast, or what?" Fast and ferocious.