The "Triple Take" continues with a breakdown of the interior offensive linemen. In the sixth installment of this draft prospect preview by position, the Steelers Radio Network trio of Matt Williamson, Dale Lolley and Mike Prisuta give their takes on the top prospects at the interior offensive line position. If you want to hear the audio version of "The Triple Take" click here.
The opinions of these Steelers Radio Network personalities do not reflect the views of the Steelers organization.
There are quite a few intriguing centers in this class that could project to starters at the next level. There are also several college offensive tackles that could kick into guard when they arrive in the NFL as well as pure guards with a promising future. Overall, this is a very good class of guards and centers and while there might not be a super high draft pick of the bunch, there are a lot of prospects to pick from. And overall, there look to be quite a few future starters from this interior class.
Sleeper - Kendrick Green, Illinois (6-4, 315 lbs.) - Green only appeared in eight games this past season, but his highlight tape is extremely impressive. He has a lot of nastiness to his game and loves inflicting punishment. He has a good frame for the center position, but also can play guard. With a superb explosive get-off, there is a lot to work with here.
#5 - Wyatt Davis, Ohio State (6-4, 315 lbs.) - Davis is a pure guard that stands out in pass protection. He is very quick into his stance and mirrors his opponent well. Davis battled a knee injury this past year, but still was rarely beaten in protection. He projects very well at the next level against the amazing array of interior pass-rushers in the NFL and plays the game with great balance. But Davis holds his own in the run game as well. He is an extremely solid overall prospect with a bright future.
#4 - Creed Humphrey, Oklahoma (6-4, 315 lbs.) - Although his arms are a little on the short side, Humphrey has a big thick sturdy body. He has a lot of experience at the college level and has been extremely consistent. What stands out most about Humphrey is his hand usage. He has quick yet powerful mitts that he uses very well to control his opponent in both pass protection and in the run game, especially in a gap-heavy run scheme. It is noteworthy that Humphrey is a left-handed center, a rarity, but he also could play guard at the next level.
#3 - Alex Leatherwood, Alabama (6-5, 313 lbs.) - Leatherwood played left tackle for Alabama and could potentially stay at tackle at the next level. He is a thickly built powerful man with the phone booth qualities you look for in a difference making guard. At tackle, some top speed rushers gave Leatherwood a tough time and he might be better off operating in tighter quarters. Massively recruited out of high school-and you can see why-Leatherwood has long arms and heavy hands. He also has potential as a puller if guard is his long-time home in the league.
#2 - Landon Dickerson, Alabama (6-5, 344 lbs.) - Dickerson is as physical and nasty as any offensive lineman in this draft class. His injury history is extensive and the medical aspect of his draft profile will have to be heavily scrutinized by team doctors, but just as a player on the field, there is a ton to love here either at guard or center. Dickerson is as tough as they come and sets the tone for his fellow line mates. Many offensive linemen that love to finish as much as Dickerson does often whiff on blocks when going for the knockout punch. That is rarely the case with Dickerson.
#1 - Alijah Vera-Tucker, USC (6-4, 315 lbs.) - What really stands out about Vera-Tucker is his light and quick feet, which could give him an excellent opportunity to play tackle in the NFL. But as a guard, Vera-Tucker could really shine in a heavy zone blocking run scheme where he could be on the move and utilize those great feet. He isn't the most powerful or physical player but is incredibly consistent and reliable. Vera-Tucker should do very well in the right run game but should really shine in protection in the NFL.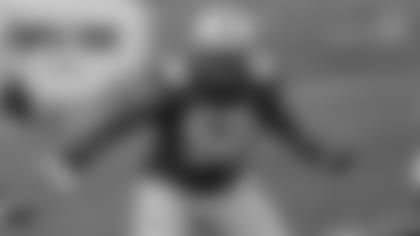 It's rare that true interior offensive linemen are drafted in the first round. In fact, since the Steelers selected David DeCastro in the first round in 2012, just 10 guards have been taken on the first day of the draft. Center isn't much different. Since the Steelers selected Maurkice Pouncey in the first round in 2010, just seven centers have been selected on Day 1. It just shows that good players can be had at those positions beyond the first round. This year's class is considered somewhat top heavy, with just a few top prospects and then some intriguing players who will be selected on Day 2.
Sleeper - Quinn Meinerz, Wisconsin-Whitewater (6-3, 308 lbs.) -Meinerz is making the jump to the NFL after starring at the NCAA Division III level. And his program didn't play football in 2020. But he was the star of the Senior Bowl practices, where he served up more pancakes than IHOP. A broken hand kept him from playing in the game, but he impressed plenty at the practices. Can play both center and guard. Oh, and he works out in the offseason with the Watt brothers.
#5 - Creed Humphrey, Oklahoma (6-4, 315 lbs.) - A three-year starter at Oklahoma, Humphrey is a mauler at center. He's also the rare left-handed snapper. He's smart and plays the angles well and can get to the second level. Should continue to improve with his power blocking as he continues to mature.
#4 - Landon Dickerson, Alabama (6-5, 344 lbs.) - A nasty player who has seen time at all five spots on the offensive line, he was at his best in 2020 at center for Alabama, where he transferred to after starting his career at Florida State. Dickerson plays the position with a chip on his shoulder. He did suffer a ligament injury that required surgery. And therein lies the rub. Dickerson missed time with various injuries in his college career. But the tape is strong.
#3 - Alex Leatherwood, Alabama (6-5, 313 lbs.) - Leatherwood started 28 career games at Alabama, including 15 at guard and 13 at right tackle. He projects better at guard in the NFL, though a tackle-needy team might try him on the outside to start out. Big and strong, Leatherwood offers good pop in the run game. He struggled a bit with some of the agile pass rushers at the Senior Bowl, but if he kicks inside to guard, he won't see as many of those.
#2 - Wyatt Davis, Ohio State (6-4, 315 lbs.) - A good-sized guard prospect who didn't give up a sack or hit on the quarterback in 2020. The grandson of NFL Hall of Fame defensive lineman Wilie Davis, he has NFL bloodlines. Davis will be coveted by teams looking for a plug-and-play right guard. More of a mauler than an athletic lineman, Davis should still be a high pick.
#1 - Alijah Vera-Tucker, USC (6-4, 315 lbs.) - Played left tackle for USC in 2020 after lining up at guard in 2019. He projects better at guard at the NFL level, but could be asked to play tackle for team needing help at that position. Has extreme athleticism that allows him to get to the second level with ease. Looks light on his feet and plays like it. Vera-Tucker should be a first-round pick.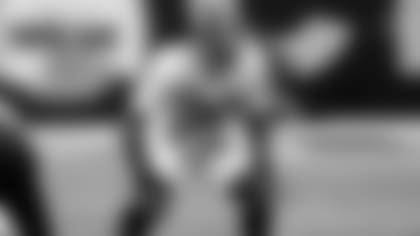 If you're looking for glamour and glitz, guard and center isn't normally the place to find it. Those positions can become relative afterthoughts, or at the very least areas that can be addressed after the fact at the next level. Tackles become guards, guards become centers and centers, well, it's atypical when a center just jumps off the tape with first-round potential and pedigree and demands a first-round investment. Still, even in a passing league someone has to deal with pressure up the middle and someone has to snap the ball.
Sleeper - Quinn Meinerz, Wisconsin-Whitewater (6-3, 308 lbs.) - Meinerz probably can no longer be considered a sleeper after the way he took over Senior Bowl week due to his personality and his performance. But then again, he's still trying to make it from NCAA Division III to the Sunday League, which is hardly the path most traveled. Meinerz was a guard in college and taught himself how to snap the ball in time for the Senior Bowl, where he more than held his own against the big boys. "He made a ton of money this week," NFL Network analyst Bucky Brooks maintained.
#5 - Trey Smith, Tennessee (6-5, 333 lbs.) - Smith has had to deal with a serious medical issue, blood clots in his lungs, during his time at Tennessee, and the accompanying concerns will have to be satisfied. But his coach at the Senior Bowl, Carolina's Matt Rhule, came away impressed. "He's overcome a lot," Rhule told ESPNU at the Senior Bowl. "He's been really good this week. And you see a lot of power. You see a guy that can win in the pass game and also win up front in the run game. I've been impressed with him." ESPN analyst Todd McShay envisions Smith as a Day 2 pick, assuming the medical checks out.
#4 - Wyatt Davis, Ohio State (6-4, 315 lbs.) - He's a grandson of NFL Hall-of-Fame defensive end Willie Davis. And if you watch one of Ohio State's numerous touchdown runs over the last couple of seasons, it's not hard to spot the running back cutting behind a block from the right guard, No. 52, or blasting through a hole opened by No. 52. Davis earned his two first-team AP All-American designations at guard in Columbus. And he's played with the best, against the best on the biggest of stages. Plug and play.
#3 - Alex Leatherwood, Alabama (6-5, 313 lbs.) - Leatherwood was a guard in 2018 and Alabama's left tackle the past two seasons. His performance during Senior Bowl week and his relative struggles with speed rushers outside gave credence to the theory being bandied about by some that he projects better as a guard. He'd rather be a tackle but he's big and powerful and well-suited to excel at guard should a move inside be forthcoming. He won the Outland Trophy in 2020 and he's done it all against all comers, but given the massive expectations he didn't quite deliver as advertised in Mobile, Ala.
#2 - Alijah Vera-Tucker, USC (6-4, 315 lbs.) - Another left tackle in college who appears destined for guard in the NFL. Vera-Tucker was a guard in 2019 before moving to tackle in 2020's abbreviated, six-game campaign. His competitiveness and athleticism are apparent at either position. Vera-Tucker won the Morris Trophy, which is given annually to the Pac-12's best offensive lineman. It is voted on by the Pac-12's defensive linemen.
#1 - Landon Dickerson, Alabama (6-5, 344 lbs.) - Dickerson won the Rimington Trophy as college football's best center in 2020. The only concern is the torn ACL he suffered in SEC Championship Game (Dickerson attended Senior Bowl week but didn't participate). It's a significant concern, but probably the only concern. Beyond the stuff you can measure and the on-tape ability, Dickerson oozes intangibles. A transfer from Florida State, Dickerson arrived at Alabama and "instantly became the leader of that offensive line," McShay assessed during Senior Bowl week. "He was the Alpha dog and he did it very quickly. The respect they have for Dickerson is unparalleled." Dickerson had this to say to the NFL Network about his philosophical approach to the game at the Senior Bowl: "Really, when I'm on the field I just want to make whoever I'm playing against wish they didn't play football, that's as simple as that."