The "Triple Take" continues with a breakdown of the edge rushers. In the eighth installment of this draft prospect preview by position, the Steelers Radio Network trio of Matt Williamson, Dale Lolley and Mike Prisuta give their takes on the top prospects at the edge rusher position. If you want to hear the audio version of "The Triple Take" click here.
The opinions of these Steelers Radio Network personalities do not reflect the views of the Steelers organization.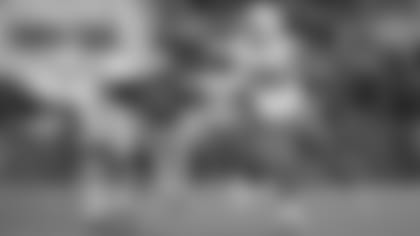 Last year it was Chase Young and then a big gap to the next edge rusher. This year, this draft class doesn't have a superstar prospect like Young, Myles Garrett or the Bosa Brothers, but there are a lot of exciting options early in this draft. By "Edge Rushers" we are talking about front line defenders that line up on the outside of the formation. Some will operate from a two-point stance as 3-4 outside linebacker types. Some will operate with their hand in the dirt as traditional 4-3 defensive ends. Nowadays, most will do a little of both as well as kick inside on throwing downs.
Sleeper - Chris Rumph II, Duke (6-3, 225 lbs.) - Rumph is very undersized and therefore, won't be for everyone. But he is also an extremely productive football player and an absolute handful to get blocked. Rumph's father played in the NFL and is currently the Bears defensive line coach. It is clear that Rumph's father had a huge influence on his son, who was obviously brought up properly to play this position at a high level and with great fundamentals.
#5 - Ronnie Perkins, Oklahoma (6-3, 247 lbs.) - Perkins was suspended to start the 2020 season and only appeared in six games this year for Oklahoma. But that was an exceptional six pack of games for Perkins to finish off his college career. Perkins plays much bigger than he is listed. He is heavy-handed, plays very hard and is extremely physical as both a pass-rusher and playing the run, an area in which he excels. Perkins is also very flexible with very good speed to mix with his hustle. He gets off the ball well and often shocks his blocker. Perkins turns speed into power as well as any edge rusher in this class.
#4 - Jayson Oweh, Penn State (6-5, 252 lbs.) - Oweh has a long basketball player type of build and is a smooth mover as many basketball players are. But Oweh is also very explosive and really gets off the ball. Oweh hasn't been overly productive yet and is a raw moldable prospect. In fact, Oweh recorded zero sacks in 2020-so this is obviously a projection. He can also lose leverage as a run defender, but his run defense has certainly improved. But Oweh flashes and his rare abilities are extremely obvious. He is extremely fast and his NFL position coach is going to love working with this guy. Oweh only started playing football in 2016. The best is yet to come.
#3 - Kwity Paye, Michigan (6-3, 270 lbs.) - Paye has a thick compact frame, which helps with his excellent use of leverage. He is very twitched up with an outstanding get off. Paye is very sudden changing directions and with everything he does on the field. To cut to the chase: Paye is just a remarkable athlete and has all the upside in the world at the next level. He has improved each year in college although he could use more of a pass-rush plan and arsenal overall. Michigan moved him around quite a bit, but it was clear that Paye was at his best when left on the outside.
#2 - Gregory Rousseau, Miami (6-7, 253 lbs.) - Rousseau opted out this past year but had a huge season the year before even though he is new to the position. A former king-sized wide receiver, Rousseau has rare length and uses that very much to his advantage. Rousseau is a very smooth mover, but not overly explosive off the snap. Miami lined Rousseau up all over the line of scrimmage and his new NFL team should do the same. In fact, he was more productive lined up on the interior for Miami, which is something you rarely see from someone built like Rousseau. That being said, he doesn't consistently win with his power.
#1 - Jaelen Phillips, Miami (6-5, 266 lbs.) - Built like a traditional 4-3 defensive end with length and a well-built frame, Phillips is also capable of playing in space and dropping into coverage if needed. He bends very well, is quick to change directions and closes with power and enthusiasm. Phillips is extremely talented and is a very powerful player. He had a tremendous season in 2020. After transferring from UCLA to Miami because of medical reasons, Phillips' injury history will need to be examined closely.
NFL defenses are built around their edge rushers. And they come in all shapes and sizes, from 6-4, 290-pound defensive ends to 6-3, 250-pound outside linebackers. The idea is to get the quarterback on the ground – quickly. There has been at least one edge rusher taken in the top 10 of the draft every year since 2012, so the bet is that will continue. But unlike some previous years, there's not a clear cut top-5 edge rusher available this year.
Sleeper - Patrick Johnson, Tulane (6-3, 255 lbs.) - A highly productive edge rusher at Tulane, Johnson had 21 career sacks over the past three seasons. He also had 35 tackles for a loss and six forced fumbles. Johnson isn't a premier athlete, but he does everything well. His upside might not be that of some of the guys rated ahead of him, but he's going to be a nice late-round find for someone.
#5 - Kwity Paye, Michigan (6-3, 270 lbs.) - Paye was a highly recruited player coming out of high school and flashed some ability at Michigan. In the past three seasons, he had 93 tackles and 10.5 sacks. But he should test well, and that will tempt someone to take him high based on what he can potentially be.
#4 - Joe Tryon, Washington (6-5, 252 lbs.) - After a monster season as a sophomore in 2019, Tryon opted out in 2020. But he had 41 tackles and eight sacks in 12 games in 2019. Could be used as a defensive end in a 4-3, but might be a better fit as an outside linebacker in a 3-4. Has an outstanding bull rush.
#3 - Azeez Oiulari, Georgia (6-3, 240 lbs.) - A little undersized, but he wins with his speed off the edge. Had 9.5 sacks and 12.5 tackles for a loss in just 10 games at Georgia in 2020, spending a lot of time in the opposing backfield. Ojulari will need to continue to get stronger, but he should step in right away as a third-down specialist at the NFL level while he continues to develop.
#2 - Jaelen Phillips, Miami (6-5, 266 lbs.) - With talented teammate Gregory Rousseau sitting out in 2020, Phillips got a chance to be the man at Miami after sitting out the 2019 season following a transfer from UCLA. Prior to his transfer, he suffered a wrist injury in a moped accident and had three concussions. But in 2020, he eight sacks and 15.5 tackles for a loss in 10 games. Is a natural pass rusher.
#1 - Gregory Rousseau, Miami (6-7, 253 lbs.) - Rousseau opted out in 2020 and redshirted as a freshman in 2018, so he had just one season of true experience at Miami. But in that one season he had 15.5 sacks and 19.5 tackles for a loss in 13 games. Rousseau is a freakish athlete. Is still filling out as an athlete after arriving at Miami as a 222-pound freshman. He's only just scratching his potential.
The quest for edge rushers is such that the best of the bunch never lasts long in a given draft. Chase Young went second overall last year, Nick Bosa second overall the year before that and Bradley Chubb fifth overall the year before that. And in 2017 Myles Garrett even went before the first quarterback was selected, or anybody else, for that matter. Even if you have one or two pass rushers you trust, odds are you still need another one. And demand seemingly always exceeds supply.
Sleeper - Elerson Smith, Northern Iowa (6-6, 254 lbs.) - Smith didn't have a season in 2020 but the last time he played in 2019 he had 14 sacks. He made up for lost opportunity with a week that intrigued at the Senior Bowl in Mobile, Ala. In practices Smith demonstrated agility and flexibility. In the game he stayed home and made an open-field tackle on Clemson wide receiver Amari Rodgers on a reverse. "Elerson Smith's having himself a heck of a game here," NFL Network analyst Daniel Jeremiah observed. "You see how long he is, just a really intriguing skill set. To be able to play over a tight end, you can kick him inside, let him rush in there, as well. No rust on him, for not having played he's been outstanding." Smith also had a tackle for a loss in the Senior Bowl and a roughing-the-passer penalty (body weight on the quarterback). He kept showing up.
#5 - Patrick Jones II, Pitt (6-4, 264 lbs.) - Jones explodes off the ball in pursuit of the quarterback. He had eight-and-a-half sacks and four forced fumbles in 2919 and nine sacks in 11 games in 2020. ESPN analyst Louis Riddick talked during Senior Bowl week about Jones' ability to get to the passer using a variety of pass-rushing tools/moves, although he had a "quiet" week of practices in Mobile, Ala., in Jeremiah's estimation. Jones' sack in the Senior Bowl game suggested he might be a gamer.
#4 - Azeez Oiulari, Georgia (6-3, 240 lbs.) - Ojulari forced four fumbles in addition to amassing nine-and-a-half sacks and 12.5 tackles for a loss in 10 games in 2020. He can bull his way through offensive tackles, shoot gaps and beat double-teams. An edge rush against Tennessee was equal parts impressive and innovative. Ojulari got low to dip under the offensive tackle on the way to the backfield to the degree that he went down to one knee and then quickly bounced back up, pounced on the quarterback, separated the football and fell on it.
#3 - Jaelen Phillips, Miami (6-5, 266 lbs.) - Phillips had eight sacks and 15.5 tackles for a loss in 10 games for the Hurricanes in 2020 after transferring from UCLA (he played a combined 10 games for the Bruins in 2017 and 2018). His highlights are similar to Gregory Rousseau's, and not just because both wore No. 15 at Miami. Phillips is especially relentless when chasing a play down from behind or the backside, whether he started in a two- or a three-point stance, and he knows how to finish when he gets there.
#2 - Carlos Basham Jr., Wake Forest (6-3, 274 lbs.) - Among Basham's perceived attributes is versatility. Riddick spoke during Senior Bowl week coverage of Basham's ability to play defensive end, defensive tackle or 3-4 outside linebacker. Jeremiah assessed Basham as "a strong dude on the edge." Basham has 15 sacks and 22.5 tackles for a loss in 19 games over his last two seasons at Wake Forest (five and four-and-a-half in six games in 20202). There was also this form Riddick: "This guy's just a stud. His intensity, the pace with which he plays, the violence with which he plays, he's just fun to watch."
#1 - Gregory Rousseau, Miami (6-7, 253 lbs.) - Rousseau opted out in 2020 after amassing 15.5 sacks and 19.5 tackles for a loss in 2019. His wingspan is ridiculous, which allows him to get off blocks, disrupt and dominate. Even when a ball carrier gets past him, he isn't out of Rousseau's reach. And his potential beyond that monster 2019 season is such that Jeremiah is on record assessing Rousseau as in possession of "the tools to emerge as a perennial All-Pro player." That about covers it.