The Steelers have signed all six of their 2020 NFL Draft picks to four-year contracts, including second-round pick Chase Claypool, third-round pick Alex Highsmith, fourth-round picks Anthony McFarland and Kevin Dotson, sixth-round pick Antoine Brooks Jr. and seventh-round pick Carlos Davis.
Claypool, a wide receiver from Notre Dame, was the first player the team selected in the 2020 NFL Draft, the 49th selection overall. Claypool had 66 receptions for 1,037 yards and 13 touchdowns his senior season and was the recipient of the Monogram Club Most Valuable Player honor. He credits the numbers and the breakout season to the confidence he had in himself, something that continued to grow during his time at Notre Dame.
"Being in the situation and knowing you can make the play helps you do it again and again," said Claypool. "That came with hard work and practice. And once I got that confidence it was something that really helped. That was pretty big and also just putting in extra work before and after practice."
Highsmith, a linebacker from Charlotte, was the 102nd overall selection in the 2020 NFL Draft. Highsmith is coming off his best season with 15 sacks in 2019, finishing his college career with a school-record 20 sacks. He gives a lot of the credit for his breakout season to a new coaching staff at Charlotte, which included Head Coach Will Healy and co-defensive coordinator/defensive line coach Marcus West, who took Highsmith to the next level.
"He taught me so many things that I didn't know about pass rush, so many different moves," said Highsmith. "He told me when he got there that he wanted to make me the best player ever when I left there. He told me at times you aren't going to like me, but the thing is I am going to make you better. He told me I can't bend to get around the edge. That was something I had to work on. I worked on it every day in the summer. I was working out there running hoops, working on my bend. That was one of my best traits this season. I credit him with my success."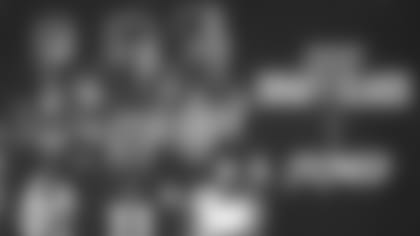 McFarland, a running back from the University of Maryland, was the 124th player overall selected in the 2020 NFL Draft. McFarland had 114 rushing attempts for 614 yards and scored eight touchdowns in 2019. His season was hampered by an ankle injury he suffered Week 2 against Temple that didn't let up as the season went on, even though he missed only one game.
"I am 100 percent now," said McFarland. "My ankle injury during the season, I was injured the whole season. I didn't get 100 percent until the end of the season. I dealt with that the whole season. I played on it. I only missed one game, against Indiana. Now I am 100 percent and ready to go."
Dotson, a guard from Louisiana, was the team's second pick in the fourth round, the 135th player overall selected in the 2020 NFL Draft. Dotson was a 2019 Associated Press, USA Today, Sports Illustrated and Pro Football Focus first-team All-American who made 52 starts in his college career.
"Watching him on tape he is a really big man with great lift," said offensive line coach Shaun Sarrett. "He is a very good athlete. What really shows up on his tape is he is a people mover. I really like that. This guy can move. He can do all of the stuff we were looking for. The second level stuff is good. He is the type of guy we look at that old school run game stuff like back in the day when you would run through guys. This really flashes on his tape and jumped out at us."
Brooks, a safety from Maryland, was the 198th player overall selected in the 2020 NFL Draft. Brooks, who was voted MVP for the Terrapins last season, was a second-team All-Big Ten selection (coaches) and third-team All-Big Ten selection (media). Brooks finished the season as the Terps leading tackler with 87 stops, including 69 solo stops, also had eight and a half tackles for a loss and five pass defenses.
"I take tackling very seriously," said Brooks. "That is the impact of football. I think football is tackling. It's running the ball and tackling. That is how you have fun in football. I can never lose the one-on-one battles. I won't. I would be terribly upset if I did lose that battle. I am passionate about tackling and getting the ball back and stuff like that."
Davis, a defensive tackle from Nebraska, was the 232nd player overall selected in the 2020 NFL Draft.
Davis finished his Nebraska career with 125 total tackles, 18 tackles for a loss and nine and a half sacks.
"He is a strong kid. He is a talented athlete," said Coach Mike Tomlin. "He is a two-sport player, was on the track and field team."
Davis, who was an All-American in track and field, played his final season as a graduate student and started 11 of 12 games as a defensive end his senior season. He had 32 tackles, ranking second among Nebraska's defensive linemen, only behind his twin brother Kahlil Davis, who was drafted by the Tampa Bay Buccaneers with the 194th pick overall.