This wasn't the way the last few months were to have supposed to go for Jarron Jones.
Never in his wildest dreams did he think things would go in the direction they did, and it all happen so quickly.
Six weeks into the XFL's season, the New York Guardians' offensive lineman was preparing for a March 14 game against the Houston Roughnecks at MetLife Stadium. He was excited and ready to go to work with his team for another big game. But the game never happened. The COVID-19 pandemic forced the XFL to cancel all games that week, and for the remainder of the season.
"It was different. It was a surprise," said Jones. "We had a game that weekend. A lot of players were coming down to get their lockers together so they could send our equipment to MetLife Stadium. When we got there our equipment wasn't there. That is when they let us know that our season is going to be done because of all of this.
"We never had circumstances like that before. I never had a season just end like that. It took some adjustment. I had to figure out getting home, adjusting to the new norm, new rules they have placed in society. Trying to find workouts, stay in shape, work around it, adjust."
And as the country was shutting down, there were two people who weren't getting a break, Jones' parents Matthew and Lakiescha Jones, both who are nurses. They were doing quite the opposite, as frontline workers being asked to step to the plate while putting themselves at risk.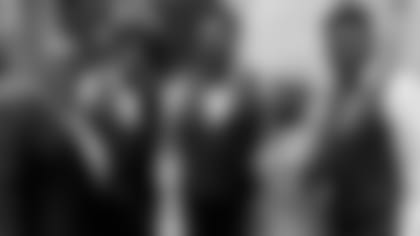 For Matthew Jones, he was one of the brave healthcare workers who was stricken by the virus, to the point where he was hospitalized for 47 days, put on a ventilator, and fighting for his life.
"We kind of had to expect it. He and my mom are both nurses," said Jones. "He works at a clinic and he was dealing with someone who had symptoms, so I guess that is how he got it.
"He had it for a good week before, but my mom who is also a nurse was taking care of him. Once it started to get worse and worse where they had to take him to the hospital. It was very scary, especially when he got to the hospital. He had to be put on a ventilator when he was first admitted. You look up the percentage of how many people get on the ventilator, how many make it. We kept our faith, kept on praying. We had to use a lot of patience. He had a lot of good days, a lot of bad days. We had to be patient and are thankful he was strong enough to fight through it."
His mother thankfully tested negative for the virus, but she still struggled with her husband being ill.
"I was worried about her," said Jones. "You don't think it's going to hit close to home. I was more worried about her from an emotional standpoint. How close she is to my father. She wouldn't eat for a good week. She barely was talking and crying a lot. I talked to her almost every day. The more I talked to her, the more my siblings talked to her, the better she got."
In the midst of his father's battle, a lot was happening football-wise in the Jones family. On April 20, the Steelers officially announced they had signed him to a free agent contract.
"I was very blessed," said Jones. "I was coming home not knowing what I was going to do next. When they called me, I was on the way to the airport, headed to Dallas. When they called me, it put a lot of things to rest. You have a lot of anxiety about what is next, what is going to happen next. Getting that call was a blessing. It came at the right time. I am very thankful."
Six days later his brother, Jamir Jones, was signed as a rookie free agent by the Houston Texans following the 2020 NFL Draft.
"I am very proud of him," said Jones. "He had a very different career. He switched positions his junior year. That was his year to compete at linebacker and they switched him to defensive end. It was a selfless move by him. He just worked and learned and caught up. He was supposed to redshirt and started last four or five games and made the most of his opportunity. He didn't have a lot of college film and for him to make it on the roster I have the utmost respect for him. He grinded.
"He didn't let it stop him. He is on a team and I'm happy for him. It is well deserved."
And as both players got great news on the football side, it was even better for their father. He was released from the hospital the day before the NFL Draft, although he is still making progress as he continues to recover.
"He is still on the road to recovery," said Jones. "I saw him recently. It was awesome. I didn't see him for as long as I wanted to. But the fact that I got to see him at all was special. When everything happened, he was in New York and I was in Dallas. I was thinking was the last time I saw my dad going to be the last time I saw my dad. That bothered me a lot. For that to happen, I couldn't thank nobody but God."
While his life has been turned upside down, he hasn't had much time to stop and think about all of it. Jones took part in the Steelers virtual offseason program, learning the ins and outs of the offense via zoom calls and his iPad.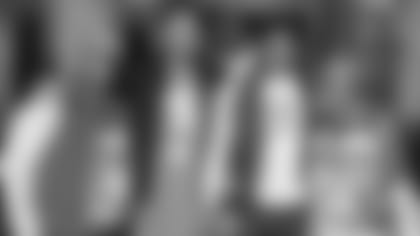 "It's been different," said Jones. "It's been fun. We have still been able to interact with each other. I have gotten the chance to meet some of the guys on the team, guys in the offensive line room. It's been different. It's also been fun, cool. You are in the comfort of your own home. However, you learn best you can make it that way for yourself. It's not like you are forced to sit in the classroom and be face-to-face with the coach. I use my laptop and iPad. I listen to what is being taught. If I have a question, I get the answer off my laptop. It's worked out well.
"We have a group chat that keeps everyone involved. The guys are hilarious. They are fun to talk to. It's typical offensive line camaraderie.
"I have been going to fields and getting a lot of running in. A lot of position work in with cleats on. There is a nice little hill that is a couple minutes from me I go to. I have a home gym that I do for weight training and staying in condition."
Coming in as a free agent, both Jarron and Jamir know they have their work cut out for them to make their respective 53-man roster. But if they both do, there is something amazing waiting for them. They will join the Watt brothers, Steelers T.J. and Derek and Texans J.J., as another set of brothers on the field when the Steelers and Texans meet at Heinz Field on Sept. 27.
It's something that excites Jones, but at the same time he is knows there is a lot of work to be done before that happens.
"We talked about this," said Jones. "Right now, we are worried about cracking the 53. That would be special for our parents. It would be an awesome experience. We just have to do everything in our power to make that happen."