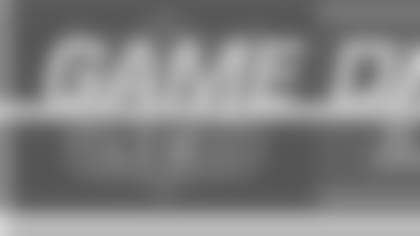 STEELERS VS. JAGUARSAFC WILD CARD PLAYOFFSaturday, January 5, 2008at Heinz FieldKickoff 8 p.m. on NBCJaguars Conference Calls
How much have things changed since the last meeting with the Steelers?
The playoffs are set. I know two good football teams are going after each other Saturday night.
People think you "out-Steelered" the Steelers the last meeting. Do you think that is the case?
I am not sure what that means. The bottom line is two good teams went at it that day and we were able to pull out a victory. We had to have it to secure a playoff berth.
There seems to be a trend that teams in warm climates now have a power running game, while teams like the Patriots have a spread offense even though elements would dictate the opposite. Is it that teams are going with best personnel or something bigger there?
I think the first thing is the obvious answer in terms of teams using their personnel.
Are you concerned about any of your guys getting a layoff or was a rest a good thing?
I think it was a great thing for us. We didn't earn a full bye for the whole team but we certainly earned a spot where we knew we were going to be the fifth seed regardless so we were about to take advantage of that and rest. Ten guys didn't play at all and we had another 8 or 9 guys that played very sparingly. We were able to rest a good majority of our team.
Why has Jacksonville been so successful with the Northern football approach?
I am not sure it's just for people up North. The Steelers are a tremendous organization and have been for a number of years from the top all the way down – from Mr. Rooney all the way down to the last player on the roster. It's been an excellent organization for a number of years and we have a great deal of respect for them. To be mentioned and saying we are doing things they have done, they have been very successful and that is pretty good to have that as a compliment.
Do you approach the Steelers any differently defensively without Willie Parker in the lineup?
Obviously he is a good football player but we feel Najeh Davenport is an excellent football player as well. We'll put a plan together accordingly and get ready to bring our best.
How much do you pay attention to the field conditions?
We look at everything as coaches. The field conditions are certainly something you have to address with your team. We have done that in terms of footwear and all of that. We know based on having been up there a couple of times the grass and ground and the field is as good as it's been as far back as I can remember. I don't know if they had ever done the complete sod like they did, but it's as better field now than it has been. Usually this time of year with all of the play it gets it's really worn. All-in-all it's a good solid football field. It's a great tradition; the fans will be cranked up. It will be a heck of an environment.
As a former player do you prefer grass fields?
I love the grass. I think mud and dirt and snow and torn up grass…I like it. I like all of those things. It reminds me of football the way it was growing up where everybody had grass. I enjoyed playing on the grass when I was a player. I enjoy going out there and competing in those elements now.
What makes Fred Taylor such a great back?
Fred had been a great player for a long time. He is a gifted guy with a balance of speed and power. He is a bigger guy than most people realize. He's got some elusiveness; he has great vision. At this point in his career he is maximizing all of his abilities and bringing it for his team every Sunday.
Did Maurice Jones-Drew help him by pushing him or taking some of the work load off his shoulders?
I think adding Maurice did both of those things. Maurice is a very explosive football player, very talented himself. There is a little nudge there.  Maurice came in and embraced Fred as the leader and the guy he wanted to learn from. He paid a great deal of respect to him. That started the relationship off on the right foot. Those guys have been close the entire time they have been together. There is no question in my mind being able to go in with a one-two punch has enabled us to lighten the load a little bit and not have Fred carry it 35-40 times in any one game. He has been able to stay fresh and healthy throughout the season.
Are you going to be able to gain over 220 yards like you did last time here?
It's a daunting task to go up against that defense. It's an excellent defensive unit. They are very well coached. There are a lot of good football players. We are going to get ready to compete against them and do the best we can.
Are you surprised at the success you and the two teams that followed had against them on the ground?
We look back this is a defense that is number one overall in the league overall and number three in rush and pass defenses. It's an excellent defensive unit with a lot of good football players and a lot of excellent coaches. We are going to just get prepared to do the best we can.
Do you think you are on a roll like Pittsburgh was two years ago when they made a run from a Wild Card spot?
I think what they showed is anything is possible. We're hopeful. We know the key is to find a way to scratch out a victory Saturday night.
Is there confidence in the way you are playing that you don't care who you play or where?
We're competitors and we are going to go compete regardless of who it is and where. We have a great deal of respect for the teams that are left standing. Right now there are 12 teams that have earned a spot in the post-season tournament and we are one of those 12 and we're excited about the opportunities that are in front of us. We know there will be great challenges each and every week and Saturday night against the Steelers at Heinz Field is going to be a big challenge for us.
Why do you have so much success running the ball against the Steelers?
I won't just call the Steelers out.  Our game playing and mindset usually is to try to first and for most to establish the run then play defense and try to stop the run.  That's just our coach.  That's been our mentality ever since he got here five years ago.  We try to have success versus everyone, so I wouldn't say that is just the Steelers.
Do you have confidence going up against the Steelers?
I just play my game.  I wouldn't say that it is only them.  I try to have confidence going into every game.  It doesn't matter who the opponent is.  I just try to go out there and play within the framework of our offense and play my style of football.  It doesn't matter who we are playing.  I just try to run the ball.
How much difference was it when you played the Steelers last time with out Aaron Smith?  Was targeting that part of your game plan?
No.  We called our plays and we ran them.  We didn't look at who was in there personnel wise.  If you go back and view our season, guys have talented players all across the board.  It is the NFL.  So we just ran the ball.  We didn't say alright, we are going to try to run it every single time.  That would be very dumb of us, but at the particular time, the condition called for a little more running than in the past so we just stuck with that and for us thankfully we were successful.
Are you hoping for bad weather again Saturday night?
It doesn't matter what the elements are we just want a football game.
What was the field like in the snow here in Pittsburgh?
That field is terrible.  That's a lawsuit pending.  That's ridiculous.  But you are up there where it rains a lot and snows.  That is just what happens and those are the elements. Maybe they should try to invest in field turf next year or in the future.
Most players still prefer playing on grass.
I'd prefer grass.  But late season if you are in an area where the field is terrible and that has just been the history of a lot of northern teams.  Look at Giants stadium.  They do an outstanding job with field turf.  I prefer grass but those cold weather teams, late in the season, they allow high schools to play on their field, and they allow colleges to play on their field.  It just goes completely bad.  So I think a million dollar field investment won't hurt their pockets.
The Steelers say they prefer this field as opposed to turf – does that give them a home field advantage?
They play on it.  That's their home field and they like to get down and dirty and play a physical football game.  So that is what they like if they are comfortable with that. That is fine with them.  But for me personally.  I am more of a shifting back and I like to try to make my cut and that field doesn't allow for much of that. So I would prefer field turf or some good grass, not just dirt.
Running team and play defense – does that strike you as odd being a Florida team?
It doesn't strike me as bizarre.  That is just his style.  They built this team.  As a head coach you have to feel comfortable with the players you bring in and the approach you usually take, you have to be comfortable with that.  Coach Del Rio, he came from a defensive background.   He has been in the league for several years, when he was with the Ravens, they played defense.  When he was with Carolina, they played defense.  So he brought that mentality here and fortunately for us that's what we do.  That is what we get trained to do, that is what we are taught to do.  The more we rep it, that is what we get excited for.  That is just our style of football.
A few years ago the Steelers made a pretty good run out of the Wild Card spot –do you feel you are playing at that level?
We feel like we are playing at a high level.  I don't want to get too far ahead of ourselves.  This is our playoff game.  We haven't won a playoff game since '99 or whatever.  They have the upper hand.  They are poised for this environment and this game.  They have been there before.  We have a lot of guys that haven't been in this particular setting before.  Not until we win a playoff game, we really can't say a lot.
How much difference do you expect the Steelers defense to approach you and Jones Drew?
They are going to come out and try to be as disciplined as before and they are going to buckle down and try to do some of the things a little bit differently then they did last game.  But those are just memories.  That doesn't have anything to do with this game other than preparation.  You get in there and you watch extra film and you just pay attention to subtle things and hopefully it carries over to the next game.  But I'm not looking at that last game for anything.  I don't even want to see the tape. That is just a memory.  It's in the past, has nothing to do with this game and I'm not playing anything down.  I just prepare for these guys as if I haven't played them yet this year.  It is going to be an exciting ball game is all I know.
Why wouldn't you want to look at the tape?
I don't want to look at the tape.  You can get complacent.  I think past reflection is for old men.  I'm not old.  I'm not going to fall into that trap.  I'm in the NFL.  There is no need for me to do that.  I had a hundred yards for this team, but then the second time around that doesn't happen.  Or you are playing a team that is terrible in the run game and you get all excited through the week thinking if this running back did it then maybe I can do the same thing.  And then when it doesn't happen that way for you, you are a little disappointed and I'm not going to do that.  I just learn.  I've been in the league for ten years and I'm not going to do that.
Do you think it gives the Jaguars an edge that you are a Florida team built for the cold weather?
Winning gives you a mental edge.  I don't think it has to do with the way out team is built.  I think everybody can say well this is the style of ball you need for the playoffs.  I'm tired of hearing that.  To be honest with you.  All I know is, we have a pretty good football team.  We are comfortable with each other.  We haven't really done anything in January in a long time.  So regardless of what they say that we are the team to look out for in the playoffs.  All of that is BS.  We aren't buying it.  We still have to play football.
Will you be talking to Santonio this week – any friendly family wagers?
No wagers.  I'm not sure what he wants to do.  I am sure we will grab something to bite and keep it at that, but no wagers at all.