(In honor of Mother's Day, we are bringing you stories of Steelers players and their mothers this week.)
James Washington remembers the drives. They would originate in his small town of Stamford, Texas, a town of just 3,000 people, and end up in some of Texas' biggest cities.
They weren't drives to just see the open fields of Texas, the farms that dotted the highways and the cities that were the final destinations.
They were the start of his journey to the NFL.
The destination wasn't so much the cities, whether it be Dallas, or San Antonio or any where in between. The destinations were football camps, places for the high school star to go and show what he was capable of, to help him
By his side for all of those drives, the one taking the high school standout to every football camp that was recommended by his coaches, was his mother, Chrysta Washington.
"My dad working a lot, my mom was the one who always took me," said James Washington. "I remember trips where we drove to San Antonio, Dallas, me and her. Her being by me, step by step, her watching me, cheering me on during camps even if I didn't do well. She would always say you could do this better or do that. Having that mother and son bonding time meant a lot."
His father, James Washington Sr., worked for the highway department when his son was in high school. He worked on a farm on the side, which is what many in the small town of Stamford survive on. But it meant long hours, and not much time off, so it was mom who would hit the road with her son.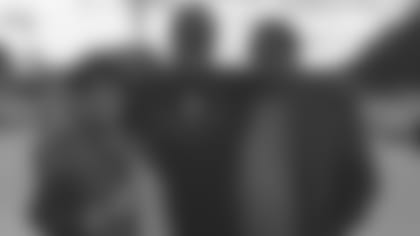 "We had talked about it with his dad," said Chrysta Washington. "His dad couldn't go a lot of times so it would be me and him. We would just go and try to find the places in these cities. It was kind of hard. We persevered. We would go all around the Dallas/Fort Worth area to camps, and to other places.
"Some of the camps started at 25 kids and others went up to 300-400. He was going to elite camps then. They were expensive. But the coach would want him to go. They would tell me let him go to it. His dad couldn't go, he would have to stay back and work and I would take him.
"The time we spent together was good for us. I would tell him to stay focused and give God the glory for everything he has done."
The camps, the time he spent at the park working on his skills, the love he started to develop for football made Chrysta realize this wasn't just a passing fancy, this was becoming something her son could possibly turn into more, most importantly a college scholarship.
"He started playing in the seventh grade, but his passion was more basketball," said Chrysta. "It was about 10th grade he started to get more of a feel for it. It took a lot of practice, determination and focusing on that. That was something that was far-fetched then, something I never thought of.
"He made so many sacrifices. Just not having the time to play with other kids. He didn't have as much free time. Just going to the games, that time. Even after practice he would hang around, him and some of the guys, and practice more. We have a little park across the street from the house, they would go over there and practice some.
"I could tell he was developing more. He would tell me I can do this better, I can do that better. He told me it would help him in his game on the field. When it was football season, guys had a football in their hand and they would be out there playing when they weren't running track. He would be showing all of the kids the moves he learned in the camps.
"From 10th grade through high school it was nothing but camps. His coach told him he would do well if he went to this camp, or that camp. He loved it. He never got tired of it, He wasn't, but I was camped out."
He knew it wasn't easy on his mom to have to always take him places, especially since football wasn't her forte and she didn't even always know what to look for. But he knows she did it out of love, and that is something he won't forget.
"It meant a lot to me because it showed my success was her success," said James Washington. "She put all her time and effort in to trying to get me publicized, showing people my talent. Both her and my dad.
"She wasn't big into football, but she could tell when something could be better. Just by observing other people and looking at me, she knew and would tell me things."
His parents would always be at his high school games, supporting him every step of the way. They would go to as many games as they could at Oklahoma State, but when they couldn't make a road game or something, they would be right in front of their television watching in the comfort of home, never missing a beat.
"She was always there, no doubt," said James. "Little dribblers to all the way to now, she has always been there for me. I remember growing up I had asthma and I had a minor asthma attack on the field. I remember her jumping out of the stands and running. People were trying to get her and she was like no, no, no. It's that bond we have."
Mom wouldn't have it any other way.
"Yes we went to pretty much everything," said Chrysta. "Sometimes my sister, or my aunt would go with us. My aunt loved seeing him play.
"Sometimes now it's watching him on television. Down here, where we are, we can't get the games. I got the NFL package. We had to change services, but I wanted to get the games."
Football might not have been Chrysta's strength, but she loves sports. Especially basketball. And so does James.
"We go against each other in sports," said James. "I didn't want to be around her watching games. She knows how to push my buttons watching sports. She knew how to aggravate me. I know I was the same for her. She would be in her room and I would be in my room, they are right across the hall from each other. When something good would happen I would be like did you see that? She would do the same for me. It's all fun and games.
"When something would happen, she is a big LeBron (James) fan. I am too, but I have other teams I like. He would dunk on someone and she might not say anything, but I could feel her looking at me from the corner of her eye. I would be why are you looking at me? We would go back and forth."
Chrysta laughs at the banter over basketball, knowing it was a wonderful mother-son bonding time.
"I love sports. We both love basketball," said Chrysta. "That is what he was looking at first, basketball. We would watch games. We would watch the Mavericks, the Cavs, and the Lakers. I might watch one game and he was watching another and I would tell him come in and let me show you something. He would yell, mom come look. We would laugh and smile."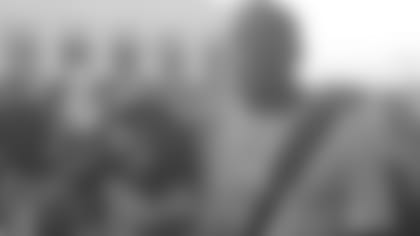 Stamford, Texas doesn't have a list of the who's who in the NFL. The last one to play in the league was Bob Harrison, a linebacker who played for the 49ers, Eagles and the Steelers from 1959-67.
That was until Washington came along.
"When he was drafted, all I could do is give God the glory," said Chrysta. "If it wasn't for him he wouldn't be where he is today. It was a blessing."
There were tears after his name was called, after the dream became a reality.
"Oh honey, it was happiness, joy that he made it," said Chrysta. "He kept on persevering. I always told him if that is what you want, go after it."
The pride she has for her son can be heard in her voice. And it's not just because of football.
"I am very proud of him. I am proud of both of my kids," said Chrysta. "He kept on. He didn't let anything stop him. He had some hard knocks, wanting to give it up when adversity came. But I told him look beyond it. He knows to keep on going.
"And he has so much respect for people. I always say if you don't respect yourself, nobody else is going to respect you. That is the first thing, respect."
That respect isn't just about Washington always saying the likes of, 'yes sir,' or 'no sir.' It's about a whole lot more. It's about faith, because that is where respect is centered.
"On Sundays she will send me the Word from church," said James. "She will give me a recap and we talk about it. She will always send me a prayer text before the game. I respond to her and then she lets me focus and we talk after the game. I cherish that a lot. It gives you that encouragement to go into the game and do your job. Without God I wouldn't be here."
"Then she asks, how is life? She always says she cares about my sports life, but she wants to know how James Washington is doing, how I am doing. That is the one thing I appreciate. She cares about everything.
"We talk every other day. Sometimes I get home and I am tired and I will text her, and then I will call her the next day and talk to her and my dad, just catch up."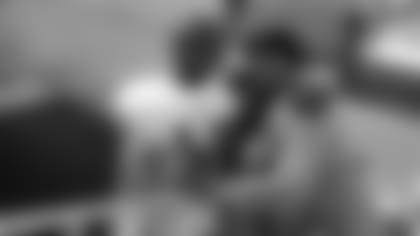 Chrysta Washington loves her children like any strong mother does. She will do anything for them. She will support their dreams, and be there in the good and bad.
And she will be there in the role of a mother, not a friend.
"I brought my kids up and taught them I am not your friend, I am your mother," said Chrysta. "Your friends are supposed to be there for you, but show me one that is going to be there when times get hard. I will never be my kid's friend. I think that is part of the problem today. We want to be their friend. No, no, no, and no."
James laughed when he heard her words.
"She always said I am not your friend, I will never be your friend," said James. "I am your mom. It's almost like we're best friends, but at the end of the day she is the one in charge.
"Our relationship is unbreakable. It's a bond. A son and his mom is the golden bond, you can't break it no matter what the situation is, no matter what happens. I will always be a mama's boy and that's the way it is.
"I do everything I can to make her proud and make her dreams and wishes come true. Just do all the right things and make her proud."