By Teresa Varley
Steelers.com The following is an informal Super Bowl Diary, giving you the sights and sounds of the Steelers trip to Tampa, Florida for Super Bowl XLIII.
 
Check back on a daily basis for updates and if you missed any of the entries, be sure to click on the link for each day so you don't miss any of the fun.
 
Super Bowl Diary Day 6  Previous Entries: Super Bowl Diary Day 5 Super Bowl Diary Day 4 Super Bowl Diary Day 3  Super Bowl Diary Day 2  Super Bowl Diary Day 1
 
None of us are complaining about the weather here for a minute, but it was a bit rainy again on Friday morning. But considering that Pittsburgh got more snow, we are counting our blessings and know how lucky we are. The good news is it's supposed to clear up for game day (although we know the black and gold is used to playing in adverse conditions).
 
After another great breakfast cooked up by the hotel staff the players were off to practice for their last major practice before the Super Bowl. You can start to feel the energy and know that the guys are getting into a serious game mode. But at the same time, it's not one of those things where guys are tight. The mood is still loose and guys are just anxious to take the field.

The players get a break from the media today, but Coach Mike Tomlin doesn't. He headed down to the Convention Center in downtown Tampa for a 9:30 press conference at the Super Bowl Media Center. After practice Tomlin had to talk to John Lynch for NFL Network and to Boomer Esiason for Westwood One Radio.
 
Some of the families have been coming in during the week, but on Friday two charter flights with players, coaches and staff members families arrived from Pittsburgh. Some Steelers staff, including Mike Marchinsky, headed out to the airport to meet them on the tarmac and get them to their designated hotels. There are multiple hotels being used for family and friends so it was a lot of organizing and scheduling and making sure everyone stayed organized.
 
When the families made it to the hotel everyone was happy to see their families and you really started to feel the excitement with everyone all pumped up for the game as they all had their Terrible Towels on arrival. It was fun to see all of the families and how the fans at the hotel treated them like celebrities. Willie Parker's mom posed for pictures and was a star herself.
Ben mural on the outside of Raymond James Stadium
 
Here are a few final quotes from the players on topics other than football that I overheard the last few days.
 
Wide receiver Santonio Holmes was asked about his hometown, Belle Glade, Florida:  
 
"We don't have a Wal-Mart, don't have a Target. There are maybe two grocery stores, no movie theaters, no mall. There isn't really anything to do where we live, so all you're going to do is chase rabbits, go to school and play football."
 
Punter Mitch Berger, who is from Canada and is a hockey fan, was asked if he can ice skate:

"No, I can't skate. I have an embarrassing story about that. When Wayne Gretzky first bought the Phoenix Coyotes, he invited me to the game and I sat in his box. He was introducing me to people and he invited me to go skate the next weekend and I told him 'Wayne, I can't skate.' He was so disappointed in me that I was a Canadian boy who couldn't skate, but I wasn't going to embarrass myself. I'm an American kid who grew up in Canada because it was always football, basketball and baseball with me. My family never got into hockey, but I am a huge Vancouver Canucks fan, as well as a big Tampa Bay Lightning fan. My buddy Len Barrie is a co-owner of the team. We are friends and we are also business partners in some of my restaurants that I own in Vancouver and Victoria. We've gotten to be friends and met at some charity golf tournaments five or six years ago. We became fast friends and business partners."
 
When the players got back from practice, in addition to meeting up with families, many of them stopped by one of the ballrooms where barbers were set up to cut their hair.
 
I had a bit of a scare myself on Friday when I got on the service elevator that we had been using all week - and it got stuck. I have to say I have never been stuck in an elevator and I hope that it never happens again. I am not afraid to admit that even though it was only about 10 minutes - 10 minutes can be a long time in that situation and I was scared. When the engineers got it opened I was happy as can be to get out - thanks to Tony and Carol Yates (good thing he is a doctor because I was about five minutes away from seriously needing one) who were there when I got off for being so nice!!
 
On Friday night Tomlin was honored as the Motorola Coach of the Year Event. Even though it was announced on Thursday, this was the formal event.
 
A couple of Thursday leftovers that I wanted to share with you. Jerome Bettis was at the team's hotel on Thursday night and as he walked through the lobby the cheer from the fans was deafening. Bettis stopped and chatted with all of us for a few minutes before heading off to meet up with some of the guys.
 
Another former player at the hotel was former safety Chris Hope. I haven't seen him since he left for Tennessee so it was great to catch up with him for a few minutes and he did say he misses Pittsburgh.
 
Being that we weren't in Pittsburgh this week we all missed the great rally that was held in downtown Pittsburgh on Thursday. But if you check out the multimedia section and Super Bowl photos from Thursday you will see some of the great pictures Danielle Hudak took there. Looks like they had a great time and the fan turnout was just incredible – again we expect nothing different from the greatest fans in the world.
 
Omar Khan, the Steelers Business and Football Administration Coordinator, was one of the busiest people during the week as he handles all of the team travel and never had a down moment. He and Rob Thompson headed up the advance team and they had a great crew working with them who put in some long hours and enough credit can't go to all of them - great job John, Maureen, Maria, Nikki and Andrew.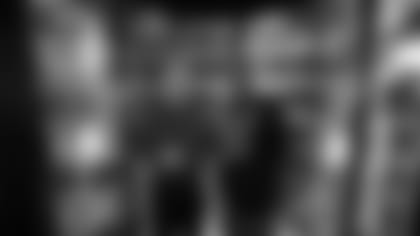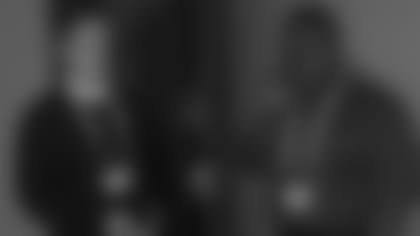 Not sure if we will get a chance to post something on Sunday morning, but please check back around mid-week after the Super Bowl for a final wrap-up of all of the happenings. Hope you have enjoyed the Super Bowl week and Go Steelers!