By Teresa Varley
Steelers.com The following is an informal Super Bowl Diary, giving you the sights and sounds of the Steelers trip to Tampa, Florida for Super Bowl XLIII.
 
Check back on a daily basis for updates and if you missed any of the entries, be sure to click on the link for each day so you don't miss any of the fun.
 
Super Bowl Diary Day 5  Previous Entries: Super Bowl Diary Day 4 Super Bowl Diary Day 3  Super Bowl Diary Day 2  Super Bowl Diary Day 1
 
Thursday we headed over to the practice facility and a few of us staffers got a good look at the offices at the University of South Florida before the media session began.
 
The football offices are the home away from home for the team this week. On the second floor are the coaches offices and the meeting rooms for the players. The two coaching assistants, Mia Daudet and Chrissy Bulger have been spending the week working there.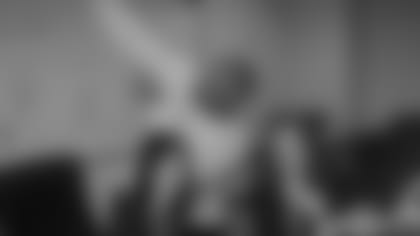 Mia, Harold Goodwin and Chrissy
 
On the first floor is the locker room, training room and weight room. It's a great facility and everyone at the school has been great (and they have great warm chocolate chip cookies there)!
 
This was the last chance for the media to talk to the players and coaches.
Mike Tomlin took the stage first and was presented with the Motorola Coach of the Year – good job Steelers fans on voting for him. Also got word late in the afternoon that the fans voted James Harrison the GMC defensive player of the year. Our fans always come through.
It was hard to believe that there were still questions to be asked. Of course, some of them were the same questions that have been asked over and over and over again.
 
But then, there were some that really never make the quote sheets as well, such as a conversation that was held with Jeff Reed and a media member who was inquiring about his blond locks. The reporter asked Reed questions that just normally don't get asked.
 
It went a little like this.
 
Reporter: How long does it normally take you to get a hair cut?

Reed: About 20 minutes.
 
Reporter: How long did it take to get it dyed blond?
Reed: That took about two hours.

Reporter: What did you do during that time, read Women's Day (yes he did ask that)?
Reed: I fell asleep under the hair dryer.
 
Reporter: How long does it take you to get that styled each day and what do you use in it?
Reed: About a minute if I am just headed to practice and I just use water. It might take five minutes if it's something special!!
 
Yes, this exchange really did take place and not quite sure how Reed was so patient with it – but what he did was just have a fun time with it instead of sweating it.
 
And the entire time this line of questioning was going on a Mexican TV reporter was doing an amazing caricature of Reed. Afterwards Reed was presented with it, but had to ask the reporter, who talked fast and spoke a little broken English, to slow down just a bit. He is such a good sport, and was really impressed by the artwork as were all of those around.
 
Ben Roethlisberger couldn't believe that there were still people that had questions for him on the fourth straight day of talking, but as he approached his podium there was a crowd waiting.
 
Marvin Allen, the wide receiver on the practice squad from NFL Europe, did one of his first interviews of the week with the BBC, while tackle Marvel Smith pulled up a chair away from everyone and read the paper. Roy Lewis, who is personality plus, interviewed Rashard Mendenhall with a rolled up newspaper as his microphone, while a few teammates used their own video cameras to film it.
 
While some of the guys really don't like the interview time, the vast majority of them make the most of it and take it for what it is and know that it's part of the overall experience. Some of them even lingered to the point where the media relations staff had to pull them away from the interviews so it couldn't be all that bad for them.
 
A mix of sun and clouds turned to nothing but clouds as heavy rain came during practice. But that didn't stop anything. The team kept on going and good news Steelers faithful – Hines Ward was a full participant in practice.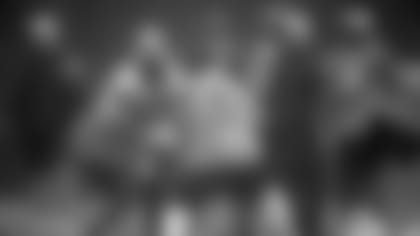 The families all will be arriving on Friday morning and kudos to the Steelers staff that got things ready for them from the Tampa side and those that stayed back in Pittsburgh to help get the group off to Tampa on Friday. It takes a lot of work and effort from the entire organization to make the trip happen and keep the stress off the players and everyone deserves a lot of credit for a job well done, and a big thanks has to go to the Steelers IT guru Scott Phelps who kept us all connected to our files and the Internet all week, even far away from Pittsburgh.
As I sit in my room writing this you can hear the band that is playing in the lobby of our hotel – and of course they are decked out in Steelers attire – as if just about everyone in the lobby.

 
None of us should be amazed at the show of support from Steelers fans, even early in the week. Beginning on Monday there were fans at the team hotel, showing their support for the team. And there is no doubt that they are true fans. When I took some pictures of them and mentioned they would be in the Super Bowl diary, some of them knew immediately what I was talking about and you know they are a diehard fan when they knew my name.