By Teresa Varley
Steelers.com The following is an informal Super Bowl Diary, giving you the sights and sounds of the Steelers trip to Tampa, Florida for Super Bowl XLIII.
 
Check back on a daily basis for updates and if you missed any of the entries, be sure to click on the link for each day so you don't miss any of the fun.
 
Super Bowl Diary Day 3  --  Previous Entries: Super Bowl Diary Day 2  Super Bowl Diary Day 1
Tuesday was the first full day in Tampa and it was definitely going to be one of the crazier days of the week as it was the annual media day.
 
Things kicked off at the hotel for the players with an NFL mandated autograph signing. Basically what they do is set up an area near the team meeting room with chairs for all of the players. Footballs are passed around, going from player-to-player, until every player has signed each football. The league has it down to a science so it moves pretty fast.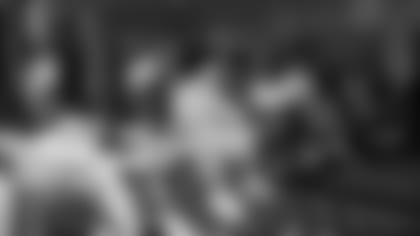 After that there was a little bit of down time and then off to the team buses to head to Raymond James Stadium for media day. A police escort got the four buses through traffic without a slow down. As we pulled up to the stadium one of the first things that you noticed was a photo of Ben Roethlisberger that went from top to bottom of the stadium.
 
There was a well-marked path that took everyone from the buses to the locker room and field area and it was a quiet, empty walk. Boy did that end when you got near the end of it. Some of us took a sneak peak at the field as the Cardinals were still taking part in their media session and were just amazed at the media crowd gathered.
 
Before heading to the field some of the players had various media commitments. Ben Roethlisberger headed in to shoot a promo for the Super Bowl halftime show and I got a sneak peak at that too as I was in charge of "Ben-Cam," Roethlisberger's camcorder which I was using for him to capture some of the moments. After that we headed in to where Andrea Kramer was interviewing him for NBC. I can't tell you what he said, but be sure to check it out on the pre-game show on Sunday night.
 
After the Cardinals took their team photo it was time for the black and gold to take over the stadium. Some players had booths they sat in, while others were in the stands with name plates marking their spot. Others just wandered around on the sideline, interviewed by anyone and everyone.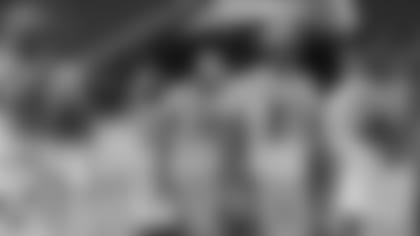 One of the more unusual line of questioning happened to Willie Parker courtesy of the entertainment show Extra.
On ExtraTV.com they are voting you the hottest Super Bowl player. What do you think of that?
"I am a little hot," a laughing Parker said.
 
Have you ever worn woman's lingerie?
"No," said an emphatic and slightly startled Parker.

How many meals a day do you eat?
"Three"

Do you do ballet to get in shape?
"No."
 
"Is there anything you are afraid of?
"Snakes"
 
Do you have any superstitions?
"No. I have rituals I just read the playbook and The Bible."
 
Parker knew he was going to get some crazy questions, but those were definitely different

"You get asked the best questions to the worst questions," said Parker. "We know what to expect. I knew people would ask questions about my tattoo, questions not related to football."




Rookie linebacker Patrick Bailey was amazed by the number of media on hand.
 
"It's been an interesting day," said Bailey. "There were questions that I wasn't expecting to be asked. That is part of the experience and makes it what it is. It's been crazy but great. I am happy that I am here and wouldn't have it any other way."

Ross "The Intern" from the Jay Leno Show had fun talking to kicker Jeff Reed, wanting to know if his hair color was "natural." The bleached-blond Reed let him know it wasn't right off the bat.
 
Former NFL players like Marshall Faulk, Deion Sanders and Warren Sapp all made the rounds talking to players or on the set of NFL Network.   
 
As the media portion wound down, players headed over to have the team photo taken. Photographer Mike Fabus got everyone organized and ready to go, and then it was time to click away.
Mike Fabus


 
 

When he was finished staff who were working media day were invited to jump into the picture to have something to remember it all by.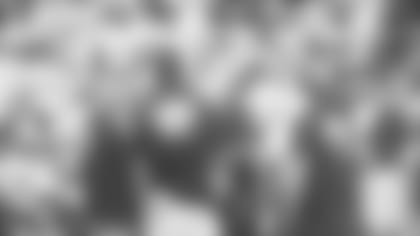 Each unit had photos taken and the offensive lineman sported their #63 Dawson jerseys in their photo. While some pictures were being snapped, some of the defensive backs and wide receivers were dancing in the middle of the circle while others chanted and cheered them on fraternity style. The players were loose and having a great time.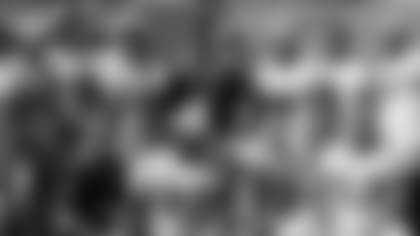 The players had the rest of the day off and many of them headed off to the mall or dinner, with some families already in town. Former running back Merrill Hoge stopped by the hotel and visited with many in the Steelers family.
 
Check back again tomorrow for more happenings from Tampa.