By Teresa Varley
Steelers.com  The following is an informal Super Bowl Diary, giving you the sights and sounds of the Steelers trip to Tampa, Florida for Super Bowl XLIII.
 
Check back on a daily basis for updates and if you missed any of the entries, be sure to click on the link for each day so you don't miss any of the fun.
 
Super Bowl Diary Day 2  Super Bowl Diary Day 1
Monday morning was just like a lot of January mornings in Pittsburgh – cold with snow on the ground. The temperature read around 18 degrees as I was getting ready to head out of the house.
 
But, on the way to the airport, reality set in as radio reports from Tampa started to filter in and word of temperatures in the 70s in the sunshine state would soon be a reality.
 
I got to the airport early, and players and coaches were already there, going through the security check point and getting situated. Some boarded the plane right away, while others sat in the waiting area, talking, laughing and just ready to get the week started.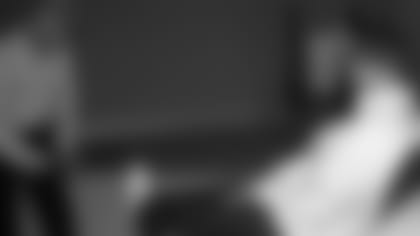 Security checks linebacker James Farrior (above) and Dennis Dixon (below)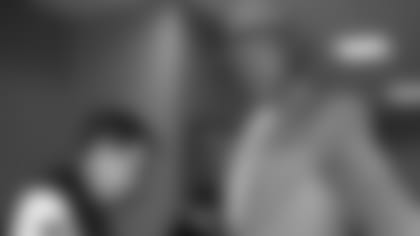 Food was plentiful, not just as you checked in but during the entire flight to Tampa. The USAirways crew that was taking care of the flight known as "Steelers 1" made sure everyone was comfortable and well fed.
                                                   
Some guys arrived at the airport calm and relaxed, why others had a bit of an ordeal getting there.
 
Offensive guard Chris Kemoeatu had a bit of a stressful morning when he got a flat tire on I-79 on his way to the airport.
 
"It kind of freaked me out," said Kemoeatu. "I thought I was going to be late. My buddy was with me. We pulled over. We rode on the tire for about four or five miles. We got out of the car and fixed it. We did it really fast. I have changed tires before at least. We do that back home all of the time."
 
Marcel Pastoor, the team's strength and conditioning assistant, and his wife Cayce who also works for the team, had a hectic morning when their hot water heater erupted as they were getting ready to leave for the airport. While they said they were stressed out while at home, they both seemed calm and cool when they arrived at the airport.
 
Running back Willie Parker, who was one of the players who attended the team's pep rally on Friday night, knew that boarding the plane meant that the journey had officially begun.
 
"The pep rally really set the tone, but right now when you are getting on the plane going to Tampa that is the last piece of the puzzle," said Parker. "It's time to go and take care of business."
 
Going to the Super Bowl is something every player wants to remember, so plenty of them came equipped with cameras and camcorders. Larry Foote was filming everything he could and when Ben Roethlisberger was the last to arrive, he was carrying his camcorder to catch everyone picking on him as he was last to board – quickly reminding them he was still on time.
 


 
The cold weather required the plane to be de-iced and trust me nobody minded those extra few minutes to keep us all safe.
 
The flight to Tampa was just perfect. There were plenty of laughs, especially sitting around the Steelers TV crew of Rick Fairbend, Brian Tirpak and Joe Lewis.
 
Jeff Reed kept people laughing as he walked around the plane pressing the call button for different staff members off and on.
Dan Rooney, Sr. walked up and down the aisle of the plane, talking to players, coaches and staff, something that put a smile on everyone's face.
 
When we touched down everyone knew right away we weren't in Pittsburgh anymore. The weather was picture-perfect. Media filmed everyone getting off the plane and as we boarded the buses, complete with the NFL Network on it,
 
Steelers fans were everywhere when we arrived at the hotel, standing out on the streets waving Terrible Towels and cheering on the team as the bus rolled by. The Steelers advance team did a great job of having everything prepared when we got to the hotel, from check-in, to offices set-up to computer access being ready to roll. It's a lot of work as basically an entire office is moved from Pittsburgh to Tampa for a week.
 
After getting settled in it was time for the players to do some interviews. Deion Sanders was there to interview Ben Roethlisberger and Hines Ward before the players headed off to do press conferences.

 
 

Head coach Mike Tomlin talked to the media and then Roethlisberger, Ward, Heath Miller, Troy Polamalu, James Harrison and Brett Keisel all were situated in the tent outside the hotel to conduct their first of many interviews this week. Once I got the interviews done I needed, I took over Roethlisberger's camcorder and "Ben-Cam" was in fulll effect for a while.
"I'm just going to have fun and enjoy it," said Roethlisberger of bringing the camcorder after not taking many pictures during the week of Super Bowl XL. "I don't know if it's my last one. You never know. I hope not. I hope I can come back to five more of these, but you just never know."
After the interviews Harrison and Roethlisberger both stopped and signed autographs for some of the Steelers faithful who were there showing their support.
 
Check back again tomorrow for more happenings from Tampa.