The following is an informal diary following the action through the playoffs. Regular updates will be posted.
Super Bowl Bye Week Entry
The Steelers had their final walk through on Saturday morning and then got to enjoy the rest of the day off as well as Sunday off. Many players were using the time to rest, pack and just get set to head to Super Bowl XLV.
For safety Bryant McFadden, a draft day trade brought him back to Pittsburgh with a chance to make another Super Bowl run. McFadden was originally drafted by the Steelers, but when he became a free agent signed with the Arizona Cardinals, taking two Super Bowl rings with him.
He is thrilled to be back in black and gold, competing for another title.
"I am happy to be back, not just because of the Super Bowl," said McFadden. "That plays a big part but because of the unity we have here, the camaraderie, the excitement, guys enjoy what they do. It goes a long way."
McFadden also enjoys the high expectations in Pittsburgh, where winning is the standard.
"It's always been that way, even when I got drafted here," said McFadden. "The level of success has always been high. It's still the same way. You always expect to be in the playoffs. One of the first things I heard when I came here was at least you will be in the playoffs.
"You love it and enjoy it and I thank God every day for giving me another chance to live a childhood dream of playing in the Super Bowl."
Guard Trai Essex, who also has two Super Bowl rings, knows how lucky he is to be heading back again.
"After the AFC Championship game I had some time to reflect and I was like three times in six years," said Essex. "This year is special. It never gets old. All of the adversity we have gone through and me personally it means a lot. Three times and a lot don't go ever is special.
"This year I came in with the goal to start. I knew they brought Maurkice (Pouncey) in to start at center or guard. Then I got hurt in ten and never really recovered from that. Although I have contributed, it was tough. I consider myself a team guy. Whatever is best for the team, I am all for it. It was better just to keep the guys in there who were playing so well and it's paid off. It's not how I pictured but I feel like I have contributed enough to be happy, but not fully satisfied."
If you have been reading the diary from the get-go, then you will know the Steelers have received incredible support from the Pittsburgh Penguins during the playoff run. That continued this weekend when Penguins goalie Marc Andre Fleury posed holding a Terrible Towel on the red carpet at the NHL All-Star game.
"We have a lot of respect for them and what they do," said Fleury, who also indicated the Pens will all gather to watch the Super Bowl together. "They always battle hard to get their wins. We enjoy going to the games and watching them. Hopefully, they do well.
"At first I never watched football, and didn't know anything. Now I've been to some games and follow what they do during the season. It's been fun."
Friday, January 28
Today was a whirlwind of activity at the Steelers practice facility, with it being the final full practice before the team heads to Texas on Monday for Super Bowl XLV. There will be a walk thru on Saturday, but this was the final day for everyone, players, coaches and staff to get all of the final details taken care of.
The morning started off bright and early getting the players and coaches family information packets prepared and then handing them out to everyone after practice. Everyone leaving on the team charter on Monday also got all of their details and we are ready to go.
One thing is for sure, nobody had a chance to go hungry on Friday. Seriously, I don't think I have ever seen so many sweets in the office (and believe me we always have goodies around). The cafeteria staff, in addition to breakfast and lunch, had a huge cake for the final day at the facility before leaving Monday. And Tasha Batch brought in cupcakes…some decorated for each individual player and then a few more trays for all of the staff. And of course, donuts were everywhere.
The team had another good practice, with Troy Polamalu back on the field today. That is always a nice sight to see.
After practice was the Super Bowl XLV merchandise sale. Tim Carey, Robb Gedrys and the Sideline Store staff set up a meeting room with Steelers Super Bowl XLV gear available for players, coaches and staff to purchase. Family members also came in, including players and coaches wives and kids, to buy gear to represent the Steelers in Texas.
Players walked out with bags, boxes and their hands full of everything Steelers.
"They better love me here," said Trai Essex. "I bought for all of the people who couldn't come. My dad will divvy it out. This is my part in helping the people who couldn't make it to the game."
Max Starks also loaded up on this, for family and friends who won't be there, and some who will.
"You don't want to be in Dallas worrying about people who couldn't be there," said Starks. "You have it ahead of time and can send it out to them."
What was funny was watching people take pictures with cell phones, sending it to family members and then buying certain things. Ben Roethlisberger spent most of his time shopping on the phone, describing items and asking what was needed before walking out with boxes and boxes of merchandise.
Former Steelers running back and Hall of Famer Franco Harris was at the practice facility doing an interview with ESPN in the morning. It was great watching current players shake Harris' hand and greet him as they headed to practice. You could see the respect they have for him. One of the great things about the former players is the great relationship they have with the current players. Harris is just as excited for Super Bowl XLV as the players.
"There is nothing like the post-season and there is nothing like the Super Bowl," said Harris. "The championship game is the most important game of the season. It gets you there. Then you focus on the Super Bowl. The championship game was awesome and set the stage for the Super Bowl. The last two playoffs games did. These guys came out and played their heart out. It's exciting. They are playing a great Green Bay team, but that is what it's about, playing the best.
"If we win, it's not another dynasty, but the dynasty continues. That is what is so great about it."
Also on hand was former running back Merrill Hoge, doing an interview with Roethlisberger for ESPN.
"I am proud of him and how he has handled everything," said Hoge. "I am really happy for him and proud of him."
Hoge is also excited to see his former team back in the Super Bowl.
"It's like my kids are going to the Super Bowl," said Hoge. "There are still some people here who were here when I was, people behind the scenes who have been here. It's exciting to see it for them. It requires an organization to do it – there are so many parts of it. It's nice to see so many people who work so hard get to enjoy it."
The night finished perfectly, with the Super Bowl XLV pep rally at Heinz Field. Steelers fans turned out in the cold and snow, and it was an electric atmosphere. Click for more on the pep rally.
Chris Kemoeatu at practice.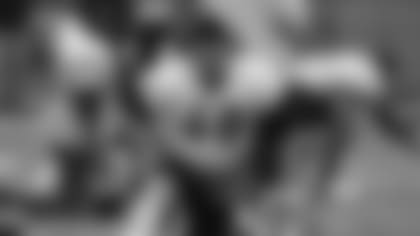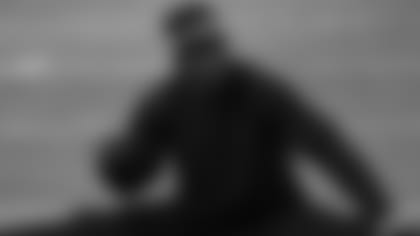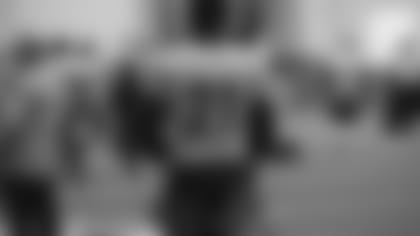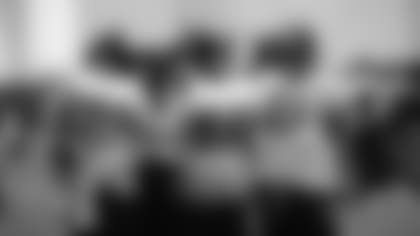 Ben Roethlisberger and Al Everest shop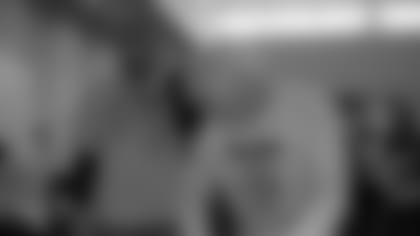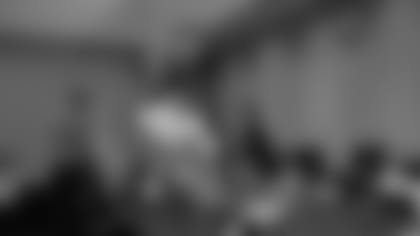 Ben Roethlisberger shops.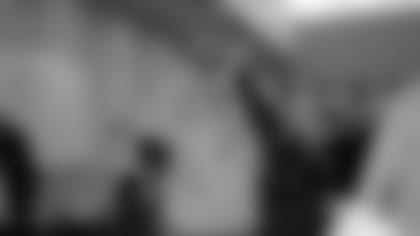 Chris Hoke buys stuff for family.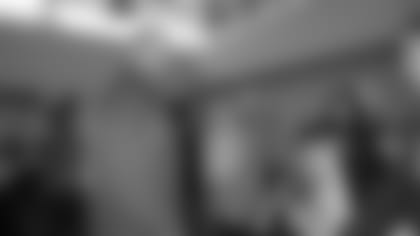 Ryan Mundy not a fan of shopping.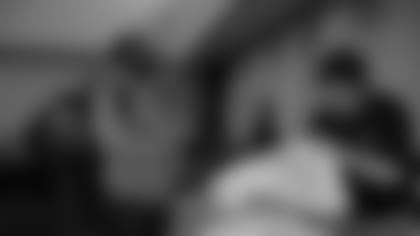 Scottie Montgomery shops.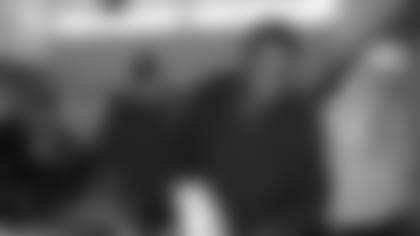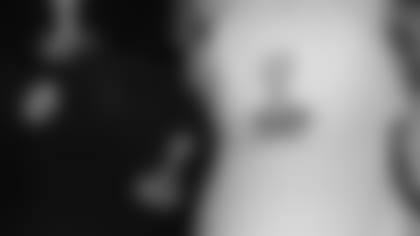 The hard working merchandise staff.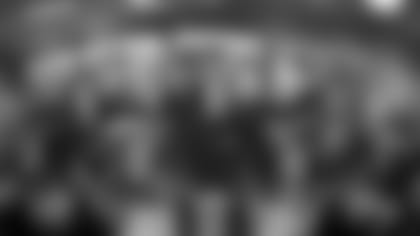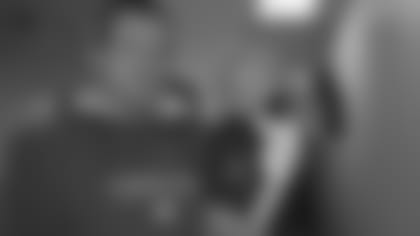 Sarah and Jacob Keisel with Dick LeBeau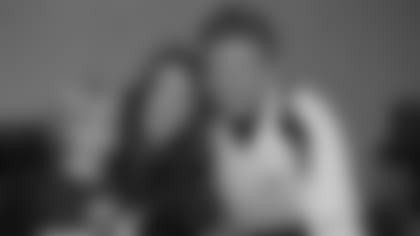 James Harrison and Jacob Keisel
Ben Roethlisberger and Merril Hoge chat.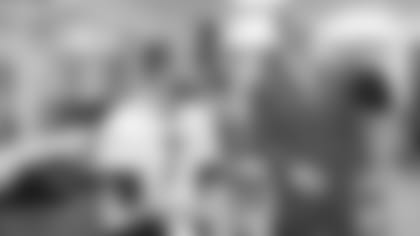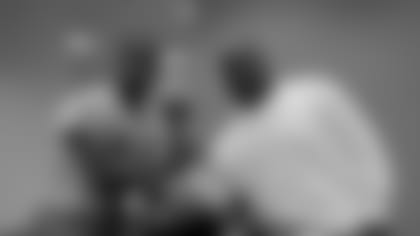 Some goodies enjoyed by all - check out the faces on the cupcakes.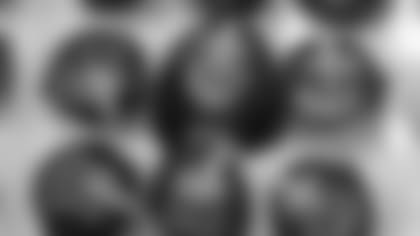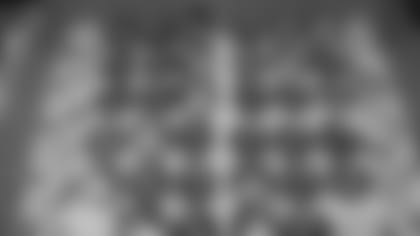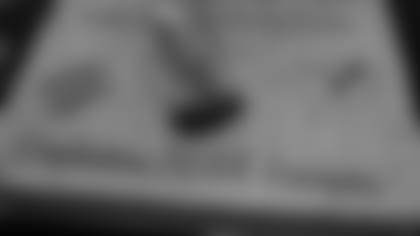 Things were hopping at the practice facility today, with everyone packing the final boxes to be loaded on the equipment truck for the drive to Texas. The team will be moving their operations from Pittsburgh to Ft. Worth, Texas for a week, so that means a lot of office supplies, equipment, trainers supplies and much more has to be loaded up.
The media buzz continued with reporters everywhere. FOX was on hand preparing things for game day promos and features on players, while ESPN was talking to Dick LeBeau in the team library.
Rookie Antonio Brown has made some huge catches in the post-season, setting up a game winning touchdown against the Ravens and converting a first down in the closing minute against the Jets, and despite the extra attention he is getting from the media he is staying grounded.
"It's another work week," said Brown. "You can't get too high or too low. You take every game the same. It's the same focus, same mentality and attitude. You can't get caught up in the hype or you will lose your focus."
The questions keep flying at Aaron Smith as to whether or not he thinks he will be ready for the Super Bowl. Smith has been limited in practice so far this week and would love to play in Super Bowl XLV, but also understands who should get most of the playing time.
"Ziggy (Hood) has done a fantastic job," said Smith. "He deserves to play all of the snaps he can. He is the guy who carried us to this point. Whatever I can do to help out, a snap here a snap there, I will do whatever is best."
Smith also talked about former Steelers linebacker and current Packers outside linebackers coach Kevin Greene.
"I loved Kevin Greene growing up," said Smith. "I was always a Steelers fan. Coming here I was excited. I enjoyed Kevin. I liked him a lot."
Texas native Casey Hampton said he has been hit with a lot of ticket requests, and did his best to accommodate as many as he could.
"I probably have the most ticket requests," said Hampton. "You have to cut it off at some point. I will get in as many people as I can. Everyone else will probably be mad, but it is what it is."
Hampton is happy to have the ticket requests and all of that business out of the way so he can do nothing but focus on football now.
"It's that time of year. It's one game," said Hampton. "You can't leave anything out there. You have to give it your all."
Rookie Emmanuel Sanders said today he never thought about the Super Bowl when he first went to training camp this year, as he was just focused on making the team, until Ryan Clark said something to him.
"Ryan Clark came in and said you are going to be spoiled because you are going to be going to the Super Bowl your rookie year," said Sanders. "I never forgot that. The veterans don't have to tell me to appreciate it. For me to go to the Super Bowl my first year it's a blessing and I appreciate it."
It's not often you see a player in the weight room reading a book, but that's exactly what Ben Roethlisberger was doing today during the team's lunch break. Roethlisberger was doing cardio while reading the book Find A Way by former Steelers running back Merrill Hoge.
"It's Merrill. He is a good friend of mine," said Roethlisberger. "I enjoy reading it and getting his perspective of how Chuck Noll was, how training camp was, how (equipment manager) Rodgers (Freyvogel) was. He remembers his first locker Rodgers came up to him and said that was Franco Harris' locker. It's just all kinds of perspective. It's fun to read it."
And while the buzz continues, the good news is the players are maintaining a calm focus.
"A lot of guys have been through it before and the younger guys are following in their footsteps," said Rashard Mendenhall. "There is a calm around here for it being Super Bowl week."
Ben Roethlisberger reads Merril Hoge's book.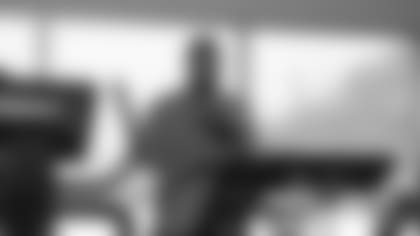 Flozell Adams takes a nap.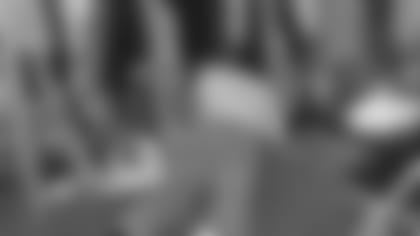 Amos Jones and Jeremy Kapinos.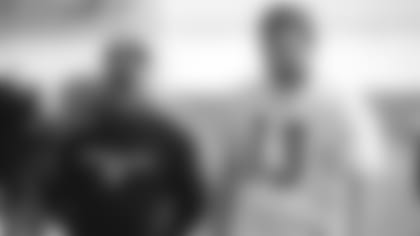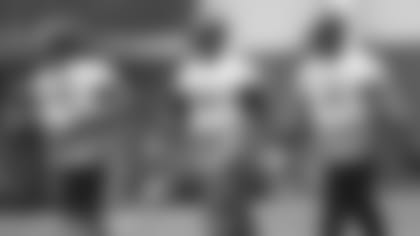 Antonio Brown works on his footwork.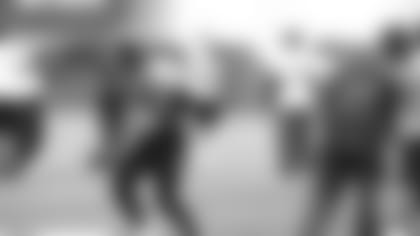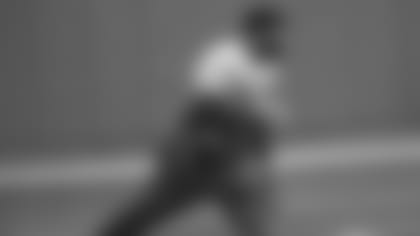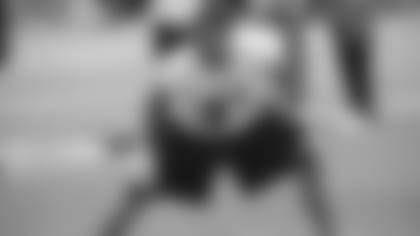 Roethlisberger at practice.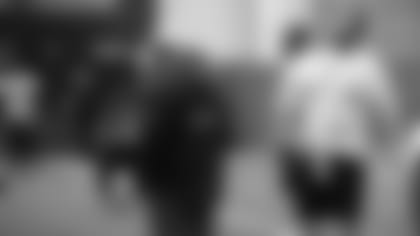 Kirby Wilson works with the running backs.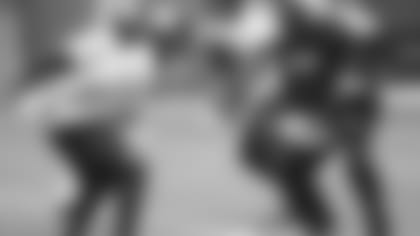 Mike Wallace works on his footwork.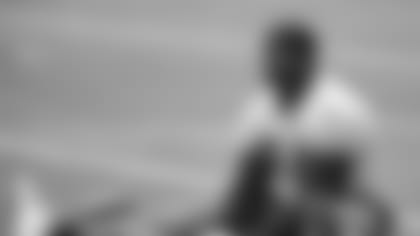 LaMarr Woodley and Lawrence Timmons.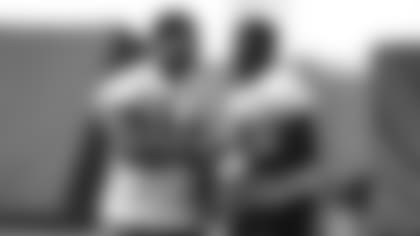 Wednesday, January 26The Steelers were back at work on Wednesday, starting the day off with taking care of the last minute Super Bowl preparations.
"I finally got everything situated today," said Ike Taylor. "Now you don't have to worry about hotels and who is staying where. Now all I have to do is play football."
Taylor even kept a promise he made to some friends in May, when he said that the Steelers would be going to the Super Bowl this year and he would look out for them.
"I took care of my family and I told my homeboys before the season started in May that I got them tickets to the game," said Taylor. "And now we are in it. Everyone with me from high school and college, six guys, they are coming to the game.
"For me to say it and us actually do it, it's huge. They are excited and appreciate it and I appreciate them being there with me."
James Farrior said that the worst part about having two weeks between the AFC Championship game and the Super Bowl is all of the mayhem that surrounds things.
"All of the distractions that go on - dealing with the family, travel and ticket situations," said Farrior. "Some guys are up in arms about who to give the tickets to. I don't look forward to any of that stuff. Not even media day."
Farrior did say the Steelers are fortunate to have so many players with Super Bowl experience who at least know what to expect.
"I think the experience helps, knowing how it's going to be," said Farrior. "We won't spend a lot of time worrying about it because we know what to expect. It eases our mind a little bit."
With over 80 media on hand for open locker room at lunch time, you knew some crazy questions would come up. And what was today's – how about "Who's hair is nicer, Troy Polamalu or the Packers Clay Matthews?"
"I have to go with my guy. I like the waves," said Heath Miller. "And Keisel's beard, although I don't know if Troy's hair and Keisel's beard would go together."
Doug Legusrsky shared the same opinion.
"Troy," said Legursky. "Have you seen it? It's gorgeous."
And how did the players deal with all of the media all over the locker room and in every available nook and cranny in the offices.
"It's pretty wild," said rookie Jason Worilds. "Being a kid and watching everything on TV, its way cooler to get a behind the scenes look at it being on the team. It's a wild experience. It looked like more media in there than players. They are everywhere."
This is the first time Ziggy Hood is experiencing Super Bowl hype, and he isn't surprised by the number of media.
"It's going to be big," said Hood. "It's the last game. As long as you don't let it get to you, you will be fine."
And who was the player who had the most media around him today – Ben Roethlisberger.
Michael Irvin was one of the media on hand, talking to a variety of players for NFL Network, including Roethlisberger and Brett Keisel. Other media with interview requests ranged from ESPN Radio, Sirius XM Radio, the Jim Rome Show and plenty of other national and local media.
The Super Bowl footballs arrived and the equipment staff was busy getting them ready to be used in practice. They are looking pretty good as you can see below.
It was a crazy day, but seriously who would want it any other way. This is what it is all about.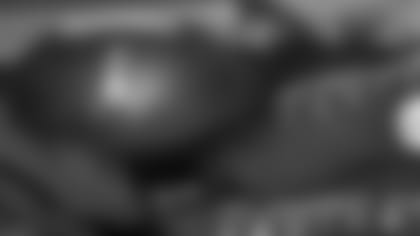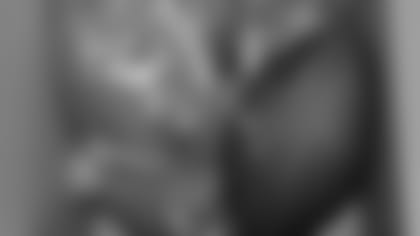 Ryan Clark fills out his travel forms.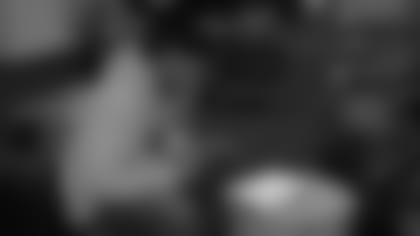 Da'Mon Cromartie-Smith makes flight reservations.
Players getting their travel arrangements.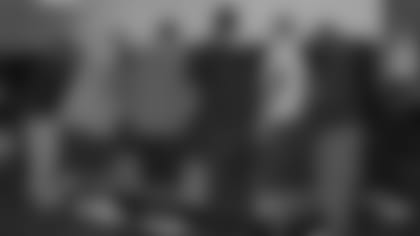 Ben Roethlisberger signs footballs.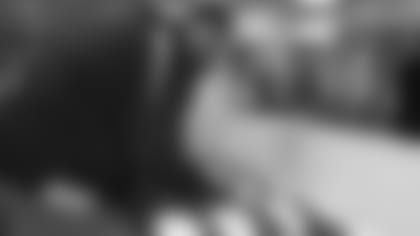 Chris Kemoeatu stretches.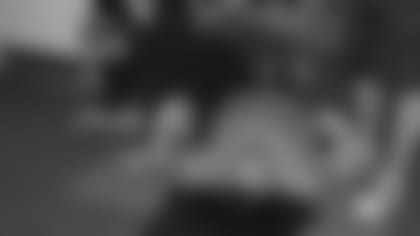 Flozell Adams waits his turn.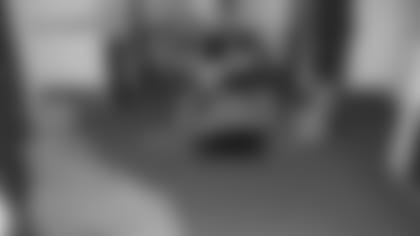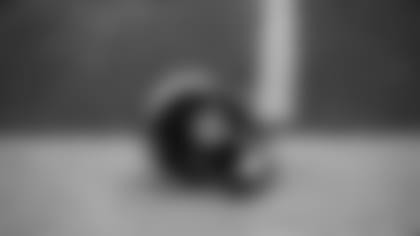 Today was the players day off and for the first time in weeks, the lights stayed off all day in the media room. But it certainly wasn't a quiet day.
The weight room had a constant flow of players working out, with others in the training room getting treatment.
And for others, this was the perfect day to handle all of the travel plans and ticket requests for friends and family.
"I was the second guy to get my information in," said Anthony Madison, relieved to be done with the details. "I am ahead of the game. All of the guys can come storming in tomorrow and I will be done. I got all of the travel arrangements taken care of. Now I can just think about practice and be ready to go to Dallas on Monday
"It's just stressful. You have family and you have to get their flights and the tickets taken care of. You have to have badges and all of that. I just wanted to make sure everything is taken care of."
Madison said while purchasing tickets and everything else is a hit on the checkbook, it's one he doesn't mind at all.
"I purchased the maximum number of tickets. I have a huge family," said Madison. "It's family only that gets the tickets. That is all we are doing. I got the hotel rooms. It's a good problem to have. It's a great experience. You want your family to be a part of this deal. It's so hard to get back here and the goal is always to win and I am very blessed to have that opportunity."
One former Steelers player who has been around the organization for a long time but never played in a Super Bowl is Tunch Ilkin, the team's color analyst for their radio broadcasts. But he still is enjoying the team's Super Bowl experience.
"I don't know what it's like going as a player, but it is exciting," said Ilkin. "Pittsburgh is such a unique place. Pittsburghers are such a unique people. The team and the community are inner-meshed. The team is a part of the fabric of the community. I was at church on Sunday and I don't know how many jerseys there were at church. Our pastor made mention of the game. It's so unique.
"This city is just a great place to live. I grew up in Chicago, but there is no place like Pittsburgh. There is never a place or a team that unifies a city or brings it together like here.
"It is such a privilege to be a part of this organization and what is going on here. It doesn't get old. It's a very special city, a special community and organization that is run by good people. To be a part of that is indescribable. It's a blessing, a privilege, an honor. It never gets old or boring."
Antonio Brown works out in the weight room.
Stevenson Sylvester in the weight room.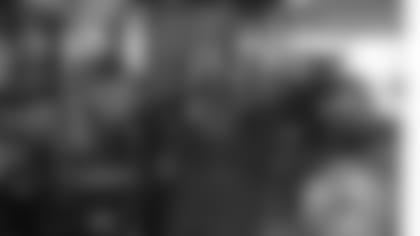 Jeremy Kapinos works out.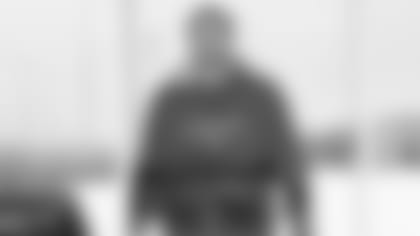 Dan Sepulveda in the weight room.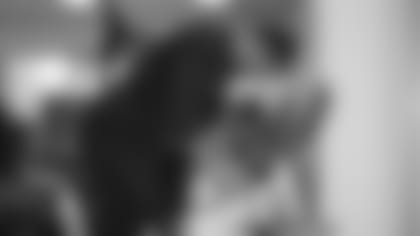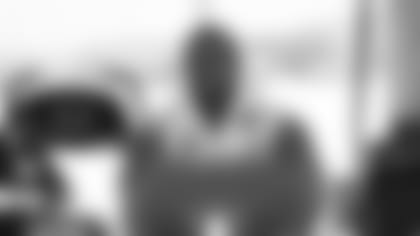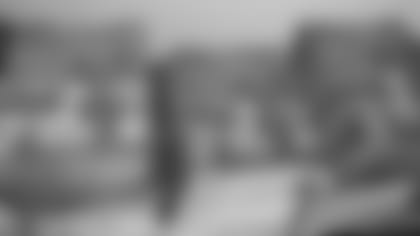 Stevenson Sylvester makes his travel plans.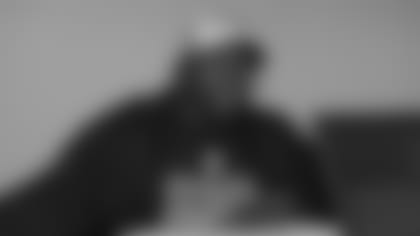 Tuff Harris makes his travel arrangements.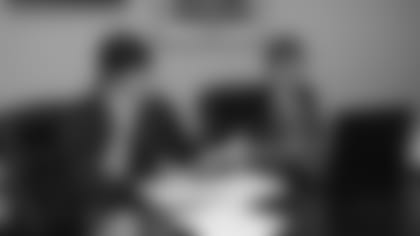 Steelers TV works on the Mike Tomlin Show.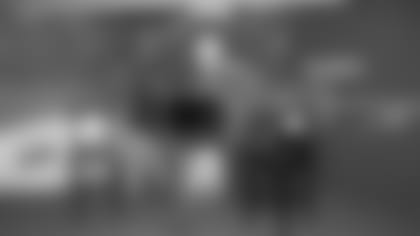 Monday, January 24
The energy level was still high at the Steelers practice facility today. There were lots of congratulations, hugs and high fives all around.
The players were required to be in for a team meeting at 2 p.m., but they started arriving hours before that ready to get rolling.
"It was so weird, I was like why do I want to go to work when I don't have to be there for another four hours, but it's so exciting to be around all of this and be a part of it," said Greg Warren. "You want to savor every moment.
"It never gets old. This is my third time and it's just as exciting as the first time around. I went home last night and talked on the phone until about 1 o'clock. At 2:30 I stared at the ceiling, I couldn't sleep. At 5:30 I woke up, I couldn't sleep and I just started getting ready for the day. It's so exciting. You never can get used to that."
Warren said he was bombarded with ticket requests, but has none left.
"I maxed out all of my tickets already," said Warren. "Now I have to figure out how I am going to find rooms for everybody."
While Warren has been there before, this will be the first time for running back Isaac Redman.
"It's the greatest Monday ever," said Redman. "I woke up and couldn't wait to come to work. It's the greatest Monday ever. Everyone was smiling. All you can think about is the game, the Super Bowl. I just can't wait to get to Dallas."
While Redman chatted he held on tight to the information sheet for Super Bowl XLV for the players, detailing ticket, hotel and flight requests and much more.
"It felt great to get the information," said Redman. "A lot of players go through a whole career and don't make it to a Super Bowl. I am blessed to make it on my second year. It's still stressful with all of your family members, but it still feels great just to be here."
Wide receiver Antwaan Randle El was getting hit hard with ticket requests, but to be on the top of his list you better be family.
"It's crazy," said Randle El. "You start getting ticket requests from people you haven't heard from in years. For me my ticket requests have changed. We were here before and only had three going to the game, my wife and my two oldest children D.J. and Ciara. Now we have three more children. It's at six just in my house alone. Then you throw in mom and dad, two brothers, a nephew and I am at 11 without even the grandparents.
"It's great but the ticket requests are crazy. Hopefully I can get enough to take care of everyone."
Many thanks to our friends at the Pittsburgh Penguins for the congratulations wishes posted on their website (www.pittsburghpenguins.com) today. That kind of support means a lot to the team.
Thanks again Chin and Tim.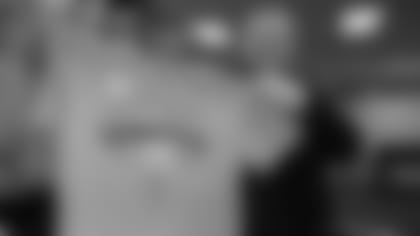 This is what it's all about.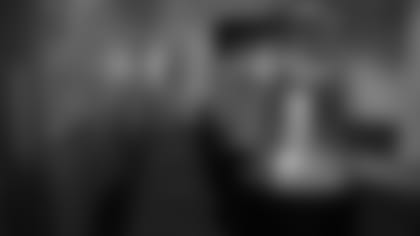 For A Previous Entry From the Super Bowl Bye Week ... Click BelowSuper Bowl Bye Week
 * 
*For A Previous Entry From the AFC Championship Game Week ... Click Below**AFC Championshio Week Entry**
For A Previous Entry From the Divisional Playoff Week ... Click Below.