The following is an informal diary following the action through the playoffs. This is the final entry for the diary.
There is no denying that the last few days weren't what we had all hoped for when this journey began. Everyone in the Steelers organization had one goal and that was to win Super Bowl XLV. Everyone is disappointed, from players, to coaches, to staff. But while there is disappointment, there is also a resolve to come back stronger than ever. And that is important. It will take some time for everyone to deal with the sting of losing, and the loss will definitely be a motivator.
The players had their final team meeting on Tuesday with Coach Mike Tomlin. It was a chance for them to all gather one last time. Next time they get together there likely will be changes to the roster.
After the team meeting they met in smaller groups and then it was time for guys to pack up their lockers and head into the offseason. It's never an easy day for anyone.
For those who have been reading the diary, the hope was to end things on a positive note. While the outcome of Super Bowl XLV wasn't what any of us hoped for, know that this isn't a team that will just sit back and hope to make it back next year. They will work their tails off and fight and claw to get back. There is a lot of talent on the team, and a lot of heart. Expect big things.
Pre Game
It's game day!! This is the day we have all been waiting for and believe me everyone is excited.
The morning started off just the way it should – by going to mass at St. Patrick's Cathedral. There was also mass at the Omni Hotel that all of the staff, family and friends attended.
After mass all of the trainers, video, public relations, photo and equipment staff, headed to the team "hideaway" hotel where they stayed on Saturday night. We picked up a few passengers when we got there, including Troy Polamalu, Ryan Clark, Mewelde Moore and Antwaan Randle El.
The Ft. Worth police did a great job of escorting us straight to the stadium where the buses were greeted by throngs of cheering Steelers fans. We then pulled right into the stadium and unloaded right outside the door to the locker room.
Jon Pugliano and I headed to the press box and then did a tour of the stadium. They definitely didn't spare any expenses building this place.
Then it was down to the field where it literally is a who's who on the sidelines. Among those down there from the entertainment world were Jennifer Anniston, Adam Sandler, Owen Wilson and Adrian Brody. Also ran into Harrison Ford right outside of the Steelers locker room.
Sandler said he picked the Steelers and told me he would be rooting for the black and gold and wished us lots of luck. He filmed a video at Three Rivers Stadium in the 1990s and he was awesome then. And he hasn't changed,
Also down on the field were former NFL players such as Rod Woodson, Deion Sanders, Michael Irvin, Emmitt Smith and Kurt Warner just to name a few.
There were some great moments down on the field, watching Dan Rooney Sr. and Art Rooney II talking, joined by other family members as well.
Charlie Batch put me in charge of "Ben Cam" pregame, going around and getting comments from players and some of the celebrities on the sidelines on Ben Roethlisberger's video camera. It was a lot of fun.
Got back up to the press box and before you knew it time for player intros and all of the pregame festivities.
Christina Aguilera sang the National Anthem, and the most poignant moment was when cornerback Will Gay was shown with tears in his eyes. Amazing and priceless.
This will be the only update for now.
Art Rooney II and Dan Rooney Sr.
Adam Sandler and Jennifer Anniston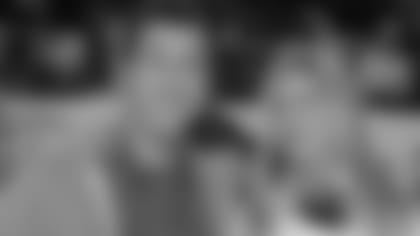 Owen Wilson and Joe Theismann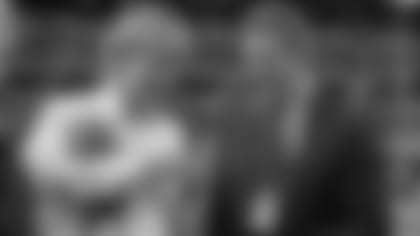 Today was the team's final walk-thru for Super Bowl XLV and afterwards is a special time for the players and coaches because their families are invited to attend. It's a chance to say thank you to all of those who helped the players and coaches along the way
The atmosphere was great, everyone was excited and having a lot of fun. It was great to see the players holding their kids afterwards and posing for pictures with their families as well as their teammate's families.
Also on hand were director Spike Lee, who talked with some of the players, and two Hall of Fame Steelers – Mel Blount and John Stallworth.
"I am so excited," said Blount. "Last time you and I talked first it was about the Ravens game and then the AFC Championship. Now it's about the Super Bowl. I think the whole thing has played out perfectly. I feel good about this team."
Blount also said he is happy to see that the Steelers tradition is continuing with today's players.
"I was talking to some people about how this started in the 70s," said Blount. "There was a standard set, an expectation, and it's exciting to see the continuation of it and how the young players have embraced it. It's exciting for me to see how the players look at us and want to be a part of it.
"It's refreshing to see the respect these young players have for us. It makes you think you built a legacy and set a standard they are trying to live up to. I enjoy being around the guys. It's a good thing that has developed in Pittsburgh over the years."
After practice it was back to the hotel and pizza all around for the players and families. There was also a merchandise sale and the room was packed with family members buying all of the goodies.
One of the favorite things this week was watching Mr. & Mrs. Dan Rooney going to and from mass at St. Patrick's Cathedral right behind the hotel. I finally got a chance to go see the church myself today, and it's an immaculate sight. It's a small and glorious church.
While I was there a christening was taking place. I helped take a group photo of them, and afterwards the family members then came over and told us they were praying for the Steelers and even the kids were cheering Go Steelers (in their church voices of course). I walked out of there with such a great feeling in my heart.
Linebacker Keyaron Fox thought he had seen it all when his picture was on the front of the team hotel, along with other players, when the team played in Super Bowl XLIII in Tampa. But they say everything is bigger in Texas and that is true, because Fox is one of several players whose picture is splashed bigger than life on the front of the Omni Hotel where the team is staying.
"When my picture was on the front of the hotel for Super Bowl XLIII and my family saw it they freaked out they thought I was a big superstar or something," said Fox. "This year's is the coolest I have been a part of. When I rode up on it I was coming from an angle. I thought it was going to be Potsie (James Farrior) in the picture but I looked and it was me. My mom said she saw it and knew it was me. It's pretty unbelievable."
There are a lot of people that have helped make things work this week, especially the advance team that got here about a week before the team. Omar Khan was in charge of the advance group and did a great job. Rob Thompson worked on a lot of the logistics while Scott Phelps made sure everyone's computers were up and running and there were no IT issues. In addition Maria DeNunzio, Brea Conaboy, John Simpson and Bryan Fitzgibbon made sure everything was smooth as can be when we arrived and throughout the week. Also a big thumbs up to the job Diane Lowe and Karen Mercalde did. They are two hard workers.
So yesterday we brought you some final comments from the players. Today we have a few more topics we covered with them this week and here is a little bit of a leftover for you. First, we asked them about Steelers fans:
Ryan Mundy: "The fan base is like no other. We have fans worldwide and that is what makes the Steelers what they are."
Dorian Brooks: "I feel like we have the best fans in the world. You walk around the city and everybody wears Steelers stuff. When we are on the field and they are waving the towels, it's special."
Ramon Foster: "They are awesome. They are very supportive. I am sure they are excited about us being in the Super Bowl."
And finally we asked what Super Bowl week has been like:
Crezdon Butler: "I haven't been able to sleep but that comes with being in this game. It's a great experience."
Dorian Brooks: "It's incredible. This is my first year. It's something you don't want to rush. You live in the moment."
Da'Mon Cromartie-Smith: "I have never seen so many cameras, stars and people doing these interviews. It's a great environment. But we are just here to win the game."
John Stallworth and James Farrior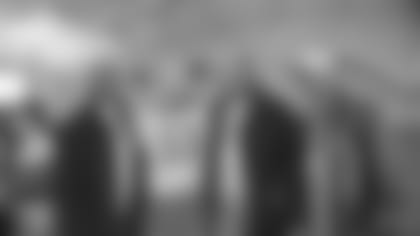 Kirby Wilson and Spike Lee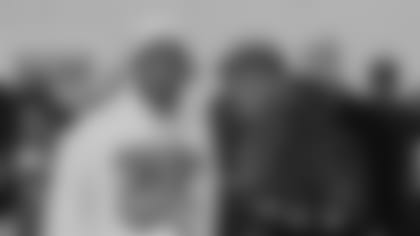 Matt Spaeth's family at practice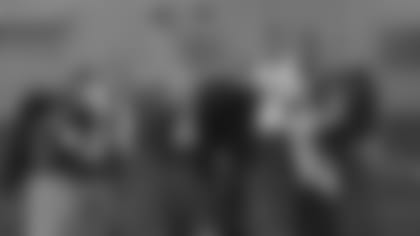 St. Patrick's Cathedral in Ft. Worth.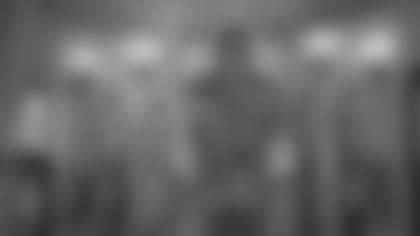 Banner from St. Vincent College hanging in lobby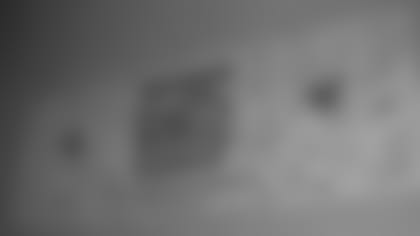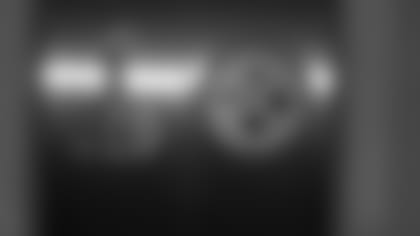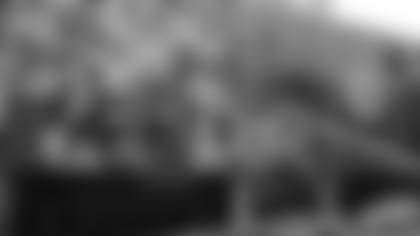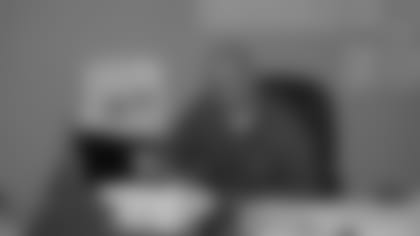 Diane Lowe and Karen Mercalde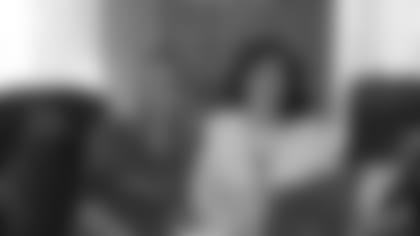 Maureen Mannion and Geneva Jordan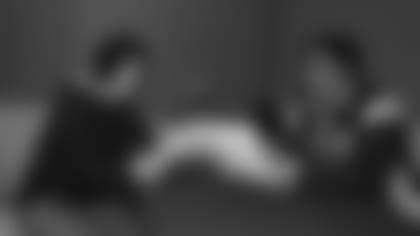 Mark Hart and Scott Phelps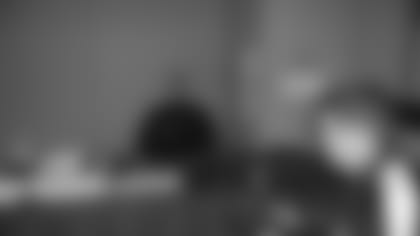 Rob Thompson and Bryan Fitzgibbons
John Simpson takes his frustrations out on the copier.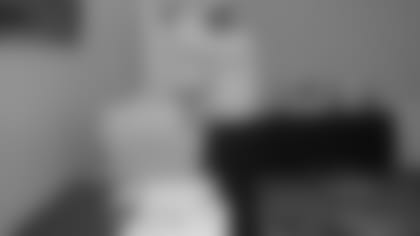 Friday, February 4Once again Mother Nature socked us with five inches of snow overnight and into the morning hours. Yes, this is Texas. It really is. The funny thing is, the weather in Pittsburgh is better. But again, we aren't complaining. We are so happy to be where we are.
Steelers fever is all over the City of Pittsburgh and beyond. Special thanks once again to the Pittsburgh Penguins for hanging a Terrible Towel from their bench during several games this week. We saw it from here in Texas and loved it.
The Penguins are encouraging fans to bring Terrible Towels to their game tonight at the CONSOL Energy Center.
"We're huge supporters of the Steelers and we all believe they're going to bring that seventh Super Bowl trophy back to the City of Champions," said David Morehouse, CEO and President of the Penguins. "It's going to be a festive atmosphere in Pittsburgh all weekend, and we think having fans bring their Terrible Towels to our game Friday night is a great way for them to show their passion for both the Steelers and the Penguins."
Also, the Wilkes-Barre/Scranton Penguins are showing their support of the Steelers. They painted the Steelers logo on center ice (check out the picture below) and are hosting a Football Friday for their game against Manitoba. Thanks so much for the support. We love it.
The team did their final practice before a lighter walk-thru on Saturday. One thing you quickly learn about athletes is they are superstitious. Punter Jeremy Kapinos always punts outside on Friday. So, with snow covering the field that meant time to get out the shovels and clear a portion of the field. And since TCU was closed again today, that meant it was all hands on deck – beginning with director of football operations Kevin Colbert who was shoveling along with other staff members. It was an amazing sight, but not surprising because with this organization everyone always pulls together.
Today was a media free day for the players, but not for Coach Mike Tomlin who had to do a press conference at the media center in the morning. He also had some other media commitments in the morning and after practice. But for the most part, the talking has stopped.
But before the microphones were turned off, we went to some players and asked a few things.
The first was what it means to be a Steelers player. Here are some of the replies.
Ryan Mundy: "There are a lot of things. It's a great organization with great people. The people make the organization great. The players, coaches and people in the building are special.
Will Allen; "There is an atmosphere for winning here. They have high expectations for each other. It's a great place, a great atmosphere."
Jeremy Kapinos: "The tradition is the thing. Everyone knows who the Steelers are. The Steel Curtain, the linebackers, all of that means so much. I always heard about them and watched them. It's a special place that has tradition, but they continue to make history every year and are building a new tradition."
Crezdon Butler: "It means being a family. We are like one big family. Everyone takes care of everyone. They pick on you but lift you up at the same time."
David Johnson: "We are close like a family. It would be hard to say too many other teams are like ours. The fans are a part of it. They are great. We have the best fans in the world."
William Gay: "When you walk into the facility you see the tradition that is on the wall. All of the people that played there you see their pictures on the wall. You see the trophies. It's a blessing to be a part of the organization."
Nick Eason: "I take pride in playing on this defense. When you look back on the great players that played on this defense it's an honor. I have been with other organizations, to be here is like night and day. And I am on a team with guys who love each other and play hard for one another. You can't beat that."
And I think one of my favorite replies…saving what I think is one of the best for last.
Keenan Lewis: "What is special about playing for the Steelers is once you become a Steeler, you become a champion. They don't just teach you how to be a great football player; they teach you how to become a better person as well."
Check back tomorrow for some more comments from the players.
Former Steelers wide receiver and investor John Stallworth was at the team hotel today and we had a chance to talk to him. He is a wonderful person and had some great things to say. Make sure you look under videos for the interview. He had some great comments.
Today was arrival day for the majority of the families and the second wave of Steelers staff. Some families did arrive on Thursday, but the majority did get here on Friday. The arrivals were smooth, things went nice and easy. And it was fun to see everyone, players, coaches and staff reunite with their family members. We are all happy to see them.
Kevin Colbert leads a group shoveling snow for Jeremy Kapinos.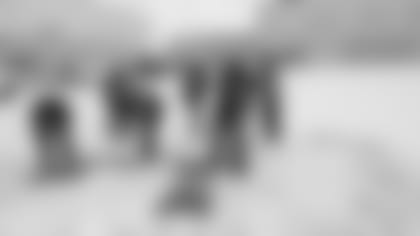 Coach Mike Tomlin watches over things.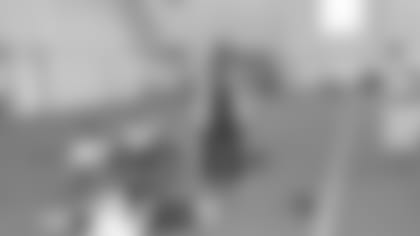 Aaron Smith talks to Dan Rooney Sr.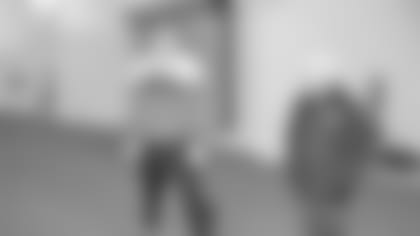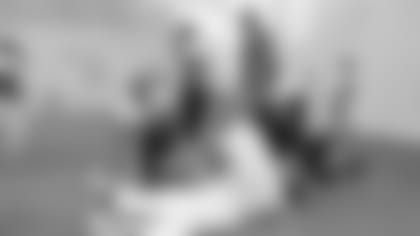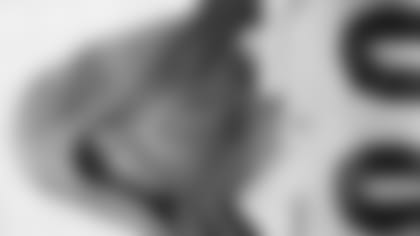 Scranton/Wilkes-Barre Penguins center ice.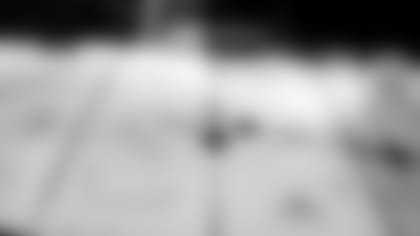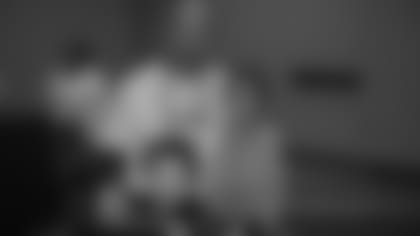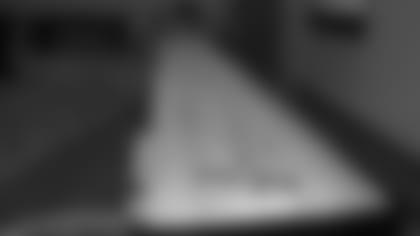 Players pack the elevator.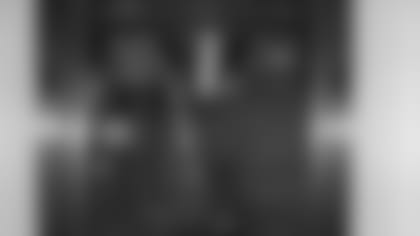 Max and Tiffany Starks and Joyce Mitchell.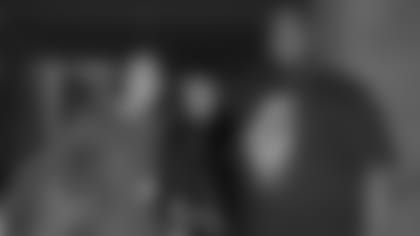 Randy Fitchner and family.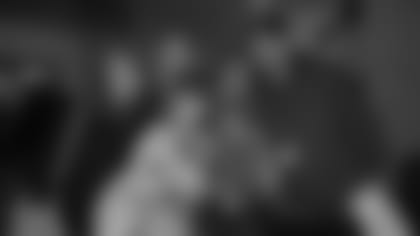 Megan and Doug Legursky (the only person in Texas wearing shorts all week)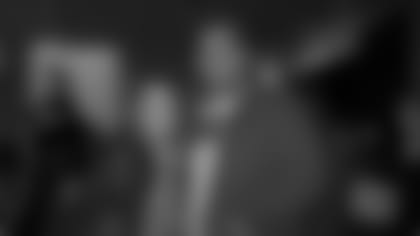 Fort Worth, Texas - seriously.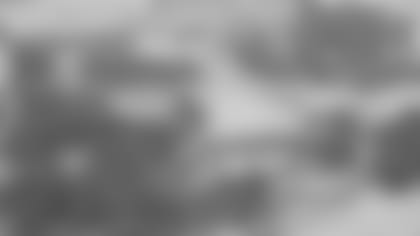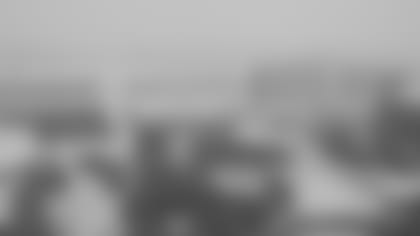 Thursday, February 3f
The cold temperatures still have a grip on the Fort Worth area, with schools closed for the third straight day. The ice that came on Tuesday morning is still creating havoc, with roads not even cleared yet in many parts of the city. They need to bring the City of Pittsburgh public works crew in to town to take care of things. A little salt and they would have it taken care of in no time.
The weather has caused Super Bowl events to be cancelled around town and places that expected to be busy are finding their stores and restaurants rather slow.
It's a similar schedule today for the players. After breakfast they boarded the buses to head to TCU for practice. Many of them are happy to have gotten some new Super Bowl gear this week, because they need the hoodies. They were also given UGG boots and slippers, something you wouldn't think you need in Texas but they are being put to good use this week.
It was good to see some new faces at breakfast this morning, as some of our staff who had their flights cancelled this week arrived. It's also wonderful that Dan and Patricia Rooney are now in town as well. Seeing them in the morning always starts the day off well.
We headed out to practice around 10 this morning thanks to Kahlil Allen from the NFL picking us up and taking us to TCU. Kahill has done a great job helping us out this week.
The scene today was similar to the one on Wednesday.
Coach Mike Tomlin was the first to take the podium, and when he was finished and heading back to the locker room he noticed Pat Noone from the equipment staff being interviewed by a Mexican newspaper. Tomlin was laughing, saying you know we are at the Super Bowl when Noonsie is being interviewed. When I told him I would get a picture, he immediately headed back down the steps and posed with Pat and the reporter Miguel Najera. All of the media gathered around the Ben Roethlisberger podium immediately asked if that is the way Tomlin always is, so real and down to earth. The answer is definitely yes. He is a unique person and a great person.
Today was the last day for the media to have access to the players, but the players really didn't have any complaints about having to spend so much time talking about the same thing over and over again.
"I enjoy it," said Lawrence Timmons. "A lot of other guys would want to be in my position. Last year we didn't go to the post-season. This year we turned it around and it's great."
"You enjoy it," said Bryant McFadden. "There are 30 teams that would love to do it. We enjoy it and would rather be in this situation talking to everyone than not."
"This is the hardest part of the whole Super Bowl experience, dealing with the media," said Doug Legursky. "It's right on par with what I expected. I knew it would be a circus. I am taking it all in stride."
Center Maurkice Pouncey has answered questions about his ankle hundreds of times, but he would much rather talk about his teammates, including nose tackle Casey Hampton who he goes against in practice and still hasn't beaten yet.
"I never got Hamp like I wanted to," said Pouncey. "He always gets the better half of it. He is a great player and should be in the Hall of Fame one day. I love going against him. He makes me better."
Ryan Clark continues to get questions about his health as he went through a scare a few years ago. When one reporter kept asking him questions about it, he told him he should read more. The reporter then told him he was from Germany. Clark laughed, apologized and kept on answering whatever the reporter asked in his fun and crazy manner.
"I almost died," Clark told him. "It was no big deal though. My kids school was right next to the hospital and my kids would come but my daughter would go to the cafeteria and eat mashed potatoes because she didn't know daddy was about to kick the bucket. I can joke about it because I am okay."
Max Starks was our man on the mic today, going around and doing interviews for the website. He was on top of his game, having a good time with it.
"It was a great experience," said Starks. "So many times in this environment we are the ones getting asked questions. For me to ask them was fun. I talked to Will Gay about his dancing. I talked to Scottie Montgomery about his young receivers. I talked to the veteran offensive linemen. The guys had fun and took the questions in stride."
Nick Eason's mind is strictly on football right now, but he did enjoy the first few days in the Dallas/Ft. Worth area.
"I went to the Mavericks game and went to a steak house," said Eason. "I didn't do much sight-seeing. I have been just going out to eat. We have a lounge at the hotel. I have been playing pool, video games and spending a lot of time on the computer, watching movies and relaxing and eating."
As the media session was winding down, Casey Hampton was challenged to a donut eating contest. Tomlin even gave him his approval to take part. But when Hampton saw the sprinkles were green and gold he refused. A few more donuts with black and gold sprinkles then emerged, but Hampton said they were brown and not black and held off from eating them.
We have to give our friend Clay from TCU security props once again. It's amazing how much he looked out for us.
After the media session the players headed off to practice and we headed back to the hotel. The office was buzzing, and there was even some singing from Mark Hart in the office next to us to entertain us.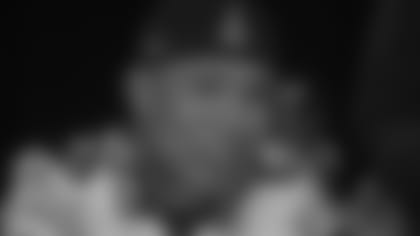 Mike Tomlin, Pat Noone and Miguel Najera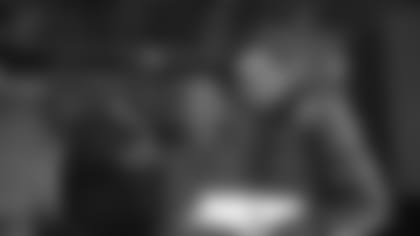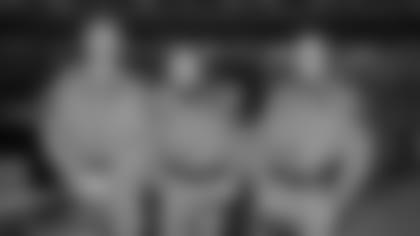 Mike Reilly from Steelers TV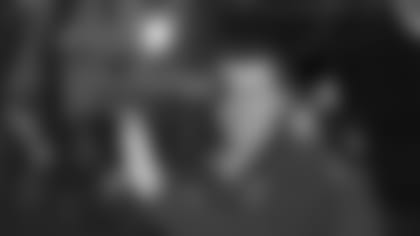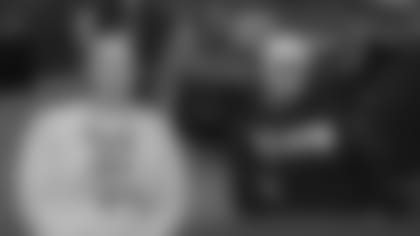 judy Battista of the NY Times talks to Dan Rooney Sr.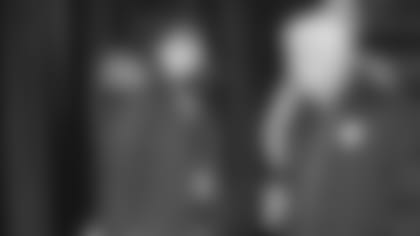 Robbie McCartney and Mike Marchinsky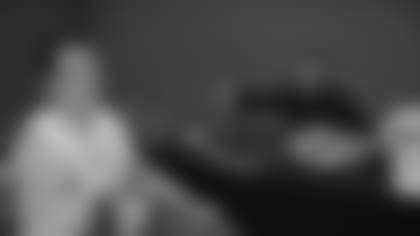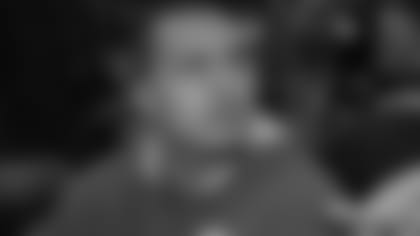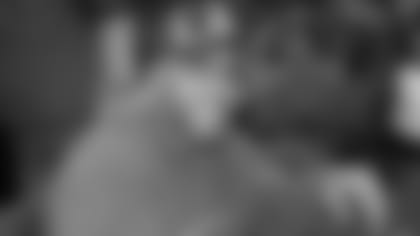 Marcel Pastoor and Hines Ward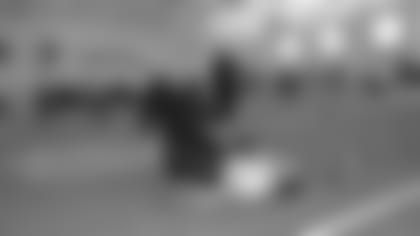 Trai Essex and Tony Hills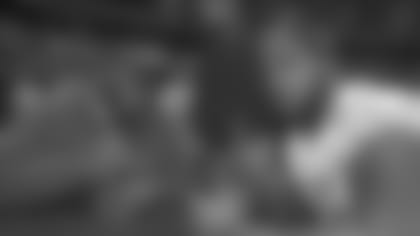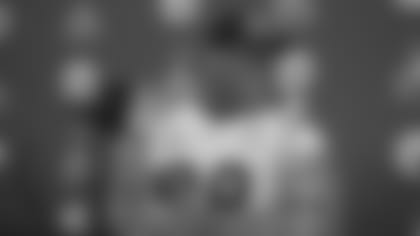 Kahlil Allen and Will Gay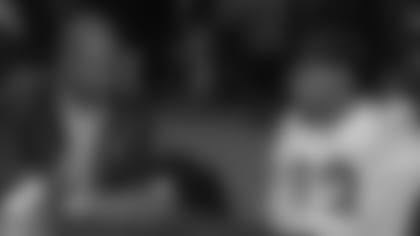 Stretching before practice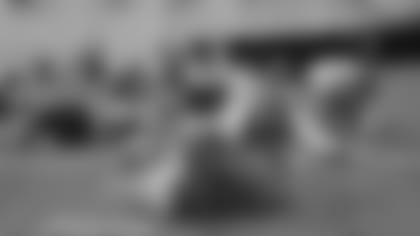 Photographer Mike Fabus hard at work.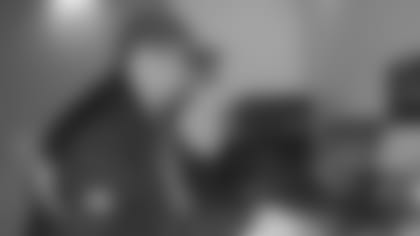 Having some fun only - don't worry Nicole - Clay cuffs Mike.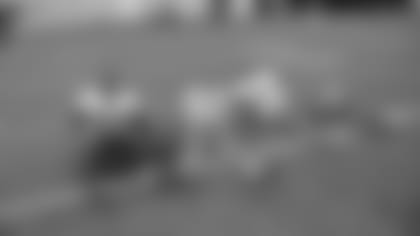 Mia Daudet, Harold Goodwin and Chrissy Bulger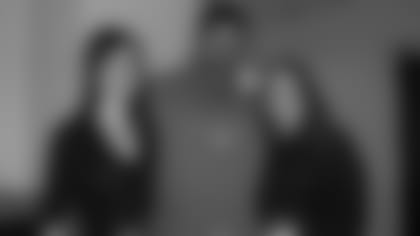 It's another cold, and I mean cold, day here in Fort Worth, Texas. The temperature with the wind chill was five below. The temperature in Pittsburgh at one point today was in the 40s. But, there isn't anywhere all of us would rather be.
Things started early today for the players with breakfast at 7 a.m. and the first bus to the practice facility leaving at 7:30 and the last bus at 8:00 a.m.
The good news about today is some normalcy returned to the players' schedule. The morning was all about meetings and watching film, and after a lunch time media session, they finally got to take the practice field.
"We are here to play a game," said Chris Hoke. "Media is a part of it but ultimately you are here to play a game. It's nice to get back to work and watch film and get in game week mode. I went over my notes last night to get refocused and work on the field again."
He wasn't alone in that feeling.
"I am ready," said Nick Eason. "I have been ready all week. I embraced everything up until now, mainly eating a lot, but I am ready to be focused on the game on Sunday. I am ready."
"It's good to get back on your feet running around," added Lawrence Timmons. "Just to run the defense is good because we haven't done it since Friday. It's good to get back to our normal work week and be around the guys in the meeting room."
Even though football was the focus today, there still was a media session. Unlike media day on Tuesday, this one is more about football, but there still were some funny moments.
Troy Polamalu was asked about his surfing, but said he hasn't had much of a chance lately to work on it.
"The Monongahela River doesn't have any swells," laughed Polamalu.
Ben Roethlisberger was asked about Dallas being "America's Team" and responded with his love for Steelers fans.
"We have the best fans in all of sports," said Roethlisberger. "I think the fans are the ones that make you America's team or not. You can have your titles, but it's how you feel and how your fans feel."
One of the big questions of the day was about the leadership provided by veteran linebacker and defensive captain James Farrior. Polamalu addressed his pregame speeches.
"They are all the same," laughed Polamalu. "It's not a Joey Porter pre-game speech. When Joey left it was like 'Oh great, this is the best we got.' His example is what we have, that's what we go by."
"He says what needs to be said," said Hoke. "He is going to go out there and play hard and hit hard and that is a guy you want to follow. He plays at a high level, plays hard. You know you can follow him."
Injured tackle Willie Colon joined the media blitz, serving as our host for a Steelers.com video. He is a natural. Charlie Batch also interviewed William Gay for his weekly show.
It was then off to practice for the players.
Following practice the players and coaches all picked up their Super Bowl tickets. It was a whirlwind of them all coming in the office, and grabbing them quick.
The crew from the office including Mike Marchinsky, Maureen Mannion, Geneva Jordan-Jones and Robbie McCartney stepped up big time organizing all of the tickets when ticket manager Ben Lentz couldn't make it to Ft. Worth because his flight was cancelled.
You hear so much about Southern hospitality and I can tell you, the people here in Ft. Worth provide some of the best. The staff at the hotel where we are staying have been awesome. Colleen came through big-time today with helping all of us with packages that were delivered. Most of them should have arrived on Tuesday, but the weather changed that and we didn't get anything. But she tracked everything down and made our day.
Also, the people at TCU have been great but a special thanks to Clay from TCU security. He went above and beyond to help us today making sure we got where we needed – and when it's as cold as it is and still icy out there, that goes a long way.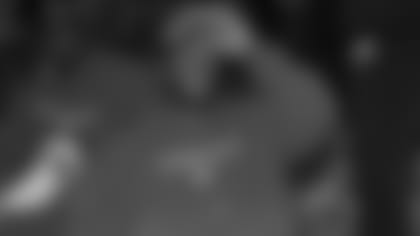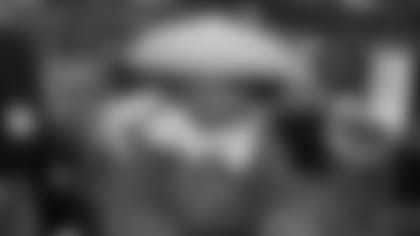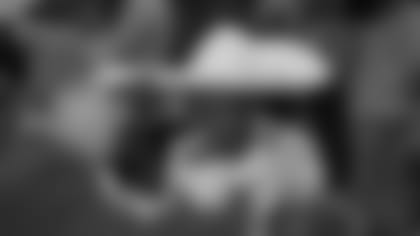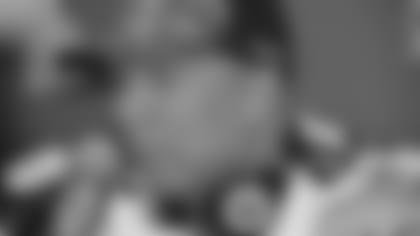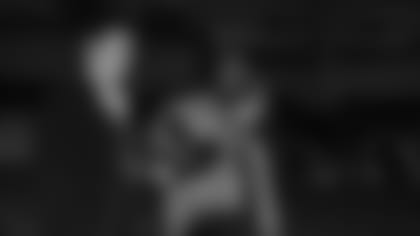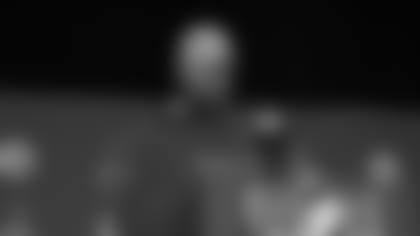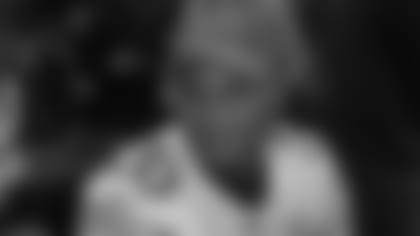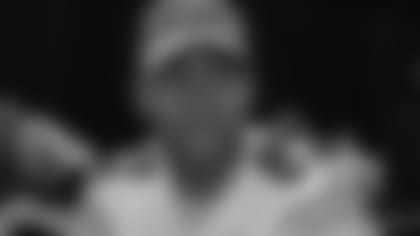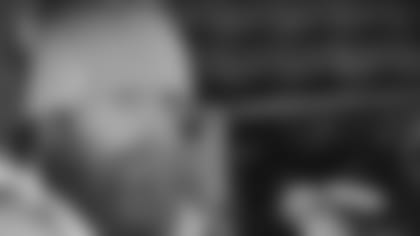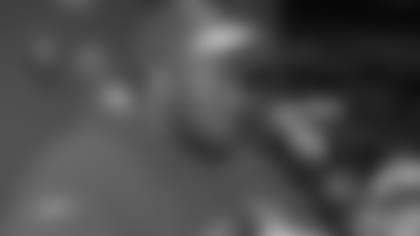 William Gay and Charlie Batch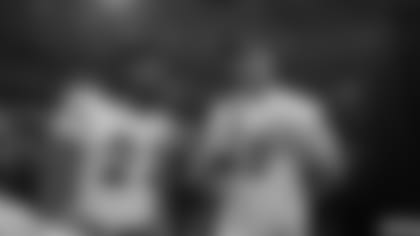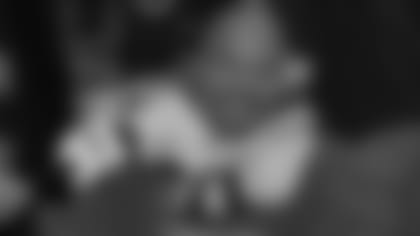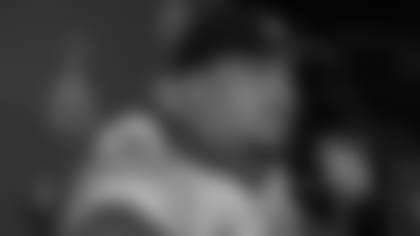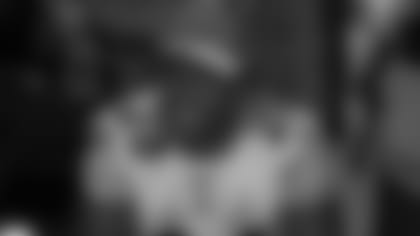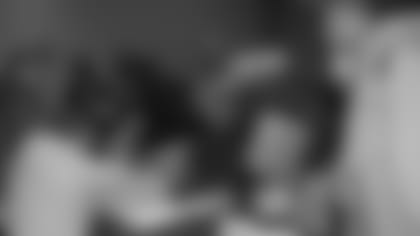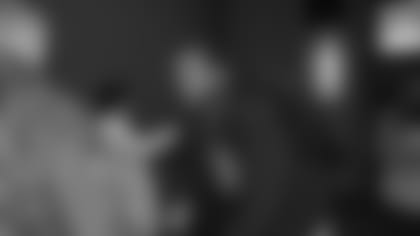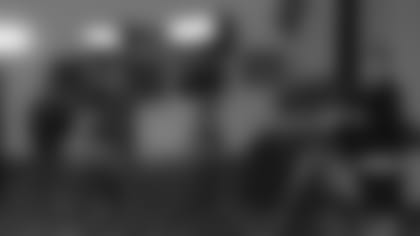 Tuesday, February 1
Evening UpdateAfter the shock of the morning weather wore off, it was time to get rolling for what would be an extremely full day. There was a "team meeting" at 9 a.m., but basically it was the mandatory football autograph signing the teams all have to do every year for the NFL. The players and coaches sit in a chair along the walls and hand the footballs to each other and everyone signs them. I don't know how many there were, but those of us who helped pack and unpack them can tell you, there were a lot.
The next step was to get on buses and head to Cowboys Stadium for media day. Thanks to the road crews who came in and put sand on the streets near the hotel to get us started off. But once we hit the highway it was solid ice the entire way. It was hard to believe we were driving in Texas at that point. But the bus drivers and the police escorts all did a great job of keeping everyone safe.
Cowboys Stadium is massive. As you pull up you just can't believe the size of it. The buses pulled right into the stadium and drove us straight to the locker room. The guys saw their lockers and their Super Bowl jerseys for the first time, got dressed and got ready for media day. There were some radio and network commitments first, some players toured a little bit of the stadium and others just hung out waiting for things to get started. As we were walking through the tunnel near the field, Hall of Fame wide receiver James Lofton stopped to chat with a few players and I was able to snap a quick picture of him with Brett Keisel. What was cool was he wanted a copy of the picture.
It was then time for the players to take the field, surrounded by every member of the media who is in North Texas this week. It was insane. But you know what, it's fun and it's where every NFL player wishes he was this week.
And while the stadium is beautiful it was so cold in there. You know when you hear players complaining about being cold, that it is cold.
Tuff Harris, who is on injured reserve, helped us out by taking the mic and doing some Steelers TV and Steelers.com interviews. It was fun and you always get some interesting things out of the players when they interview each other. They have a lot of fun and relax.
A handful of players, including Ben Roethlisberger, Rashard Mendenhall, Mike Wallace and more and Coach Mike Tomlin all sit at a podium, while other players wander around or sit in the stands. But they were all surrounded.
Shaun Suisham was asked if his dream growing up was to play in the Super Bowl. When he said no, the reporter was stunned. Apparently he didn't read Suisham's Steelers.com Super Bowl Journey or he would have known it was hockey that was his dream early on.
Defensive assistant Jerry Olsavsky sat in the stands watching, the second media day he took part in. He played in Super Bowl XXX and remembers some of it.
"It's great to see the different personalities as you look down there," said Olsavsky. "I am happy for the players. It's their time to shine."
There were people in costumes, people who didn't know anything about football and people who didn't care to talk about football.
"We have some nut jobs out here," said Willie Colon. "There are some people who don't belong here. Some people I had to walk away from because they didn't know what they were talking about. At the end of the day, though, it's a fun experience."
Sunny Harris was having a good time, talking to a variety of reporters, but none of it really about football.
"I don't know what is going on here," laughed Harris. "Someone said they wanted to adopt me. Ross from the Jay Leno Show talked to me. Different Mexico TV channels talked to me. I never expected this. One guy was asking me questions and I would answer and he would then repeat my answers back in the next question. I didn't know what he was doing."
For Ziggy Hood the conversation with one reporter was all about the bracelets he wears, many which represent something special including one for Elijah Smith, the son of Aaron Smith. There is one he wears that he said is for balance, and the reporter asked if it bothered him that all of the Packers wear the balance bracelet and not as many Steelers do. Hood laughed and said, "I just wear it because it matches what I am wearing."
I was able to sneak in a football question or two and asked about what it means to him to hear Smith praise him.
"It means a lot to me," said Hood. "Somebody that high caliber mentioning my name is magical. It makes me feel warm and fuzzy inside. It's nice hearing that from a legend."
It was then on to serious business, with Hood being asked about his favorite Mexican food.
Among the media on hand were former players and coaches working for different media outlets, including former Steelers Rod Woodson, Terry Bradshaw and even former punter Mitch Berger who interviewed Dan Sepulveda. Also on hand were Tony Dorsett, Jimmy Johnson, Deion Sanders and many more.
Cincinnati Bengals wide receiver Chad Johnson was among those there, and he picked the Steelers to win the game being an AFC guy and said defense will be the key.
"It's hard for me to explain the confusion that they cause on defense," said Johnson. "Troy (Polamalu), the style of defense they play it seems like they draw things up in the dirt. It's ridiculous. Some of the things they do defensively is stressful, especially from a quarterback standpoint. It's hard."
At the end of the media session is the team photo. The players first took the traditional picture and then photographer Mike Fabus allowed them to have some fun for the next picture. After that the staff that were at media day all were invited to be in the team photo (which is below). That is definitely one of the highlights for all of us. It truly is an honor and a privilege.
Morning Update
Good morning. I must say what we woke up to today was not what you would expect in Texas - first rain (and thunder), then freezing rain and sleet and snow. Schools all over the area are closed here Fort Worth and Dallas. Just listening to the news and they are saying the AFC team (the Steelers) will have sand trucks (they don't use salt here) helping to clear the path for them for media day. It is a true winter wonderland this morning and it's pretty much shutting things down this morning.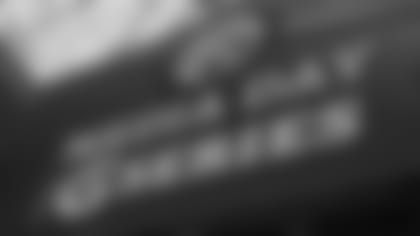 Chris Hoke, Aaron Smith and Nick Eason
James Lofton and Brett Keisel
Anthony Madison, Antonio Brown, Mike Wallace and Isaac Reman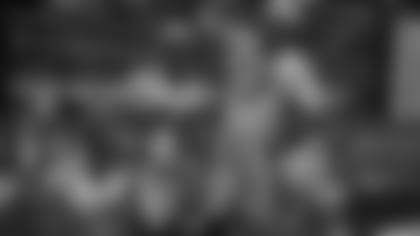 Anthony Madison and Bryant McFadden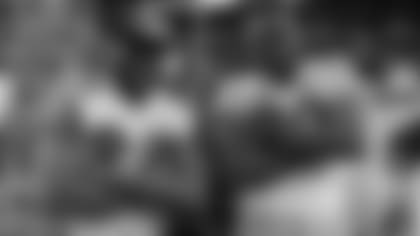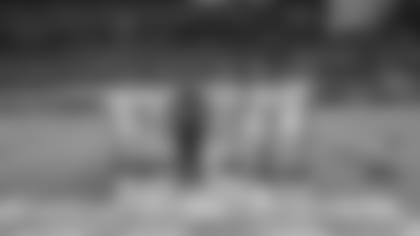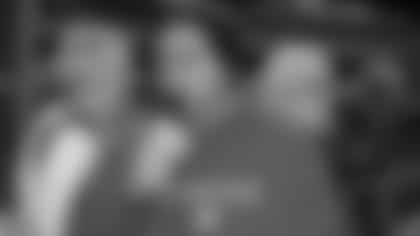 Antonio Brown, Deion Sanders and Emmanuel Sanders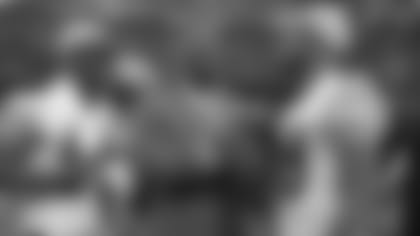 LaMarr Woodley and Chris Berman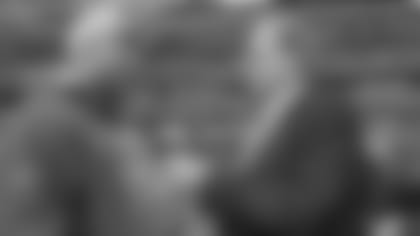 Ike Taylor and Chad Johnson.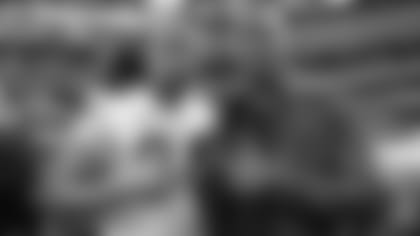 The staff team photo. We are all in there.
Mike Fabus sets things up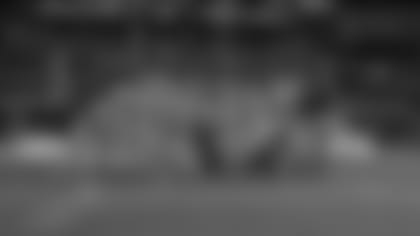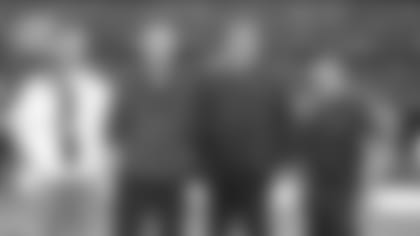 Dan Sepulveda and Mitch Berger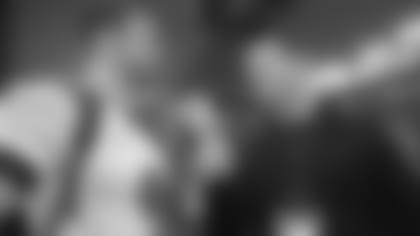 Sunny Harris and one of his crazy interviews.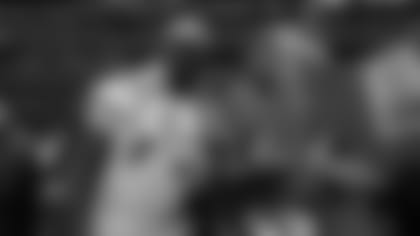 I can't even explain this one.
Steelers President Art Rooney II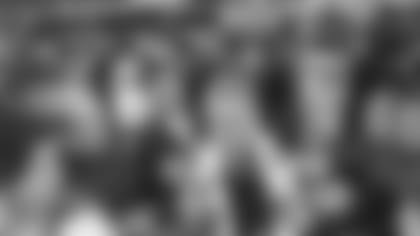 Plenty of security to keep an eye on things.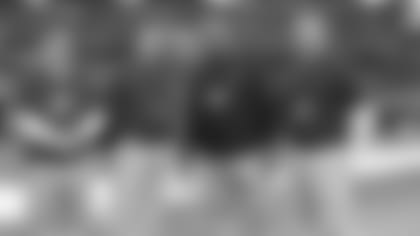 The roads were really icy this morning.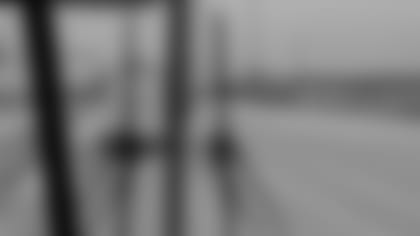 Ben Roethlisberger and Mike Tomlin sign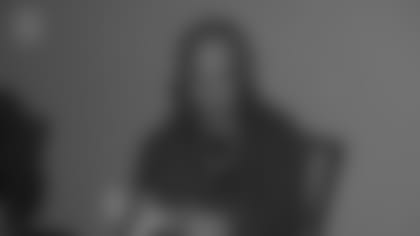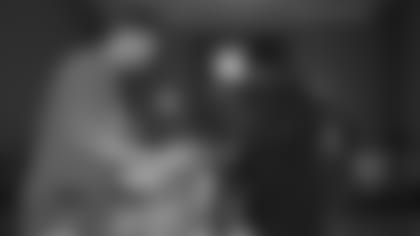 The view from the hotel front doors.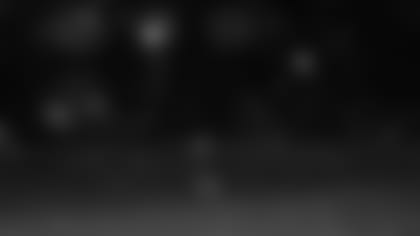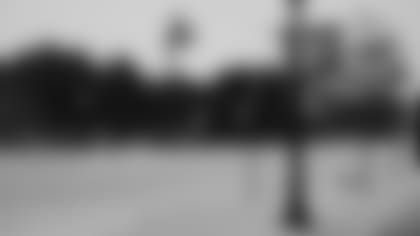 James Harrison works out.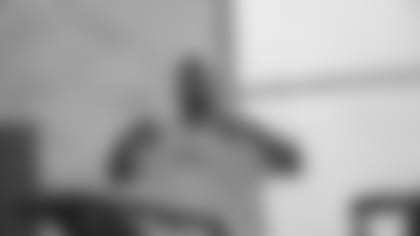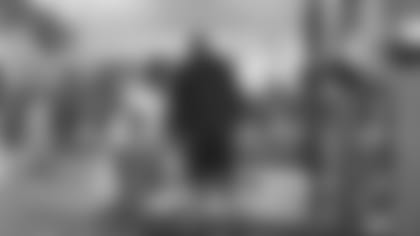 Monday, Janaury 31Afternoon updateWe made it to Fort Worth safe and sound. We were lucky because we got out of Pittsburgh early and bad weather is expected to hit the area later today. Even the weather in Ft. Worth is expected to turn cold.
When we landed the media at the airport was unreal. There were so many television cameras, reporters, photographers. You name it, they were there. It was good to see some of the Pittsburgh media among the mix as well.
The ride to the hotel was awesome. The police escort basically shut the highway down for the team buses. There were helicopters flying along with us as well. And along the route, Steelers fans were out and about waving Terrible Towels and holding up signs.
When we arrived in downtown Ft. Worth the streets were lined with people. It was incredible. And the closer we got to the hotel, the bigger the crowds got. Steelers Nation – you rock. If you were one of those out there supporting the team today, thanks from all of us.
Once we got into the hotel we hit the ground running. We checked in fast and quickly went to our rooms to drop things off. It was then on the press conferences. First Mike Tomlin addressed the media horde, and then six players were available, including Ben Roethlisberger, Flozell Adams, LaMarr Woodley, Hines Ward, James Farrior and Brett Keisel.
One of the first questions asked of Adams was what he thought of his teammates wearing his jersey on the flight to Texas.
"Everybody wore them. It was great," said Adams. "They got it to have fun. That is how the offensive line is in Pittsburgh.
"When I got through security at the airport I saw a bunch of them and I'm like, 'Whoa!' I don't know where they got them from but it was quite surprising. It was special for them to bring back the throwbacks (jerseys) and they're all still walking around here with 'em on. I'm grateful for it. They probably were planning this for at least a couple of weeks, and I had no idea. Trai Essex gave me the jersey. He's the master planner around here."
Keisel was asked about why the Steelers have been so successful, and didn't hesitate to give credit to the Rooney family.
"The Rooney's express family," said Keisel. "Everything is about family to them. When you come in to the locker room, everyone embraces you as family. That is why we play well. We consider each other family. We will go out and bleed for each other."
After the media session it was time for a team meeting where the players received their itinerary for the week and mapped out their schedule.
Some players then headed to the practice facility to lift and work out, while others went back to their rooms, many of them off to play video games. The players have Monday night free before embarking on media day on Tuesday.
Former Steelers cornerback and Hall of Famer Rod Woodson stopped by the team hotel today. It was great to see him. He chatted with some of the players and seemed to enjoy seeing the guys. Rod is one of the nicest guys around. Morning in flight update
It might have been an early morning at the airport, but everyone was in a good mood and for good reason – we were all boarding a plane to Super Bowl XLV.
Linebacker James Farrior was one of the first players who arrived, anxious to get rolling.
"I couldn't sleep this morning. I was up all morning," said Farrior. "I got here early. We are all ready to go."
Wide receiver Hines Ward showed up at the airport decked out as only he could – in cowboy gear. Ward was sporting a black cowboy hat, western shirt and massive belt with an "S" for Steelers on it.
"I looked all over far and high to find a place in Pittsburgh to find some cowboy giddy-up and start this trip off to Dallas right," said Ward. "My teammates said only I can pull it off. I wanted to get in the spirit of going to Dallas and go down there and see if we can win another Super Bowl.
"We have been here before with all of the hype. You have to be loose, have fun and be ready to play on Sunday."
Defensive end Ziggy Hood is making his first Super Bowl trip and was ready to go Monday morning.
"When I pulled up and saw a helicopter flying over, it became surreal," said Hood. Things are coming into focus now. I am excited for the game and getting focused and zeroed in."
Troy Polamalu had bags full of food with him, sandwiches made for the players by his wife Theodora.
"She stayed up until four in the morning cooking for everybody," said Polamalu. "It's a Steelers tradition."
Tight end Matt Spaeth might have had the most unusual item that was packed in a suitcase.
"I brought a fan. I always sleep with a fan," said Spaeth. "I almost forgot it but remembered and it took up a lot of space in my suitcase."
One of the happiest guys headed to Texas is tackle Flozell Adams, who played 12 seasons with the Dallas Cowboys, winning only one playoff game and never getting to the Super Bowl.
Adams offensive line teammates decided to honor him for his first trip to the Super Bowl, with all of them wearing Adams' Michigan State college jersey on the flight there.
Trai Essex got the ball rolling calling me on Tuesday night to get the jersey order going. Despite a few obstacles, it all came through and it all paid off seeing Adams' reaction.
"He emerged as one of us really fast," said Essex. "We have always been a close group and we welcomed him with open arms. He has done a great job on the field, and taught us so much off the field. His overall knowledge of the game has helped us out a lot. Going back to Dallas is a story book thing for him. We know this means a lot to him."
Adams signed with the Steelers at the start of training camp and quickly became one of the family among the linemen.
"Our offensive line is a close unit," said Max Starks. "Unlike any position on the team the offensive line has to be close. We look at each other as brothers. We get into arguments but we make up with each other. And if anyone comes after our brother, we are the first to step in and fight.
"When Flozell came here and signed right before camp and how he has adapted to us, received us and bought into our philosophy, it was big. It's not every day a 12-year veteran has to come in to a new team, new system, a new position and embraces it the way he has. It's only fitting that when we are heading to Dallas to play in the same stadium that he called home for so long, to play for his first championship, to take him back in style and show our support for him because of what he has done for us this year."
The tradition of wearing jerseys to honor one of their own began in 2005 with defensive players wearing Dick LeBeau's Detroit Lions No. 44 jersey. They wore Jerome Bettis' Notre Dame No. 6 jersey heading to Super Bowl XL and wore Dermontti Dawson's No. 63 Steelers jersey to Super Bowl XLIII to help push him for the Hall of Fame.
"I think it's awesome the players did this," said Coach Mike Tomlin of the players wearing the jerseys. "It's what makes the team what it is. It's really special."
Rookie Antonio Brown is one of the lucky players, heading to the Super Bowl in his first NFL season.
"This doesn't happen often," said Brown. "I just thank God for this opportunity because we don't know when we could be in this position again. Just being a part of a great team and something that is bigger than me is great. For me to come in my first year and being able to contend for a Super Bowl is amazing.
"I remember watching the Super Bowl growing up and Devin Hester returned the opening kick. Those of the types of things I envision myself doing. My dream is to make a return. I have been almost there. I just want to get the win and contribute in any one. I think it's great to be in the Super Bowl my first year in the NFL."
Heath Miller is headed to his third Super Bowl and felt from the beginning of the season that this team had what it took to get here, even starting the season without Ben Roethlisberger at quarterback.
"Knowing the guys in the locker room, we are a tight knit group," said Miller. "We rally around each other. It's not surprising we are where we are."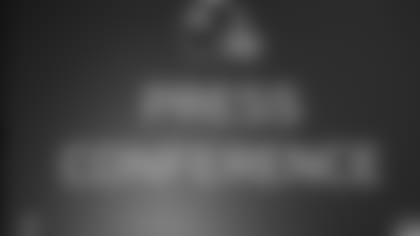 Ben Roethlisberger Press Conference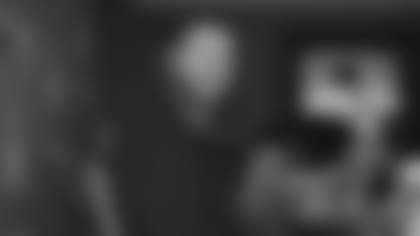 James Farrior Press Conference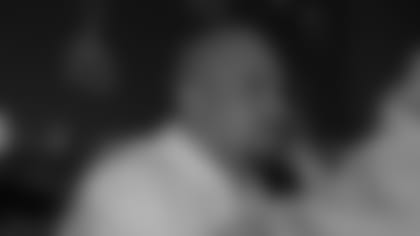 LaMarr Woodley Press Conference
L
Hines Ward and Brett Keisel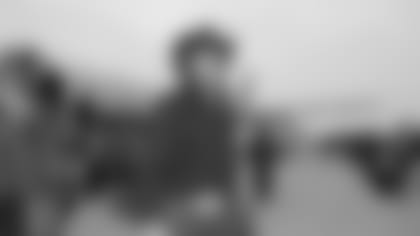 Mike Wallace and Keenan Lewis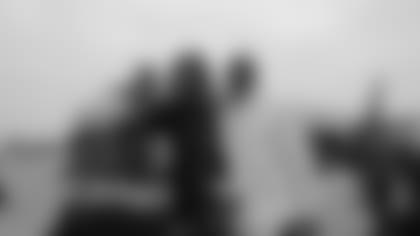 Interviewing James Farrior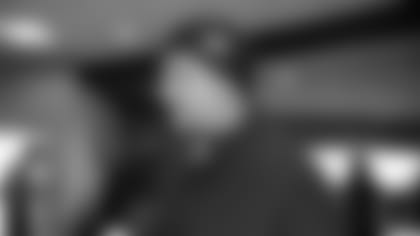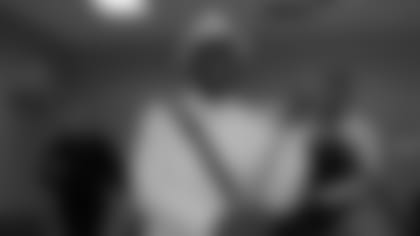 Bryant McFadden Troy Polamalu, Casey Hampton and Brett Keisel.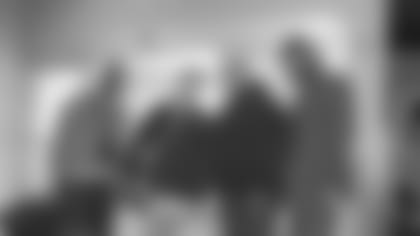 Tunch Ilkin and Craig Wolfley grab breakfast.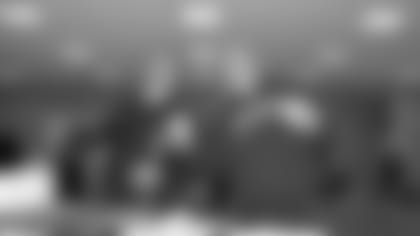 Larry Foote video tapes me taking his picture.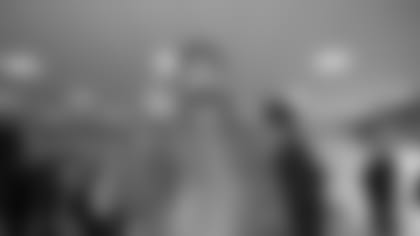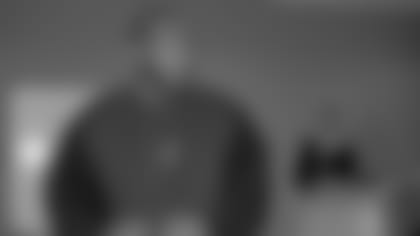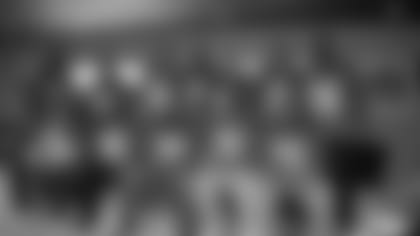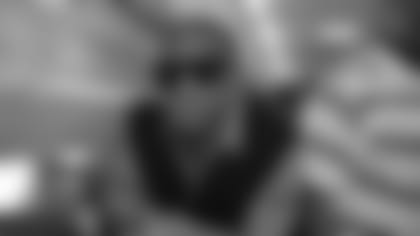 Steelers TV Crew - Rick, Mike and Brian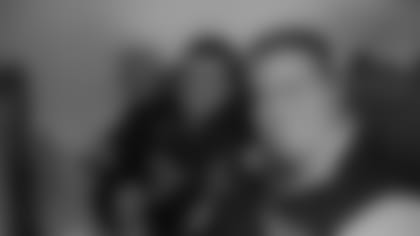 For A Previous Entry From the Divisional Playoff Week ... Click Below.