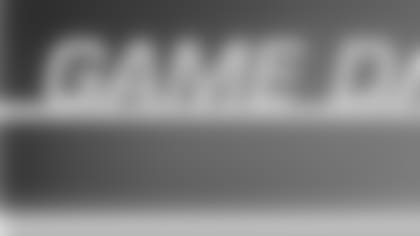 STEELERS at BRONCOS MONDAY, NOVEMBER 9, 2009 KICKOFF 8:30 P.M. INVESCO FIELD at MILE HIGH STEELERS QUOTES - Below BRONCOS QUOTES - Click on Link
STEELERS HEAD COACH MIKE TOMLIN
 
Opening statement
"It was a pretty big win for us tonight. If we want to be a good team, a team that's championship caliber, we have to be able to go on the road and beat good people, and this Bronco team is a good team. We hadn't done that to this point this year, so we're pretty pleased. We're going to keep it grounded. We have a big AFC North game waiting on the other side for us back in Pittsburgh next week (vs. Cincinnati) but a big congratulations to all parties involved. We had a bunch of top quality contributions from a lot of people. It was a good team victory for us tonight in a hostile environment. Hats off to the Broncos. They are a quality team, they play hard and they are well coached."
 
On the difference in the pass rush tonight
"We're a developing team. Hopefully we're better in all areas then we were in week two of the season. I'm not going to make too much out of that. That's why we come to work during the week. We have to continue to be a team on the rise. I know there are teams that we are competing against that are doing that. That's what November is about. We are pushing to the latter part of the season. It's about getting better."
 
On S Tyrone Carter stepping up
"Ty is a veteran player. He did a really nice job. He was in the right place at the right time. Usually when plays like that occur it's a product of a lot of people's work but he was opportunistic."
 
On S Ryan Clark not playing
"Even though he received medical clearance, we thought it was prudent that he not play. Some things are more important than football. Not only from his health standpoint but had he played this football game, his teammates would have been concerned about him. I would have been concerned about him. It would have been tough to stay focused on what we came to do so we made the decision not to play him. We don't look back at that. Injury is a part of it, illness, etcetera. [DE] Nick Eason stepped up for us tonight and played good ball.[LB] Keyaron Fox stepped up and played good ball for us tonight. That's what it's all about. We're a team. You're going to have injuries; you're going to have people that miss games. We're not going to use that as an excuse."
 
On altitude
"We did a nice job of getting off the field in the second half of the game defensively - three and outs. They didn't put together drives on us. So I think that protected us. On offense we moved the ball and converted some third downs in the second half. The way the game unfolded from that standpoint protected us in terms of the altitude and fatigue. You feel it defensively, I think, more so than offensively. We didn't allow many snaps in the second half because we were working both sides of the ball. "
 
On RB Rashard Mendenhall and the running game
"It [the offensive line] did a nice job and the Broncos have great defense. They're first in the league in defense. They expected that we would be prepared tonight and their play tonight kind of mirrors that preparation."
 
On the Steelers defense
"We have guys that are designed to be great. They play hard every time they come out regardless of their opponent or story line if you will. Those guys are committed to being great every time they step in the stadium."
 
On injuries
"[FB] Carey Davis looks like he has a hamstring injury. We'll have some more information on that. All of the other things seem to be minor."
 
On changes in the Steelers offense in the second half
"We just kept pounding. Good defense, part of that is they were driving the ball on us offensively. We had an interception returned for a touchdown so our defense went back on the field. Part of that is we just didn't possess the ball. But you've got to give the Broncos credit, they came out smoking."
 
On shutting down the Broncos running game
"It was important to shut it down. They have a monster back there at tailback. [Correll] Buckhalter and [Knowshon] Moreno, they do a nice job. We had an extra week's work to prepare for them. We respect those guys. The guys [Steelers players] did a nice job. We had to. We couldn't afford to die on the line out here in Denver and get fatigued. It was important that we kept ourselves out of that situation. We only dressed five defensive lineman and the guys did a nice job. "
 
 
PITTSBURGH STEELERS PLAYERS
*
PITTSBURGH QB BEN ROETHLISBERGER
 
General
"TC [S Tyrone Carter] did a great job with two picks tonight. It was a tale of two halves. The first half we didn't give our defense much rest, but we were able to keep them off the field in the second half."
 
On the second half
"In the second half we went to a no-huddle and they only stopped us when we stopped ourselves; when we had a fumble and an interception."
 
On RB Rashard Mendenhall
"The sky is the limit for him. He had some great runs today."
 
On WR Mike Wallace
"He has done a great job. It's been fun watching his maturation. He grows every week and keeps getting better. He keeps improving on the little things that you don't expect a rookie to improve on."
 
On third quarter fumble that Broncos returned for touchdown
"I told our guys that there is nothing that we can do about that now. I told them there is nothing we can do but move on and take the ball down the field and score."
 
On Broncos CB Champ Bailey
"You always have to know where he is at; he is a phenomenal player. But I like [WR] Santonio Holmes and threw to him. We didn't come in to the game trying to avoid him, but just be aware of where he is at on the field."
 
On coming off a bye week
"Offensively it was hard to get in rhythm in the first half and we were not on the field much. In the second half we were able to get moving though. I think bye week helped us because it allowed us to get healthy."
 
PITTSBURGH RB RASHARD MENDENHALL
 
On the running game
"We feel like we have a balanced offense. We feel like we can do whatever we need to do to win and that we can do it."
 
On the offensive line
"Those guys took a lot of heat early in the season, but you see them doing their thing now so that's why our running game has been able to get moving. They have not gotten enough credit."
 
On the coaching staff's confidence in him
"Between [Running Backs Coach] Kirby [Wilson] and Coach Tomlin, they have faith in me and confidence in me. They know that my ball security is good. Sometimes I let the ball get away from my body."
 
PITTSBURGH S TYRONE CARTER
 
On filling in for S Ryan Clark
"I just like the opportunity to step up and show my teammates that I can make plays when my number is called."
 
On his interception returned for a touchdown
"I really didn't see the referee on that play. All I know from film is that they like to bring their backs out of the backfield, and the quarterback looked right at him, so I bit."
 
On forcing turnovers
"We always emphasize making big plays to put our offense in good positions. If you score, great, but you want to create turnovers in order to put your offense in good field position."
 
PITTSBURGH WR HINES WARD
 
On playing at altitude
"I know we were a little blown [winded], but they were too. I know [Broncos CB] Ty Law was a little blown a couple of times. We were no-huddle and played at a fast pace all game. We got in hurry-up mode and made big plays"
 
On the offense
"We were a little slow early on; both teams were just feeling each other out. We can't only pass when we are in hurry-up, but we can also run. He [RB Rashard Mendenhall] is a special back and doesn't yet realize just how good he can be. We have a lot of confidence right now and are playing good team football."
 
On winning on the road
"We pride ourselves on being a great, dominant road team. For us to get where we want to go, we need to win on the road and not just at home. I feel like us, along with the Colts and the Patriots, have established ourselves as great teams on the road. To come into a hostile environment on a Monday night, we played well tonight."
 
PITTSBURGH WR MIKE WALLACE
 
On playing at altitude
"It was definitely hard for me to breathe. I took a couple extra gassers to prepare for this, but I came out and I was gassed."
 
On his touchdown catch
"That play was just [QB] Ben [Roethlisberger] keeping it alive. That guy you can't ever stop. He just makes things happen and he was able to find me in the endzone."
 
On WR Hines Ward
"I heard things about him coming into the league, but he's a real great player. He looks to go to work every day and he makes big plays week in and week out."
 
PITTSBURGH S RYAN CLARK
 
On S Tyrone Carter starting for him this week
"I might be like Wally Pipp. I better get back fast so that I don't lose my spot."
 
"He's a friend and a teammate and he did an awesome job tonight. I'm proud of him."
 
On the defense*
"Coach Tomlin told us going in that they have the number one defense in the world and we took that personally. This is a team sport and we probably play the best team football in the league."