By Teresa Varley
Steelers.com
Full Super Bowl Coverage Okay, the reality is the crowd around Ben Roethlisberger in the media tent on Monday was basically nothing compared to what he is going to see at media day on Tuesday, but it was still hard to find a spot as many cameramen were grabbing chairs to climb on to get a good shot.
 
And after fielding 75 questions, yes someone did keep track of that, the good news was on this day most of the talk was about football and not some of the insanity that will come with media day, the biggest media blitz of the week.
 
It's something Roethlisberger was prepared for, having gone through it at Super Bowl XL in Detroit.
 
"I think it helps, but when push comes to shove, it's what happens on the football field, and all of this hoopla and all of the media has nothing to do with it," said Roethlisberger. "When it comes down to it, it's going to be two teams battling it out."
 
While Roethlisberger is prepared for all of the extras that come with playing in the Super Bowl, he also feels more prepared for the game itself.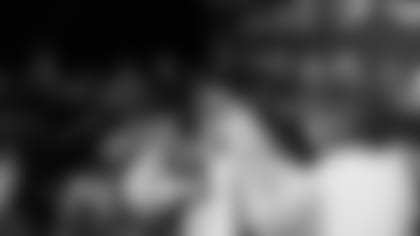 "It was my second year in, and I didn't know what to do," said Roethlisberger. "I was just kind of there for the ride. I'm more comfortable now, more relaxed, and I'm just going to have fun and soak it all up."
 
He has admitted to being nervous during all of Super Bowl XL, but doesn't see that happening again.
 
"That was the first time I stayed nervous for an entire game," said Roethlisberger. "I played in a championship game in college - not a national championship, but the MAC - and was never nervous all the way through a football game.
 
"I expect it to be different this time. I'm going to go into it and treat it like it's just another football game and go out and have fun. I'm going to treat it like it might be my last. I've been here before, and I kind of understand what went right and what went wrong last time. Just being in my fifth year now instead of my second year, and knowing how to deal with the media, the fans and everything that goes along with being a quarterback."
 
Roethlisberger might not have had the best game statistically that day, but the bottom line was the Steelers won and that's what stands out in the minds of his teammates, even though the understand where Roethlisberger is coming from.
 
"He's out on a mission," said wide receiver Hines Ward. "He really wants to go out there and redeem himself. You know we won the Super Bowl as a team but, him personally he didn't particularly play like he wanted to play so I know he wants to go out there and really put on a great show, really perform well and help lead this team to win a Super Bowl.
"I know he is excited to get a second opportunity to go out there and really solidify himself among the better quarterbacks in this league. It would be great to have his name mentioned among some of the great quarterbacks who have won Super Bowls at a young age.