(In honor of Mother's Day, we are bringing you stories of Steelers players and their mothers this week.)
Terrell Edmunds smiled, nodded his head, and admitted what his mother already knew.
"I would say so. I would say so," said Terrell Edmunds. "Yeah, I'm a mama's boy. I would always be under my parent's wing. I would always be the 'me too' child because I wanted to do what my older brother did. If he did it, I would be like me too. And he always did what my mom and dad did. I would try and follow along with them."
Felecia Edmunds knows that is the truth, that the middle of her three sons is a mama's boy, but he wasn't the only one in the family.
"I would like to think to some degree all of them are mama's boys," said Felecia Edmunds. "Terrell is real sweet. He is the middle child. He had to deal with it from the older one, deal with it from the younger one. He is like me a lot."
Terrell Edmunds comes from a family where his parents, Ferrell and Felecia, were always there for him and his brothers, including older brother Trey who is a running back with the Steelers, and younger brother Tremaine, a linebacker for the Buffalo Bills.
His father, a former tight end for the Miami Dolphins, was the one who gave him the footprint for his football future. But mom, while she provided her share of football advice, she provided a different perspective as well.
That was on display before the 2018 NFL Draft, when the Edmunds had dinner with Coach Mike Tomlin and General Manager Kevin Colbert in a get to know you type of setting. It was Felecia who asked a lot of the questions, wanting to know not just about the X's and O's, but about life for her soon to be No. 1 draft pick.
"I think with the men, and fathers and coaches, they are men. They have their own language. They do what they do," said Felecia. "I think moms do too. Moms are going to ask questions that the dads won't ask. With the dads and the coaches, it's football, football, and football.
"With the moms it's who is going to take care of him, what is going to happen in this situation, if this happens, who is he going to call, what is going to happen. I think it was questions like that. I wanted our sons to be with a team that's more than just their football coach, but like a father away from home, just for a minute. Yes, they need to grow and be on their own, but just for a minute, I just want to make sure they are on top of them. A lot of these guys go away for the first time, they are young, they have freedom, and they have money. They just need to make sure they have someone leading them in the right direction."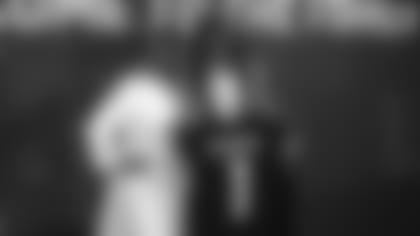 Edmunds didn't realize how much went into the entire draft process until his mom brought things to light. For him, it was an eye-opening lesson that he welcomed.
"All the deep stuff that she taught us through this draft process was amazing," said Terrell. "She opened our eyes to look at things differently than a typical young man would look at them. Having her and my father there were big. To hear their questions, how they thought of things outside of us. Just how they viewed the whole process, in their opinion, was big.
"She let me know how much of a business it is rather than just going out there playing the game that we love. Just all the small details of how this whole process goes. What we should expect, how we have to transition into the lifestyle of being young adults."
Being a young adult usually means stepping away from the watchful eye of your parents. And yes, while Edmunds isn't at home anymore, it doesn't mean mom doesn't know what is going on. It's just the opposite. And they both love it.
"I need to know everything that is going on," said Felecia. "I like to know what is going. It's okay for people to do their jobs. I am not talking about coaches and things of that nature, but anything else that has to do with them. I want to know something about it. I like to know what is going on. What is going to happen, when it's going to happen, so I can put my stamp of approval on it and feel good about it. I want them to be independent. But there is still that part of me that wants to know what is going on. I want to be in the mix of things."
Edmunds laughs, because he knows flat out he can't get away with anything.
"She will be up here if anything goes down," Edmunds said with a smile. "Even now with Coach T, she tells him if anything goes down just call her and she will be up here. That is her mindset.
"She would set someone straight if they disrespected me or any of my brothers. She is always there for me. Even in school she knew what we could do in school, so she would push us. But if our teacher would say something crazy, she knew the type of students we were, the type of children we were so she would make sure she stayed on our back, and the teacher stayed on their job, helping us the best way they can."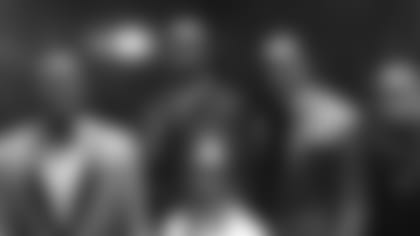 Edmunds has a tight bond with his mom, knowing that she is always there for him, she is in his corner, and that will never change.
"Regardless of the good times or the bad, I know she will have my back," said Terrell. "I know that the love is always there through it all. I would always talk to her, or my dad, but to know you have that everlasting love, someone you can always talk to and has your back."
It started back when him and his brothers were just kids, playing youth sports, and no matter what, she would be at the games.
"She is always there for me, from the beginning," said Terrell. "She tries to break down the game like a coach, but she tries to be a cheerleader at the same time. She takes on the multiple roles, she just wants the best for us.
"When we were little they came to all of our games. It was easy because we were all together, playing on the same team. In college it was the same way, we were all at the same school. Now sometimes they split up, but we have at least one person at every game there for us."
There are weeks when Felecia is in Pittsburgh to see Terrell and Trey, while Ferrell is in Buffalo watching Tremaine play. And visa-versa other weeks.
"I feel really blessed," said Felecia. "Sometimes I step back and take a look and take my children out of it and look at other players who are in there, the other brothers, like the Watt brothers to see. I look and say their mother must be so proud. That is just great. Then I say, oh wait a minute, I am like that too. I have three in. Sometimes you have to take a step back and look at it. Sometimes to say it's just Trey-Trey, and Rell-Rell, and Nay-Nay.
"But they're there. They are there. They are at the pinnacle of their career in our eyes. You do elementary, high school and college. The next step is the NFL. I know that we are truly blessed and highly favored and I don't take it lightly or for granted."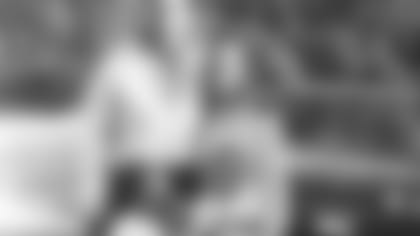 When it's not game day, when mom and dad aren't there, Terrell is still always talking to them. Not a day goes by that he doesn't.
"I talk to her and my dad every day. Maybe two or three times a day," said Terrell. "It's stuff about our personal lives, football. Anything that goes down, we know we can talk to our mom, or our dad. They have our best interest at heart. They give us positive feedback. They kept it honest with us. They don't just tell us things to tell us them. They are honest with us.
"Being in this business we are in, sometimes it gets stressful. You always need someone you can depend on to keep you level-headed, so that you are not overwhelmed with everything going on. We are here from 7 a.m. to 6 p.m. most days. It's all football. Sometimes you want to have someone you can talk to about things other than football, someone you can vent to. That is where she and my dad come into play."
Don't get him wrong though, mom does like to talk football with her sons.
"Most of the time she doesn't try to press the game until the next day," said Terrell. "She doesn't want to press us down with the game whether it was good or bad. We get our mind off it, talk and get something to eat. That is the way it is."
And the way it is, mom is quick to remind them never take it for granted.
"My husband teases the boys a lot and reminds them NFL means not for long," said Felecia. "I don't know that you go into the NFL thinking that is going to be your career. It's a career stop. It's going to end. It can end prematurely. It can end sooner than you think. You have to prepare for afterwards. We tell them prepare today for tomorrow. You have take care of things today to be able to live tomorrow. We try to tell them you need to be on a budget, you need to have that deferred gratification. We tell them to live like this might be your last check because what that will do is set you up going later when there are no checks coming in. We try to be on that 100 percent."