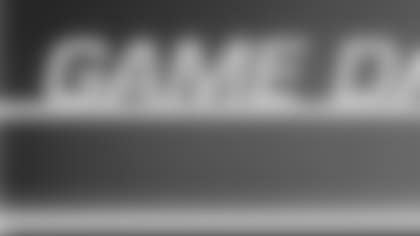 HEAD COACH MIKE TOMLIN PRESS CONFERENCE SEPTEMBER 9, 2008 STEELERS AT BROWNS SUNDAY, SEPTEMBER 14, 2008 AT CLEVELAND BROWNS STADIUM - KICKOFF 8:15 P.M.
Coach Mike Tomlin:Good afternoon. We came in yesterday and reviewed our performance, and today we move forward. Hopefully we are getting better this week. That is always what you try to do between game one and game two. Maybe this process will be a little more difficult this week because we had a lot of success. Hopefully we are smart enough and professional enough that that won't be an issue and we will come to work. I think that the challenges that lie ahead for us at the end of the week will help us with that in the form of the Cleveland Browns at their place, in front of their people. A lot has been written and said about what that team is capable of here in '08, and deservedly so. They have six Pro Bowlers from last year and they went out and got some big-time players in free agency. Offensively, Derek Anderson leads the charge at quarterback. They have guys like Braylon Edwards and Kellen Winslow at wide receiver. Jamal Lewis is a tough guy to deal with; we have to tackle him; it all starts there. Their left tackle, Joe Thomas, is as good as advertised when they selected him in the first round of the draft. Defensively, they made what they really think are improvements, and I would have to agree with them, up front, in Shaun Rogers, who is a very big, powerful and athletic man. We will get to know a little bit more about Justin Hartwig pretty quickly here this weekend. He is going to be a force to be reckoned with, as is Corey Williams, who they picked up from the Green Bay Packers. (With) Robaire Smith and Shaun Smith, they have big people up front who they play behind. Those guys are capable of dominating the line of scrimmage and you guys know how we like to play football, so that is going to be a tall order for us. (Kamerion) Wimbley is a very capable right outside linebacker and Willie McGinest has been doing it for a very long time at a high level at the other outside linebacker position. Sean Jones is a very capable safety; he directs traffic for those guys in the back end. I think that what has kind of been lost in the midst of some of the high priced or big names that they have gotten in the free agent market, they have gotten guys like Terry Cousin who can play and they also picked up Travis Daniels who has starter experience from the Miami Dolphins here of late. The special teams game, you know of course, starts with Joshua Cribbs. He is arguably the best in the world and I think that there is only one other guy who has an argument when you talk about what he is capable of doing as a punt and kickoff returner. We roll sleeves up and go to work; it is a big week for a lot of reasons, but more than anything, we are going to play a great team in a hostile environment on Sunday night.
 
When you watched the tape, are there things that you still need to do better?
I am not going to complain about winning by 21 points but some of the things that you begin to know about yourself when you get in games that come down to the wire are still unanswered for us. We talk about situational football and it defining us, and it defining individuals and teams; two-minute drills and so forth, four-minute football and things of that nature. Those things remain unanswered with our football team. When the rubber meets the road, how will we respond? We will probably see on Sunday night because this is a very good football team that we are going to face.
*
*Do you anticipate that it might be less difficult for Cleveland to focus after losing Sunday?
Invariably, people get better between Week 1 and Week 2. We have evidence that they are capable of putting what happened in Week 1 behind them and then (go) and get better. We were fortunate enough to go there and beat those guys in their place in Week 1 of last year, and they came out and hung 51 points on Cincinnati in Week 2. I think that is all of the evidence that we need. The guy under center was a guy named Derek Anderson, and that will be the guy who will be under center when we step into the stadium and play those guys on Sunday night. I know Coach Crennel; they won't blink because they are professionals and they are good at what they do. Based on what happened to them, it will be an edge to them; they will have each other's attention and they will come to play. We expect that on Sunday night.
 
Is the four-minute offense where you try to grind out a win at the end?
Yes.
 
How did you think that Rashard Mendenhall did at that and how do you think your team as a whole did with it?
Of course we didn't do very well. We had some three-and-outs there in the fourth quarter. That is what it is and hopefully we will have another opportunity to do that here soon because that means that you are ahead. We are a team on the rise, hopefully; we are a team that is hoping to get better every week; we are a team that is looking to get better every day. He is not a finished product and we aren't either. That is the way that we will approach it.
 
Is Ben (Roethlisberger) ok?
Let me run down the whole list of guys since you brought that up. Ben has a sore shoulder. He is probably going to be limited tomorrow. We will see what he looks like when he comes in here tomorrow. I just met with him; he was in the building getting treatment. It was just a little sore from playing in the football game. Marvel Smith has what can be characterized as a groin strain. He will probably be limited here in the first part of the week. Deshea Townsend has a heel contusion; same goes for him. Other than that, we are a pretty healthy football team; we better be.
 
Is Sean McHugh good to play this week?
Yes, he is going to practice tomorrow.
 
Will how Jeff Reed kicks factor into the coverage, especially with Joshua Cribbs back deep?
It is kind of like pass rush and pass coverage; they go hand-in-hand. Jeff has done a nice job for us, particularly last week, spraying the ball around a little bit. Houston had a very reputable guy in Andre' Davis. There is one Joshua Cribbs and we are going to see him on Sunday so Jeff needs to be at his best and we have to be at our best as coverage people. No question what he did to us in the past was very critical in terms of how the game played out. We have a big windshield and a small rearview; we are going to prepare for what lies ahead this weekend. Some of the guys who are major contributors on those units were not here a year ago, or had different roles. We are going to leave those bags behind and go compete against somebody who is one of the best in the world. It is a big challenge and one that we hopefully look forward to.
 
Who are the guys who have stepped up on the kick coverage units?
It is very early. Guys who played well for us the other day, I liked what 22 (William Gay) and 37 (Anthony Madison) do as a tandem. They have very similar jobs, whether it is kickoffs, punt, or punt return; they are really the same guy. They are coming into their own in terms of embracing those roles. They are much better as we sit here today than they were a year ago. I like the direction that those two guys are moving. It was a good start for our rookie, Donovan Woods, but it is week-to-week with him. We will see how the rookie roller coaster treats him this week. Keyaron Fox has been a nice addition to us; Andre Frazier is a very stable and dependable guy; Carey Davis has been a core special teams guy for us. We like our cast of characters. We have some questions that need to be answered, and the only way that they are going to be answered is with quality play.
 
What makes Cribbs so good?
He has great vision; he has very nice quickness; he can stick his foot in the ground and change direction. More than anything, he is fearless. He is fearless as a kick returner; he is fearless as a punt returner. This guy is used to having the ball in his hands and he is a competitor. He is used to the outcome of games being decided with how he performs. We are talking about a quarterback that dominated the MAC conference for the four years that he played in that league, running and throwing. He loves having that on his shoulders and it shows in how he plays.
 
Do you see Sunday night as an opportunity to deliver an early knockout blow to a division opponent?
We are not interested in knockout blows and statements. We live week-to-week and day-to-day at this point. We will try to prepare ourselves for Sunday night and hopefully play well enough to win.
 
Were you pleased with your special teams' play?
I was.
 
Reed's squib kick that resulted in a touchback wasn't designed?
I know that it wasn't designed. That was a nice coaching plan though; we worked on that, he and I. Sometimes that happens.
 
Will you try to give Cribbs different looks with popup punts, etc?
Yes, with the popup kick, with the direction in terms of where the ball lands. We will try to keep it out of the middle of the field; some of the things that you try to do when you play quality kickoff returners. He did a nice job (with the squib).
 
Could we see that again this week?
Hopefully it is not right in the middle because we know what he is capable of doing with the ones that go right to him.
 * 
*How do you see your offensive line faring against their pass rush?
Romeo Crennel and Coach Tucker over there, I know those guys, and they are good defensive coaches. What they did against Dallas is no indication of what they are capable, willing or going to do against us. We have to be prepared for whatever they throw might throw against us. There is going to be some things that are unexpected; that comes with the territory when you play a team that you play as often as we do, Cleveland, and you play them this early in the year. There is some element of their plan that they have been working on that hasn't showed up in Dallas and it hasn't showed up in the preseason. It is going to show up against us; defensively, offensively and on special teams. We expect that, and that is why we play real football. We have to have a general idea of how we all come together and play the unforeseen. That is probably going to be big in terms of how this game unfolds.
 
How much further along does Limas Sweed need to come to dress?
It is day-to-day; he has to continue to get better. When we get there I will let him know and I will let you guys know.
 
Is it a process then in practice?
It is really nothing that is complex at this point. We are trying to win games; we are putting the best players that we feel at this point would help us win on the field. It just happens that at this point, Dallas Baker is better right now.
 
Does LaMarr Woodley complement James Harrison well? How exciting is that?
It is exciting because those guys have the everlasting hunger that you appreciate. They are going to compete against each other, they are going to compete against the people that we are going to play and they compete out here in practice; that is what they do. You like to have those kinds of players around. I think that they feed off of each other. I know that I would draw energy off of players like that. It was a good game so we will see if we can have another one of Sunday night.
 
Do you or the players buy into the renewed optimism going around the city after your big win, losses by other AFC teams and key injuries around the league?
I will let the players speak for themselves but it all evens out in the end. You guys know how I feel about that. Injuries are as part of the game as blocking and tackling. We had a good performance on Sunday; we are 1-0 and glad to be. We have a new week, we have a new challenge. We are trying to search for another win. In terms of injuries, it happened to some significant people in other cities this week; at some point it is going to happen to us. That is part of football. We are all defined by our ability to make quick adjustments and move on, and understand that the standard of excellence doesn't change. I know that those guys in New England intend on playing to win this weekend.
 
Do you use the other AFC losses as motivation with your guys?
We focus on the Pittsburgh Steelers. We play the Cleveland Browns this week and they won 10 games last year. They have a bright, young, star-studded lineup. We have enough to worry about.
 * 
*How did your return game do, especially Rashard Mendenhall?
I thought that he did a nice job in the kickoff return game putting the ball where it was supposed to be placed in terms of the return game. He fielded the ball and he ran vertical. We were a couple of blocks or a little space away from doing something significant. I like where he is; I like where our kickoff return team is. We played a veteran punter in (Matt) Turk who sprayed the ball around pretty good, so we weren't able to get the punt return game going. We don't have a clean evaluation as to where we are in that regard. But I like where Rashard and our kickoff game is at this point.
 
When Mewelde Moore took that knee there, were you worried that the play was still live or was it considered that he gave himself up?
I was concerned about that, and thankfully the official blew the whistle because it is kind of like boxing, you have to protect yourself at all times. I didn't think that he did that on that play. The whistle is what brought the play to the end. I don't think that he was thinking about the college rule, he is a veteran player. I am glad that they blew the whistle. That was Mewelde Moore, not Mendenhall. Mendenhall has enough on his plate for you to add that in.
 
What did you see with the two sacks that you allowed?
One, we made adjustments to pick up pressure that we identified and we didn't get the job done; we turned a guy free. As much as you sit in here and talk about a guy like Mario Williams, and that you have to worry about a guy like him beating you, you make it easy for him when you let him free. That is what happened on one. On the other one, he just made a nice rush; that is football. He is as good as advertised.
 
Did you like what you saw of Nick Eason, and where is he compared to last year?
Of course he made some nice plays for us; we played a lot of people and that was our intent. Nick is a valued member of this team. He has a nice, upbeat personality; he comes to work every day. I thought that he reported to camp in much better shape than a year ago and I think that his game is going in that direction because of it. I think that he has some comforts and continuity with the techniques that we coach and the things that we ask him to do, so he is a better player than he was a year ago.
 
Did Troy Polamalu show any rust after not playing much in the preseason?
I'll tell you, when he came up and hit Ahman Green there in the flat, I stopped watching him because I knew that he was back. He ran around and he was Troy; we need that from him. I thought that he delivered.
 
Does the talk about Cleveland being the team to beat motivate you or do you still consider yourselves the team to beat?
I was one of the ones that said that they are the team to beat. Whether or not people agree with me, it is a tall challenge. Hopefully it motivates us; it better motivate us because it is real. That team won 10 football games last year and got better in the offseason with some free agent acquisitions, trades, and the like. You have to respect that I and think that we do.
 * 
*What were your thoughts on Anthony Smith not dressing for the first time in his career?
It really wasn't about Anthony per say; it was really about September football and being able to wage the battle of attrition on the lines of scrimmages. At times we have dressed seven offensive linemen; we dressed eight on Sunday. At times we have dressed five defensive linemen; on Sunday we dressed six and played all six a bunch. That was what it was all about for us. We didn't want to be down and tired in the fourth quarter of a football game with our big people. A lot has been written and said about the age of our defensive line; maybe there is strength in numbers and maybe we can keep the old guys up if we play a bunch of them. That was the approach and it really wasn't about Anthony Smith or any of the other guys that we chose to deactivate. It was about that strategy.
 
Did special teams personnel play into that decision?
Really it didn't because when you talk about playing a bunch of big people, it really doesn't help your special teams. That is one less cover guy, one less guy such as Anthony Smith, running down. We felt that it was that important based upon the battle that we face here in September.
 
Do you anticipate taking that approach throughout the month?
We will play it by ear and see what happens.
 
Are you comfortable dressing only three safeties?
We talk about position flexibility, and William Gay has played a bunch of free safety for us in training camp and in the preseason, and even dating back to late last year. We have three safeties suited by position, but we had a fourth guy that was capable of finishing the game out at the free safety position if the unforeseen happened.
 
If that would have happened, would Tyrone Carter have played free safety or would Gay have played there?
Tyrone Carter was the third safety so two things would have had to have happened for William Gay to play.
 
Does Willie Parker need more conditioning?
We will see what we can do. If that is what he needs then we will provide him with what he needs.
 
Did you expect him to have that third of fourth gear?
I did. Hopefully he runs enough this week where he is tired.