When Matt and Julie Feiler shared the news on social media back in October that they were expecting their first child, never in their wildest dreams did they think the last few months of her pregnancy would be the way it was.
When the United States basically shut down in mid-March because of the COVID-19 pandemic, Julie was just a month and a half away from her due date. Their lives were slightly turned upside down, with the top priority being safety.
"We were trying to stay at home as much as possible, limit contact with people as much as possible," said Feiler. "We were trying to disinfect everything and clean all of the time."
But as we all know, babies aren't going to wait for a pandemic to end. When they are ready, they are ready.
"It was definitely nerve racking," said Feiler. "Before Julie and I got to the hospital, we had heard in New York there was a law that it was only the mother who was allowed in the room during labor, they weren't allowing the father in there."
Feiler said he was relieved when he learned that wasn't the case in Pittsburgh at UPMC Magee-Womens Hospital, where the delivery went off without a hitch.
"We were hoping that wasn't going to make its way to Pennsylvania, and luckily it didn't," said Feiler. "We had a protocol we had to go through when we got to the hospital. We had to wear a mask the whole time. It was just a very different atmosphere than I was expecting to have to bring a child into."
Thankfully, though, all went well on April 29, when Emery Rose Feiler, seven pounds, 6 ounces and 21 inches long, was ready to be welcomed into the world, even if it was during a pandemic.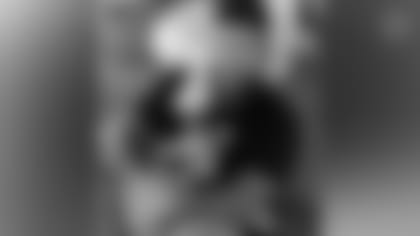 "It was awesome," said Feiler, who will be celebrating his first Father's Day this weekend. "There is no other feeling to describe it. It is unbelievable. It was one of the happiest moments of my life, seeing her for the first time, holding her for the first time, looking at her. It's indescribable."
And even Feiler, who is quiet, stoic, and doesn't wear his emotions on his sleeve normally, couldn't hold back.
"There were tears," he admitted without hesitation. "I teared up a little bit."
Since they have been home from the hospital, they have been handling things the same way they did before Emery was born, staying home and keeping her as safe as possible. It hasn't been easy as everyone wants to see the little princess, but they are playing it safe.
"We have been keeping our distance from family a bit," said Feiler. "We have been doing zoom calls. They have seen pictures and videos, but we haven't had anybody here to see her yet. It's tough. We want to have our families involved with her growing up. They all understand why we are being cautious. It's hard, though."
Normally this time of year a good portion of Feiler's day would be spent at the UPMC Rooney Sports Complex for the team's OTAs, and soon minicamp. Instead he is spending more time at home, helping Julie and getting valuable time with Emery.
"I try to help out with the baby as much as I can and give Julie some rest. It's like a paternity leave," said Feiler. "I am trying to be as involved as I can."
And that means doing all of the daddy things, including changing diapers.
"The first diaper I changed on our daughter was the first diaper I have ever changed," said Feiler. "And it was a dirty diaper. But they rely on you for everything, so you have to do what you have to do. She is always falling asleep in my arms when I am holding her. She is definitely a daddy's girl."
While Feiler is spending a lot of time right now doting on Emery, that isn't the only thing he is doing.
He has regularly taken part in the virtual offseason program, participating in the zoom meetings and working out on a regular basis.
"I have been trying to workout whenever and however I can," said Feiler. "I have some equipment at the house I use. I have been able to find some fields to do some running in. I have been working out four to five times a week and trying to stick to my normal routine as much as possible."
Feiler has teamed with Zach Banner, as well as Chukwuma Okorafor, when possible for workouts. It's been a huge benefit for him, giving him that connection with his teammates as well as having someone there to hold him accountable.
"You get so used to being around your teammates and having that camaraderie," said Feiler. "It's not like you would get at the facility, but it helps. We are competitors playing sports. We are competitive at heart. It's nice to have someone there that you can look at and keep you motivated and moving forward. You hold yourself accountable. You don't want to leave the other guy hanging. Even if you are having a morning where you aren't motivated, don't feel like showing up, you know the other person is going to show up, so you have to do it."
The virtual meetings aren't what Feiler expected to be taking part in this offseason, but he is adapting to a different world.
"It's definitely different. It's very different," said Feiler. "You are used to being in the classroom setting with your teammates right in front of you. Being able to bounce ideas off each other in person. Now you have to be on the same page when asking or answering a question over a computer, which can be difficult at times. Now that we have been in this a few weeks it's starting to go a lot smoother.
"I am always going back and checking my notes, a refresher to remind myself you always have to look at the notes even from the previous day and look at the stuff you have been learning. But I miss being out there on the field and being able to play football."
The tightness of the offensive line has been huge, though, for Feiler and others to get through this time.
"We have an offensive line group chat that we involved everybody and keep in touch," said Feiler. "With the virtual meetings, you don't get the full effect of meeting a new teammate. You have to bond with them as best as possible virtually. When we do meet face-to-face, we can continue that bond. We have a good group of guys. We are all pretty close. Over the next few months, we will continue to grow relationships with the new guys and keep the continuity as much as possible."
While he is welcoming new teammates, he is going to miss some as well. B.J. Finney, one of his closest friends on the team, signed with the Seattle Seahawks this offseason, while Ramon Foster, a staple on the line, retired.
"I was kind of shocked about Ramon," said Feiler. "We are going to miss the guy. He has been a mentor to a lot of people in the room, including myself. When you lose a guy like that, it kind of sucks. But he has had a great career and he can look back at it and be proud of what he has done."