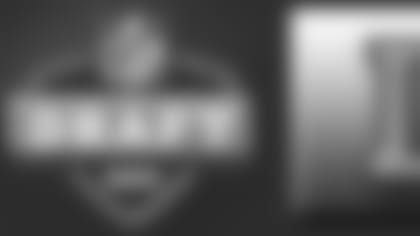 2009 PITTSBURGH STEELERS DRAFT APRIL 25, 2009 DAY ONE WRAP-UP PRESS CONFERENCE**
Kevin Colbert:Thank you guys for sticking around. The action in the second round got fast and furious. Quite honestly, we were entertaining trying to go up. Really, we didn't want to vacate the premises. We are extremely excited and happy to get a young man like Evander "Ziggy" Hood. I think that is the last time that you will hear him referred to as Evander. He goes by Ziggy; I think that is the name of his grandmother. He is a special guy – he really is. That was evident the first time that we met this kid. We liked him from a football standpoint when we saw him play in the fall. It was exciting to see him available when we were picking at (number) 32. He was just somebody that we felt good about from the first time that we scouted him until when we saw him at the Senior Bowl. When we met up with him at the Combine, everything kept adding up that this is a high-quality player and person. The nice thing is that he is a defensive lineman. He has a lot of versatility. We think that he can play defensive end; we think he can help at nose in our scheme; we think he can be a real good inside pass rusher in our sub (packages). I am probably over-stepping my bounds so I will let the coach expound on that. Again, he is a high-quality guy. He has already graduated. There are so many superlatives about this kid that we are excited to get him in here and get to work.

Coach Mike Tomlin:Ziggy Hood is a Steeler type of player – there are no holes in this guy. We felt good about the information that we acquired on this man after the Combine that he really wasn't under consideration to come in here for a visit. He is a high character guy; he plays; he has a hot motor. He loves the game of football. He was described by many members of his team who went high today as their guy. He is a captain, leader and good football player. We are excited to add him to our fold. He is a guy that will fit in pretty quickly from a personality standpoint. What he is capable of doing on the football field will help us.

Why did you trade down?
KC: It was a chance to pick up some extra picks. It was a nice group of guys left and rather just taking one of those guys a think we will have a good chance at getting three. It was inviting. Like I said hopefully we'll come out of it with three quality guys tomorrow.

When you were trying to trade up were you searching for a certain guy?
KC: No not really there were guys, not just one player. There were still players up there that we valued more than were we were picking at that point, and that is why we were willing to go up. Really nothing ever materialized, teams said they would call you back, and they would call you back and say they were going to make a pick. We were willing to stay there to see if anybody would. I said last Monday we may trade up, we may trade down. We got to the point were we looked at what was left in the second round and thought this was the better option, the Denver deal.

Was it unexpected that Ziggy was still there at the bottom of the first round?
KC: We knew it would be close. High-quality defensive lineman, we were excited that he was there at 32. Surprised, probably pleasantly surprised, yes. Did we think it was impossible, no, but the probability, I didn't feel good about the probability of him making it down to us.

Can you confirm the Hines Ward contract extension?
KC: No, we don't have any signed contract so we won't confirm anything at this point.

*
* *
* *
*RE: Ziggy is a little different than the typical 3-4 ends that you use.
MT: I wouldn't necessarily agree with that. This is a 6'3" 300-pound man. There are not many of those body types, he was one of the few. We are very comfortable with his capability of playing a 5-technique in a 3-4 defense.
* 
*Will you line him up initially at right or left end?
MT:We will let him get in where he fits in. He will have some quality people to work behind in Aaron Smith and Brett Keisel. Hopefully, if he has a little position flexibility, that will help him get on the grass.

Did you struggle at all in the first round picking between and offensive or a defensive lineman?
KC: We had several options as it unfolded. This kid was certainly one of the options that we were really interested in. There were a lot of quality players that came off before us. Again – I said this before – there were plenty of guys that could help this team. He was one of them. When we looked at him when we did our own mock situations, we thought if this guy is available, he is somebody we would want. There were several guys like that. Realistically, there were four or five guys that we would have felt good about getting at 32, and he was one of them.