Before he headed to Pittsburgh for the Steelers offseason program, Isaiahh Loudermilk was hanging out at home in Howard, Kansas, literally surrounded by family and friends.
That is because everyone in the tiny town of Howard, population 602 as of 2019, knows everyone else. Especially Loudermilk, one of their most famous residents who was drafted by the Steelers in the fifth round of the 2021 NFL Draft.
"It's extremely quiet there," said Loudermilk. "It's in the middle of nowhere. It's home for me and everyone who lives here. It feels like family. I can walk down the street and every person I see I know. I am close to all of them. It's amazing. I have been able to take some walks, go out to eat, and see the people I have grown up around, people who raised me. They know me. I couldn't imagine growing up in a better place, better community. I love having my family here and sharing it with my community.
"The reaction from everyone has been incredible. I am blessed to have all of these people in my life. I am hearing from so many people. This community is so tightknit, everyone is congratulating me. My grandma and grandpa have been hearing form their friends."
Loudermilk's mom, Stacy Howell, works at Batson's Drug Store in Howard, a local staple where everyone knows her and the congratulations have been plentiful.
"People come up to her, saying congratulations, telling her they are happy for me," said Loudermilk. "She is getting more people coming up to her than I am."
While at home before being drafted, Loudermilk did what you do in Howard, which he joked for a minute, was 'not much.'
But it's a place where outdoor activities are plentiful. Where enjoying the simple pleasures life has to offer is the standard.
"When I am home, I will go out and ride around on the four-wheeler, fish and hunt," said Loudermilk. "We'll go to the park and shoot around. There are some local places to eat that are delicious. I get as much as I can of that while I am here. There are no movie theaters. You just have to find ways to have fun outdoors.
"It's a big farming place. I could probably drive across town in two minutes then the outskirts are farms, open land for miles. It's what I like. I grew up here. Once I got to the big city it was different. I love coming here to visit. It's a different type of living. It's the perfect place to be, winding down, taking it all in. It's not busy. It's beautiful. I can just relax. I couldn't think of a better place to be."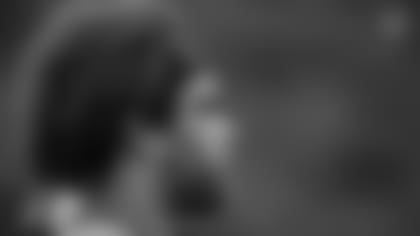 Loudermilk was a standout at West Elk High School, but it's a school where being a standout doesn't always garner a lot of attention. West Elk is a school where grades kindergarten through 12th grade are all in the same building. He played eight-man football, a scaled down version of the traditional 11-man game because they simply don't have the numbers to field the full team. But as we have heard, where there is talent it will be found.
"To come from where I come from, playing eight-man football, kind of not thinking I would get recruited seriously because of the small town, not playing tradition football," said Loudermilk. "I didn't know how recruiting would go. Everything started coming fast at first. Some small schools, junior colleges reaching out to me, telling me I had to develop more because I was playing eight-man football. Senior year I was 6-6, almost 290. The size was there. It was people trusting if I could switch to regular football. I was able to do that. Recruitment was hectic. It all just hit at once. It was like one offer came in and then coaches were reaching out every single day after that. I am thankful for all of that. I picked Wisconsin and that was a perfect choice for me.
"I knew if I put my head down and worked, something good would happen. I have more work to do, but I am happy to put the high school on the map."
While all of the excitement of recruitment was going on for Loudermilk, there was something missing. Or rather, someone.
Loudermilk's biggest fan, the one who would tell everyone he saw that Loudermilk was being recruited, was his cousin, Damon Wilson. Wilson was younger than Loudermilk, his best friend and basically a brother to him. On a spring night, Wilson and Reid Russell, another close friend of Loudermilk, were killed in a rollover car crash.
The loss of two teens in such a small town hit everyone hard, especially Loudermilk.
"When that happened it kind of just shut down the whole community," said Loudermilk. "Not just this town, but the surrounding towns we would travel to play sports. That kind of stuff just never happened here. For it to happen in my family, it was absolutely devastating. The community was devastated.
"Growing up, me my grandparents, uncles and aunts and cousins were neighbors. Every single day we saw each other, we hung out together. If one family was doing something, we were all doing it. We were as close as we could get. He was a brother to me and when all of that happened it was extremely hard.
"Everyone was able to rally around each other. That is the good thing about being in a small community. There is a lot of love and support from everyone. They helped me and my family get through it all."
Since their death, Loudermilk writes the initials of both Wilson and Russell under his gloves on his wrist, a way to honor them and keep them close.
"It's something I will never forget, those two," said Loudermilk. "They will always be with me. I will always be playing for them. I feel like they are there. It's something I will always be doing.
"On draft day, once I got the call, my other cousin was with me and I shared everything with him. Damon was my biggest supporter when I was getting recruited. He would go up to people and tell them I was getting recruited. He was happy as can be for me. Being able to make it as far as I have, I am extremely happy because I know he is extremely happy for me too."