Get to know Steelers offensive tackle Anthony Coyle
Anthony Coyle
Offensive Tackle
Fordham University
Most entertaining person you follow on social media? 'The Rock,' Dwayne Johnson. I like how he is always working hard. He posts a lot of workout videos in the gym. He is a very motivational speaker. He always quotes hard work, dedication, that kind of stuff.
Must have food? I love tacos. Taco Tuesday is a thing every week for me.
Must see show? Game of Thrones.
Morning person or night owl? Night owl.
Who is your football mentor or inspiration? My twin brother, Robert. He is my twin, but he isn't the same size, but still has the heart. He was never able to get to this level because of his size, so I always keep going for him because of what I was gifted with.
What is like being a twin? Growing up it was good because you always had someone to go play ball with or do something fun with. You had the same friend group and that was good. We got in our competitive fights, but we still love each other.
What motivates you? My son, Anthony, Jr. He keeps me working hard every day. Keeps me going. I want to get up early and go workout, do meetings, and keep playing football so he can see me when he is a little bit older and knows what football is. He knows his dad was playing and he can watch me.
How good had it been to have time with him during quarantine? I know if I was at OTAs I wouldn't see him as much. Since he was born, I have spent the first six months with him. He is growing and changing every day. I am getting to work from home and still get the knowledge from the game inside and be there for him these first few months.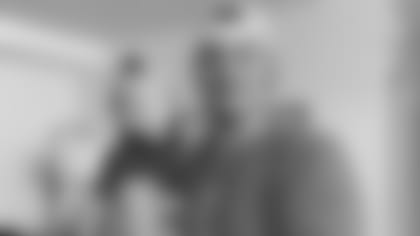 When did you start to dream about playing in the NFL? I didn't play football until my first year of high school. I always watched NFL football. I always played flag football and other sports. My senior year in high school I thought I want to pursue this. I want to get a college scholarship. I want to play in the NFL one day.
Why do you play football? I love the brotherhood behind it. The locker room feel. No matter where you go you have that camaraderie in the locker room, everyone wants to hang out, off the field too. Everyone is always backing you up. You have support from your teammates. That is why I keep going.
How tough has this offseason been not having that locker room feel because things have been virtual? OTAs is the base ground where we could go and get to know each other. After a Thursday or Friday workout that is when we would go out to dinner, go to someone's house, hang out and get to know each other. Not having that it sets us back. When we get to camp, we are more focused on making the team.
What is your proudest football moment or memory? I am from Staten Island, New York, and we played at Yankee Stadium for my two city championships in high school and in college I was able to play for a third time. Just growing up a Yankees fan and playing in Yankee Stadium was historic for me. Going back the third time and being able to win, being there with my family and everybody there, it was fun.
When you hear Steelers football, what do you think? I know the fans are crazy. They love the 'Burgh.' My cousin is a big Steelers fan and he tells me all about it. They love their football there. I am looking forward to being there.
What have you learned about yourself during quarantine? It gave me a chance to sit back and look at what I want to do and how serious I want to go after my dream. I sat back and had time. I want to pursue this goal to the highest of my ability and give it everything I have until I can't anymore. I know that isn't the time right now. I want to be great and I hope I have that chance in Pittsburgh.