The Steelers are continuing their support of the Girls Flag Football League in Pittsburgh, helping to promote and grow the league during their 2023 season. There are 17 schools participating this year, up from six in 2022, with some of the schools having multiple teams because of the popularity. Throughout the Girls Flag Football season, Steelers.com will be bringing you feature stories, photo galleries and a wrap-up video at the end of the season.
Today's highlight is Sadie Snatchko, who plays for West Allegheny's High Schools flag football team and also is a race car driver at Pittsburgh's Pennsylvania Motor Speedway.
School: West Allegheny High School
Plans for after high school: I'm going to go to EMT school, then after a year or so of being an EMT, I will go back to school to be a paramedic.
Why did you start to play flag football: Me and my friend, Tati, heard on the announcements at school that there was a jamboree happening, so we decided to sign up. Both of us ended up not going because it was out of our comfort zone but then we decided we'd both sign up for the team and make each other go and try something new.
What do you love about the sport: My favorite thing about the sport is that I get to play with a team. When I race it's just me and the car, but in football I have learned how to play with a team.
How much do you hope for the sport to continue to grow for girls at the high school level: I thought it was cool to be a part of the inaugural season and would love to see the sport become sanctioned soon.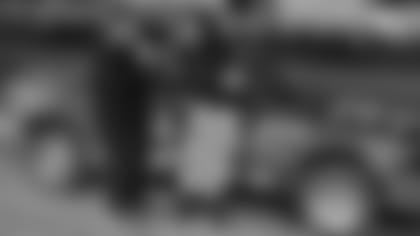 While you're playing flag you are also racing at Pittsburgh's Pennsylvania Motor Speedway. How did you get involved with that sport: When covid first happened the only thing I was involved in was musical theater and it was obviously shut down because of the virus. My parents didn't want me sitting around with nothing to do, so they said I had to find something else to do. At first my mom wanted me to play golf, but I immediately turned that down. Then my dad asked me if I wanted to build a race car and I said sure, so we built one all through the winter and my first season started in May '21.
What are the challenges: There have been many challenges since I've started. In the beginning it was a ton of work for my pap, dad, and myself to get the car ready. Then personally, my biggest challenge was actually driving the car for the first time. I was 14-years-old when I started so I had never driven a car before. Now I struggle with trying not to be overly competitive and as hard on myself.
What is the most exhilarating part of it: Usually I get the biggest adrenaline rushes when it is a super close race between myself and another driver.
How have you fared: I didn't have any wins my first season, but we did some work to the cars before last season and I ended with two feature wins, one heat race win, and six top three finishes.
How is it to compete in a sport like flag football compared to an individual sport: It was definitely a big adjustment going from an individual sport to a team sport. I've had to learn how to work with others and depend on others, where as with racing I was completely in control of the outcome.
What do you enjoy doing other than the two sports: Before racing and flag I was involved in musical theater. I had been in musicals since fourth grade. When I was in middle school, before I became a driver, I was singing the National Anthem at the track. I still do high school musicals and I'll be singing the National Anthem again this season. I also really enjoy hanging out with my friends, sister, and my cat, Whiskers.