The Steelers are continuing their support of the Girls Flag Football League in Pittsburgh, helping to promote and grow the league during their 2023 season. There are 17 schools participating this year, up from six in 2022, with some of the schools having multiple teams because of the popularity. Throughout the Girls Flag Football season, Steelers.com will be bringing you feature stories, photo galleries and a wrap-up video at the end of the season.
Today's highlight is about North Allegheny giving back.
As a part of Cameron Heyward's 'Cam's Kindness Week' last season, the Steelers defensive tackle made a $10,000 donation to the Girls Flag Football League in Pittsburgh.
The Steelers have worked closely with the league in Pittsburgh, launching a program to encourage high schools in Pennsylvania to sanction girls flag football.
"It's cool to see the way women's sports continue to pick up," said Heyward at the time of the donation. "I want to be an advocate for that. Football in Pittsburgh has always been big. I am excited I got to meet some of the girls and let them know I want to support everything they do."
What Heyward didn't fully know is how much that donation meant to the organization and the teams that played at that time, which was only six but has now grown to 17.
One of those teams is the North Allegheny Girls Flag Football team. They received $1,500 from Heyward's donation and were on hand for the check presentation.
"This past fall, Cam had some of us from the Girls Flag Football League down for practice and he gave us a check to support us," said Michelle Ruiz, one of the North Allegheny coaches. "The bigger piece of that was the fact that he really loves flag football. He loves that girls are playing that. He expressed that. He shared that with us, and it meant a lot."
It meant so much that Ruiz and the team wanted to do something to thank Heyward. They hosted a middle school flag football tournament and they decided to donate all the proceeds to The Heyward House, which is the foundation he runs.
"What he did made me want to push to give back to his foundation," said Ruiz. "He gave us money, well we wanted to give back to him to help his foundation. Everyone was on board with it. We didn't know how much we would make. We only charged people $1 or $2 for a ticket. We had an enormous turnout which was amazing. It was a lot of fun and shows the growth of it.
"We wanted to support the foundation for helping grow the sport on the high school level and for the youth level so more girls will want to play when they are older."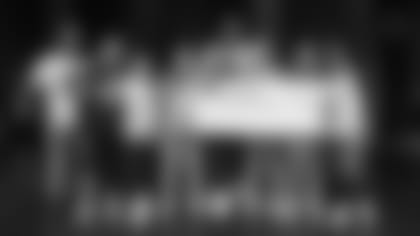 Their event raised $1,400, which was presented to Heyward at the Steelers Draft Party.
"It feels so good to give back to him," said Ruiz. "When we met him, he was adamant about loving flag football. I think that is where he started and started loving the game. That is what we are trying to get the girls to do, love what they are doing, love the game.
"I think there are seven or eight NAIA schools that picked up football as a college sport and a lot of Florida schools that have it as a club sport already. I look forward to the future for it to grow and become an actual high school sport. In some areas it is. But I look for it to be a fully funded Division I college sport. I do look for those opportunities. For Cam to be behind that, the Steelers, the NFL, word is spreading quickly and it's going to just keep growing."
Proof of that growth has been seen locally with the Pittsburgh league seeing a surge in schools this year participating, from six to 17 with some schools having multiple teams.
"I am super excited about it," said Ruiz. "There is no other way to say it. It keeps growing and growing and it's where I hoped I would see it before my daughter left high school. I always wanted to play and there was never a girl's league. It was just co-ed. I noticed it was a big deal when I lived in the South and in Florida, but when I moved back here it wasn't. That is what triggered me to start the girls powder puff teams at the middle school. We do it as a club. It got really big across our district. Then this league started, and it made sense to jump on board. I am excited about what it's offering the girls.
"I see girls growing more and more in football. I see them watching football more often. The interest is really picking up. I see girls that don't play other sports want to play flag football. Maybe they didn't find their place playing basketball or tennis or whatever and they wanted to try this. It's definitely growing and that is a good, positive thing for the girls."
Ruiz is well aware that growth is being spurred from the Steelers and the NFL in general, who featured Diana Flores, the star quarterback of Mexico's gold medal-winning Women's Flag Football National Team, in their Super Bowl commercial.
"Any time the Steelers put their name on something it's going to get a lot more attention," said Ruiz. "They have done a great job promoting the sport. I think a lot of the reason it has grown so fast is because the Steelers are involved in it. There is no way around that.
"I think other people are starting to see it's a big thing. They are seeing more coverage of it. Parents are pushing more schools to get on board with it. They want it in their schools. Everyone saw the commercial and it's helping it grow in the direction we all wanted to see it grow."