Jerry Olsavsky
Tenth Round
1989
Leading up to the NFL Draft, current and former Steelers' players will be sharing their Draft Day Memories, from the time they went to the NFL Scouting Combine, through the moment they were drafted. In this installment, former linebacker and current inside linebackers coach Jerry Olsavsky shared his story.
Jerry Olsavsly's Draft Day Memory:
"After the season some of my coaches said some things and I was pretty sure I was going to get a shot to play. I made one trip to see the Philadelphia Eagles and Buddy Ryan was the coach. It was a lot of fun. Reggie White was there. As April got near and I had workouts and pro day, I didn't have any idea of who might do something. The only contact I had was with the Eagles.
"During the trip to Philadelphia I did some physical things. I think they just wanted to size me up physically. I think they wanted to see what I looked like. It was impressive for me. Philadelphia is a lot like Pittsburgh. They have a lot of tradition. I was pretty excited. I was apprehensive too. You were clueless as to where you might go.
"I didn't go to the combine. I wasn't invited. I don't know how many guys they invited back then. I have always been to myself, doing my own thing. I was going to class, playing in All-Star games and doing well. I was satisfied with my body of work I was presenting. To go to the combine and try to run when I am not really fast, I wasn't disappointed.
"I watched some of the draft. My roommate and Pitt teammate was Burt Grossman and he was a Top 10 pick, he was the eighth player taken that year. Being roommates and teammates, I was excited for him. I knew he was going to go high. The Eagles had a spot, a pick in the second round, where I thought they would take a linebacker. There is a little of that excitement that you might go the first day. When the draft started it was exciting. My family was there. I saw Burt go and then (Pitt teammates) Mark Stepnoski went and Tom Ricketts went in the first round. It was fun to call those guys.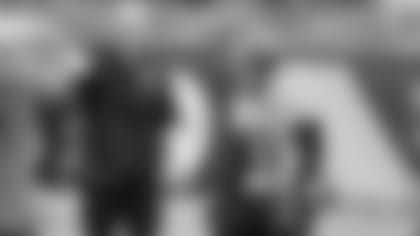 "As the day wore on, I knew I wasn't getting picked then. I was okay with it. I wasn't upset. My mom was upset. Being a mother, she was very proud of who I was and what I can accomplish. She was like everyone is stupid. It was good to start but at the end of the day hard because she was upset. She is an excitable person. She is a mom and she doesn't know how the NFL works. To be honest I didn't either, so I didn't know how to prepare her. She was excited and then as it wore on we did some things. We went to church. We ate and after dinner she went home and was a little upset. She bounced back.
"I don't think anyone called. It was like a normal Sunday afternoon watching a game, but it was longer. I was comfortable that I would play somewhere. That's all that I worried about.
"The first day was three rounds. After my mom left, I thought I have to get up and go to class in the morning. I had a final that day. The draft was Sunday and Monday then. I woke up and there were no messages, so I went to class. It was an afternoon class and I came home. It was around 3 p.m. and I came home and got a call and it was Tom Donahoe. It was the 10th round. He said we are thinking about taking you. Then the phone rang, and it was Tampa. They said we are thinking about taking you with our next pick. They were after the Steelers. Then Mr. Donahoe called me back and said we picked you. I talked to him, hung up, and they called me from Tampa to congratulate me. After that I was happy. I had an opportunity to interview for a job.
"Overall it was uneventful. I was a kid at home and somebody called and said we want you to come work for us. It was less stressful than being a free agent. I called my mom and told her. She was real happy because I got to stay in Pittsburgh. I called my agent. Other than that it was about finishing up school and starting to workout down at Three Rivers.
"The Steelers over the years really hadn't picked a lot of Pitt players. When they took Tom Ricketts it was like wow, the Steelers took a guy from Pitt. It was big news. Later when they picked me it was odd. You plan on moving and getting rid of your apartment. None of that happened to me. I got to stay where I was. It was surreal. I know people, I don't have to move. It was comforting."