Leading up to the 2023 NFL Draft, Steelers players will be sharing their Draft Day Memories, from the time they went to the NFL Scouting Combine, through the moment they were drafted. In this installment, tight end Pat Freiermuth gives his take.
Pat Freiermuth - 2021 NFL Draft - 2nd Round
Things were a bit different for my draft class compared to some others. It was strange because we didn't have the NFL Combine because of covid. That's part of the journey, going to the combine and it's an exciting time. For me, though, I was excited because of surgery I couldn't really do anything at the combine anyway. I would have just been there watching and going through the medical stuff and interviews. I was able to keep doing rehab and wait to showcase my stuff at the pro day.
The good thing is we did have our pro day at Penn State. That was definitely exciting. It was nerve wracking because that's where you showcase your talent in front of NFL personnel. I was definitely nervous. After the day was done, there was a big sigh of relief because you know that's the final interviews. It definitely is a stressful day. But at the end, it was it was great to look back and be appreciative of that process.
The Steelers were at my pro day and our tight ends coach, Alfredo Roberts, was the one who worked me out. He came up to me and asked what my plan was, and I told him, and I was wanning up by myself. He grabbed me and put me through a warmup before the whole pro day. Put me through some drills before everything. We hit it off.
Coach (Mike) Tomlin and Kevin Colbert were there with Alfredo. I just thought they were there for the bigger guys on our team. The Steelers had Eric Ebron already on the roster, so I didn't know if they would want to draft a tight end. It was cool to see them there.
It's kind of crazy at the pro day because your goal is to get to the NFL, and I didn't realize how much the business side and decisions went into everything and how much people have a say. Seeing the intricacies of how different organizations do things, the emphasis they put on it, was cool. Obviously, they are looking around at other pro days before us and after us, but at Penn State we had a big pro day, a lot of general managers, a lot of head coaches. It was cool to perform in front of them. It was also cool to build relationships with other coaches, scouts and general managers through that process.
I didn't interview with Pittsburgh that much for the draft process. I only talked to them once. It was (Matt) Canada, Alfredo, Coach T and Kevin. My agent said they're interested, but I didn't really believe it.
It was a zoom conversation. They all took turns asking questions. There were some jokes. It felt different than every interview I had because it was more laid back and it was more getting to know each other. I feel like that's what the Steelers are like. It was weird doing it on zoom. It's kind of hard to stay focused because if Matt asked me a question, or if Alfredo asked me a question, I was seeing the room and seeing what other people's reactions were. It's very easy to get distracted, but it was a good interview versus some of the others I did.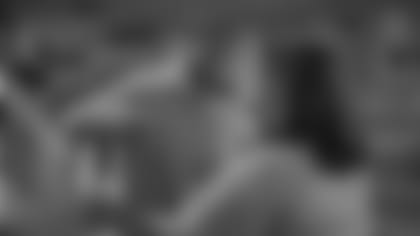 For the draft I had just my immediate family there, my aunt and uncle and my cousins and just certain the family members that have always been there from the start. I wanted to have them there to show my appreciation to all of them. It was great to have that moment with them. Definitely a stressful two days because I didn't know if l was going to go on day one or day two. The wait stinks. The wait for the call is the worst thing in the world. You have to put it into perspective. I was freaking out and it was just nerve wracking.
It was a good issue to have waiting to hear my name being called in the NFL Draft. And to have Franco Harris announce it, I mean I will never forget that. Ever.
You just put in into perspective. My family and I always talk about that the wait so long, it felt like for forever, but once the call came, it felt like the night flew by. My friends were down the street watching it. I went over there to celebrate with them after. It was a great night.
While I was waiting for the call, my phone for some reason, the service at my house was shutting off. There were times I wasn't getting any service. I kept freaking out. I thought I was going to get drafted and then my phone would go off and it was crazy. That was the only really stressful part of waiting for the calls.
When the phone rang, and I looked down and I saw the 412 area code, I went to Penn State, and I knew that area code was close. I kind of knew Pittsburgh liked me a lot. They are such a great organization. You heard so many good things about them growing up, just the rich tradition. It was a sigh of relief.
It was emotional. My mom started crying. My whole family was emotional. It was an awesome time, an awesome moment for everyone to share because all of them were so influential to my success. It was great. It was emotional and special to be a part of. I didn't have any tears that night. I thought I was going to, just seeing all my family cry. I think I was so blown away and everything just happened so quick I didn't really have time to react. I cried a day or two after just kind of by myself.
Getting the call itself was really special. It was Coach Tomlin on the phone, and he had some of his clever Tomlinisms. He asked if I was healthy. He asked if I wanted to be a Pittsburgh Steeler. Coach T was awesome. Then I talked to Mr. (Art) Rooney, Matt and Alfredo. It was a great conversation and one I will always remember.