Jon Kolb
Third Round
1969
Leading up to the NFL Draft, current and former Steelers' players will be sharing their Draft Day Memories, from the time they went to the NFL Scouting Combine, through the moment they were drafted. In this installment, former offensive lineman Jon Kolb shared his story.
When former Steelers tackle Jon Kolb was selected in the third round of the NFL Draft by the Steelers in 1969, it was nothing like it is today.
There was no NFL Network, there was no ESPN coverage, and in 1969, there was no Internet to keep you updated on what was happening round-by-round.
All he knew was that teams selected players on a set day, and if you didn't receive any news, well that meant you probably weren't selected.
Kolb, who played at Oklahoma State, drew plenty of attention prior to the 1969 draft. Teams came and visited him to work him out, and made contact with him, as there wasn't an NFL Scouting Combine at that point either.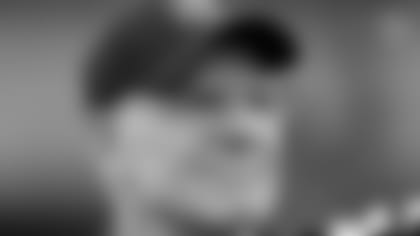 So when draft day came, Kolb was prepared to be selected by a team, pretty much any team but the Pittsburgh Steelers. The Steelers were the one team that didn't reach out to Kolb, and the last place he ever expected to play.
So when he ended up with the Steelers, well, let's just say he didn't exactly believe it as he shared his draft day memory.
"The only team I did not hear from when I was drafted was the Pittsburgh Steelers," said Kolb. "Dallas would come, New England, the Baltimore Colts, would come and work me out because we didn't have combines then. But I never heard from Pittsburgh. People would ask me where I was going and my patented answer was all I know is I am not going to Pittsburgh.
"The day before the draft I got a letter from the Pittsburgh Steelers. I opened it up and it said 'Dear Player.' It didn't have my name. The signature at the bottom was stamped, not signed, so I just threw it away because they didn't know my name.
"Then the draft comes and I thought it was like backyard football. Pittsburgh had the fourth pick that year. So I thought they would just pick and it be over. I didn't know it would take all day. I waited in my room and nobody called, so I went to class.
"After class I went to work out. When I walked into the dressing room Mr. (Art) Rooney had called the dressing room because they just drafted me. All the guys were around the phone because they said somebody named Rooney from Pittsburgh is on the phone.
"He said hello, and that they had just drafted me. I didn't know Mr. Rooney. He asked if I was excited. I thought they were playing a trick on me and found some man to say you were drafted by the Steelers. I thought it was a joke on me. So I was really rude to Mr. Rooney. I was so rude. He told me they were excited to have me come to Pittsburgh and he asked if I was excited and I said no. He said, well were still excited, we're looking forward to seeing you.
"He hung up and I thought that is a terrible trick. That night I thought I have some friends, my roommate and some friends who might be drafted, I watched the news to see where my friends are going. I will never forget the news came on and they said Jon Kolb is going to Pittsburgh. I thought, 'Oh my gosh. That was for real.'
"The very next day I called the Steelers office. I didn't know who to ask for because I was so rude I didn't pay attention. They put Mr. Rooney on the phone. I was almost in tears apologizing. He is so gracious. I remember when I flew to Pittsburgh for the first time they picked me up at the airport and took me to training camp. I get there, get out at Bonaventure Hall and who is there waiting for me, Mr. Rooney. He shakes my hand and is so gracious. I apologized again.
"I remember Mr. Rooney would come into our meetings rooms the first few years when I was coaching. I would stand up and say, I am so sorry I was so rude to you. I really didn't know it was you and he would laugh."