Santonio Holmes
First Round
2006
Leading up to the NFL Draft, current and former Steelers' players will be sharing their Draft Day Memories, from the time they went to the NFL Scouting Combine, through the moment they were drafted. In this installment, former receiver Santonio Holmes shared his story.
Santonio Holmes' Draft Day Memory:
The NFL Draft brings all kinds of emotions out for players, and Santonio Holmes is no different as he recalled his special day.
"It was tears of joy, knowing I had loved this organization as a kid. To get the phone call from Kevin Colbert saying, 'How would you like to play for the Pittsburgh Steelers.' I remember looking over at my mom and whispering in her ear and saying mom, I am going to play for the Pittsburgh Steelers.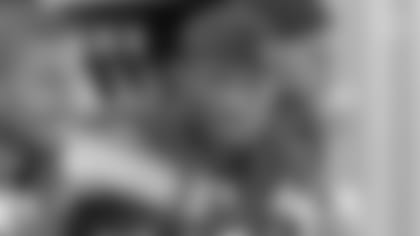 "The tears rolled down my eyes. My step father had on his Steelers apron outside grilling. He didn't know because he was out back. I tapped him and shook my head and he just smiled that I was going to play for the Pittsburgh Steelers. That was one of the happiest days of my life."
Holmes said he knew the expectations would be great as the Steelers were coming off winning Super Bowl XL the year before.
"To know they had just won the Super Bowl, I had big shoes to fill, being the first pick of the draft that following year. Knowing you are the first wide receiver taken in the draft, to the Super Bowl champion team, the shoes felt too big to fill.
"Everyone welcomed me with open arms. They accepted who I was and what I was capable of doing for the team."