"When I first answered the phone, I couldn't even believe it. I just kept asking if this was serious."
That was Alicen Yonts' first reaction when her phone rang on the afternoon of Friday, April 17, notifying her that she had been selected as the winner of the Steelers' 2015 NFL Draft Experience sweepstakes, an exclusive contest for Steelers Nation Unite members.
A few confirmation emails later, Yonts' skepticism turned into celebration as she was receiving the details for her VIP trip to the 2015 NFL Draft, putting her right in the middle of the festivities in Chicago.
When the Steelers pick in Round One, Yonts will be on stage at the Auditorium Theatre of Roosevelt University to present the jersey for the team's first-round selection to NFL Commissioner Roger Goodell. She'll also be walking the Gold Carpet and displaying the team's New Era Draft Cap as part of the Draft kickoff ceremonies. It's an experience she is greatly anticipating, and one she is still trying to wrap her head around.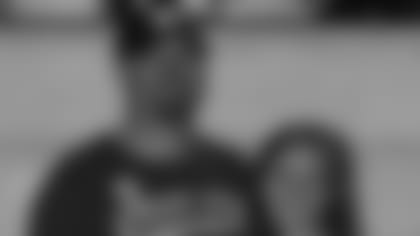 "The only thing that has been going through my mind is how unbelievable this is," said Yonts in a phone interview earlier this week. "It's a once in a lifetime trip."
This isn't the first time Yonts and her husband, Matt, who will be her guest on the trip to Chicago, have reaped the benefits of being Steelers Nation Unite members. During the 2014 season, Matt was selected for an on-field experience, placing the two of them on the Heinz Field grass as the Steelers ran out of the tunnel for pregame introductions.
After joining Steelers Nation Unite to be recognized as an official member of Steelers Nation and to feel connected to the team, she never expected to get from Steelers Nation Unite what she has so far.
"Never in a million years did I expect to win something or be part of any of the experiences we've been a part of," Yonts said. "It's been fantastic."
After seeing the opportunities for members to benefit both at games and at home, Yonts sees no reason why any Steelers fan wouldn't join Steelers Nation Unite.
"There isn't a reason not to join," Yonts said. "It's free and it keeps you connected with what's going on with the team. And to have this [VIP experience] happen through Steelers Nation Unite is just phenomenal."
As for her expectations for tonight and the entire Draft weekend, Yonts is looking forward to being part of the NFL's marquee offseason event.
"I'm just going to take it all in, enjoy what I'm going to be experiencing and be grateful that I'm able to do this," said Yonts. "It's really incredible."
To join Steelers Nation Unite and be officially recognized as a member of Steelers Nation, visit http://steelersnationunite.com/ or the 'Steelers Nation Unite' page on the Steelers mobile app. Joining is free, quick and easy and only requires an email address and a password to sign up.
Check out these photos of Steelers Nation Unite events from throughout the 2014 season.