This is the time of year when NFL players are normally on the field, taking part in OTAs, getting in a good workout and sweat as they take the first big step to prepare for season.
Steven Nelson wishes he was in Pittsburgh right now with his teammates doing just that. But he understands why he isn't. He gets it.
Rest assured, though, he is still getting a good sweat on a regular basis.
"For the past month, me and a couple of guys have been working out in and out of garages in about 100-degree weather," said Nelson, who is in Arizona. "That itself helps you with conditioning. We do a lot of sprints, speed work. It's been good. We have been able to improvise so whenever they do call, we will be ready.
"Nobody is getting an advantage on anybody else. We are all out on our own throughout the NFL. We are modifying our normal workouts. I think that is a good thing."
Nelson, who has been taking part in the Steelers virtual offseason program, said all of the work will help him be ready when the time does come to all be together again. He is also hoping the work will help him have a similar type of season in 2020 that he had in 2019.
The statistic is impressive.
Cornerback Steven Nelson played over 1,000 snaps in 2019 at a position that can be very unforgiving. And he gave up…zero touchdowns. Yes, that is zero touchdowns in 1,000 plus snaps.
That is a stat any cornerback would be thrilled with. And it's something you better believe Nelson is proud of.
"I kind of kept track of that and knew that in the back of my mind, but when that came stat out, you realize it's tough to do," said Nelson. "When you are in the National Football League and you are out there every play, it's tough to not give up a touchdown. It's kind of crazy.
"I take pride in it because I work really hard at my craft. I study a lot of film. I do everything necessary so I can be successful on game day. To see that stat come out, it's fulfilling. I didn't get the splash plays like I wanted, but to not give up touchdowns, you don't want to do that either. That gives me momentum."
Nelson had one interception in 2019, which included a 33-yard return against the Buffalo Bills. But there was so much more he brought to the defense. While he might not have created splash plays, it's a fact that he prevented opponents from having their fair share of them.
"I had high standards coming into last season," said Nelson. "I wanted to make those splash plays everyone notices, interceptions and what not. It's hard to get interceptions when you aren't targeted a lot. That speaks a lot for what I am doing on the field. Quarterbacks aren't seeing anyone open, so they aren't going to throw it. Those are the splash plays you don't see. You also don't see what the front seven are always doing because they are so close to the line, they are working so hard all of the time. The splash plays come from everywhere."
The lack of splash plays might be the only thing that kept Nelson out of the Pro Bowl last year, as numbers are often what people look at rather than the overall picture. But his consistent play, his shutdown ability, contributed in a huge manner to a dominating defense.
"The defense was lights out amazing," said Nelson. "I was glad to be a part of it. We feed off each other. I know Coach (Mike) Tomlin said several times don't be the guy waiting on another guy to make a play. He said you make the play and that stuck with me because if somebody else made a play, it would be, okay, now it's my time to make the play. Or I would want to make the play first. Our defense rallied off that and it was a domino effect.
"We had everybody making plays. That is rare. Usually there are one or two guys on a defense making splash plays. But on our team splash plays came from everywhere, from the front seven, from the secondary. They can come from anywhere because we have those types of guys.
"I really like this defense now a lot just because it's the same defense from 2019. It means we are all going to be closer. We played a full season together. Some of the guys have played with each other before I got on the team, but now having guys you are accustomed to playing with for me, guys you know and have a brotherhood with makes a world of difference.
"We play an aggressive style. I think that has always been in my DNA. I have always been a guy who goes out there with a chip on my shoulder. That gives me an extra edge out there. I always feel like I am the underdog for whatever reason and that gives me the extra push."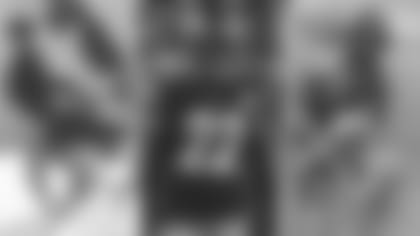 When you hear Nelson talk about his aggressive style, you stop for a minute and think, for real.
This is the same guy who taken advantage of the being at home to dote on his young daughter, Sage, enjoying every minute with her.
"That has been great," said Nelson. "That is one of the things I like about this whole quarantine thing. I get to spend more time with the ones closest to my heart. That is my daughter. It's special. She is still little. This time is vital to her development. I am happy to be around her a little longer until we have to get back to work."
This is the same guy who is quiet and soft-spoken guy and just doesn't scream aggressive.
"It's a big difference," said Nelson of his on and off field persona. "I am competitive. I am one of the most competitive people you would ever meet, but you don't know that because I don't talk a lot. I am really competitive. If somebody does make a play on me, that brings that competitive spirit out. I will be like, man I have to get you back.
"I definitely flip a switch. Sometimes I don't know where it comes from. I turn into a whole different animal, but it works for me."
The off-the-field side works too. Nelson has been lauded by Tomlin for his approach to the game, a low maintenance player who just goes out and does his job, without the fanfare, without any drama.
"I feel like I have always had that approach to the game," said Nelson. "It's gotten better over the years. I was like that in college. I was always serious about what I did. Took pride in what I did whether it was on or off the field. I did the necessary things that people don't see. People don't talk about. That can be extra treatment. Staying around late for extra hour of a massage from a therapist. The little things I always thought mattered so I can be my best on the field. I have always been that way."
His way made him an instant fit in the Steelers locker room a year ago, where the tight bond is based on players who want nothing more than to succeed as a team.
"When I came here, it was amazing to see how close the guys were, even off the field," said Nelson. "It seemed like it was a brotherhood and guys had known each other for a while. It was something I wasn't used to. Guys took care of each other. Everyone had an opportunity to be successful. Everybody had each other's back. That was eye opening and made me want to be a part of it.
"That is a special thing to have guys who want to see you succeed. If they can help you succeed, it benefits the whole team. We have guys like that who understand the process. It's a great thing. I wouldn't want to be anywhere else in the future.
"This is the perfect place, perfect fit. It's like a dream come true. I would have never thought I would be in Pittsburgh. They weren't one of the teams right off the bat that were after me during free agency last year. I didn't think I was going to be in Pittsburgh. It was a blessing for me."