Learn more about Steelers second-round pick Keeanu Benton in this edition of Five Fast Facts.
1. Benton was drafted by the Steelers in the second round of the 2023 NFL Draft out of Wisconsin, one of five players from Wisconsin now on the Steelers roster.
2. Benton was an All-Big Ten third team selection by the coaches in 2022. He played in 12 games, starting all of them. He finished the season with 36 tackles, 10 tackles for a loss and four and a half sacks.
"Big strong guy. Really active. Good hands," said defensive coordinator Teryl Austin. "For a big guy you will see him venture outside the box, chasing things down. He's got a good motor. You can see he's in really good shape when he plays. He plays a lot of snaps. He is an 80-85% guy. He keeps himself in really good shape, really competitive spirit."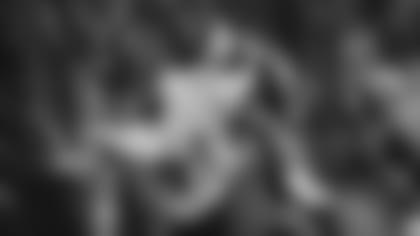 3. Benton was a teammate of Nate Herbig at Wisconsin, and Herbig had nothing but good things to say about him.
"Keeanu was a beast, man. He was unblockable," said Herbig. "I thought he was the best player in the Draft, to be honest. You guys got a dawg in Keeanu, and I think he's going to be a Steeler for a long time."
4. In addition to playing football, Benton was a star wrestler at Janesville Craig High School where he went 127-8 in three varsity seasons.
5. Benton loves to fish, something he does whenever he has the opportunity.
"I fish all the time. Bass. Pan fish. Blue gills. Perch," said Benton while at Wisconsin. "Caught some walleyes. Really good eats."