The 2015 preseason proved beneficial for Steelers Nation Unite members in many ways, and not just on game day.
From exclusive rewards at training camp, to recognition on SteelersNationUnite.com and social media, to on-field experiences on game day, Steelers fans everywhere are finding themselves directly involved with their team.
As the Steelers concluded the preseason last Thursday, Steelers Nation Unite members traveled from as far away as Arizona and Georgia for the contest, and that type of dedication and loyalty deserved to be recognized.
Jody Haid of Fort Benning, GA, attended the Steelers game against the Falcons last season – you remember that, right? It was the afternoon that Steelers Nation invaded the Georgia Dome and made it feel like Heinz Field.
While the crowd and the victory in Atlanta still standout out for Haid, the thrill of standing on Heinz Field and seeing his favorite team up-close during warmups is a memory he'll hold onto for a long time. It was even enough to make them forgot about their luggage being lost on the way to the game.
"It was awesome. Me and my granddaughter, we flew in from Georgia this morning. They lost our luggage but being the Steelers fans we are, we still had extra shirts," said Haid. "And I brought my dad and it's the first time he's seen his granddaughter in seven years. It's been a great experience and I thank you guys."
From what Haid originally hoped to get out of joining Steelers Nation Unite, Thursday's experience was beyond his initial expectations.
"I just thought it was like a social media group at first and everyone was going to get together and connect. But it's been one great experience after another," he said. "Steelers Nation Unite is like a great big family. It's like the military I was in for 20 years. It just brings everyone closer. I've met people from everywhere from Atlanta to Ohio to Minnesota that are Steelers fans."
Steelers Nation even had one of its more well-known supporters at last Thursday's preseason finale. Justine Ezarik, perhaps known better to the social and digital media community as "iJustine," made her first appearance at Heinz Field for a Steelers game.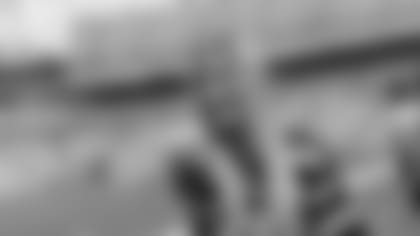 The Pittsburgh-area native, who is also a member of Steelers Nation Unite, checked in at the game and helped lead the Terrible Towel Unfurl before kickoff. Now living in Los Angeles, CA, Ezarik has never wavered in her loyalty to her hometown Steelers.
"I'm from Washington County and now I currently live in L.A. – which is kind of amazing because there are so many Steelers fans and Steelers bars and places to watch Steelers games in Los Angeles. It's an exciting place to be," Ezarik said on Thursday evening.
With a busy schedule, Ezarik watches as many games as she can, often waking up and tuning into the game at 10 a.m., just like many West Coast Steelers fans.
"Here's the thing with the three hour time difference, usually we'll wake up and either go to a Steelers bar or watch the game at somebody's house. But it's usually so much earlier on the West Coast so it's like 10 a.m. and we're watching the Steelers and having a good time," she said.
And when she's on the road or can't watch the game live, she has a backup plan for keeping up with her team.
"The app. If I'm not able to watch the game, I'm getting the alerts and text message updates so I'm always in the know."
As the excitement builds for a new season, Ezarik and all of Steelers Nation are ready to see their team on the West Coast come February.
"This is going to be an amazing season and hopefully we go all the way. Because if they do, I will go to the Super Bowl this year and I will make it happen," said Ezarik.
Here's to catching up with "iJustine" and seeing a lot of black & gold at Levi's Stadium on February 7, 2016.