For athletes who are accustomed to a playbook, a guide on how to proceed through what they do, right now there is no playbook. There is no guide.
There is no right. There is no wrong.
That emotion has been tough to contain, with visible signs of it on the field on Tuesday when the team took the field for the first time after the passing of not just one of their coaches in Darryl Drake, but a man who was a father
figure, a rock, a mentor, a friend to all of them.
Players have shared their emotions on social media, but doing it publicly so far, in front of cameras and recorders, it's been too tough. And even on Wednesday, for the receivers, the emotion was just still too raw, too fresh for them to talk.
But there were some who were able to gather their thoughts, who were able to put into words what all of their teammates are feeling right now.
"The last two or three day have been rough all around," said Mike Hilton. "We are trying to get through it. We need to find the energy and build each other up. It's a part of life. It just sucks."
You would never know that Drake has only been the Steelers receivers coach for just over a year and a half when you hear the way he is so lovingly talked about. He touched everyone he came in contact with, from the top to the bottom of the roster, and from the top to the bottom of the organization.
Nobody was a stranger in his eyes. They were all family.
"He was a coach that was not afraid to talk to all of the players," said Alejandro Villanueva. "He got to know the offensive line well. He always had some pretty interesting conversations regarding his life, his life lessons. Every single time you are around somebody who is that genuine and has that charisma, it's attractive to establish conversation and learn from him.
"Last year he had a pretty important role with some of the distractions in the locker room. We all thought he handled it well. At the end of the day he spoke values about team, unity and helping people out. His voice was heard. He was one of the coaches who helped us get through a tough end of the season last year."
Following Drake's passing on Sunday, Darrius Heyward-Bey shared the story of how his former position coach made a difference last season when the team was struggling with a lot of adversity after Antonio Brown went AWOL at the end of the season and things were in disarray. The night before the season finale against the Bengals, a game the team had to win to keep any playoff hopes alive, Coach Mike Tomlin held his normal team meeting at the hotel. As the coaches were leaving the room at the end of the meeting, Drake remained and asked everyone to stay. And he addressed the team. He told them they were a family, and families help each other. He stressed the importance of bonding together. He let them know what was important, and sticking together as one was a key.
It was a message that will always resonate with players, including Hilton who managed to smile when thinking back on that night.
"It had a big impact," said Hilton. "One of our coaches, not being Coach Tomlin, him sitting in front of the team really just talking to us. It was big. That showed a lot of his character. The way he can mentor and teach people. A great, genuine guy.
"What he said was right. It's no lie. We are all we've got. We have to comfort each other. We have to build each other back up. We have to focus in now, but we will always remember Coach Drake.
"Everybody respected him, loved him."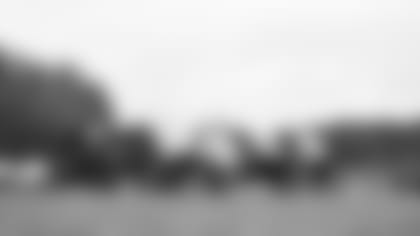 The healing has begun for some, for others it will still take time. Villanueva said the way Tomlin has handled things, from the practice schedule to every other aspect, has helped and his decisions have all been on point.
But the struggle is still there. And there is nothing wrong with that.
"I think everyone does it on their own terms, or however they can," said Villanueva. "The loss of someone like Coach Drake is pretty tough, how much he meant to all of us, especially on offense.
"I know not many people have changed Ben (Roethlisberger), and he has probably had the biggest impact relating to players, the love for the game, the everyday enthusiasm, and the jokes. A lot of players were looking forward to that stability and energy and now won't have it so it's pretty tough. Other players can deal with adversity a little bit better in terms of getting over the loss, but overall it's been pretty tough, not just for the offense but the whole organization.
"From the first time he came he has been very upfront. He just walked in, he opened up his mind, was an outspoken leader about things that needed to be said. People respected that. People responded to that. When you have somebody who is such a genuine personality, people become very attracted to him. It was obvious. All the offensive linemen had individual jokes with him. Ben had a very close relationship with him. And the wide receivers and tight ends. Everyone who knew him respected him. The best thing we can do to honor him is do exactly what he wanted us to do, go out, which is play hard, try our best, do it in his memory and according to the values he instilled in all of us.
"I think Coach Tomlin has done a very good job of understanding what Coach Drake would want from all of us. He wouldn't want us to dwell on this. It's about starting to realize we have a season to play, we have to get focused, and the playmakers have to make plays. It's a great opportunity to honor his legacy by making those plays, by staying focused and by playing our best football."