It wasn't the pre-draft press conference we have all become accustomed to over the years. There were no microphones set up on a table in the front of the media room at the UMPC Rooney Sports Complex. There were no media gathered in the chairs in the room, no camera capturing every word General Manager Kevin Colbert and Coach Mike Tomlin had to say.
But that didn't stop the conversation from taking place. On Monday morning the Steelers hosted a pre-draft press conference via Zoom, with Colbert and Tomlin taking questions virtually from the media on the line, all working from their homes.
And the questions hit on a wide variety of topics, including looking at individual positions the team could target in the draft in relation to what the team currently has on the roster, which included talking about the quarterback and running back positions.
On the run: The Steelers ground game had its struggles in 2019, with James Conner leading the team with 116 carries for only 464 yards. Conner's total was dictated by injuries, which kept him sidelined for a good chunk of the season and wasn't even half of the 973 yards he gained when he had a Pro Bowl season in 2018.
Like with many positions in the draft, the Steelers won't rule out looking at running back as a spot where they can add depth.
"If we get an opportunity to add a back that could bring some things to our current pool, we'll be excited about that," said Tomlin. "We have every intention of running the ball better in 2020 than we did in 2019, whether we add that back or not, and that's just being bluntly honest with you."
But in the same respect, they are also confident that they will get back a different Conner, who has been working all offseason to come back in better shape than ever, and is someone they would feel comfortable with as a starter.
"I know that starting the season, we'll have a healthy James Conner and we have some other young backs that have all been contributors in the past and there's no reason that they still can't be contributors when healthy," said Colbert. "I always go back to James Conner had acute injuries in 2019. In 2018, he avoided that and put up a Pro Bowl season. He's still a young, ascending player, and when healthy, he's an NFL Pro Bowl player. Again, that's a hope. I know James will enter the season healthy, but you know, can we complement it, we'll see. But I'm not going in thinking we don't have a starter-capable runner because I know James Conner is."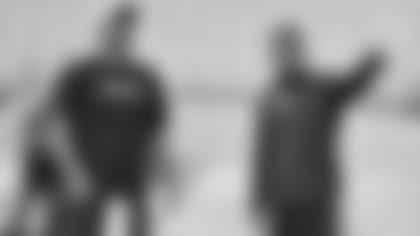 Getting Ben back: Mock drafts. You either love them or hate them, believe them or don't. But if you look around several of them have the Steelers taking a quarterback in the second round, which would be the team's first pick of the 2020 NFL Draft.
With mock drafts going in that direction, the topic was bound to come up during the press conference as to whether the team was looking to draft or add a quarterback and how closely they have evaluated the class, as well as how much of a priority taking an offensive player high will be because of struggles last year on that side of the ball.
"I'm looking forward to having Ben (Roethlisberger) in the mix and seeing how the rest of the group responds with him and we'll factor that into all the thinking we have as we move forward into the draft," said Colbert. "We look at every position no differently than any other given year and whether we are picking first or 37th or not picking, we evaluate the whole board by position, so as to properly stack it. We have a good feel for those guys and there are several players in that group that are going to be future starters, possible Pro Bowlers. There are some nice backups. If any pick makes sense at any time of course we'll make those picks. You feel good about No. 7, Ben, coming back. We know what we have in place on and we'll see where we go. But again, we'll be prepared for any position regardless of who we have on our current team."
Whether the Steelers bring in a quarterback or not, or stick with who they have on the roster, there will be a new element added to the position for the 2020 season with the addition of quarterbacks coach Matt Canada, as well as receivers coach Ike Hilliard.
"We are excited about bringing Matt and Ike Hilliard into the fold," said Tomlin. "He'll work hand-in-hand with all the quarterbacks and helping them in their growth and development and readiness for the season and not only that, (Matt's) going to bring some fresh ideas to us as coaches collectively, and probably bring some schematic ideas, as well. That's all part of the process of team development and I'm excited about getting started with that, and whatever form we get started with that here in the week or so on the 27th when we start our off-season program."
Virtual workouts: And speaking of the off-season program, it was originally scheduled to begin on Monday, April 20 at the UPMC Rooney Sports Complex. At this point, though, it will be a virtual program that will begin on April 27 and is something that is still all being worked out.
"This process in terms of our ability to interact with our current roster in a formal way would be no different," said Tomlin. "Our offseason program was scheduled to start today. Now we're preliminary scheduled to have a virtual offseason start on the 27th. So today would have been the first official function obviously with the guys in the building. Now that being said, obviously guys under normal circumstances are in and out of the building, getting workouts in an informal way, but today would have actually been the first day for us to gather in a formal way in terms of the offseason program and interacting with players in a professional way. Can't say that we've missed a lot. Can't say that this process has changed information gathering from that become because every year the calendar is different, and this year, because of how the draft fell in relation to the large calendar, there wasn't a lot of opportunity for that interaction or that analysis of the current roster prior to draft weekend."