(In honor of Mother's Day, we are bringing you stories of Steelers players and their mothers this week.)
Growing up in Nigeria, Ola Adeniyi never could have imagined being where he is today.
Heck, as a kid football to him was soccer and it was the sport he loved to play. NFL football, that wasn't a sport he even knew existed.
"When I was a little kid I never would have thought this is what I would be doing," said Adeniyi. "When everyone talks about the sport, and talks about this legend and that legend, I still don't know who they are talking about. I didn't grow up on it. I started late. Never would I have dreamt this is what I would be doing."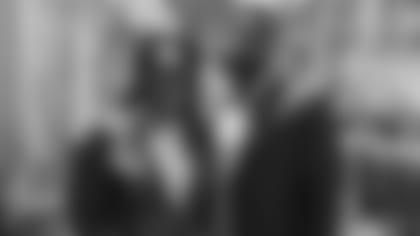 Adeniyi has had quite the journey to the NFL. A journey that changed direction because of the love of his mother, Esther. Where he grew up wasn't what many in America are accustomed to, wasn't what people expect.
"It wasn't the best," said Adeniyi. "At any point in time your lights could go off, even if you paid the bills. The whole neighborhood. And you don't know when it's coming back, until it comes back.
"My mom wanted us to have a better life so she brought us here. She left earlier than we did. She went to London. We stayed with family members for a few years. Once she settled in Houston she brought us there."
And that is where he was introduced to football. At first he played soccer, but then as he got bigger his high school coach started to take notice and encouraged him to go out for the team. His mother had other thoughts. And it took a deal his junior year of high school that any parent would probably sign off on that finally got him on the field.
"My uncle had to convince her to let me try out," said Adeniyi. "My coaches kept calling her, trying to get me out there on the field in high school. They were making phone calls.
"They came to an agreement if I cleaned my room every day I could practice. One day I didn't clean my room and she called the coaches and they had to send me home to go clean it and then come back. That was the agreement. It worked out well."
That it did. And when she started to realize that football could lead to bigger and better things, including a college education, she even eased up a little.
"She caved in my senior year when I started to get offers," said Adeniyi. "She started going on visits with me and just saw what kind of life I could have with it. Once I got the offers she leaned back a little, but I was still on a short leash."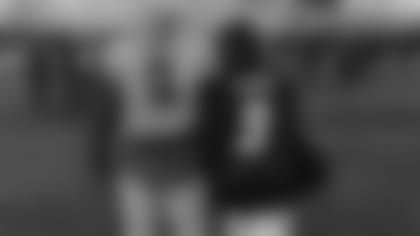 Football became a passion for Adeniyi. And he too saw where it could take him, especially watching the path Emmanuel Ogbah, a defensive lineman for the Cleveland Browns, took. Ogbah also came from Nigeria to Texas, and went on to play at Oklahoma State before making it in the NFL.
"We grew up in the same neighborhood," said Adeniyi. "We went to the same high school. We played football in the streets. When he went to Oklahoma State for football I sat down and thought this is something I can do. We come from the same culture. I thought I can do what he is doing."
He wasn't heavily recruited because of his lack of experience, but he did get some offers, including one to the University of Toledo. And that eventually propelled him into signing with the Steelers as an undrafted rookie free agent last year. He knows if it wasn't for his mother, who is a nurse, that neither he nor his brother Olamide, who is in grad school at Yale, would be where they are today.
"We knew everything she did, it was for us," said Adeniyi. "She only probably made one of my games in high school. And only one game a year in Toledo. She didn't have time off. She always worked. We never bugged her about it because we knew she was doing it for us. That is why I am doing this now, to make sure she doesn't have to keep doing that. She always has had to work to take care of us.
"She still doesn't know anything about football. That transition for her, that was never a part of her life until one of her sons started playing. She knows about soccer because that is what we grew up on in Nigeria.
"Being raised by a single mother, a strong single mother, was one of the best things that happened to me. She didn't want me playing football at first. She finally said go for it. She supported me. She made me the man I am today. She is a strong independent woman. We are similar in that way. I have so much respect for her. I love her. She raised my brother and I well."