During a time when we are all trying to find the best ways to achieve social distancing, James Washington has found the perfect solution.
This offseason Washington did something he always dreamed about. He bought his own farm. And living on the 26-acre farm in Merkel, Texas has made social distancing easy for him.
Washington grew up on his family's farm in Texas. It wasn't a place where he just hung out while playing sports. It was a place where he worked with his father, put in endless hours of being the workhorse, taking on challenges from plowing to fixing tractors to cleaning up the barn. It didn't matter what the task was, he was willing to do it. And when his father worked on other nearby farms, Washington was right alongside him helping out.
While at Oklahoma State he majored in agribusiness with a focus on farm and ranch management, the hope then to tend more to the family farm, but also one day possibly have his own.
He never could have imagined it would happen so soon. And it couldn't have happened at a better time.
"It's about 40 minutes from my hometown," said Washington. "I am out there working every day. It's been raining here quite a bit. I had weeds growing in the arenas. I dragged those and got those back nice. My dad has helped me. I have a well and one of the lines busted on the well, so my dad and I have been digging and plumbing. There is always something to do. We have done all of the work ourselves. I love my dad. He teaches me everything I know. I call him 'Bob the Builder.' He is pretty handy with just about everything."
The farm is giving Washington all he needs right now, allowing him to stay home and keep busy, while at the same time train for football.
"I am always out running sprints in front of the house. I have a big yard and it's pretty flat," said Washington. "Usually I will just run the sprints and then run some routes. I don't have anyone throwing to me. I am ordering a Jugs machine so I will have an accurate ball every time.
"As far as lifting, the other day I was trimming trees around here and I don't know if I ever felt my lats burn as much as they did when I was trimming trees and moving big old logs and stuff. For sure nature is giving me the best workouts.
"They may not think I am working on football, but I think some of it translates. I am still running. I am out in the country, so I go on bike rides too. I am getting conditioning, working on the legs at the same time. I ride seven or eight miles. You may have one or two cars pass you, but you may see more cattle than people."
The benefits of life on the farm are paying off. Last year Washington dropped about 15 pounds in the offseason. This year, working on the farm, he dropped even more, recently weighing in at 205 pounds after being listed at 213 at the end of the season.
"I am lighter than last year. I am feeling pretty light," said Washington. "I feel like it will help with the quick twitch. Especially that second gear when the ball is in the air. In general, just being lighter is good. At the same time, I have been working on strength. I haven't lost any muscle. I am just getting everything back together and just trying to stay healthy, especially at a time like this when you have to stay healthy.
"There are times when you don't want to do it, but it's all going to pay off in the end. You might as well do it upfront. Once the time gets here to be able to practice, it won't be hard at all"
Until that time comes, though, life on the farm is suiting him just fine. He is planning on buying some cattle and starting to raise them and just continue to work on the beauty that is outside his door.
"It's not a lot right now. It's something to start with though," said Washington. "I just want to have a ranch to raise cattle. I have an arena there to work on my roping. I always wanted to have calves. Buy them young, feed them out and sell them.
"My dad on his family farm they have a cow/calf operation. In the spring when they have calves, they calve them, grow them out and sell them when they grow. I will get there at some time."
The other plan is the roping arena, that is something he is not going to hit full speed ahead for years from now when his playing days are over.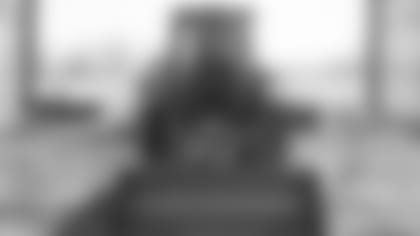 "Right now, I am all right at roping," said Washington. "I am not a professional by any means. Once football comes to an end for me, I want to start roping.
"I have a buddy in Stillwater and his whole family rodeo. He has been teaching me along the way. I have been learning from other guys too. My fiancé's (Haley Mueller) grandpa, he was an amateur pro rodeo roper. I learn stuff from him, go there and ride horses.
"Team roping is tough. Some guys lose their thumbs. There are ways to avoid that. But I am waiting until my playing days are over to even think about that."
For now, he is keeping it simple.
"I love it. Just being out in nature by itself is peaceful," said Washington. "It's so quiet. You are getting to look at God's creations."