Ron Hughes dedicated his professional life to football, and his resume tells the story of a professional life well-lived.
His name is engraved on two Lombardi trophies for his work as the Steelers college scouting coordinator. His fingerprints were all over a period in Detroit Lions history in which the team qualified for the playoffs seven times during the nine seasons from 1991-99 and were one win away from a berth in Super Bowl XXVI. He mentored and launched the careers of many of the young men who went on to successful careers in player personnel departments all over the NFL. And he was undefeated against Dan Marino, although that accomplishment came before the NFL, during the 1970s in a league known as the Western Pennsylvania Interscholastic Athletic League, where Marino was a star quarterback at Central Catholic and Hughes was the coach at North Catholic.
Following the 2015 NFL Draft, which was his 34th as an employee of an NFL team, Ron Hughes decided to call it a career, and typical of the man, there was no announcement made and no fanfare attached.
"The thing about Ron was the consistency of his draft philosophy, and it has been passed on," said General Manager Kevin Colbert, once a below-the-line outside linebacker/punter for Hughes at North Catholic. "His philosophy is one that's very systematic, very consistent, very comprehensive."
Colbert still jokes that his inabilities as a player may have helped end Hughes' coaching career, and if that's the case the scouting profession became the beneficiary. As enrollment declined at North Catholic and the football team continued to play in the WPIAL's highest classification, the winning became less frequent and the school made a coaching change.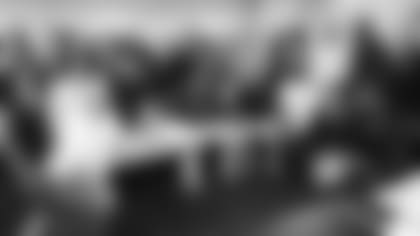 As a coach, Hughes also had been doing some part-time evaluating of film for BLESTO, the NFL scouting combine that was headquartered in Pittsburgh at the time, and his skill landed him a job there as an area scout after his stint at North Catholic. Because area scouts for BLESTO weren't directly associated with any NFL team, the way those guys knew they were doing a good job was when they got hired by an NFL team.
Hughes got hired by the Detroit Lions, where he started out scouting the West Coast. In a couple of years, his work was good enough that he got moved to Detroit and given an office by the Lions, and Hughes started working his way up the ladder.
One of his early coups was signing Mel Gray as a Plan B free agent in 1989. Plan B free agents were guys left unprotected by their original teams, and Hughes plucked Gray off this scrap heap and brought him to Detroit, where he scored eight touchdowns on returns and was voted first-team All-Pro as a kick returner in 1990, 1991, and 1994.
"Ron implemented a system he learned from his early days grading film when he was a high school coach, a time when his direct boss was Tim Rooney, who was the Steelers pro personnel guy at the time," said Colbert. "Tim Rooney then went to Detroit, and he hired Ron. Tim had taken the Steelers system to Detroit, and then when Ron eventually took over there some years later, he used the same system we still use today. It was really one big circle, but after Ron implemented the system, then he enhanced it."
One of Hughes' moves with the Lions was to hire Colbert, who was working for the Dolphins at the time, to become Detroit's pro personnel director. Colbert worked there until he was hired by the Steelers on Feb. 15, 2000.
"Ron had been my boss in Detroit, and so when the Steelers hired me in 2000 I implemented his system here," said Colbert. "When he was let go in Detroit, he still had three years left on his contract so I was able to add him, with the Rooneys' permission, as a consultant. The year after that, we made him the college scouting coordinator. It was a chance to add considerable experience, you were able to add the mentor to your program. He was a valuable asset as the college scouting coordinator."
And one of Hughes' greatest strengths, in Colbert's eyes, was how he always preached the concept of "follow the development."
"His favorite phrase was 'follow the development,'" said Colbert. "The development is the development of the draft, and you don't let yourself be tempted into taking someone in the second round who should be taken in the fourth round because of need. That whole emphasis of staying away from the word 'need' comes from him. That was something that he constantly hammered home with us.
"His strength was organization, but on top of that, it was a willingness to stick with your system and your beliefs – what has worked for you. That was something he emphasized every day."
Hughes and his wife, Adrianne, have three children – sons Ted and Scott, and daughter Jennifer. They also have four grandchildren.