Pittsburgh Steelers Game Day Activities | Pittsburgh Steelers - Steelers.com


Arrive early and arrive prepared to the gates at Heinz Field to ensure you are in your seats prior to kickoff. Follow these important tips:
View and save your ticket(s) to your digital wallet prior to leaving home. Learn more about mobile ticketing here. Also ensure your phone is fully charged. Learn more >>>
Arrive to Heinz Field early; gates open 2 hours prior to kickoff.
Those who arrive 1-2 hours prior to kickoff can typically expect to experience minimal delays at entry; those who arrive 30 minutes prior to game time can expect heavy delays.
Fireworks displays will be seen in the stadium area at 60 minutes and 30 minutes before kickoff to make fans on the North Shore aware that game time is approaching.
Gate Entry: The gate listed on your ticket is the recommended gate for entry based on your seat location. You may enter any stadium gate, excluding Suite and Club entrances (unless ticketed in those areas).
Club Entrances and Access: Dedicated club lane entrances are available at Gates B and Gate C during the first hour gates are open. Upon entering or exiting Club lounges, be prepared to scan your ticket.
Ticket Office: Fans with questions or needing further help with their mobile tickets should contact us at 412-323-1200. Our office hours are Monday through Friday 9 am-5 pm and on gameday three hours prior to kickoff. You can also visit the Ticket Office windows located at the corner of Art Rooney Avenue and West General Robinson on gameday starting three hours prior to kickoff.
Clear Bag Policy: No bags will be permitted into Heinz Field unless they follow the clear bag policy. Learn more >>>
Heinz Field concessions are now cashless: Credit and debit cards are still accepted, as well as Apple and Google Pay. Please note: 50/50 will still operate as cash-only.
Masks: Regardless of vaccination status, all guests, staff and vendors at Heinz Field will be required to wear a mask while visiting any of the indoor areas of the stadium. Guests who refuse to wear a mask will first receive a warning, and second time offenders will be removed from the stadium.
Vaccinations: Fans will not be required to show proof of vaccination to enter Heinz Field; however, in accordance with CDC guidelines, unvaccinated fans should wear a mask at all times.
To report issues while inside Heinz Field, text PITT33 to 69050 with your issue and location. One-touch issue reporting is also available through the Pittsburgh Steelers Official Mobile App under the 'Heinz Field' section.
Reminder to all guests seated in Row A: Please refrain from placing any drinks, food or other items on the ledge including the LED video board. Items that fall from the ledge become safety hazards to those seated in the sections below. Any guest that is seen dropping or throwing items over the ledge is subject to stadium disciplinary action including ejection and/or loss of ticket privileges.
Join us at Heinz Field and enjoy the following experiences as part of gameday entertainment:
Steelers Legend Q&A: Hear from Pro Football Hall of Famer Dermontti Dawson on the FedEx Great Hall stage 30 minutes after gates open to the public
Pregame Performance: Enjoy a musical performance featuring 9-year-old America's Got Talent finalist and Latrobe, PA native Victory Brinker
Essential Worker of the Game: Each home game, the Pittsburgh Steelers will recognize an Essential Worker of the Game. This week, we will celebrate Brittany Skinner, a Child Care Staff member from Jeremiah's Place
Terrible Towel Twirl: The Terrible Towel Twirl will be led by hip-hop artist and Rock & Roll Hall of Famer Darryl McDaniels from Run-D.M.C. accompanied by swimmer and ten-time Olympic medalist, Allison Schmitt
Fireworks: Fans in attendance will be treated to fireworks displays during the pregame and halftime period. Additionally, fans will see fireworks let off 60 minutes and 30 minutes prior to kickoff to signal to fans on the North Shore that game time is approaching.
National Anthem: Performed by Victory Brinker alongside swimmer and ten-time Olympic medalist, Allison Schmitt
Halftime: As part of Alumni Weekend, we will honor the 2020 and 2021 Hall of Fame enshrinees. Steelers President Art Rooney II will be accompanied by David Baker, President of the Pro Football Hall of Fame, in presenting the Steelers Legends with their Rings of Excellence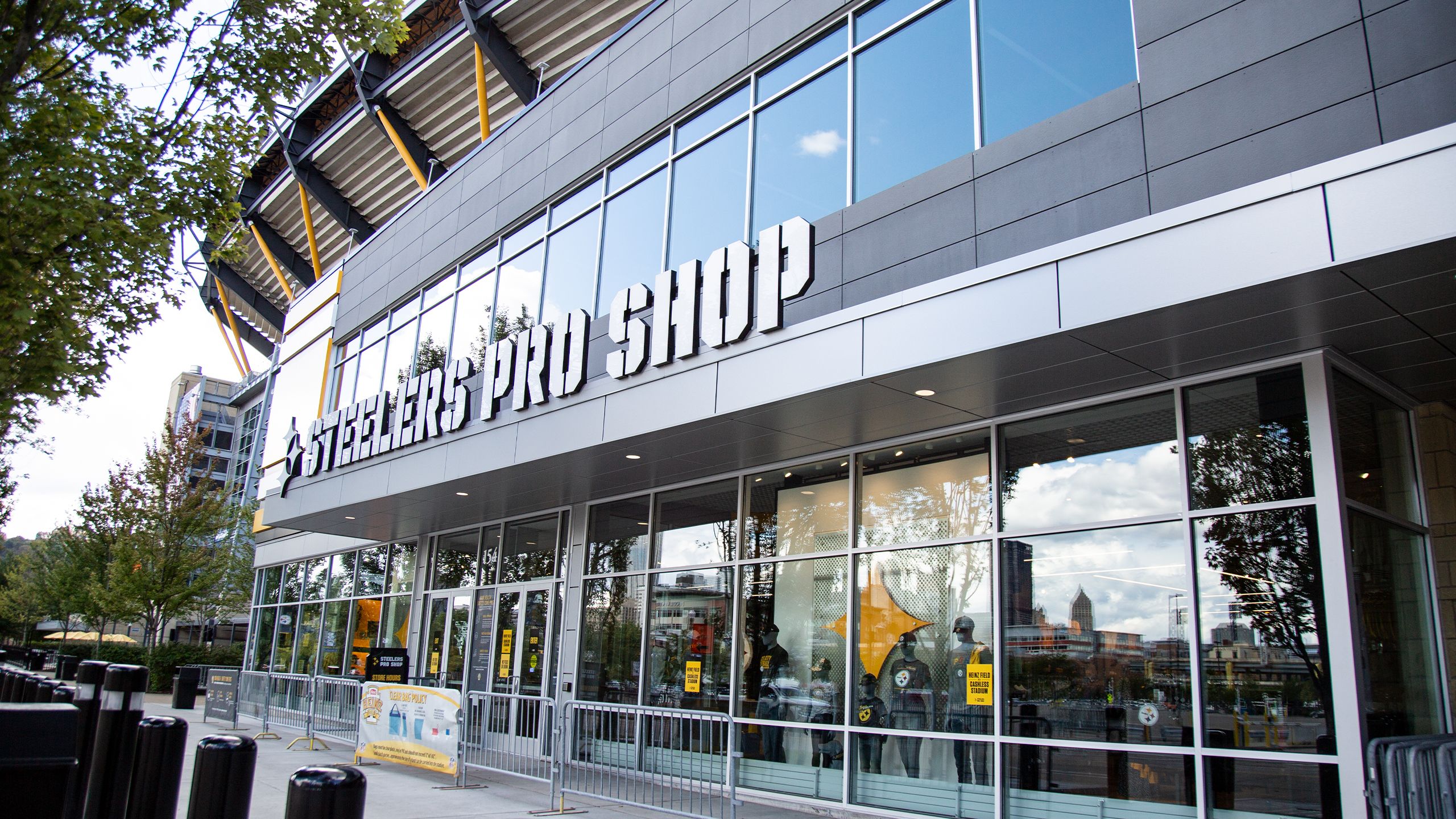 THE STEELERS PRO SHOP LOCATED AT ACRISURE STADIUM
From custom jerseys and terrible towels, to sideline gear and authentic memorabilia, there's something black and gold for every fan at the Steelers Pro Shop store located on Art Rooney Ave at Acrisure Stadium. You will find everything you need to show off your Steelers pride for you and your family. Come experience a shopping environment unlike any other. Get it direct from the Team at the Steelers Pro Shop.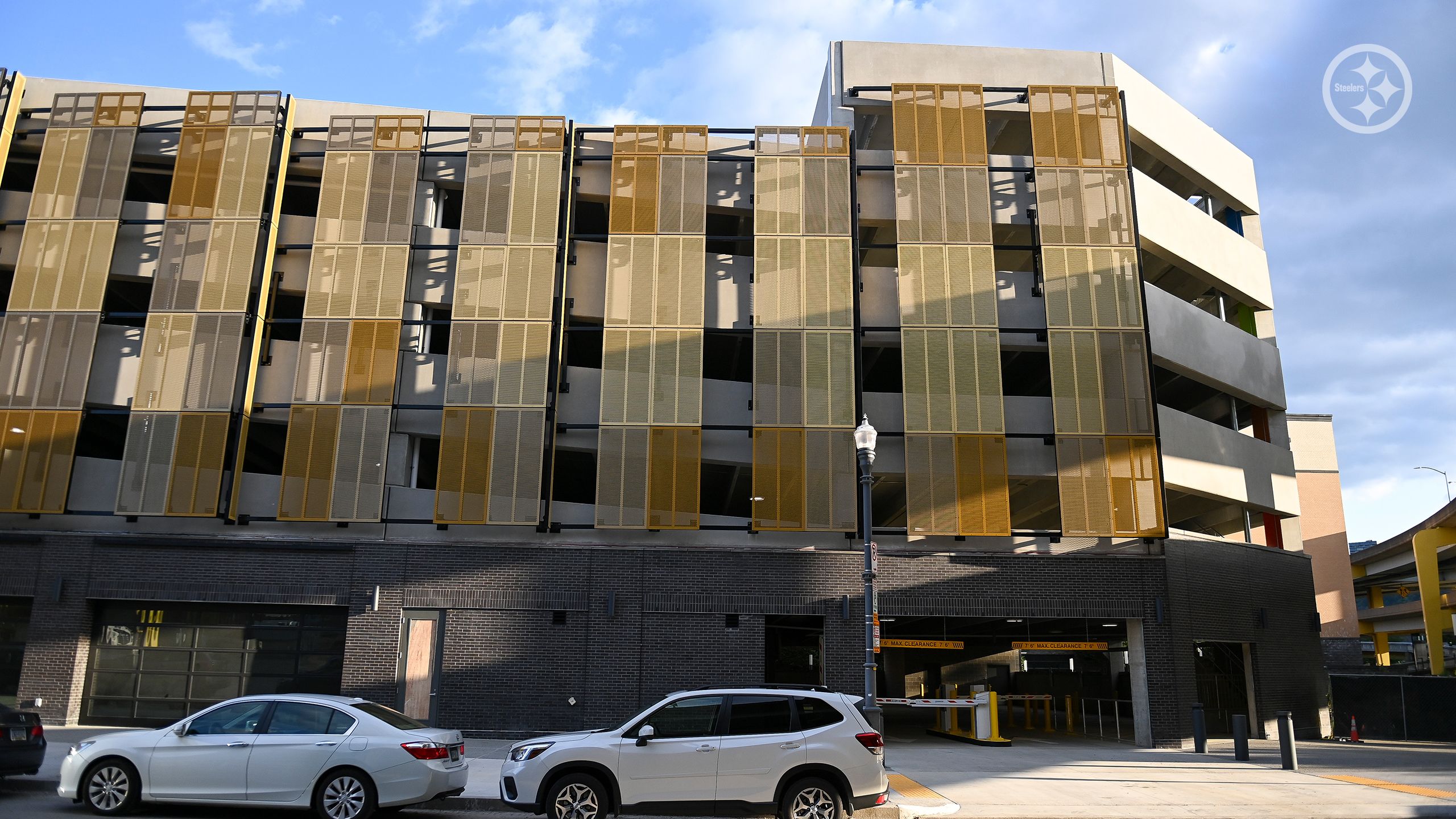 Reserve your spot in the Champions Garage
The Steelers, Pirates and Oxford Development are pleased to have partnered on a new parking garage between Heinz Field and PNC Park. Adding over 400 new spaces to the North Shore, the Champions Garage will be located at the corner of West General Robinson St and Tony Dorsett Drive behind the Hyatt Place Hotel. Parking passes are now available for all 2021 regular season home Steelers games as well as the potential of three home postseason games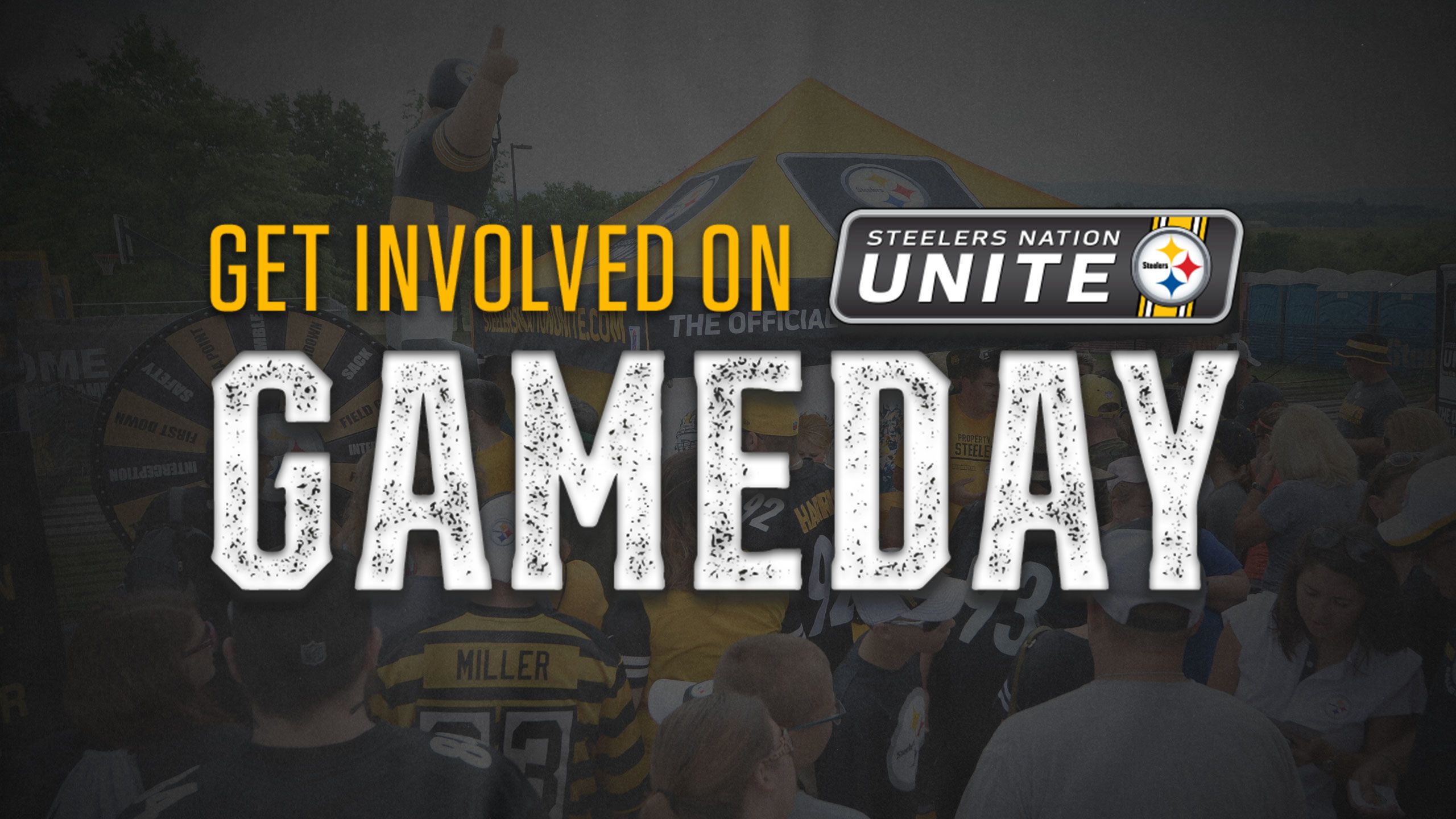 The Gameday Experience
Stop by the Steelers Nation Unite tents located on Art Rooney Avenue and on the Ford Fan Zone to make your gameday experience one to remember! Take home one of our celebration signs, have a chance to win our SNU row of the game, and win prizes!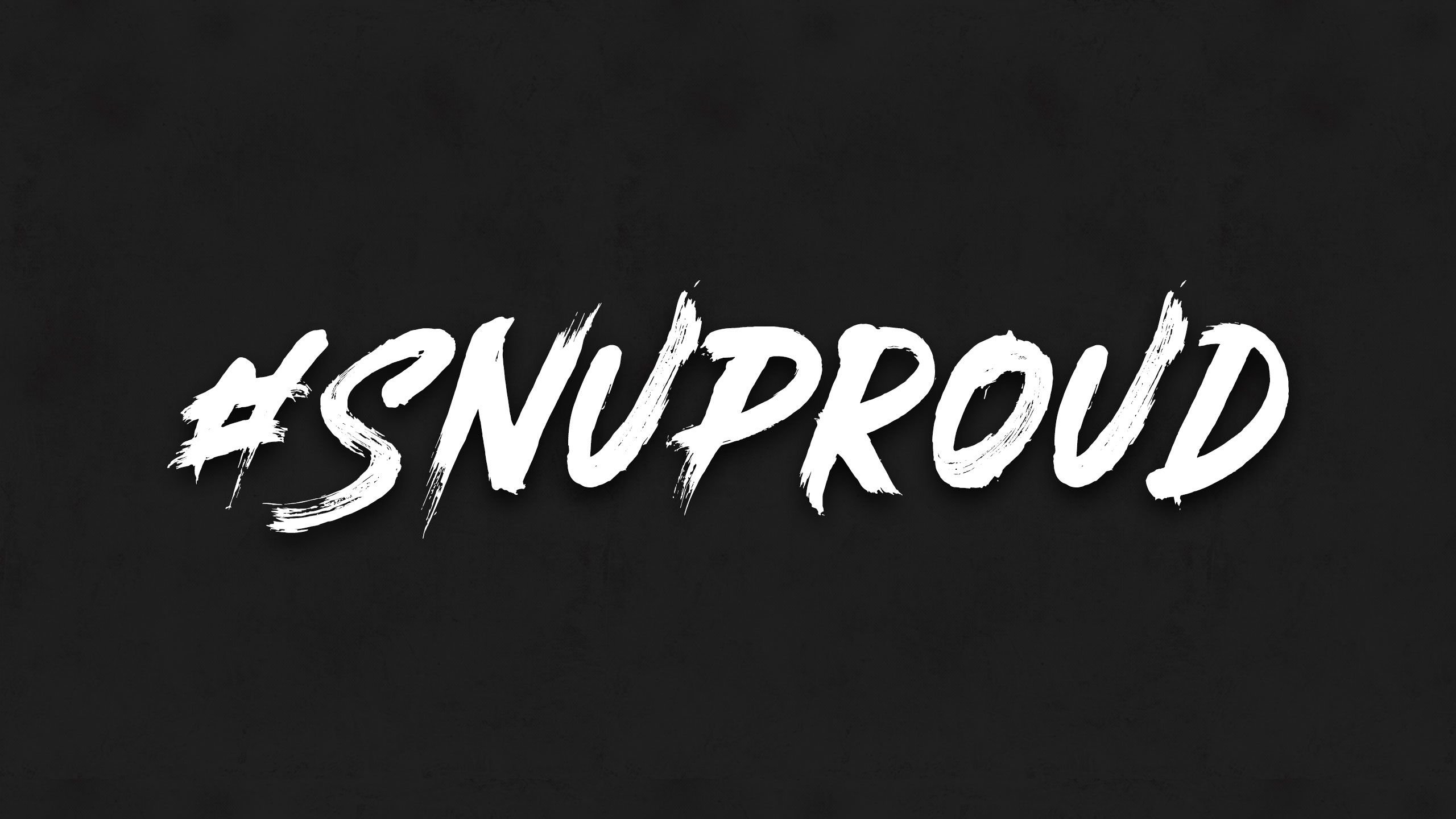 Connect With Us
Show us how you cheer on the black and gold on gamedays with #SNUProud for a chance to be featured on our Steelers Nation Unite social media channels!
Download the UNIBET PA app to access the UNIBET Tailgate located across the street from the Steelers Pro Shop on Art Rooney Ave.
Opens 3 hours prior to kick off
Enjoy free food & beverage
Hear from Steelers Legend, Merril Hoge, two hours prior to kick off